The 14 Best Historical Fiction Novels of 2021
Click the Buzz Me button to receive email notifications when this writer publishes a new article or a new article in this column is published.
2021 has been an interesting year, full of so much conflict and strife. In an effort to avoid some of that, I have immersed myself in books, and 2021 has produced some fantastic ones. Reading has provided me the perfect escape. 
This year I am going to highlight my favorites by genre before I write about the ones that made my "Best of the Year" list. As I have mentioned before, some books grab me from page one – the subject matter, the writing style, or the characters draw me in from the very beginning. Others are a slow build; as the book progresses, I become more invested in the story and the characters. And rarely, a book will not fully resonate with me as I read it, but after I am finished, I continue to think about it for a long time afterwards. My best books lists usually consist of a combination of the first two types of books.
I read so many wonderful historical fiction novels this year and struggled to pare it down to a reasonable number. Here are the 14 best historical fiction novels of 2021:
1. Better Luck Next Time by Julia Claiborne Johnson - Better Luck Next Time is set on a divorce ranch outside of Reno, Nevada in the 1930s, told from the perspective of a man named Ward. The ranch houses women who are required to spend six weeks in Nevada to gain residency and then they can obtain a divorce. When the story opens, it is present day; Ward begins to reflect back on one particular six weeks, and the two women Nina and Emily that changed the trajectory of his life. The book is fantastic – I love her writing, the setting, and the characters - and I really love Ward; he is now one of my favorite fictional characters. 
2. The Collector's Daughter by Gill Paul – Inspired by actual events, this novel follows Lady Evelyn Herbert, daughter of the Earl of Carnarvon, the only female present at the opening of Pharoah Tutankhamun's tomb in November 1922 and the first person to enter the tomb in over 3000 years. Fifty years later, an Egyptian academic shows up with an agenda of her own to interview Lady Herbert about what really happened when the tomb was discovered. Paul wraps in the mysterious curse surrounding King Tut's tomb and the issue of who should own the artifacts that are discovered while vividly recreating 1920s Egypt and placing the story in its historical context. I raced through this compelling novel and did not want it to end.
3. Dovetails in Tall Grass by Samantha Specks – Dovetails in Tall Grass brings to life the events that led up to the U.S.-Dakota War of 1862 in Minnesota through the eyes of two young women, one a settler and the other a Dakota-Sioux. Specks' meticulously researched and vividly depicted historical fiction tale follows one brutal instance of the disintegration in U.S./Native American relations that played out all across North America as whites displaced the indigenous people, moving the native populations to reservations and continually breaking the promises made to them. The story slowly builds to a sad and inevitable conclusion that pays homage to those who needlessly lost their lives. The book kept me on the edge of my seat until I turned the last page.
4. The Invisible Woman by Erika Robuck – Robuck brings real-life American heroine Virginia Hall to life, highlighting her immense bravery as an Allied spy in German-occupied France during World War 2. She vividly depicts Hall's extraordinary heroism amid the horror of the Nazi atrocities while also shining a light on the thousands of regular people who bravely joined the Resistance (and put their lives on the line) to ensure that their country would not fall to the Nazis. I read this one in less than 24 hours and absolutely loved it.
5. Once Upon a Wardrobe by Patti Callahan – Callahan's beautiful, magical, and captivating new book Once Upon a Wardrobe delves into the question of what inspired C.S. Lewis to create Narnia. Megs Devonshire studies math and science at Oxford and relies on facts versus intuition; when her terminally-ill brother George becomes infatuated with a new book The Lion, the Witch, and the Wardrobe and implores her to find out how Narnia came about, Megs finds herself visiting C.S. Lewis, an Oxford don, and his brother Warnie hoping to answer George's questions. Instead of providing her answers directly however, Lewis tells her stories about his own life growing up which she then relays each weekend to George. While Megs struggles to find the connections, George helps her understand the stories that Lewis relates and how they led to the creation of Narnia. This is an absolutely beautiful book.
6. Our Woman in Moscow by Beatriz Williams - When the Digby family disappears from their London home without a trace, the world debates whether they were eliminated by Soviet Intelligence or whether the family defected to Moscow with American Diplomat Sasha Digby's access to the West's top secret intel. Four years later, Ruth Macallister receives a letter from twin sister Iris Digby asking her to come to Moscow to visit. Ruth travels to Moscow to help the Digbys defect to the United States but instead learns that everything may not be as it seems. Our Woman in Moscow is Williams' best book to date.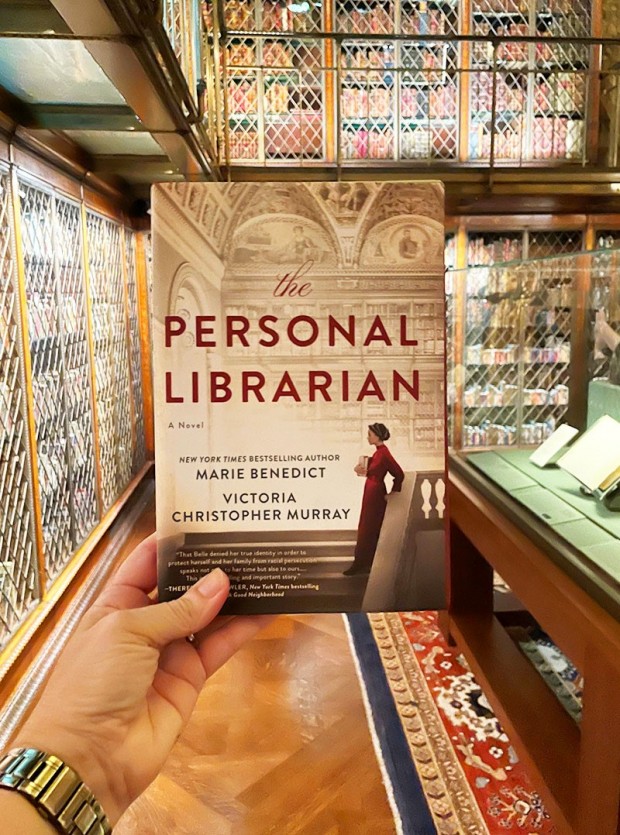 7. The Personal Librarian by Marie Benedict and Victoria Christopher Murray – Belle de Costa Greene worked as J.P. Morgan's personal librarian and curator of his private library housed in a townhouse off of East 36th Street before the collection became the Morgan Library and Museum. While she became an influential individual in the art world and one of the country's most prominent librarians, she hid a devastating secret – she was a Black woman "passing" as a white woman and moreover was the daughter of the first Black graduate of Harvard. The Personal Librarian chronicles Belle's life and legacy and what it was like to be torn between success and the desire to be herself. I recommend this one to people all the time.
8. The Show Girl by Nicola Harrison - Harrison brings New York City during the Roaring '20s to life through the eyes of a Ziegfield Girl. From the early 1900s to the mid-1930s, the Ziegfield Follies reigned supreme as a popular American extravaganza and subsequently permanently altered the way Broadway musicals were performed. In The Show Girl, Midwesterner Olive McCormick becomes a Ziegfield Girl who must balance her love for her job with the desire to forge her own path forward. I loved all of the history in this one.
9. Sisters in Arms by Kaia Alderson – Debut author Kaia Alderson's book is inspired by the true story of the women of the 6888th Central Postal Directory Battalion (the Six Triple Eight), the only all-Black battalion of the Women's Army Corp during World War 2. Tasked with crossing the Atlantic to ensure U.S. servicemen received word from their families during the war, these brave women not only dealt with the regular dangers of war, but they also had to contend with racial injustice and those who wanted them to fail. I enjoyed learning about this group of courageous women.
10. The Social Graces by Renee Rosen - In The Social Graces, Rosen highlights the legendary feud between grand dames Alva Vanderbilt and Caroline Astor regarding who would reign supreme over New York City society during the Gilded Age. When Alva Vanderbilt marries into the wealthy Vanderbilt family, most of the upper crust families refuse to acknowledge her. But Alva is more than determined to make her place in society setting off a battle with Caroline Astor that raged across decades. The Social Graces is so much fun to read.
11. Songs in Ursa Major by Emma Brodie – This beautifully-written debut tells a fictionalized, loosely-based version of the relationship between James Taylor and Joni Mitchell in the late 1960s. This coming-of-age tale follows Jane Quinn, a talented singer, as she rockets to stardom, encounters extreme sexism in the music industry, battles with wanting to stay true to herself and her music, whether to choose love or a career, the stigma of mental illness and more. Brodie brings the music of the era to life and had me wishing I could actually listen to Jane's music. Songs in Ursa Major is truly stunning.
12. Surviving Savannah by Patti Callahan - The steamship Pulaski (the "Titanic of the South") sank in 1838 following a boiler explosion, and 180 years later the ship's ruins have just been discovered. Everly Winthrop, Savannah history professor, is asked to help curate a new museum exhibit containing the artifacts recovered from the old ship, and she is thrilled to participate as well as curious to learn more about the night the ship went down. Alternating between the past and present, Callahan brings the story of the real-life sinking of the Pulaski to life while exploring the various ways humans respond when confronting tragedy. 
13. Three Words for Goodbye by Hazel Gaynor and Heather Webb – Estranged sisters Clara and Madeleine agree to set out on a trip together at the request of their dying grandmother Violet and deliver three goodbye letters to friends from Violet's past. The women make their way across 1937 Europe to Paris, Venice and Vienna amid rising political tensions learning family secrets as they go. When they finish their deliveries, the women plan to leave the turmoil in Europe and head home aboard the Hindenburg. I loved the sisters and following their journey across Europe.
14. When Two Feathers Fell from the Sky by Margaret Verble – Two Feathers is a Cherokee horse-diver whose Wild West show loans her to the Glendale Park Zoo in 1926 Nashville. When a tragedy strikes one of Two Feather's shows, she begins to notice strange things happening, ancient ghosts begin appearing and one of the zoo animal's becomes ill. At the same time, Two Feathers finds herself avoiding an unwanted admirer and befriending Clive, Glendale's zookeeper. Two must rally zoo employees, her fellow performers, and even the zoo owners to solve the mystery of the strange occurrences at the zoo. This highly original story is a gem to read.
I would love to hear your favorite historical fiction novels of the year. Feel free to drop them in the comments below.
For more book recommendations and bookish thoughts, see Cindy's monthly Buzz Reads column, her Thoughts from a Page Podcast or follow @ThoughtsFromaPage on Instagram. Find upcoming Conversations from a Page events here.
People in this article:
Cindy Burnett
,
Julia Claiborne Johnson
,
Gill Paul
,
Samantha Specks
,
Erika Robuck
,
Virginia Hall
,
Patti Callahan
,
C.S. Lewis
,
Beatriz Williams
,
Marie Benedict
,
Victoria Christopher Murray
,
Nicola Harrison
,
Kaia Alderson
,
Renée Rosen
,
Alva Vanderbilt
,
Caroline Astor
,
Emma Brodie
,
James Taylor
,
Joni Mitchell
,
Hazel Gaynor
,
Heather Webb
,
Margaret Verble
Want more buzz like this? Sign up for our Morning Buzz emails.
To leave a comment, please log in or create an account with The Buzz Magazines, Disqus, Facebook, Twitter or Google+. Or you may post as a guest.