Marathon Men
In Houston and Athens
Click the Buzz Me button to receive email notifications when this writer publishes a new article or a new article in this column is published.
The Houston Marathon is a flagship event for the city, held annually on the third Sunday of January. Although the in-person 2021 races were canceled due to Covid, the Chevron Houston Marathon and Aramco Houston Half Marathon return Jan. 16, 2022.  
What follows is a story about two Buzz residents, Peter Baird and Dennis Moustakis, for whom the marathon has been about much more than 26.2 miles.   
In November 1988, Peter Baird found himself in Greece in a bit of a quandary. It was six days before the Athens marathon, and Peter, who was 45 and had recently emerged as a top long-distance runner in Houston, had to make a choice: Should he stick to a strict marathon diet of bagels and water, or splurge on sizzling Greek meats and full-bodied red wine?
"It was truly a dilemma," said Peter, who speaks rapidly and with a Scottish accent – he grew up in The Isle of Bute in Scotland and moved to the States in his early 20s. Usually, Peter abstains from alcohol for one month prior to any race. "I take that thing seriously," he said. But during his first evening meal in Athens, as waiters brought out tray after tray of mouthwatering food, Peter decided to enjoy and immerse himself in Greek culture and hospitality.
He accepted the heaps of food and seemingly endless refills of wine. Six days later, he said, he still managed to finish the 26.2-mile run in under three hours.
Peter landed in Athens because he was part of the inaugural Houston-Athens Marathon Exchange, a program in which two finishers of the Houston marathon are offered a six-day trip to Greece, the birthplace of the marathon and a country with an ancient running tradition. The program covers the costs of airfare, accomodations, and sightseeing – the Acropolis, the temple of Poseidon, museums – along with elaborate meals (Peter recalls his first taste of Greek yogurt and honey at a buffet breakfast), and culminates with the Athens marathon, which finishes at the Panathenaic Stadium, the same place where thousands of spectators cheered on the finishers of the very first Olympic marathon back in 1896.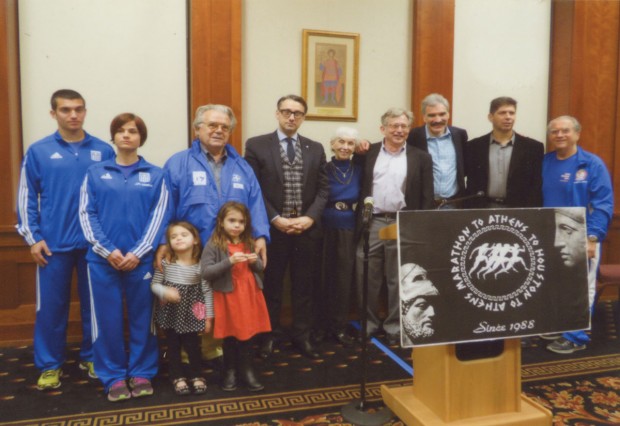 The exchange program, which continues today, was the brainchild of George Sarantopoulos, a Greek American who participated in both the Houston and Athens marathons and wanted to create a cross-cultural exchange between the two countries. His idea was for winners of the Houston marathon to have a chance to participate in the Athens marathon, while two Greek runners would travel to the U.S. for the Houston marathon.
Over lunch at the Ritz-Carlton Hotel (now the St. Regis) in the Galleria area, Sarantopoulos proposed his idea to a representative of Kathy Whitmire, then mayor of Houston, and to Melina Mercouri, the Greek minister of culture who was visiting Houston. The two leaders embraced the idea, and the program was born.
For Peter, getting to travel to Greece in the winter of 1988 was unexpected. An engineer and business owner whose career has spanned product development at Boeing to cloud computing at Xerox, Peter had completed his first marathon the prior year. He was over 40 – putting him in the "Masters" category of runners – and had not been a runner growing up.
He picked up the activity when his daughter was in high school. She was on her school's swim team, and during her daily afternoon swim practice at the Dad's Club Aquatic Center in Spring Branch, Peter jogged to the high school track, ran five miles, and then returned to pick her up. He did this every day, even on the most blistering days of Houston summer. Soon, Peter became hooked, as many runners do, and started competing in 5ks, then 10ks and 20ks, and eventually, the marathon. "All of a sudden, all of my friends were elite athletes," Peter recalled. 
He placed second overall in the men's Masters category during the 1988 Houston marathon, his second 26.2-mile race. "I just got the job done and got out," he said, joking, adding that he ran a total of only seven marathons during his running career. 
In November, he received a phone call from the Houston Marathon Committee. They said the first-place men's Masters winner was unable to make it to Athens for the exchange program, and would Peter, having come in second, like to go in his place? Peter packed a suitcase, dropped his cat Hillary (named after mountaineer Edmund Hillary) with his neighbor, and the next day boarded a plane to Athens.
The following two years, Peter won first place in the men's Masters division of the Houston marathon and was given the option to accept prize money or to take the trip to Greece. He chose Greece. "Because of the people," he says. "They were unbelievable."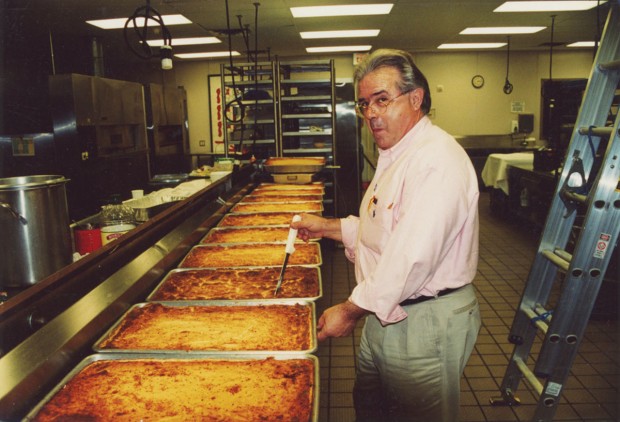 On the Thursday before marathon Sunday in Houston, you can always find Dennis Moustakis in the kitchen of Annunciation Greek Orthodox Cathedral on Yoakum Boulevard. He's cooking pastichio, a dish similar to Italian lasagna, for more than 300 people. Alongside Dennis are volunteers, many of whom are patrons of the Annunciation cathedral, who are chopping vegetables for the Greek salad, stirring a steaming pot of bean soup, and preparing baklava for dessert.
At night, elite runners from around the world, along with Houston marathon executives and community members, will enter the church for what some call "a feast for the Gods." Ticket sales from this annual dinner raise money for the marathon exchange program, covering the costs of sending two Houston runners to Athens each year. (The Houston marathon covers the cost of bringing two Greek runners to Houston.) The dinner started in 1988 and, along with the exchange program, has taken place every year since, except for last year due to Covid. (The 2022 dinner and exchange program has been postponed another year for the same reason.) 
It seems almost inevitable that Dennis, who is 76 and calls himself "Houston's Greek athletics guy," would become the executor of the pastichio dinner. Dennis wears wire-rimmed aviator-like glasses and has a deep-throated laugh that comes out anytime he cracks a joke, which is frequently. He played soccer growing up on Kefalonia, one of the Greek islands, and like most other kids in Greece, ran on the weekends. 
In elementary school, he learned the story of the Battle of Marathon, where the Athenian Army defended Greece against the encroaching Persian Army, and Philippides, a messenger, is said to have run the 42 kilometers from the town of Marathon to Athens to deliver the news of the victory. It's this story that inspired the modern marathon event. 
"It's evolved so much now that there's not a town on Earth that doesn't have a marathon run," said Dennis.
Though he did not study business, Dennis is a businessman by trade. He grew up helping his father run the town barber shop in Greece, and eventually, after a stint in the army and the merchant marine, established his own successful small business, an auto repair shop called Dennis Automotive, on Westheimer.
So after a couple of years of helping out with the pastichio dinner, Dennis said he could do it more efficiently. Instead of outsourcing food preparation to a local Greek restaurant, Dennis wanted the Hellenic Society to handle that themselves. Dennis rarely cooks dinner for himself, and yet he took it upon himself to learn how to make pastichio, a dish his mother frequently made for his family back in Greece, and to recruit a team of volunteers to help orchestrate the event. Now, Dennis has the whole thing down to a science. 
"To gather the materials, do the cooking and the prep and the wrap-up, it takes Monday, Tuesday, Wednesday, Thursday, Friday," said Dennis, counting on his fingers. "The cooking all takes place on Wednesday. And the next day, the day of the consumption, I bake the pastichio." 
Dennis' pastichio is now well-known among Greeks in Houston. "He serves a great Greek lasagna – and cuts big pieces," said Frank Demeris, an annual attendee who is himself in the restaurant business. But the event holds a symbolic meaning, too. "The marathon first started in Greece, and we're trying to keep some of that history alive for our generation and for the next generation," said Demeris. "Because you can forget about this stuff if you're not careful." 
To learn more about the Chevron Houston Marathon as well as the exchange program, visit chevronhoustonmarathon.com.
Dennis Moustakis' Marathon Pastichio
6 pounds lean ground beef
2 large yellow onion, diced
1 can diced tomatoes
1 can tomato paste
1 bunch leafy parsley, chopped
½ bottle red wine
Salt
Pepper
Cinnamon
Allspice
Nutmeg
5 pounds penne pasta, cooked
1 dozen good grade eggs, separated
2 sticks of butter, salted
3 pounds all-purpose flour
1 gallon whole milk
1 pound Parmesan cheese, grated
1 pound Romano cheese, grated
In a large pan, cook the ground beef, diced onions, diced tomatoes, tomato paste, chopped parsley, and red wine for 45 minutes. Add salt, pepper, cinnamon, allspice, and nutmeg to taste. Set to the side.
Cook the penne pasta according to instructions on package and set aside to cool to room temperature.
Mix in the egg whites with the pasta. Then, add in the beef mixture to the pasta and egg whites.
Place the entire mixture in an aluminum double large pan.
Melt the butter in a large pan, add flour, and stir. When creamy, add whole milk. As the mixture thickens, add the cheeses, plus nutmeg, cinnamon, the yellow of the eggs, and white pepper (seasonings to taste).
Pour the cream over the pan evenly. Set aside for 30 minutes then put the pan in the oven at 325 degrees for 30 to 60 minutes until it browns to your preference.
Note: To be eaten two days before running in a marathon.
Want more buzz like this? Sign up for our Morning Buzz emails.
To leave a comment, please log in or create an account with The Buzz Magazines, Disqus, Facebook, Twitter or Google+. Or you may post as a guest.