Taking healing on the road
Click the Buzz Me button to receive email notifications when this writer publishes a new article or a new article in this column is published.
For nurses and other health professionals, the current health crisis has been a test of courage, endurance, and professional capacity. It's been a trial by fire, and cardiovascular nurse Holly Seth is no exception. 
She was doing rotating duties in the Covid units at Baylor St. Luke's Medical Center, covered in protective gear and taking precautions – and work was stressful. "It's a risk every day – but that's what you do as a nurse. You provide care for your patients."
The workload was the heaviest she'd ever experienced. "I was working a lot, as was all the hospital staff," she said. "We were basically working, or we were confined to our homes. After being locked up with my husband, two dogs, and a cat in our small condo for nine months, I decided I needed a break for my own sanity. Traveling is my favorite pastime, so it was time to get out of town!"
That's when her friend Carol Nnabuife called with an opportunity. Carol is a full-time travel nurse, and she had gotten a job in Phoenix working with Covid patients. Travel nursing is a profession that has been around for a long time – typically a nurse signs up with a travel-nurse employment agency and goes where demand is high, signing a contract for up to six months. Now, with the Covid crisis, demand has gone through the roof, and a traveling nurse can earn in a week what can normally be earned in a month. Plus, traveling nurses have the opportunity to see the world.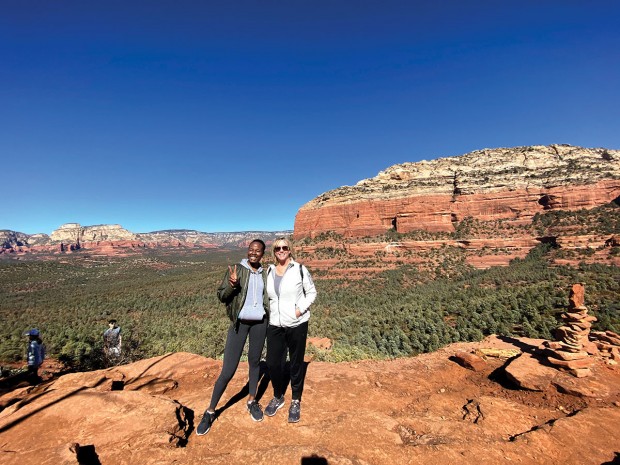 So Carol called Holly one day and said, "I'm going. Want to come?" and Holly said, "I'm in."
Holly's husband, Sandeep, works from home, and he offered to take care of their three geriatric animals, the "pet hospice," as they call it, with plans to go visit every few weeks. And with Covid easing up in Houston, the hospital was able to give her a leave of absence. So it was that in January of 2021, she headed for Phoenix, which was having a terrible Covid surge at the time, with one of the highest rates in the country.
"I have been in the same unit at St. Luke's since I started my nursing career – so it was a little nerve-racking to set out for the unknown…, going to a new place, not knowing coworkers or what the management is like, and you really don't know much of anything, so it's kind of scary. But you just have to be confident in your nursing skills and know that you can tackle it."
She did indeed tackle it: working four intense days per week, 12-hour shifts caring for Covid patients in a progressive care unit.
Carol worked in a different hospital, so they would try to line up their schedules to be able to share their days off. Phoenix was on lockdown, so every chance they got, they would head out of the city and immerse themselves in the outdoors.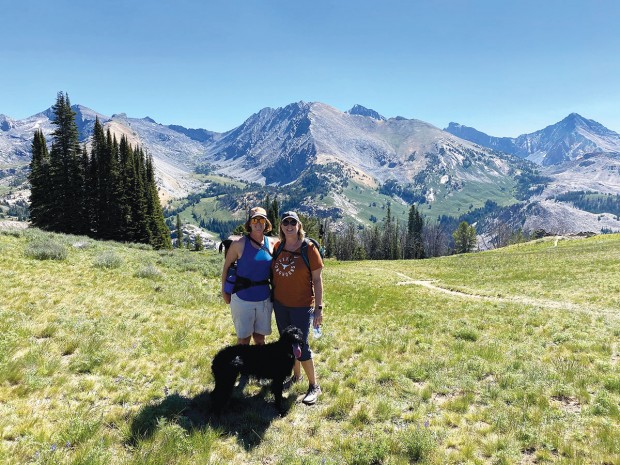 "I am from Colorado originally and am a big believer in eco-psychology," says Holly, who is 52. "Being out in nature is a huge physical and emotional boost and source of joy for me."
Every couple of weeks, the friends would go two hours north to Sedona, a mountain town ringed with red rock buttes and steep canyons. Holly quickly fell in love with the town and the surrounding wilderness. Her aunt lives in nearby Prescott, so she could get some visiting in at the same time.
"It's a magical place. The beauty of the rocks and the colors are unbelievable – the whole feel of the place is amazing," Holly said of Sedona. "There's rock climbing and hiking and fishing, so much to do there."
Anyone who has spent time in Sedona can tell you about the vortex energy spots, as they are known – places that are said to have a magnetic field beneficial to the human body and spirit. Holly and Carol went on a tour with a guide who took them to the best-known vortexes. Holly wasn't sure she felt anything; Carol was pretty sure she did. For both, however, it was "quite an experience," according to Holly.
The town is filled with spas and other businesses with a focus on healing and well-being. Vortex or not, it seemed that Sedona was just the right medicine to revive the spirits of the two Covid-weary nurses.
Holly spent 10 weeks in Phoenix, and then it was time to head back to Houston. The weather in Houston was oppressive, especially after the regular escapes to the mountains. So the family took a vacation in Iceland before Holly headed off to visit her sister and take on her second travel-nurse stint: in Sun Valley, Idaho.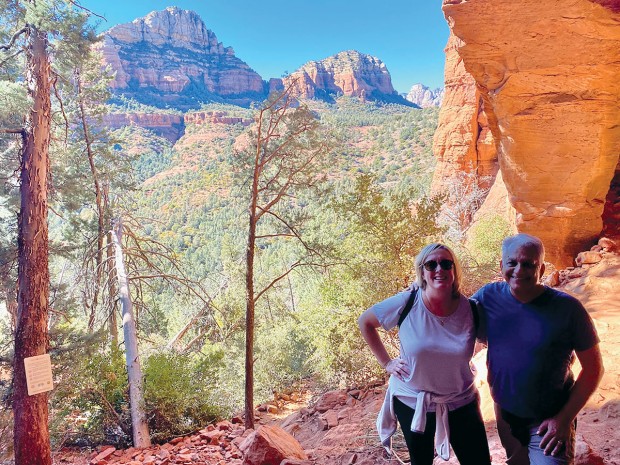 "It's one of the most beautiful places in the country, and the weather is amazing," she said. "I wanted to get away again and spend some time with my sister and nephews, and luckily my husband was supportive."
So Holly has been in Sun Valley since Aug. 1, and Sandeep has come to visit there as well. This time, there wasn't much Covid in her area – although Idaho, in general, has a high Covid rate, Sun Valley, with its emphasis on health and its high vaccination rate and mask mandates, combined with outdoor activities, has a very low rate. So Holly took a job with a cardiology practice in Ketchum, the town at the heart of Sun Valley. 
Like Sedona, the area itself is breathtaking, with abundant outdoor adventure opportunities: hiking, biking, fishing, rock climbing, skiing, ice skating.
"It's an outdoor playground," she said. "There are endless things to do – it's just gorgeous." 
Her sister lives in Ketchum in a tiny condo with two boys and two big dogs. So Holly put an ad in the paper and found a good deal in the neighboring town of Hailey, where she now lives with a middle school teacher who's renting out a spare bedroom.
Housing in Ketchum and Hailey is difficult to come by, she said, "because during Covid everyone wanted to move to small towns, and this was one of the favorites in the country. It has a very small-town feel, but it's a world-famous destination at the same time, so it's really unique. I love it here."
Everything is nearby and accessible, so she can join her sister on outdoor excursions after work. Both are experienced fly fisherwomen, so that's been a favorite pastime. "It's just a quick change of clothes, and you're on the water in minutes!"
Highlights so far have included a hike up to Pioneer Cabin up in the Pioneer Mountains – "that was a long one, especially for someone from sea level –  it was a long hike but it was just gorgeous." 
They also enjoyed the Sun Valley Music Festival during the summer – recognized by BBC Music as one of the country's best classical music festivals.
Rivers are plentiful, and they've been to the Big Wood River, which runs right through Sun Valley, as well as the nearby Snake and Madison rivers. They also do a lot of biking – the area has trails that are groomed by the county's outdoor recreational district. Sandeep has come up to join her every three weeks or so, so she's had another partner in her adventures.
Since she arrived, she's been gearing up to keep pace with her athletic nephews while cross-country skiing in Sawtooth National Recreation Area and downhill skiing on Bald Mountain at the Sun Valley ski resort. Sun Valley Resort was recently named America's No. 1 ski resort for the second year in a row by Ski Magazine.
So far, with two travel-nursing gigs under her belt, Holly has found it to be a rewarding experience. 
"It was rewarding to go where I was needed," she said. "Everyone was supportive, nice, and appreciative – they said thanks for coming and helping us out during this time. Same here in Idaho. I am thanked by patients every day who are grateful for my coming to alleviate the shortage of healthcare workers."
Going to Sun Valley turned out to be the perfect opportunity. 
"I've been working in a hospital since starting my career, so I wanted to see what the work day is like for a clinic nurse," she said. "I've been able to get out in nature and enjoy the activities that I haven't experienced in many years while living in Houston. Lastly, but most importantly, I am able to spend quality time with my sister and her family after being separated by the pandemic for almost two years."
Holly isn't sure yet about her future plans, but seeing more of her loved ones will be part of them. "I only like to travel where I know people. Otherwise, I imagine it would be quite lonely. So I may head to Denver, where my mom and several friends live." 
Editor's note: Buzz travel columnist Tracy L. Barnett is a Lowell Thomas travel journalism award winner and longtime travel and environmental writer. Email her at [email protected] to share your own travel tales.
Want more buzz like this? Sign up for our Morning Buzz emails.
To leave a comment, please log in or create an account with The Buzz Magazines, Disqus, Facebook, Twitter or Google+. Or you may post as a guest.