Where to eat your greens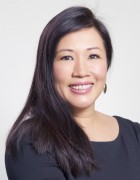 Click the Buzz Me button to receive email notifications when this writer publishes a new article or a new article in this column is published.
Every January, people do the same thing – assess what they eat and make a solemn promise to themselves that they'll lose 15 pounds or, at the very least, eat better in the new year. They often start by dialing down meat intake and adding more greens to their diet.
Healthy restaurants to the rescue.
Leaf & Grain president Deets Hoffman says his salad-and-bowl restaurant sees a 30 percent bump in sales in January: "That's a big jump. Some people will fall away in February, but we'll still be up around 20 percent, and that will set the new normal for the year."
The St. John's School graduate says eating is psychological, noting that people generally indulge Thursdays through Sundays, but scale back on their calories after the weekend. Unlike most restaurants, however, Hoffman says, Leaf & Grain is busiest Mondays and Tuesdays, which typically are slow days for restaurants. 
"People need balance," Hoffman says. "They want to bounce back after a heavy meal and letting loose over the weekend." 
Overall, Americans are eating more plant-based foods, a trend that has spawned a flourishing segment of vegan-friendly, health-conscious national chains – including Sweetgreen, Salata Salad Kitchen, Flower Child, and True Food Kitchen – geared toward omnivores aiming to strike a balance between meat and plant options.  
According to a Gallup Poll, only 5 percent of Americans are vegetarians, and 3 percent are vegans, which are vegetarians who eat plants and avoid all animal-derived products, including eggs, dairy, and honey. These days, it's easier to be either.   
Flexitarians/semi-vegetarians, demi-vegetarians, reducetarians, semi-vegans, etc. are motivated to eat more vegetables and fruits while reducing meat and/or dairy. A recent survey by Packaged Facts found that 53 percent of consumers are omnivorous and more than 36 percent identify as "flexitarian," consuming meat, poultry, and seafood along with vegan and vegetarian meals. These are the folks, not vegans or vegetarians, whom grocers, food manufacturers, and restaurants are targeting.
Most people are familiar with Burger King's popular Impossible Whopper. About two months ago, McDonald's started testing the plant-based McPlant burger in eight restaurants nationwide. Other chains already are on board. Panda Express added orange chicken made with Beyond Chicken. 
In 2020, vegan entrepreneur Lucas Bradbury rolled out a breaded, plant-based "chicken" franchise called Pollo Project, with locations in San Antonio, Austin, Corpus Christi, Katy, and Houston. Its proprietary vegan "chikn" is made with non-GMO soy and spices to create fried-chicken flavor in nuggets, sandwiches, and wraps.
Whether your goal is to eat more salads, or you're just vegan-curious, here are a few Houston born-and-bred options: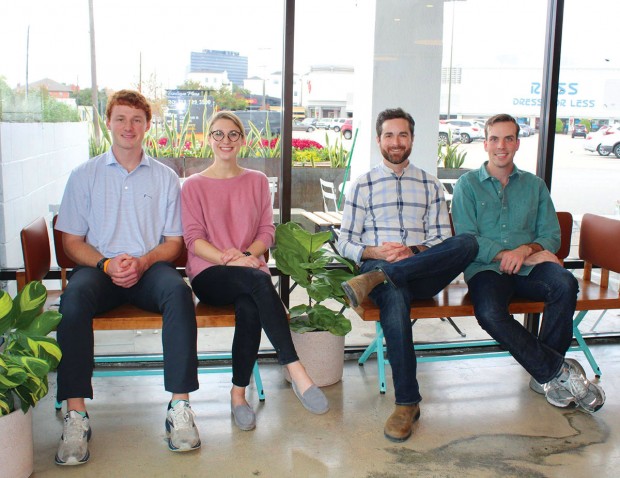 Leaf & Grain offers pre-designed salads. Chef and co-owner Edward Thompson's carefully composed and balanced creations boast contrasting flavors and textures to keep salads and warm bowls (with brown rice and quinoa) interesting. However, you also can mix and match to your heart's content. Everything is made in-house except for the tortilla chips, from the sourdough bread to the lilting homemade dressings. The best-sellers – cilantro-jalapeño dressing, honey white balsamic, and chipotle-lime vinaigrette – are recipes from founder Deets Hoffman's mother, Courtney. Most of the dressings are vegan-friendly, with a couple of exceptions – the Caesar dressing contains anchovies, and Greek yogurt enriches the cilantro-jalapeno dressing. 
Meat and vegetarian options are available, plus a separate, full-vegan menu. Leaf & Grain has locations in the Shops at Houston Center (1200 McKinney St.), One Allen Center (500 Dallas), and West University (5525 Weslayan). 
Verdine (449 W. 19th St.) takes plant-based cuisine to the next level. Located in a stylish, modern dining room in the Heights Waterworks development, the three-year-old Verdine showcases seasonal and locally sourced ingredients. Chef-owner Stephanie Hoban is a trained natural-foods chef with a master's degree in nutrition. Her tagine tofu bowl and Bistro Burger (with a lentil-walnut-mushroom patty) are lunch-crowd favorites. Dinner offers heartier options, including Beyond Chicken parmesan with organic linguini and a pan wheat crust pizza topped with vegan mozzarella, Field Roast pepperoni, and housemade marinara. 
Cascabel (1415 Murray Bay St.) radiates hippie vibes reminiscent of the Houston-favorite Hobbit Café, one of the few local places that has served vegetarian grub since way back in the early '70s. In 2020, Cascabel's vegetarian owner, David Arreguin, created a vegan Mexican menu without the cheese. As many diners know, sour cream and cheese are crucial ingredients in Mexican cooking, as they add tangy, salty, savory dimensions to tacos, enchiladas, tortas, sopes, tamales, etc. Arreguin has built a loyal following among vegans, vegetarians, and their meat-loving companions with potato-based chile con queso, wheat flour fried "chicharrones," spicy faux "menudo" soup, chile relleno stuffed with jackfruit, and "huevos" made with mung beans and volcanic salt. 
Veegos (10932 Westheimer Road) is another vegan Mexican option, offering nachos, tortas, quesadillas, and tacos. Cashews provide the foundation for the vegan cheese, and seasoned, shredded jackfruit substitutes for the meat in tacos. A corn hominy stew, the pozole, is bolstered with meaty slices of baby bella mushrooms. 
Green Seed Vegan (4320 Almeda Road) is hard to miss, located inside a thoughtfully decorated building painted cabbage green. An elixir menu highlights reasonably priced, fresh, pressed juices and wheatgrass shots. In addition, owners Matti Merrell and husband Rodney Perry have created a fresh-tasting, creative menu free of soy and processed vegan meats. Take, for instance, the PB&P, or a panini with caramelized plantains, spinach, and peanut butter. Regulars also savor portabello "cheesesteak," walnut-sunflower chorizo, buckwheat quinoa patty burger, lemongrass garbanzo tempeh, and blackberry-lemon cashew cheesecake. 
Korny Vibes (403 Westheimer Road) is a low-key fast-food vegan concept specializing in plant-based burgers and all things vegan fried chicken (VFC). Start with the Cauli Wyngs, or panko-fried cauliflower with "ranch" dressing, then go on to the VFC sandwiches and burgers. Finally, there's vegan cheesecake, German chocolate cake, and shakes made with oat-and-almond milk topped with coconut whipped cream for dessert.  
The secret to salad? The dressing
The key to adding more salads to your diet? Good homemade dressing. Even the best cooks reach for the bottled stuff on occasion, but taking less than three minutes to combine oil and vinegar and some seasonings can transform your journey to healthier eating. Adding a salad to your daily routine need not be a chore when you leave behind the mass-produced concoctions of cheap oil, water (yes, more water than oil if it's low-fat), dried spices, and ghastly unnatural chemicals. Homemade vs. store-bought is akin to real butter vs. margarine. 
We'll start with the simplest dressing, the vinaigrette, courtesy of Leaf & Grain culinary director and co-owner Edward Thompson, who also shares tips on elevating a good salad to a great one with just four ingredients. 
Juice from 1 lemon
2 Tablespoons white wine vinegar (see note)
1 Tablespoon Dijon or whole grain mustard
1 cup olive oil (see note) 
In a bowl, whisk together lemon juice, vinegar, and mustard. Slowly drizzle in the olive oil while whisking to build a stable emulsion. Taste the dressing and add more oil or vinegar, based on your palate. Season with salt and fresh pepper to taste. Makes 1¼ cups. 
Note: The vinaigrette is a great template to work with, Thompson says. Although lemon is the most versatile seasoning and something you'll most likely almost always have on hand, you can swap out different citruses, such as blood orange or grapefruit. You also can switch out the vinegar for alternatives such as apple cider or, for a milder taste, champagne. Furthermore, adding different oils can change the dressing's profile completely, such as using hazelnut oil or sesame oil. You also can add chopped shallots or garlic; fresh herbs, such as parsley or thyme; or any other fancy stuff you might like.
Three salad solutions
Here are tips from chef Thompson for elevating a salad from good to great. 
No. 1 – Don't forget to season your greens! Lettuce deserves salt and pepper just like everything else, and unseasoned greens are responsible for many bland salads. The only way to tell whether things are seasoned correctly is to taste them. 
No. 2 – When making a salad, add contrasting textures and flavors to keep things interesting and balanced. For example, if you're working with soft greens, such as butter lettuce, toss in sunflower seeds or breadcrumbs for a nice crunch. Throwing in spicy grilled chicken? Consider a creamy dressing or sliced cucumber (or both) to balance the spices out. 
No. 3 – Keep it seasonal when possible, and keep it simple by using the best ingredients you can get when in doubt. 
Editor's note: Buzz dining columnist Dai Huynh is a James Beard food-journalism award winner and longtime Houston-based restaurant writer.
Want more buzz like this? Sign up for our Morning Buzz emails.
To leave a comment, please log in or create an account with The Buzz Magazines, Disqus, Facebook, Twitter or Google+. Or you may post as a guest.