Yale Whiffenpoofs in Houston: Emery Grad Returns in Tux and Tails
Click the Buzz Me button to receive email notifications when this writer publishes a new article or a new article in this column is published.
Some might remember Ryan Bronston from his time on the Emery/Weiner stage. On Monday night, Ryan returned to Emery's Becker Theater, "the stage I've spent far too much time on in my life," as he joked during the concert introduction. 
Ryan, a Bellaire native and 2018 Emery graduate, is currently on tour with the world-renowned Yale Whiffenpoofs. The Whiffenpoofs are the oldest acapella group in the United States, founded at Yale University in 1909. Following a grand tradition, each of the members has taken a year off from school at Yale (between junior and senior year) to tour the country and sing together.
As part of the tour, each member gets the opportunity to add their hometown as a stop. This was Ryan's, and he arranged the concert at Emery because, as he explained, "It's always going to be a very special place to me. I figured, what other place would be better to have our public concert than there?"
During the stop in Houston, the Whiffenpoofs performed for students at multiple other schools, including Episcopal and Strake Jesuit, but the show at Emery was the only one open to the public. 
The concert included quite a few shoutouts to Ryan and his Houston background, from the other members cuing him to an impromptu rendition of "Nature Boy" (in which Ryan solos) to his thank-you to his mother for the banana bread she made for the group, as they all stayed at their Bellaire home. (Yes, all 13 of them stayed at the Bronstons.) 
Although the group marched out singing a Yale standard, their music ranges, including Beatles classics and a surprise mashup of Whitney Houston's "And I Will Always Love You" with Olivia Rodrigo's chart-topper "Good 4 U." About 30 seconds into a song, as you hear the distinct harmonies, you begin to understand why the Whiffenpoofs are so famous. Every voice is jaw-dropping.
The group is a sight to behold, starting from their tux and tails ensemble. But the spirit of fun is alive and well, with jokes between nearly every song and loving jabs about "the 18-lane highway known as Houston, Texas," as Ryan joked. As the members loosen their tuxes and sling their arms around each other for the final song, it's easy to imagine their predecessors at Yale's Temple Bar.
We got the chance to chat with Ryan prior to the show at Emery. Ryan is a Tenor II and Assistant Business Manager of the Whiffenpoofs. His major at Yale is Ethics, Politics, & Economics. Read on for excerpts from our interview with Ryan.
How did you get started in music? What's your background?
In first or second grade, I saw some friends of mine perform in a musical at the JCC (the Evelyn Rubenstein Jewish Community Center). And I was like "I have to do that." So I did theatre from then until the end of high school [at Emery]. And when I got to college [at Yale], I wanted to do singing, but I didn't want to do both singing and musical theatre at first, so I started doing acapella and then just kept with it.
Do other people in your family sing or play instruments?
My parents both did. My mom (Micki Bronston) did when she was in school. My dad (Ben Bronston) says he can't sing, but he's got a great voice. He's never really been a performer, per se. My sister (Lindsey Bronston) did theatre with me at Emery when we were both there at the same time. She's also got a great voice. I feel lucky to be coming from a family of singers.
What city are you currently in?
We're currently in Houston. I'm in my bedroom at home right now. It feels really nice but really weird because I've got the whole acapella group staying in my house. 13 people, including myself. We're all piling in here. It's less chaotic than I thought it would be, but granted, we're only on day two. So anything can happen.
What Houston spots are you planning to visit? How about Whataburger?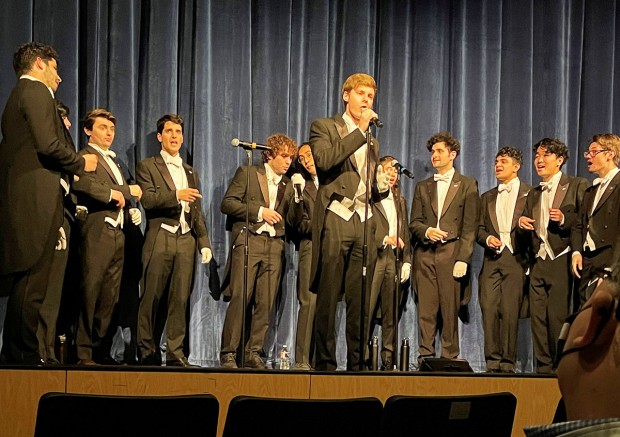 Of course. I was sad because we just came from San Francisco and one of the other members wanted us to get In-N-Out but we didn't have time. I kind of wish we had gotten it, just so that they could get Whataburger directly afterwards and know that the latter is superior. (Note: We have been assured that Ryan has now taken the group to not only Whataburger, but also House of Pies, Torchy's Tacos, and Agora. We assume the Whiffenpoof members now agree with Whataburger's superiority.)
What kind of music do you like? 
A lot of different genres. I love classic R&B/ soul music. My dad is super influential to my music taste, he would be upset if I didn't mention that. Stevie Wonder remains one of my favorite artists. A contemporary disciple of Stevie Wonder who I love is Allen Stone—I'd like to think he's up and coming.
Do you play any other instruments?
I don't, unfortunately. Lots of members of this group are incredibly talented. Everyone is an incredible musician, but some are incredible pianists, guitarists, flautists, saxophonists. Being around this group, I've kind of been immersed in the instrumental world. Now I'm really trying to learn piano, so it's been super fun to actually understand what's going on in music. It's been a super cool experience to get more acquainted with an instrument and learn more about music theory as well.
What was your favorite part of theatre in high school?
The most rewarding, but also the most terrifying, was [performing in the Emery production of] Fiddler on the Roof. I did that junior year of high school and played Tevye, so I devoted a lot to it. And all of it paid off, and in the end, it was a fantastic experience. But doing that show at a Jewish school for a Jewish audience, where everyone knows the show and has expectations for it—I was nervous. But I don't know if I could pinpoint an experience in my life that was as rewarding as that. Overall, I think that was one of the many highlights of my Emery experience.
The Whiffenpoofs are heading to Dallas next, with a public concert on Jan. 29. No word yet on whether they're all staying in one house again—but we doubt the next locale will have homemade banana bread. 
Want more buzz like this? Sign up for our Morning Buzz emails.
To leave a comment, please log in or create an account with The Buzz Magazines, Disqus, Facebook, Twitter or Google+. Or you may post as a guest.