Chef's Corner: Brandi Key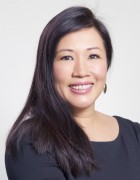 Click the Buzz Me button to receive email notifications when this writer publishes a new article or a new article in this column is published.
Dish Society founder Aaron Lyons had the concept name and a sought-after space on CityCentre's main green (vacated in 2019 by the restaurant International Smoke). Now he needed his chef.
At the time, Brandi Key was working at Alice Blue in the Heights. But the CEO was familiar with her classic bent with a creative twist during her seven-year tenure with Clark Cooper Concepts. The Texas native helped open Coppa Osteria, Punk's Simple Southern Food, The Dunlavy, and SaltAir Seafood Kitchen. She had the knowledge of overseeing multiple locations and concepts.
Lyons and Key clicked, and she agreed to don the executive chef hat for his full-service, Memorial-area restaurant, Daily Gather (800 Sorella Court, Suite 940), plus take on the role of director of culinary operations for Dish Society's six locations, with more to open down the road. Here, Key shares "key" ingredients behind her cooking, the recipe for her most popular dish, and where she dines.
What is Daily Gather's central theme?
When Aaron and I started working on this project, one of the things we wanted to bring to the forefront was the idea of gathering around the table. So, we wanted a menu that would encourage sharing and has small plates you can put on the table and enjoy passing them around the table.
How would you describe the food?
My focus was to have these shared plates hit a lot of textures, flavors, and countries. So, the idea is to have American fare that was approachable, and people would understand, but also take some turns along the way that would give it a new face, a new flavor.
Can you give some examples?
Sure, one great example is our bone marrow dish. Bone marrow is one of those classic French things. You typically see it where it is roasted, and it usually has some sort of gremolata on it. You also have bread on the side to spread everything on top of it. So, my thing was, "How can we take it to a different place?"
I love Vietnamese food, and it is showcased here in Houston really well. So, our bone marrow is roasted with an oyster sauce glaze, and then we topped it off with Vietnamese herbs that makes it really interesting. So, you get the best of both worlds – this unctuous bone marrow that you know what it is. But we take you to a different place with all the Vietnamese flavors.
You did a similar thing with good ol' cornbread.
I grew up on cornbread. It's a very Southern thing. But how do we use cornbread as a vehicle for another place? What we did with cornbread is it becomes a vehicle for (Mexican) elote. We cook corn in this chili-lime butter that gets poured over the cornbread, then we top it off with cotija, crema, and cilantro.
These dishes do take you to various places, but they're also all American because they are Houston-inspired. Did the idea of shared plates come up before Covid? Dining is a different animal these days.
It is. But I was brought on a year ago, and we were smack in the middle of Covid. There was a long period when restaurants were shut down, and people were encouraged to stay home. So, there was a lack of hospitality, and there was a craving to connect around the table, engage, catch up, and share.
What about you? Name places you go to for tasty food and to connect with friends and family.
I really love this Vietnamese place, Nam Eatery (502 East 20th St. B), for soft shell crab bun (noodles), caramelized pork spareribs, filet banh mi, and shrimp spring rolls. I also love eating at Aladdin Mediterranean Cuisine ( 912 Westheimer Road and 1737 W 34th St.). I'm big on vegetables, and I'll order tabouli and eggplant with grilled chicken, or I can load up on salads, and I'll be happy.
Laredo Taqueria (915 Snover St.) off Washington is another favorite. Their fideo is just so good. So are the nopales tacos. Last night, we ate at Little Pappasito's (2536 Richmond Ave.). I'm biased, but their fajitas are always on point. They got it locked in, and who doesn't want great fajitas?
When cooking at home, what are your go-to ingredients?
I'm 100 percent a citrus acid fan, and what it can do for food, like elevating something as simple as a sauce. Sometimes, a squeeze of lemon is all it needs to bring that freshness. I love green onions. I can put green onions in everything. My other ingredient? Yogurt. I love marinating meat in yogurt and grilling it over the fire to get that charred, caramelized flavor. I love what yogurt does to proteins, like salmon and chicken.
Indian cooks use yogurt to tenderize the chicken. But how do you marinate salmon in yogurt?
One of my favorite things is vadouvan, a French-styled curry. It's very heavy on the onions and shallots. Along with the vadouvan spices, I marinate salmon filet in yogurt for about 15 to 20 minutes, then I cook the salmon on the grill. It is the most delicious thing. The key is to make sure the grill is super-hot and free of debris.
Who influenced your cooking the most?
A handful of people. But at the core of it, my upbringing and the way we ate around our dinner table at home. My grandparents were really fantastic cooks, and I grew up on a step stool next to them. I watched my grandfather make the fluffiest buttermilk pancakes I've ever had in my life. I watched my grandmother making homemade biscuits, and I watched my other grandmother on my mother's side harvesting vegetables out of her garden. I spent the summers picking tomatoes and eating them off the vine.
We wanted to feature a recipe by you. Any ideas?
There is a particular pasta dish that I've had for a while, called Spaghetti Lola. I chose to put it on this first round of menus for Daily Gather because it brings the story full circle. The dishes not only come from different places, but they have a reference or an influence, a story that happened in my life or Aaron's.
Both of my grandmothers were named Lola. One was a gardener, and the other was a really fantastic cook. I wanted to put together a pasta dish that took both of those ideas and put it into one, so it is a green spinach-based spaghetti with a bunch of basil and other wonderful herbs. That's the gardening part. The cooking part is that we got this really simple tomato sauce that is elegant, silky, and super flavorful.
For Lola Sauce:
½ cup extra virgin olive oil
Red pepper flakes
10-12 basil leaves
6 garlic cloves, peeled
2 (28-ounce) cans of San Marzano tomatoes
Kosher salt to taste
For Spaghetti Lola:
1 pound dried pasta, spinach flavored
2-3 cups Lola Sauce, warm
Kosher salt and black pepper
16 basil leaves
4-ounce burrata
1-ounce extra virgin olive oil
Maldon salt
Lola Sauce: Make Lola Sauce by adding extra virgin olive oil, a pinch of red pepper flakes, basil leaves, and garlic cloves in a small saucepan and place over medium heat. Bring the oil mixture to a simmer, then remove from the heat and allow to steep for 20 minutes to release the flavor of the ingredients into the oil.
Meanwhile, open the cans of tomatoes and transfer them to a bowl. Gently squeeze the tomatoes in your hands to break up the big pieces of tomato so that all pieces are approximately ¼-½ inches.
Place the tomatoes in a saucepan and place over medium heat. Bring the tomatoes to a gentle simmer, then season to taste with kosher salt. Note: Canned tomato products are not all equal and could possibly need a pinch of sugar to help bring out the natural taste of the tomatoes. The final heated tomatoes should be well seasoned and a touch sweet when the tomatoes are completely ripe.
Once the oil has steeped for 20 minutes and is full of flavor, using a fine mesh strainer, strain the oil into the heated, seasoned tomatoes. Stir aggressively with a whisk to emulsify the oil into the tomatoes.
The sauce at this point is done and will be silky smooth and well-seasoned with aromatic notes of garlic and basil. Do not overcook the sauce as it is best when it is light, fresh, and not overly concentrated.
Spaghetti Lola: To make Spaghetti Lola, place a large pot of water on the stove and season the water aggressively with kosher salt. The water should taste salty. When the water is boiling, add the dried spaghetti to the pot and cook, stirring regularly to keep the strands separated while cooking.
Cook for approximately 8-10 minutes or until the pasta is just cooked through with a small bite to it.
Meanwhile, place the Lola Sauce in a large pan big enough to hold the pasta and heat gently over medium heat.
Once the pasta is cooked, drain the pasta, reserving ½ cup of the pasta water.
Add the cooked pasta to the Lola Sauce and stir to combine. Add a couple of tablespoons of the pasta water to the pan with the basil leaves and continue to cook for 2-3 minutes or until the sauce begins sticking nicely to the noodles. If the sauce looks dry, add another couple of tablespoons of the pasta water.
Season to taste with salt and pepper if needed.
Portion the pasta between four plates, making sure to twist the noodles into a high pile in the center of the plate.
Divide the burrata into four pieces and place on top of each bowl of pasta.
Finish with a pinch of Maldon salt on the burrata and a drizzle of extra virgin olive oil over each plate. Serve immediately. Makes 4.
Editor's note: Buzz dining columnist Dai Huynh is a James Beard food-journalism award winner and longtime Houston-based restaurant writer. This Q&A was condensed and edited.
Want more buzz like this? Sign up for our Morning Buzz emails.
To leave a comment, please log in or create an account with The Buzz Magazines, Disqus, Facebook, Twitter or Google+. Or you may post as a guest.