Galveston's Mardi Gras! Party
Click the Buzz Me button to receive email notifications when this writer publishes a new article or a new article in this column is published.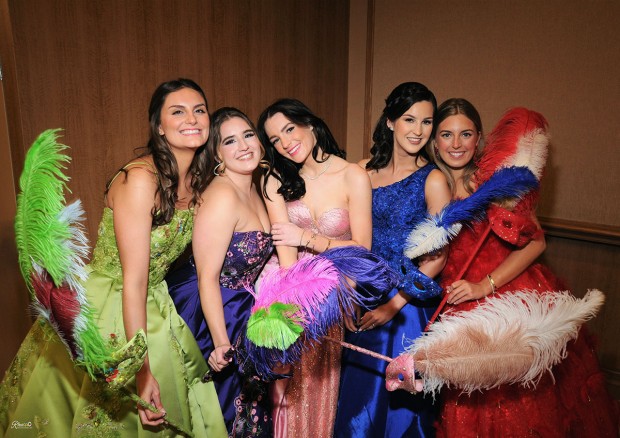 Though we might not realize it in Houston, just over the causeway there's a huge party going on. Galveston's Mardi Gras is underway. 
Growing up in Galveston, Mardi Gras meant standing on the 25th Street esplanade with friends, catching beads thrown off floats, while our parents dressed up and went to parties. Once we were old enough, we joined them, the biggest of the parties being the Knights of Momus Coronation and Presentation Ball.
That's where that year's Mardi Gras duchesses would be presented in their colorful ball gowns, and where we would dance all night to bands playing songs like Garth Brooks' "Friends in Low Places" and Archie Bell & The Drells' "Tighten Up." It was the '90s.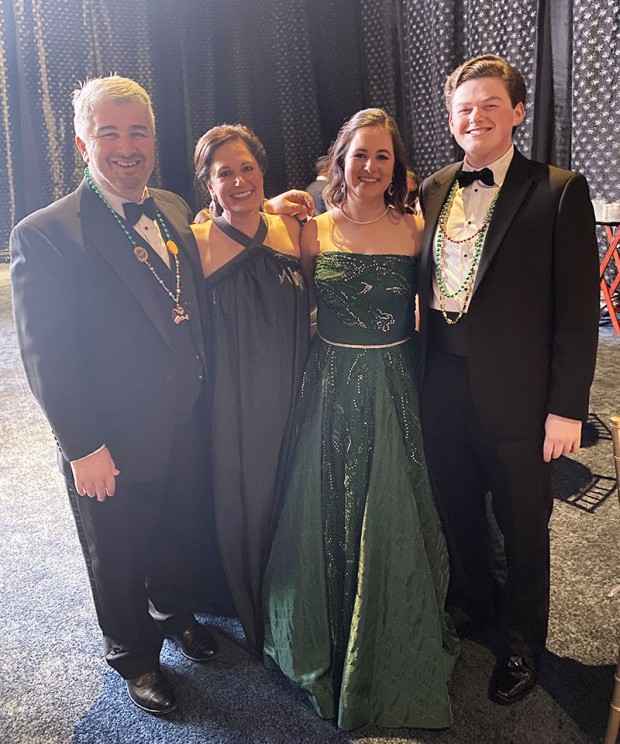 Eventually I got my own big, fuchsia ball gown and hurled beads from a float in the Knights of Momus Grand Night Parade with the other duchesses and their escorts. My sister followed and was crowned Queen the year Galveston's fairy godfather philanthropist George Mitchell was King. I still say the two weekends I spent as a duchess were two of the most fun weekends of my life. 
We stopped going to Galveston Mardi Gras in 2000, when my first daughter was born the day of the Knights of Momus ball. From then on, it was little girl birthday parties instead of vodka-sodas and IHOP at 2 a.m.
That is, until this year. That's because this is the year my daughter, the one who was born on a Mardi Gras weekend 22 years ago, celebrated her own duchess weekend. We have only made it through Weekend One, but I have to say, this might top my memories of a couple of the most fun two weekends ever.
Along with 29 other young women, my duchess daughter saluted "Midnight in Paris" – this year's Mardi Gras theme – with a Texas bow and a walk down a fashion week-inspired runway. (Full disclosure: My daughter had a New Year's run-in with someone else's skis and did something like a curtsy instead of a full-blown bow.)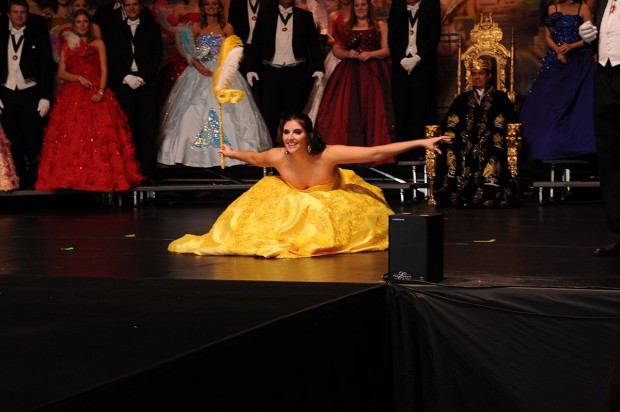 Ball chair Craig Kovacevich and Mistresses of the Robes Caroline Barnes and Janet Wegner pulled off the major feat of hosting a record 950 guests who came to cheer on two years' worth of duchesses (the 2020 ball was another corona casualty). Miwa Sakashita designed the dresses yet again, having done the job since before my sister and I were duchesses. Richard Flowers decked tables with an impressive array of monochromatic floral arrangements in pinks, yellows, and purples, reminiscent of Monet's Giverny gardens.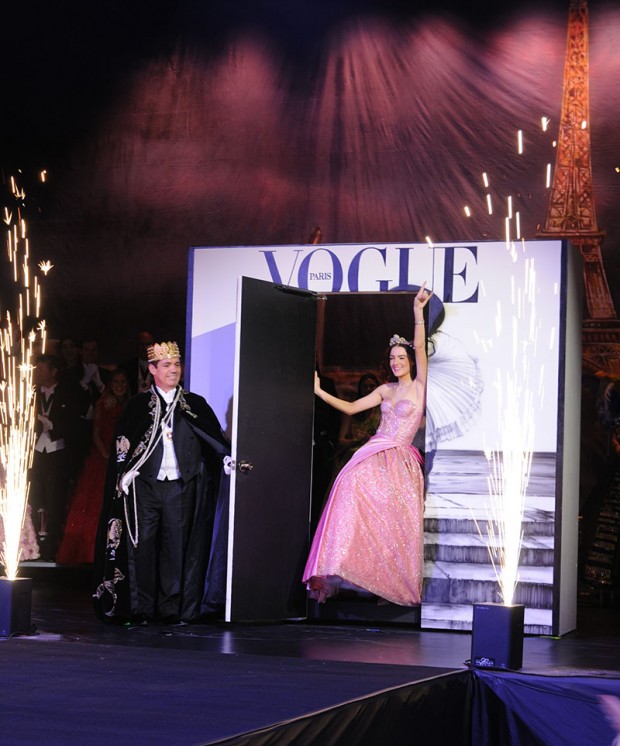 The presentation of 30 duchesses culminated with the crowning of Queen Libbie Lee Ansell, a senior at Tulane and a member of Kappa Kappa Gamma – same as my sister and me. Libbie comes from a long line of Momus royalty, starting with her great-grandmother Libbie Moody Thompson Walker, who was Momus' Queen in 1939. Frank Dominguez, III, was crowned King Frivolous CVI. 
The duchesses and their presenters half-strolled, half-danced back down the "runway" to Madonna's Vogue, bringing the entire room to its feet in applause and cheers. It was quite a scene to be a part of. The 23-piece Drywater Band kept us dancing until well after midnight.
And that was Weekend One. We are now off to Weekend Two, which is only going to get bigger with the San Luis Salute and Maroon 5 (yes, Adam Levine will be there) on Friday night and the Momus Grand Night Parade on Saturday. I'm writing prior to that debauchery only because I think I'll be asleep next week. But what a week this has been!
The 2022 Knights of Momus duchesses are: Channing Allshouse, Libbie Lee Ansell, Anna Bassett, Francesca Bertini, Ashley Dowling, Sarah Grace Elliott, Mia Flores, Lucy Frankfort, Alexis Gust, Katherine Haver, Madison Hay, Hailey Herrold, Catherine Jackson, Lexie Koehler, Danielle Lang, Emily Metyko, Madison Morton, Savannah Olsson, Kameron Ong, Mary Katherine Piel, Caroline Perillo, Tyler Robinson, Kellie Samson, Juliet Sweeney, Taylor Termini, Evelyn Voelter, Makenzie Walser, Grace Winfrey, Cara Wolff, and Dylan Wood.  
See the 2022 Mardi Gras Galveston lineup and more details here.
People in this article:
Andria Frankfort Dilling
,
George Mitchell
,
Craig Kovacevich
,
Caroline Barnes
,
Janet Wegner
,
Miwa Sakashita
,
Richard Flowers
,
Libbie Lee Ansell
,
Libbie Moody Thompson Walker
,
Frank Dominguez III
,
Adam Levine
,
Channing Allshouse
,
Anna Bassett
,
Francesca Bertini
,
Ashley Dowling
,
Sarah Grace Elliott
,
Mia Flores
,
Lucy Frankfort
,
Alexis Gust
,
Katherine Haver
,
Madison Hay
,
Hailey Herrold
,
Catherine Jackson
,
Lexie Koehler
,
Danielle Lang
,
Emily Metyko
,
Madison Morton
,
Savannah Olsson
,
Kameron Ong
,
Mary Katherine Piel
,
Caroline Perillo
,
Tyler Robinson
,
Kellie Samson
,
Juliet Sweeney
,
Taylor Termini
,
Evelyn Voelter
,
Makenzie Walser
,
Grace Winfrey
,
Cara Wolff
,
Dylan Wood
,
Libbie Ansell
,
Bill Ansell
,
Kenny Herz
,
Max Herz
Want more buzz like this? Sign up for our Morning Buzz emails.
To leave a comment, please log in or create an account with The Buzz Magazines, Disqus, Facebook, Twitter or Google+. Or you may post as a guest.