Unplugged at a West Texas ranch
Click the Buzz Me button to receive email notifications when this writer publishes a new article or a new article in this column is published.
Yael Rahimi, Maya Giske, and Nicole Splenser have been planning getaways for a few years now, always with the objective of immersing the kids – and themselves – in the natural environment. The three longtime friends had the mutual goal of unplugging from technology and going to places where the kids could "run and be free in nature and just be joyful," as Yael put it.
Lately, at least for their winter vacations, they haven't had to go too far. But this winter, they decided to do a getaway together that would be entirely different.
"We have kind of started to realize that Texas winter is pretty awesome and that we shouldn't leave because the weather is so great," said Maya. The kids like to hike and fish and explore, so they look for trips that give them free rein to do those kinds of things. Past vacations have taken them to Galveston and to Wimberley, Austin, and other places in the Texas Hill Country. For this winter vacation, they were ready to go a little further afield.
"Of course, the Hill Country is always everyone's first go-to because it's close," said Maya. "We've all been there. We know it. There's lots to do, lots of hiking, outdoor time – and there's also the wineries."
But they were all ready for something different when Maya, searching the web, randomly came upon Chandler Ranch in West Texas. It was on a site called exploreranches.com, a website like VRBO, but for ranches. It looked like a dream: soaring limestone bluffs, wide-open expanses of forest and rangelands, two free-flowing rivers, and a spring-fed swimming pool. A friendly-looking fellow named Richard Jasso would cook for them and serve as their host – and they'd have the whole 1,500 acres to themselves.
On the down side, there was the drive – seven and a half hours to the West Texas ranch, two hours shy of Big Bend National Park. The husbands were not thrilled with the prospect. But they kept talking; the ranch had captured their imaginations.
"Eventually we all came to terms with the fact that it was a worthwhile opportunity regardless of the drive," said Maya. She put in a call to the number on the website and asked a lot of questions. "We realized that it met most of our needs and that it had great lodging. Food was taken care of. There was fishing on the property. They had ATVs for us to use to explore. There were hiking paths and, of course, the stars at night to see. And so we decided to take a chance and go for it."
Each family had its own creative approach to getting there. Nicole was the first to chart a course. She would be traveling with husband Andrés, 8-year-old Ariella, and 4-year-old Matias. They needed to be at Chandler Ranch by Sunday night. So they decided to drive the three hours to San Antonio, spend the night there and start fresh on Sunday morning, driving four more hours west to the Caverns of Sonora.
There they met up with the Giskes – Maya and Gustavo and their two boys, 11-year-old Samy and 8-year-old Nathan, and spent about an hour exploring the cavern before continuing on their way, arriving at the ranch just before sunset. The Giskes had decided to spend the night exploring charming Boerne, a charming German-Texan town near San Antonio.
Yael's family, on the other hand, decided that with their four kids – 13-year-old Gabe, 11-year-old Shai, 9-year-old Eden, and 5-year-old Emmett, it would be easier to make the drive all in one day.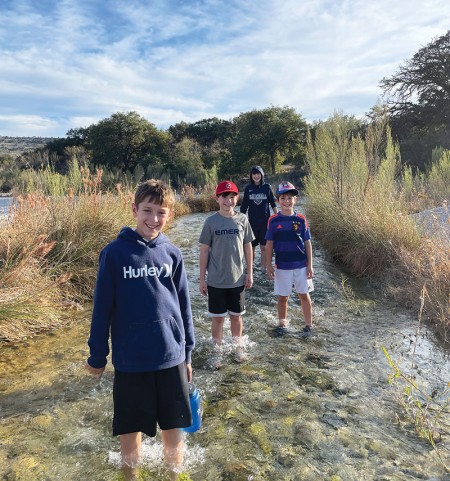 "We made it an adventure to get there," said Yael. "With four kids getting in and out of the car and staying places, it's actually more work."
So she and husband Neil and the kids piled into the car on Sunday morning and headed west.
"It was totally fine," she said with a laugh. "There are enough Buc-ee's to get us through."
For all of them, it was the first time they'd ever been to West Texas – it was the furthest west that any of them had been.
"My first reaction was, I was in awe of the beauty of it," said Maya. "I had no idea. I imagined in my head this arid, flat, dry land with tumbleweeds and nothing else, right? But it was not that at all."
The ranch, at the confluence of Independence Creek and the Pecos River, is surrounded by mesas, or flat-topped mountains, and the scenery is breathtaking. Yael, too, was taken aback — first of all, with the silence of the place. She felt herself exhaling the stress of the city and breathing in the fresh air of the countryside.
"It was beautiful. We arrived at 4 or 5 p.m. and the sun was starting to set, and they started a fire pit," she said. "We had a fire pit every single night, and the women sat and we each had some wine, and the kids immediately ran to the fishing pond."
The wild beauty of the place charmed them all, as did the accommodations, four meticulously restored cabins. Dating back three generations to the early 1900s, Chandler Ranch has a history all its own. Founded by a young cowboy, Charlie Chandler, the ranch grew into a successful operation where his six children grew up. His sons took over and turned it into a guest ranch in the 1950s, hosting local rodeos, barbecues, and dances. In the 1980s, they became unable to manage the ranch, which was leased to hunters and eventually fell into disrepair.
In 1991, the family signed an agreement with the Nature Conservancy, creating a conservation area and restoring habitat where a once-popular nine-hole golf course had been. In 2014, Joe A. Chandler, the great-grandson of Charlie, together with wife Nan, decided to revive the ranch and embarked on a restoration and rebuilding program. The ranch re-opened in 2015, this time with an emphasis on ecotourism – just what Yael, Maya, and Nicole were looking for.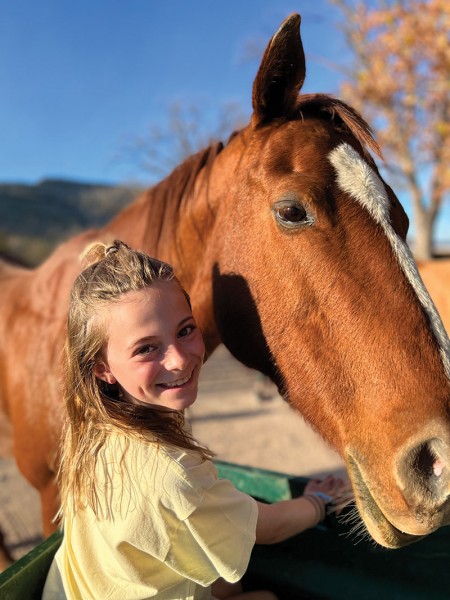 Their first day on the ranch, Richard took them all on an ATV tour, showing them the highlights of the 1,500-acre ranch: the trails, the streams, the pond that is kept stocked year-round, the free-roaming horses that can be fed, but not ridden.
They felt right at home in the main facility, a big roomy kitchen and game room area, and in their cabins, all of which were freshly renovated and immaculate. But with the blue skies calling them in the daytime and the campfires under the starry sky at night, they didn't spend much time indoors, and next to no time in front of screens. When they did come in, it was to play ping pong or pool or foosball in the well-stocked game room. On their last day, they did notice a large-screen TV in the game room, but they never got around to turning it on.
Richard was a first-rate cook and impromptu DJ, curating a special selection of music during their entire stay. His contagious laughter quickly endeared him to the group, and he ended up being a big part of the fun.
One day the dads took over caring for the kids so the moms could take a long hike to the lookout point, where the expansive vista included their accommodations. The next day they reversed roles. The highlights included bonding time on the trails and in the woods – and in one case, bonding with someone entirely unexpected. One evening as Yael stepped out to see the sunset she heard a noise and then saw something moving – an armadillo.
"I got within probably four feet of it and I sat down, and we just sort of hung out," she related with a laugh. "I drank my wine, and he was looking for bugs in the ground and we're just like, having a lovely evening together."
For Yael, one of the best parts of the vacation was being offline most of the time – and noticing that her kids were doing the same.
"I think for a lot of parents, Covid made parenting without technology really a challenge," she said. "That technology has become a part of their everyday life in school, and then they want it for entertainment outside of school. It's almost like an addiction."
So before the trip, they all talked about the intention to make the vacation a tech-free time – and that it was. The kids never asked for their iPads. "I felt like I saw a lot of joy come back to them," said Yael. "You know, we're all little kids inside, no matter what age, and I think especially for teenagers, they forget that. But I saw them remember that: 'I really like running around and getting wet in the pond, and I'm not too cool for all that.'"
The memories abound. "There was a moment where my daughter was running in the distance," recalled Nicole. "You could see her hair flying and she was just running as fast as she could. And I was like, This is the kind of vacation that I want to be on, where there's plenty of activity, nobody's sitting around bored, and she's looking for fossils and fishing, and that's just the dream right there."
Maya touched on an observation Nicole had made earlier. "We are very lucky that with this group that had a wide range of ages and genders, everybody sort of had a place, no matter what was going on. Big kids, little kids, girls, boys, everyone. And I do feel like the family came back recharged, and I know that at least for me, it was one of the better family vacations we've taken. It was just five days of no chaos, no arguments, no technology, no fighting. Just bliss, really."
Editor's note: Buzz travel columnist Tracy L. Barnett is a Lowell Thomas travel journalism award winner and longtime travel and environmental writer. Email her at [email protected] to share your own travel tales.
Want more buzz like this? Sign up for our Morning Buzz emails.
To leave a comment, please log in or create an account with The Buzz Magazines, Disqus, Facebook, Twitter or Google+. Or you may post as a guest.