Catching the waves in Hawaii
Click the Buzz Me button to receive email notifications when this writer publishes a new article or a new article in this column is published.
Like many people these days, Tracey and Jarret Reeves have canceled a lot of their travel plans over the past couple of years. So when son Parker, 14, had a school break in January, they decided to take advantage of it. They were prepared for the complications related to the pandemic – but little did they know their visit would also coincide with the largest volcanic eruption in 30 years.
"I started looking and saw that Hawaii had stringent Covid guidelines, and I wasn't sure we could swing it," said Tracey. But all three of them had had both doses of the vaccine, Tracey and Jarret had had their boosters, and they all had time away from school and work. Parker had never been to Hawaii, and his parents wanted to share the experience of one of their favorite destinations. "So we decided to go for it."
They chose the island of Oahu so they could get a direct flight.
"That was around the time all the flights were being canceled, so we opted to go nonstop," said Tracey.
In March, Hawaii lifted its strict Covid requirements, but they were indeed stringent at the time of the Reeves' visit – the strictest in the country. For starters, they had to register at a special website and upload all their vaccination documents in order to avoid a mandatory quarantine. They did not have to take a Covid test, thanks to their vaccination status. They did need to present their vaccination documents at the airport, however, and also when they arrived in Hawaii.
"There they give you a special wristband and everyone looks for that wristband, and they also ask for your vaccine card at restaurants," she said.
She booked their flight for the second week of January, and booked their stay at the 90-year-old Royal Hawaiian, a bright pink art deco hotel popularly known as the Pink Palace of the Pacific, where they were able to steep themselves in island history and atmosphere right on the famous Waikiki Beach.
They arrived in Honolulu after their eight-hour flight tired but excited, and with enough time for a hike and sunset.
"We dropped everything in the hotel room and went to the top of the Windward Coast, and in 15 minutes we were in the mountains," she recalled. They made their way up to the Nu'uanu Pali Lookout and there they got their first taste of Hawaii: out across Kaneohe Bay and overlooking the spectacular Ko'olau Mountains.
Then they headed back to the hotel, where they took in their first Hawaiian sunset on their home beach – Waikiki, the birthplace of modern surfing. Its name translates to "spouting waters" in Hawaiian, and it once served as a retreat for Hawaiian kings and queens.
The Reeves were pleasantly reminded that in Hawaii, sunset is a daily happening. "It's something that everybody stops to watch every day," she said. "So around 5:30, six o'clock, everybody just stops what they're doing and they watch the sun slip below the horizon. And it's kind of magical. There's clapping involved sometimes; it's just beautiful. It's nice that there's a real respect for nature in Hawaii and the natural surroundings."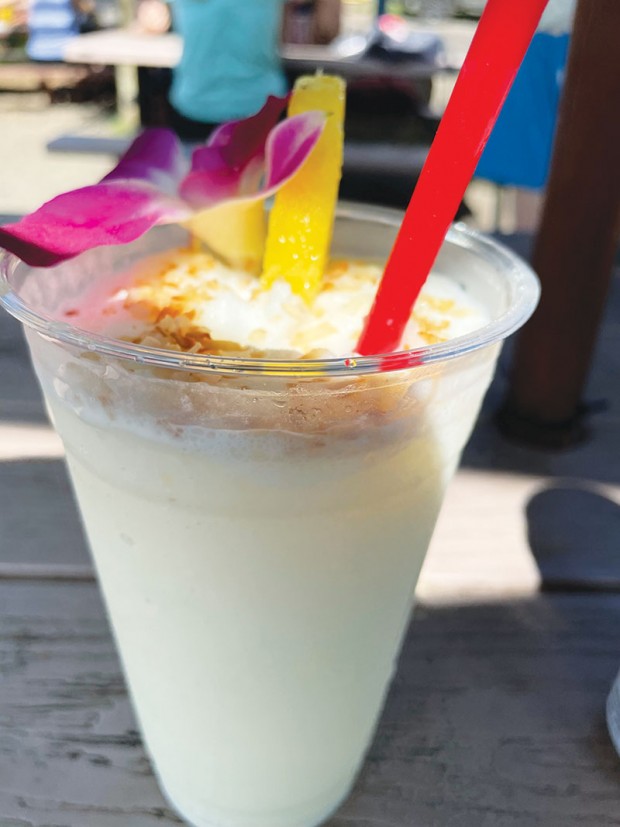 By then they were exhausted and the guys were falling asleep, but Tracey held out for dinner and a drink.
"I came all this way, I want a Mai Tai," she said with a laugh. There were a lot of the typical chain restaurants to choose from, but they wanted something a bit more Hawaiian. They ended up at the vintage classic Rainbow Drive-in, where they were able to sample the local fare.
Among other popular dishes, they tried some "Loco Moco" – beef patties with two eggs on top, covered in gravy. "Everything traditionally has rice and macaroni salad," said Tracey. "It's a real rib sticker."
Other local cuisine they learned to love included the traditional (and undoubtedly lighter) poke (pronounced po-kay) – marinated raw fish with rice and fresh vegetables. But their favorite Hawaiian food, and the one they started each day with, was fresh pineapple.
"I don't know if it's just because you're in Hawaii, but it's just so good. I feel like the pineapple you have here is so bland and over there it's just amazing."
The next day they awoke ready to explore. "There are so many things to see – Honolulu is very urban at some points, you're in traffic and you feel like you're in Houston, but literally in 15 minutes you're in the mountains and looking out at ocean as far as you can see."
Their first day immersed them in a more somber side of Hawaiian history: The USS Arizona, a part of the Pearl Harbor National Memorial. The wrecked battleship lies at the bottom of Pearl Harbor where Japanese bombers detonated the explosion that killed 1,177 of the 1,512 crewmen on board at the time and precipitated the US entry into World War II.
Jarret's uncle served in World War II in the South Pacific theater and died, so the family wanted to honor their special connection to the place. There under the placid waters lie the remains of more than a thousand of the sailors. Now a white memorial structure spans the mid portion of the sunken ship and provides a shrine for more than 1.7 million visitors to pay their respects each year.
After some time for reflection, they decided the best course would be to immerse themselves in the natural wonders around them. They took a winding trail through the lush tropical rainforest to the spectacular 150-foot Manoa Falls. A sign warned visitors not to swim in the inviting pool at its base because of the threat of leptospirosis infection, and though many people ignored it and swam anyway, the Reeves thought better of it and headed back to the beach for a cleaner swim.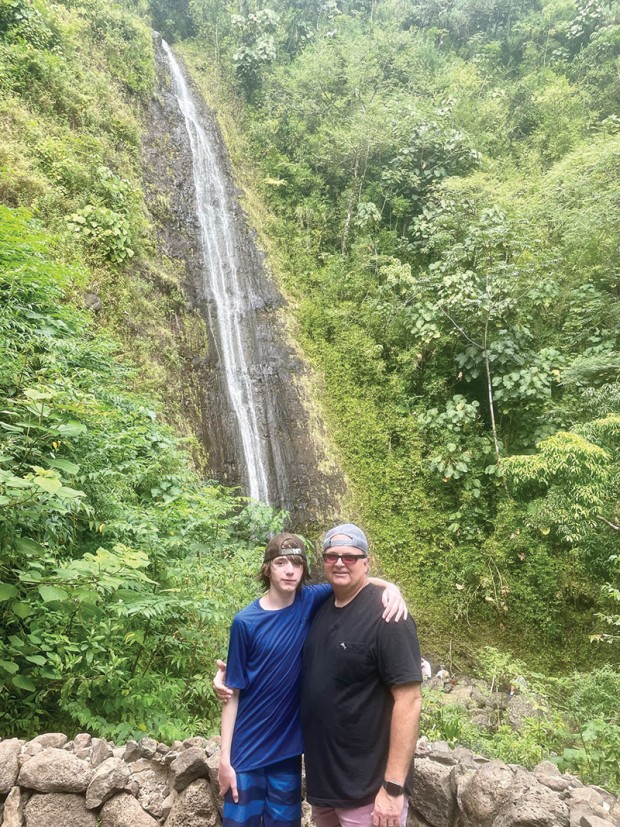 Visiting in January was perfect – the weather was beautiful, with an occasional sprinkle, but the sun would always come back out. The season did however make it extra important to be careful about the beaches they chose, Tracey said.
"I don't think there's a bad time to go to Hawaii, but it is winter, so some beaches are more dangerous this time of year – you can't just wander into the water, you have to know what you're doing," she said.
The more dangerous beaches are on the more exposed north side of the island, she said; on the south side, Waikiki and other beaches were very calm.
Their third day they had a beach day. Parker had his first surf lesson, and Jarret is an avid scuba diver, so he went on a dive.
Parker quickly learned to surf right there in Waikiki, as thousands of others have done since Duke Kahanamoku popularized the sport in the late 1800s. Parker was able to get up on his feet after four attempts and surfed the rest of the day.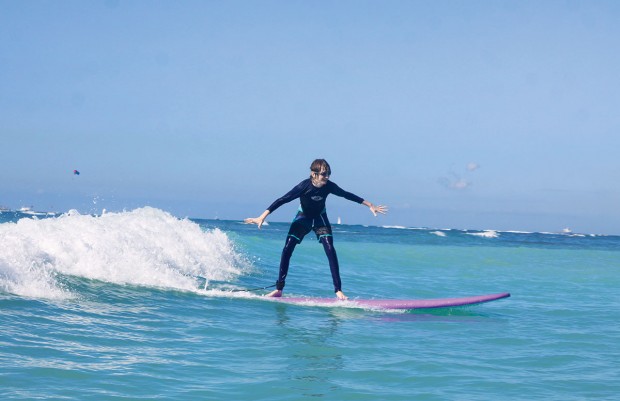 But what started as a carefree day in the sun quickly turned frightening for Tracey. As her husband explored under the waves and her son on top of them, she fielded a message from her sister telling her about an underwater volcano that had just erupted in Tonga.
"Surely that will affect us," she thought. "I was concerned — Parker was out there surfing, and I couldn't get ahold of Jarret. So I was here waiting for a tsunami or something."
Tonga, however, is more than 3,000 miles to the southwest of Hawaii. While the authorities put out warnings to be on the alert for large waves, and Jarret's dive crew changed the dive site due to a shift in currents, the impact in Hawaii ended up being minimal.
Elsewhere, throughout the South Pacific, the damage was severe, with more than $90 million in damages and at least three deaths. It wrecked homes and businesses throughout the region, and that weighed on their minds.
"It was hard to enjoy the beauty, knowing of the devastation the people in Tonga were suffering," said Tracey. "It was sad."
That evening they went to the Polynesian Cultural Center, spending hours taking in the exhibits and learning about some of the many Pacific Island nations, from Fiji and Tonga to Samoa and Aotearoa (also known as New Zealand). "There's enough to spend your whole day," she said.
The day ended with a luau-style meal and a beautiful show: Ha – Breath of Life, which gave a glimpse of life, from birth to death, portraying all the contemporary cultures they had seen that day.
"I know a lot of luaus can be really touristy, but this one was more educational," said Tracey. "We have a tremendous amount of respect for the Hawaiian people and their culture, and the people of the South Pacific islands in general. I think it's important to learn about them and show that respect."
Their last day they spent snorkeling at Hanauma Bay State Park, a protected reef located in a partially submerged volcanic crater. The spectacular site has suffered from overtourism, so has been more restricted in recent years, only allowing 700 people per day. Visitors are required to watch a short video to make sure nobody damages the coral.
Finally they made their way to the very different North Shore. More rural and laid-back than the busy South Shore, the wilder north side offers more space for contemplation – and, in the wintertime, massive 30-foot waves.  They took a hike along the Makapu'u Point Lighthouse Trail in the morning, seeing spectacular views across the North Coast as well as the historic red-roofed lighthouse.
They went to Turtle Beach to look for sea turtles and then went to watch the surfers at the famous Banzai Pipeline, popularly known in the surfing world as "The Pipe," where the surf breaks over a deep reef and forms a long tunnel of water.
"They (surfers) just get in the roll and follow that down like a pipeline," she said. "There's a whole surfing culture of which we were not a part but you could see it's a totally different lifestyle, and they're serious and good at what they do."
They topped off the day with more Hawaiian fare from Giovanni's Shrimp Truck and then, for dessert, Matsumoto's famous Shave Ice.
"And then it was time to come home," she concluded. "It was sad, but we did everything we set out to do, and we did it as safely as we could. We were well when we left and we were well when we got back, so I consider that a success."
Editor's note: Buzz travel columnist Tracy L. Barnett is a Lowell Thomas travel journalism award winner and longtime travel and environmental writer. Email her at [email protected] to share your own travel tales.
Want more buzz like this? Sign up for our Morning Buzz emails.
To leave a comment, please log in or create an account with The Buzz Magazines, Disqus, Facebook, Twitter or Google+. Or you may post as a guest.