Crawfish Boils
Bringing the party to Houston
Click the Buzz Me button to receive email notifications when this writer publishes a new article or a new article in this column is published.
Laura and David Favaloro and Becky and Phil Eisenberg know how to have a good time. Every spring, the friends host their own versions of a crawfish boil, bringing a little bit of their home state of Louisiana to Houston.
Well, let's back up. Laura, David, and Becky are all from Louisiana. Laura and David met when they were 10, living a block away from one another in New Orleans. "We dated in high school and broke up," Laura says. "Then we dated in college and broke up. Then when I was in law school in San Antonio and he was getting his MBA at Tulane, we finally got together."
Becky and Phil also met in New Orleans. Becky, who grew up in LaPlace, Louisiana, had just graduated from LSU and Phil from LSU Law. Phil had moved to Baton Rouge, and then New Orleans, from Brooklyn. "My husband had never tasted a crawfish before he got to Louisiana," Becky says.
In spite of being new on the scene, Phil acclimated quickly. "I thought they were great," he says of crawfish, "like little lobsters."
When Laura and David and Becky and Phil moved to Houston for jobs in the late '90s and early 2000s, they brought some Cajun culture with them.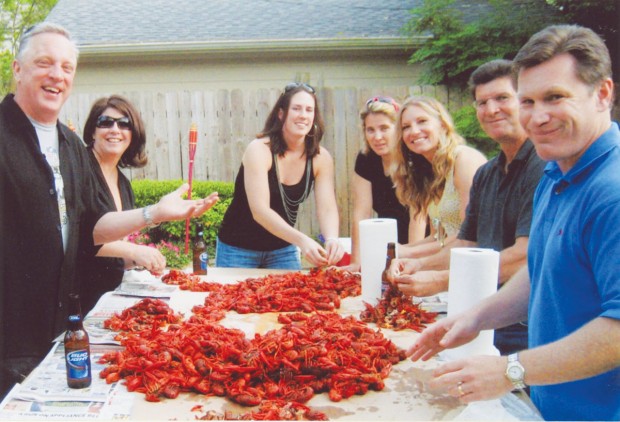 The Favaloros started hosting their Louisiana relatives for an Easter crawfish boil. "It's funny they come here for crawfish," Laura says, "but Easter is our holiday to host, and doing crawfish is such a fun springtime ritual." Laura and David's annual crawfish boil started when their daughter Courtney, now 25, was 3. "Allison wasn't even born yet," Laura says of her younger daughter, who is 22.
"Our nephew Zack from New Orleans shared his expertise with David and his two brothers, and now they all cook together and it's their thing."
The Eisenbergs' tradition started just after they moved to town. "My dad called," Becky says of her father, who speaks with a thick Cajun accent. "He said, 'I'll pick up a sack of crawfish and drive it over.' We hadn't met that many people yet, so mostly it was New Orleans people who came. It was a small deal. Laura showed up and I said, 'Where are your kids?'" Becky and Phil have children the same ages as Laura and David: Rachel is now 26, and Evan is 22. "Laura just said, 'Oh no, we got a sitter. We're here to eat!'"
Now the Favaloros host around 40 family members in their backyard every Easter, and the Eisenbergs have 70 friends in their backyard each spring.
"It's super fancy," Laura jokes about her family crawfish boil. "We put tables in the garage and plastic tablecloths from Party City over them." She'll have something like spaghetti or a casserole for the people who don't want crawfish, but mostly it's about the crawfish.
Throughout the day, David and his crew will boil some 100 pounds of crawfish with spices, potatoes, whole garlic, and corn. "The kids think it's fun to put eggs in there because it boils them and makes them spicy," Laura says. That much crawfish takes a little hunting to find. "H-E-B has them, but they won't guarantee that volume," Laura says. "So David and my nephew and the brothers drive a little away from town to get them. That's part of the routine."
They cook the crawfish in batches, stretching the process into an all-day event for the group, which ranges in age from 4 to 82. "They get spicier as the batches go on, so the people who like it mild eat early," Laura says. "We just spend all day Saturday hanging out, eating crawfish, laughing, having a great time."
The Eisenbergs will boil up to 220 pounds of crawfish in their backyard. "We eventually had to stop relying on my sweet dad to bring it," she says. Still, her 86-year-old dad, Donoo Brady, drives catfish across the border, and he fries it alongside the crawfish, resulting in what Becky calls "a big outdoor feast."
Phil has been toying with his crawfish recipe since 1993. "I put all kinds of vegetables in it," he says, listing potatoes, frozen edamame, artichokes, brussels sprouts, carrots, and corn. "People love the vegetables. And the mushrooms are great, too. But one year we did broccoli, which almost killed people because of all the spice."
"It was so porous it was literally like drinking hot sauce," Becky adds, and she knows peppers. Becky's grandfather, George Rome, was from Paulina, Louisiana, and was known to grow red peppers, dry them, grind them to a powder, and freeze the spice. "It was much, much stronger than what you buy in the store," Becky says. "Granddad put them in empty baby jars in his freezer, and for years after he passed, we were using that. A little goes a long way!"
Besides bringing the fish, Becky's dad has another job at their annual gathering. "One year he was telling jokes off the cuff," Becky says. "People were laughing, and then people started asking, 'I missed it. Can he tell the jokes again?' That's how he started his stand-up routine of Boudreaux-Thibodeaux jokes. They're basically about two old Cajun men and how dumb they can be. Like Aggie jokes – I'm sure my Aggie friends would be very insulted – but they make fun of each other."
An example: "Boudreaux and Thibodeaux were spending a Saturday night at the bar. After a few hours of drinking, Thibodeaux fell off his barstool and landed on the floor, completely passed out. Boudreaux looked at Thibodeaux, then up at the bartender and says, 'Dat's what I like about Thibodeaux. He knows when he done had enough to drink!'
"The best part of this is that a friend of ours missed the part of it being my dad," Becky says. "She came over to me and said, 'I can't believe you hired that Cajun storyteller to come tell jokes.' Well, now she and my dad know each other, and my dad says, 'You paid me the best compliment!'
"It's quite the throw-down," Becky says. "Super casual. The whole idea is to come in the shoes you don't mind getting crawfish juice on."
Leave it to the New Orleanians (and a transplant from Brooklyn) to bring the party to Houston.
David Favaloro's Crawfish Boil
Live crawfish
26 ounce box salt
4½ pound bags Louisiana Fish Fry Products Crawfish, Shrimp & Crab Boil powder (the number of bags you use depends on the amount of crawfish you boil; see recipe below)
8 ounce jars Zatarain's Concentrated Shrimp & Crab Boil liquid (the number of jars you use depends on the amount of crawfish you boil; see recipe below)
2 3-ounce bags Zatarain's Crawfish, Shrimp & Crab Boil in Bag
Lemons
Onions
Whole heads of garlic
Mushrooms (whole)
Sausage
Corn
Potatoes
Outdoor seafood boiler kit (including pot, burner, and stand)
Before cooking the crawfish, purge them with salt to clean them. To do this, put the live crawfish in a large cooler with the drain shut. Add water to cover the crawfish, then stir in half of a 26 ounce box of salt. Let the crawfish sit for 5 to 10 minutes, then drain. Fill the cooler with water again, and add the remaining salt. Remove any crawfish that float to the top (they are dead, and you do not want to boil and eat them). Drain the crawfish.
Fill a little more than half of the crawfish pot with water. Add 1 bag of Louisiana Fish Fry Products Crawfish, Shrimp & Crab Boil powder for the first 30 pounds of crawfish, then add ½ bag for each 30 pounds you boil after that. Add ½ jar of Zatarain's Concentrated Shrimp & Crab Boil liquid to every 30 pounds of crawfish you boil. Add the two bags of Zatarain's Crawfish, Shrimp & Crab Boil in Bag to the first batch only.
Bring the water and seasoning mixture to a boil. Once it is boiling, add the crawfish and other items you choose (lemons, onions, etc.) and bring it back to a boil. Boil for 2 to 3 minutes. Turn off the burner and spray the outside of the crawfish pot with water to allow it to cool and stop the cooking process. Let the crawfish soak for 30 minutes. Pull the basket of crawfish out and serve, leaving the seasoned water in the pot for the next batch. Use the same water and seasoning for the remaining batches, adding more powder and liquid seasoning to each batch of 30 pounds as per the instructions above.
David boils 150-180 pounds of crawfish over the course of a day.
Want more buzz like this? Sign up for our Morning Buzz emails.
To leave a comment, please log in or create an account with The Buzz Magazines, Disqus, Facebook, Twitter or Google+. Or you may post as a guest.