Garden-to-Table
Growing what you eat
Click the Buzz Me button to receive email notifications when this writer publishes a new article or a new article in this column is published.
Tell someone you're going to a "farm-to-table" restaurant, and you might get an eye roll in response. The phrase – along with others like locally sourced, curated, hand-crafted – has been overused to the point of becoming a trendy buzzword.
Still, some people in town truly are eating what they grow. Like Sarah Vitenas, who calls growing herbs and vegetables "therapeutic."
"After moving from a high-rise building in Greenway Plaza to a house down the street, I wanted to enjoy the house immediately," she says. That meant having two above-ground, wooden garden beds built in her front yard. "I liked them so much," she says, "I added a third a month later."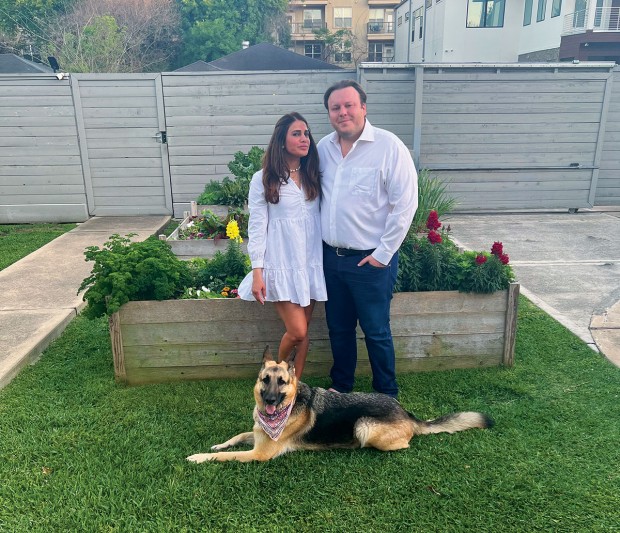 Sarah, who grew up gardening alongside her parents but stopped during college and high-rise living, uses the beds to grow everything from flowers to cucumbers to watermelons to eggplants. But her favorite crop is herbs. "My husband uses them for cooking daily," she says, explaining how they combine store-bought and home-grown ingredients. "He stops by the store on the way home from the office most nights and returns with a protein and a few vegetables. We love having fresh rosemary year-round and basil in the spring. The arugula we grow in our beds is zesty and so much fresher than anything we can get at the store."
Sarah and her husband Alex, a real estate investor, like to entertain using all the fruits of her gardening, both in their menus and as decor. "I enjoy growing cutting flowers…and can prepare really gorgeous and unique centerpieces [with them]," she says. "My favorite thing is to make flower ice." By that she means oversized ice cubes with garden flowers frozen inside. She tucks the flower ice into clear bowls and ice buckets to chill wine.
While last year's freeze killed the Vitenas' citrus trees, they are replanting now. "We used to have a mandarin orange tree, and my favorite was having Meyer lemons. They pair beautifully with halibut and are lovely in salad dressings.
"We've grown tomatoes in massive amounts. And in the summer our sunflowers actually got up to 10 feet tall! It's just beautiful to look out the window and watch everything grow with the seasons," Sarah says, adding that even Zara the German Shepherd loves to sunbathe next to her garden.
A Le Cordon Bleu-trained chef with a master's in nutrition, Laura Moore has created a large-scale garden with benefits beyond her dinner table. Through the Nourish Program and the Nourish garden she established at Houston's UTHealth School of Public Health, Laura and her team educate healthcare students and professionals on how to grow produce, how to prepare healthy and delicious meals, and how to talk to their patients about food.
"I've always been interested in gardening, but I never really had the space," Laura says. "My grandmother was an amazing cook and gardened until her very last day. I have videos of my dad, who grew up on a farm in Little Rock, showing me how to cook vegetables. When we built the garden at school in 2015, it became my life. I use it as my own garden."
Laura says she was bothered by the realization that her public health students didn't know about food. "They needed to be trained in food, cooking, how to talk to patients about prevention, which is key." With that, she raised $1.5 million in grant money to start Nourish, beginning with the garden, a 3,500 square-foot plot in the middle of the Medical Center. "My students train in this garden," Laura says of the 24 students in the Nourish Program. "They learn what to grow, seasonally, how to grow it, how to plant crops. They learn about spacing, different ways to manage water: Do you use a drip? Is it manual watering? They learn mulching, composting, pest management, harvesting, and handling produce."
Once they harvest the food, Laura and her Nourish team bring students into the School of Public Health's teaching kitchen, where "we teach them how to make healthy food taste good."
Anyone can work in Nourish's garden as a volunteer, with the added perk of being able to bring home produce to their own dinner tables. (There's also a young farmer/chef camp happening in June, where kids 7 to 12 will learn about gardening and nutrition; they'll make lunch from their harvest. Go to nourishprogram.org for information.)
Not a gardener? Not a chef? Not to worry. How Good Food Works from Seed to Plate is the gorgeous new cookbook that's not only a fundraiser for Nourish but also a guide for beginning gardeners and chefs looking to create their own true "farm-to-table" experience.
"The book describes the program, there's a section on the garden, and there's a wonderful selection of recipes," Laura says. "I have to admit, I had no idea of the time it took to write a cookbook. We must have tested each one of the recipes five times, and proofreading was whew!" Even so, she's delighted with the result. "We've got interesting ways to add flavor to salads – herbs, herbed oils, different seasoning blends. My two favorites are 'Take Out' Sweet Chili Cauliflower, which is a spicy, sweet cauliflower roasted in the oven, and a Weeknight Broccoli tossed with seasonings and popped in the microwave. It takes no time at all and is just delicious."
For gardeners just getting started, Laura recommends taking baby steps. "Start with a container for lettuces or herbs," she says. "They're easy to grow from seed pretty quickly using compost from any gardening store, and they're easy to take care of."
Once you reap the harvest, Sarah and Laura have both shared favorite recipes to put all the flora to good use.
Sarah and Alex Vitenas' Herb Salmon and Garden Salad
For the Salmon: 1 turnip, peeled and roughly chopped
1 bunch golden beets, quartered, greens discarded
2 shallots, sliced thin
2 tablespoons olive oil, divided
Salt and pepper
1 teaspoon chopped fresh rosemary leaves
1 teaspoon chopped fresh tarragon leaves
1 center-cut, skin-on salmon filet
For the Salad and Dressing: 1 small box baby spring mix salad greens
½ tomato, sliced into thin wedges
½ avocado, sliced
½ cucumber, peeled and sliced into rounds
2 Tablespoons olive oil
1 teaspoon Dijon mustard
½ teaspoon balsamic vinegar
1 teaspoon red wine vinegar
Juice from ½ Meyer lemon
½ teaspoon chopped fresh thyme leaves
Make the salmon: Preheat the oven to 400 degrees. Place the turnips, beets, and shallots in a zip-top bag with 1 tablespoon of olive oil and a little salt and freshly ground pepper. Add the chopped rosemary and tarragon, press out the excess air, and seal the bag. Set aside.
Pat the salmon dry and season with a little salt and freshly ground pepper. Heat 1 tablespoon olive oil in an oven-proof skillet over medium-high heat. Place the salmon skin-side down in the skillet and sear for 4 to 5 minutes. Flip and repeat on the other side. Move the salmon to a plate and set aside.
Place the contents of the zip-top bag into the skillet and sauté for 2 minutes. Add 1/3 cup water to deglaze the pan. When the water has mostly evaporated, place the salmon, skin-side up, on top of the vegetables. Roast in the oven for 12 minutes.
Make the salad: Place the greens, tomato, avocado, and cucumber in a large bowl. In a small bowl, whisk the olive oil, Dijon mustard, vinegars, and the juice from ½ a Meyer lemon. Add some thyme, salt, and freshly ground pepper and whisk to combine.
Serve the salmon and vegetables alongside the salad, dressed with the dressing.
"Take Out" Sweet Chili Cauliflower
From How Good Food Works from Seed to Plate
2 Tablespoons canola oil
1 Tablespoon sesame oil
2 garlic cloves, minced
2 Tablespoons honey
2 Tablespoons plus 2 teaspoons ground chili paste (recommended sambal oelek chili paste)
¼ teaspoon kosher salt
1 cauliflower head (about 1 pound), cut into equal-sized florets
For garnish: 1 Thai chili pepper, thinly sliced
¼ bunch green onions, thinly sliced or cut into 3-inch pieces
Sesame seeds
Red chili flakes
Preheat the oven to 400 degrees. In a small bowl, combine the canola oil, sesame oil, garlic, honey, chili paste, and salt. Mix well. Pour over the cauliflower florets.
Spread the cauliflower evenly on a baking pan lined with parchment paper, making sure not to overcrowd. Roast in the oven for 20 to 25 minutes until crisp on the outside and tender on the inside. Remove and place in a large bowl. Add the oil mixture and gently fold until evenly coated.
Garnish with Thai chili slices, green onions, sesame seeds, and red chili flakes to taste.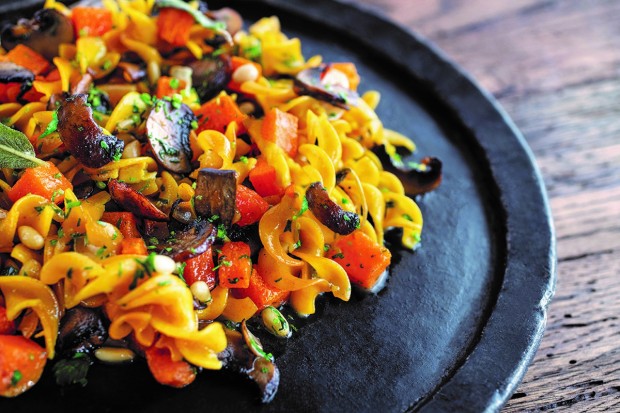 Weeknight Butternut Squash and Pasta
From How Good Food Works from Seed to Plate
Serves 4-6
2 quarts water
4 ounces egg noodles or any pasta of your choice
2 Tablespoons olive oil
3 Tablespoons unsalted butter, sliced into tablespoons
8 ounces cremini mushrooms, sliced ¼-inch thick
2 cups butternut squash, peeled, seeded and diced,
About ½ medium sized squash
½ teaspoon kosher salt
3 garlic cloves, minced
½ bunch chopped fresh thyme (about 2 Tablespoons)
¼ bunch chopped fresh sage (about 2 Tablespoons)
¼ bunch chopped fresh parsley (about 2 Tablespoons)
½ cup reserved pasta cooking water
Garnish: chopped fresh parsley; ½ cup pine nuts, toasted
Pasta: In a large pot, heat 2 quarts of water to a rolling boil. Add pasta and cook according to package directions. Do not overcook. Reserve ½ cup of pasta water. Drain pasta and transfer to a separate bowl. Cover and set aside.
Squash and mushrooms: In a large skillet over medium-high heat, add oil and butter and heat until brown and foamy, about 1-2 minutes. Add mushrooms and sauté about 3-4 minutes. Add squash and salt and continue cooking another 3-4 minutes until squash is tender. Add garlic, thyme, sage and parsley and sauté for 1-2 minutes. Add pasta and pasta water, and gently stir to combine. Continue cooking until sauce coats pasta and vegetables, about 2–3 minutes. Garnish with additional parsley and pine nuts.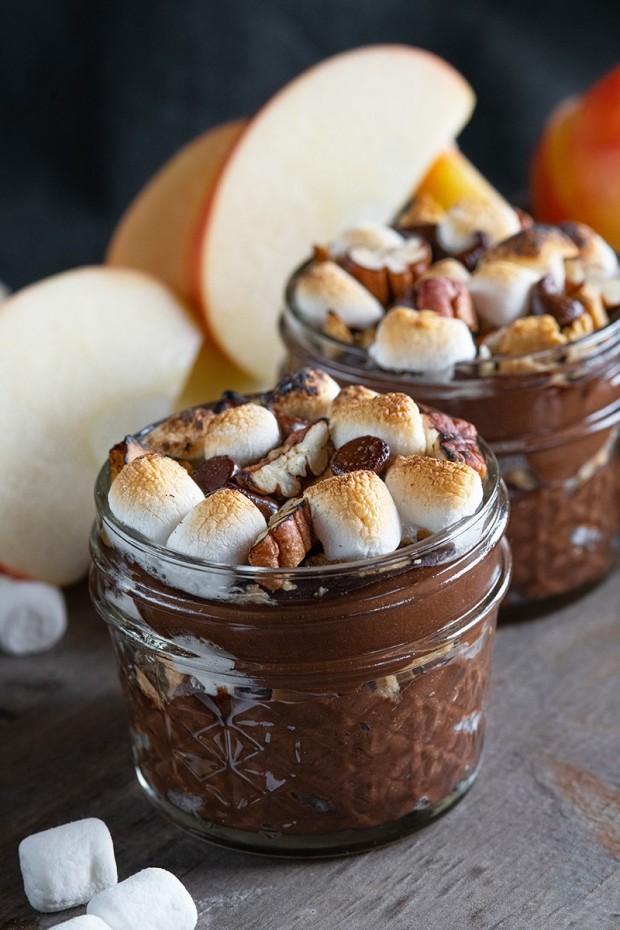 From How Good Food Works from Seed to Plate
Serves 6–8
Simple syrup:
½ cup brown sugar
½ cup water
Chocolate mixture:
2 cans chickpeas (15 ounces each), drained and rinsed
½ cup unsweetened cocoa powder
½ cup simple syrup
⅓ cup canola oil
¼ teaspoon kosher salt
½ cup water for thinning, if needed
Marshmallow topping:
1 cup pecans, toasted, unsalted and chopped
1 cup graham cracker crumbles
½ cup semi-sweet chocolate chips
2 cups mini marshmallows
apple slices or pear slices
Simple syrup: Heat the water in a small saucepan over medium-low heat until hot (do not bring to a boil). Add brown sugar and stir until fully dissolved. Remove from the heat and let cool to room temperature before using or storing.
Chocolate mixture: In a food processor, combine chickpeas, cocoa powder, simple syrup, oil and salt. Blend until smooth, stopping to clean the edges of the food processor as needed. Add water, a teaspoon at a time, until it reaches the desired consistency.
Marshmallow topping: Preheat the oven to 375°. Grease 8 small dishes or an 8x8 baking pan. Spread the chocolate mixture evenly in the prepared dishes. Top with pecans, graham cracker crumbles and chocolate chips and lightly press into the chocolate mixture. Evenly distribute marshmallows over the chocolate mixture. Transfer pan to the oven and bake for 12–15 minutes or until the marshmallows are evenly toasted. Serve with apple or pear slices.
Helpful tips: For a smoother chocolate consistency, drain and rinse chickpeas. Add to a small bowl and combine with 3 tablespoons cornstarch. In a small skillet, heat the chickpeas until warm. Remove and place back in the bowl. Cover the chickpeas with water and rub them together with your hands to remove the skins. The skins will float to the top. Rinse and repeat several times until most of the skins are gone. 
Editor's note: Purchase your own copy of How Good Food Works From Seed to Plate by Laura S. Moore, John Wesley McWhorter, and Joseph R. Novak at howgoodfoodworkscookbook.org. Proceeds from the sale of this cookbook support The Nourish Program and its community outreach efforts.
Want more buzz like this? Sign up for our Morning Buzz emails.
To leave a comment, please log in or create an account with The Buzz Magazines, Disqus, Facebook, Twitter or Google+. Or you may post as a guest.