Ice-cold Beer
Quenching a thirst at beer gardens and ice houses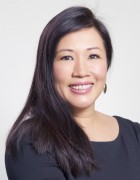 Click the Buzz Me button to receive email notifications when this writer publishes a new article or a new article in this column is published.
There is an old Celtic saying: Good people drink good beer. Gonzo journalist Hunter S. Thompson made this adage famous, and today, it's a popular quip among beer fans at the bevy of suds-centric establishments around town, from taprooms and sports bars to pubs and breweries. However, we are showcasing beer gardens and the modern ice house-beer garden hybrid for brevity's sake.
Ice houses and beer gardens are open-air communal concepts that serve beer. But traditionally, ice houses are scruffy one-room watering holes sans the grassy backyard, food, and lawn games typical of beer gardens.
Inspired by their 19th-century predecessors, beer gardens often are named using some variation of the classic German biergarten, but these days, this isn't always the case. Instead, many Texas operators have married the best parts of a beer garden and an ice house. Take Kirby Ice House, with its one-acre backyard and hip patio furniture.
Traditionally, ice houses are bare-bones, slightly ramshackle hangouts. One of Houston's most iconic watering holes is West Alabama Ice House. It opened in 1928 as an ice house, selling ice blocks for home refrigerators. Soon, ice took a backseat to ice-cold beer. West Alabama and other ice houses are a Texas phenomenon.
The Lone Star State can also lay claim to the oldest beer garden in the country, Scholz Garten in Austin, which opened in 1866. Unlike ice houses' rough-and-tumble settings, beer gardens are often verdant expanses.
During the Gilded Age, Czech and German immigrants introduced the beer garden to Americans. The "biergarten" concept originated to circumvent a local law in Germany forbidding beer production during the summer because of fire hazards. Thus, breweries planted gardens above cellars in Bavaria to keep lagers cool enough to store and ferment underground. Some realized they could use these outdoor spaces to serve beer and food.
Beer gardens differ from dark, intimate pubs, taprooms, and bars because of their sunny surroundings, grassy knolls, trees, backyard games, and communal seating. But what they all have in common is beer, which is among the five most consumed beverages in the United States. The No. 1 thirst-quencher is bottled water, followed by carbonated drinks, tap water, coffee, and beer. Beer, however, is consumed more than milk, tea, and sports drinks, and it is way ahead of wine and spirits. According to research and marketing firm Statista, wine and spirits hold 2.3 percent of the U.S market, while beer boasts 10 percent.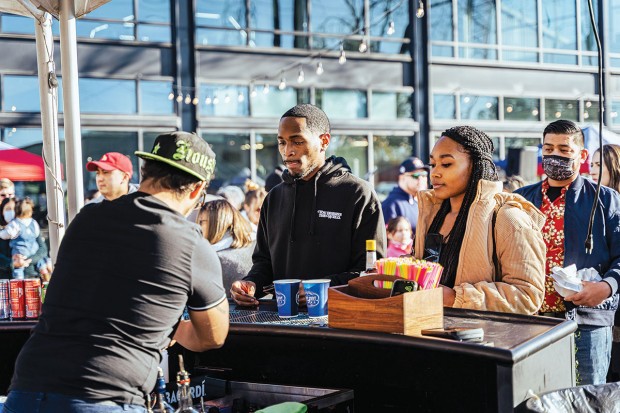 Many Houstonians prefer to sip their lagers and ales – the two classifications for beer – in open-air spaces. Just ask the patrons at recently-launched Terminus beer garden at the Railway Heights Market food hall (8200 Washington Ave.), Heights Bier Garten (1433 N. Shepherd Dr.), and King's BierHaus (2044 E. TC Jester Blvd. and 828 W. FM 646, League City). Here are a few other beer gardens and ice house-beer garden hybrids to explore:
Axelrad Beer Garden (1517 Alabama St.). Monday is movie night, and afterward, around 8 p.m., a free comedy show starts at this happy-go-lucky beer garden in the shadow of downtown. That's just the start. Axelrad is an event-driven venue, from live music to tango lessons. It just depends. You can take it all in from a colorful hammock or patio chair in the back of this century-old, restored grocery store that belonged to the Axelrad family in the early 1920s. Axelrad has about 30 beers on tap. A food truck or pop-up always is around to fill empty bellies. Patrons also go to Luigi's Pizzeria next door.
City Acre Brewing Co. (3418 Topping St.). Kegs and eggs, anyone? Egg sandwiches, sourdough French toast, and fried chicken and waffles highlight weekend brunch. However, this chill beer garden is famous for its pulled pork and queso tater tots and Urban Cowboy burger on an onion-thyme bun with a bacon-pork-venison patty, fried onion strings, American cheese, and jalapeño ranch. Sprawling pecan trees provide ample shade for visitors communing around weathered picnic tables. Rose bushes and vegetable-and-herb plots line the acreage adjacent to a statuesque Victorian manor. Some of the herbs are used in the brewing process. This six-year-old brewery produces diverse styles, from cream ale to bock.
East End Backyard (1105 Sampson St.). After the success of Pitch 25 (a beer garden and soccer bar), former Houston Dynamo Brian Ching decided to open this 20,000-square-foot space surrounded by colorful murals. A rotating lineup of one to three food trucks offers bites daily. The bar boasts about 25 beers on tap, including selections from Southern Star Brewing Company, Saloon Door, Karbach Brewing Company, Saint Arnold, and 8th Wonder. At the center is a 1930s Tiffany-blue bungalow, refitted into a bar with a granite countertop and high-tops made from recycled antique bicycles. Outdoors, customers and their pooches lounge around on brightly-hued hammock weave patio chairs and porch swings beside picnic tables. A 3,500-square-foot dog park is booked frequently for canine birthday parties.
Karbach Brewing Co. (2032 Karbach St.). When you create a beer in honor of Rockets basketball, you must step up to the line, and Karbach's Clutch City Lager is a three-pointer, with its crisp, citrusy zing. It pairs perfectly with spicy foods, like Karbach's crispy, sweet, and tangy Korean fried chicken layered over fresh red chiles, carrots, red onions, and avocado over white rice. The restaurant has indoor and outdoor seating, but you'll want to make a reservation for outside on breezy afternoons. The high-top tables overlook bocce courts and lush landscaping, so they go fast. But that's OK. Get food to go and turn the corner to find plenty of room at the beer garden that accommodates up to 2,000 people.
Kirby Ice House (3333 Eastside St. and 1015 Gessner Rd.). Get here early, especially on Friday and Saturday evenings, because the crowds converge on these two ice houses with vast backyards. The two locations attract about 5,000 people a week, according to the website. On one recent Saturday, parents and their kids swarmed the one-acre backyard at the Kirby location, and a passerby could hear their laughter a block away. It offers about 50 beers on tap, while the Memorial site has 60. Both emphasize Texas brews. Usually, one or two food trucks are on-site at the Kirby location. You can find out who is cooking on Kirby's website, or if you're at the Gessner location, stroll over to Torchy's Tacos.
Lazy Oaks Beer Garden (10158 Long Point Rd). At night, lights twinkle above the fenced patio and lawn at Lazy Oaks in Spring Branch. The crowd, like the beer garden, is easy-going and relaxed. Conversations are low and respectful, allowing folks to enjoy a women's basketball game on two large TVs. Inside, a couple happily chomp on juicy burgers and homemade onion rings coated with a crispy batter spiked with Funyuns (which makes all the difference). About 20-plus beers on draft accompany the full menu of A-plus sandwiches, salads, and fried chicken wings.
Memorial Trail Ice House (6202 Washington Ave.). This open-air bar boasts a 20,000-square-foot dog park in the Rice Military area. Meanwhile, the owners are busy playing lawn games. The ice house has 20 beers on tap, plus wine, cocktails, and pop-up Heavy Weight Tacos provides the vittles.
Patterson Park Patio Bar (2205 Patterson St.). The three-level "treehouse" concept recently opened across lush woods and mature oak trees. This is a family affair with restaurant veterans Lonnie and Candice Schiller teaming up with their daughter, Caroline, and husband, Brendan Murphy, to create a woodland oasis anchored by a 5,000-square-foot patio overlooking White Oak Bayou. The dog-friendly deck and indoor lounge are accessorized with 40-plus oversized TVs, colorful artwork, and board-and-arcade games. Offerings from various food trucks complement cocktails and brews on tap.
Post Oak Ice House (5610 Richmond Ave.). At this 12,500-square-foot neighborhood hangout, patrons play cornhole and other lawn games in between sips. About 15-plus beers are on draft, plus more than 35 canned options. Rotating food trucks serve this crowd, but Wednesday is always steak night.
Social Beer Garden HTX (3101 San Jacinto St.). The beer list features 40 taps, including Eureka Heights, 11 Below, and Buffalo Bayou. Food trucks, from barbecue to vegan, serve the Midtown crowd. People weave in and out of the two-story building loaded with arcade games, dartboards, and billiard tables. Hammocks, picnic tables, and Adirondack-style chairs frame a green turf outside.
Saint Arnold Brewing Company (2000 Lyons Ave.). This massive beer garden attracts thousands of visitors weekly and worldwide. In 2018, founder Brock Wagner opened the indoor-outdoor beer garden, and this quintessential modern take on the beer garden hasn't missed a beat. The open-air metal building frame affords a panoramic view of the surroundings. Imagine taking in the view of the downtown skyline as the sun sets while eating a coal-fired pizza or homemade amber-ale bratwurst on soft pretzel bread while sipping Saint Arnold Summer Pils, with its delicate, sweet maltiness. Life is beer-perfect.
Want more buzz like this? Sign up for our Morning Buzz emails.
To leave a comment, please log in or create an account with The Buzz Magazines, Disqus, Facebook, Twitter or Google+. Or you may post as a guest.