The Icing on the Cake
Making birthdays extra sweet
Click the Buzz Me button to receive email notifications when this writer publishes a new article or a new article in this column is published.
Cristina Rodriguez carefully pipes chocolate icing in the shape of boulders up the sides of a three-tiered cake. Once complete, she places six golden dinosaurs among the iced ledges. It's a prehistoric world come to life, complete with leaves, giving off jungle vibes. On the highest layer, Cristina positions a glittery placard that reads "Sandra." It's the perfect crown atop a birthday cake which 5-year-old dreams are made of.
As a volunteer with nonprofit For Goodness Cakes, Cristina is helping make birthday wishes come true, one cake at a time.
It's an act of using your hands and is such an act of love for someone to make something for you," says Cristina, who is a partner at Hogan Lovells law firm. "And who doesn't like cake?! It's amazing and I love this so much because just honestly, the joy of hopefully making a child smile and their mom or dad smile is huge."
For Goodness Cakes is a national organization that started in southern California in 2016. The founder was motivated by a friend sharing a memory of never having a cake baked for them, says Cristina.
Creating smiles via cakes resonated with Michelle Synhorst, who brought For Goodness Cakes to Houston in 2019. Michelle had seen a post on Instagram from a girl she went to high school with that caught her attention, talking about the Phoenix chapter and how she had made a cake to donate. "It was a very brief thing, but I thought it was so cool," says Michelle. So cool, in fact, that Michelle was inspired to apply to open a Houston chapter, which was approved in late 2019.
Michelle, a corporate attorney, had been wanting to volunteer in the community but had not found her niche because of work constraints. Her passion for baking combined with the desire to help children made For Goodness Cakes the perfect pairing.
"We have heard that for some of the teenagers, this is the first cake they have ever received," says Michelle. "And one of the most emotional cakes for me was for a child who had recently lost his mom and it was his first birthday not long after his mom died, and we were able to bring him a cake."
Volunteers need not be expert bakers. "It only takes a few hours to make a cake and drop it off, but it has an outsized impact relative to how much time it takes." In fact, Michelle notes, the impact on the bakers and the recipients alike is overwhelmingly rewarding.
Although the Houston chapter got a slow start due to Covid, Michelle is happy that they have never had an unfulfilled request. "In October of 2020 we delivered our first cake, and we recently delivered our 500th!"
Michelle is hopeful more bakers will get on board.
"We bake cakes for any kid that needs extra love and support," she says of the group's mission to provide birthday cakes for underprivileged youth. "We bake for children at domestic violence shelters, for homeless kids, for foster kids. We are very narrowly focused: we just want to make kids feel special and a lot of them have not gotten that."
Cristina notes that the cakes she has made – everything from a pink princess one with a sparkly crown to a giant sheet cake football field – have been meaningful to her. "Every child deserves to feel special all the time," says Cristina, mother to two daughters, Ana Maria, 20 and Ally, 15. "But especially on their birthday."
In March 2020, Cristina read Better Birthdays: Donating leftover party supplies, by Deborah Lynn Blumberg in The Buzz. The story featured Erin Koren's then newly created charity called Birthday Bundles for Kids. The local organization collects leftover party supplies to create themed bundles and then donates them to families who cannot afford parties.
Cristina loved the idea. She wasted no time getting involved, immediately scouring sales at paper goods stores to stockpile everything from party plates to favors. Over the past two years, she delved into becoming a regular Birthday Bundles volunteer – something that has become invaluable to her.
"When I turned 50, my husband Mark made bundles in my honor to donate," says Cristina, noting that they had different themes and were filled with plates, napkins, hats, birthday banner, balloons, and Funfetti cake mix and frosting. "My mom in Miami is always on the lookout for items for holiday bundles and she will send them here. I keep a bin filled with items to make bundles. I have roped in the family. It's definitely a family affair."
Through her involvement with Birthday Bundles, she noticed that sometimes, the bundles included beautiful cakes. On social media, Erin would tag For Goodness Cakes.
Intrigued, Cristina followed For Goodness Cakes on Instagram (@forgoodnesscakeshq) and then went to the nonprofit's website. "When I went to the website, I saw a sign that read 'Join our Sprinkle Squad' and I thought: This is what I want to do when I retire."
Turns out, Cristina was so moved by the idea, she decided not to wait until retirement age.
When 2022 came along, she decided it was time for her to join the Sprinkle Squad. Cristina says she loved baking as a teenager and now baking is that much sweeter for her because of the mission involved. "You do not have to be a pro," says Cristina with a smile. "You just have to do your best to bake a homemade, delicious birthday cake."
Michelle points out that the birthday boy or girl gets to choose their kind of cake.
"The philosophy they adhere to is that you must honor the child's wishes for flavor, icing, and filling – that is non-negotiable – and on the décor, you do your best," says Cristina. "Another philosophy is that you have to include the child's name, so I try to order from Etsy for everyone their name in glitter letters."
Cristina says volunteering as a Sprinkle Squad member is efficient. The For Goodness Cakes' website has easy sign ups – but first, all volunteers must take an online baking safety class. "The training does a good job about how you have to be super careful about food safety," says Cristina. "You have to do quizzes as you go and have to do things like certify that you will bake with a mask on, certify that your kitchen is clean, that you wash your hands up to wrists for 30 seconds. You have to comply with all requirements to be super sanitary."
Once bakers have completed the online class, which takes approximately an hour, the volunteers go to the website to choose their cake.
"I check the website every day and it's easy, you just go on the calendar, and you pick what you can do. I look for a date and the location that fits with my needs, then you click, and it belongs to you."
Cristina's husband helps with the deliveries. "It's so wonderful that Cristina bakes cakes for these amazing kids," says Mark Rodriguez, who is a partner at Beck Redden law firm. "I have been lucky enough to drop off the cakes a few times. It's a wonderful feeling to see the smiles on the families' faces when they receive them."
For Goodness Cakes delivers cakes across the greater Houston area, benefiting nonprofits such as Houston Angels, Birthday Bundles, Birthday Bash Box, Communities in Schools, The Bridge Over Troubled Waters, and Mission of Yahweh. Organizations can apply to be a cake recipient; Michelle is always looking for new groups that would benefit from these special birthday cakes.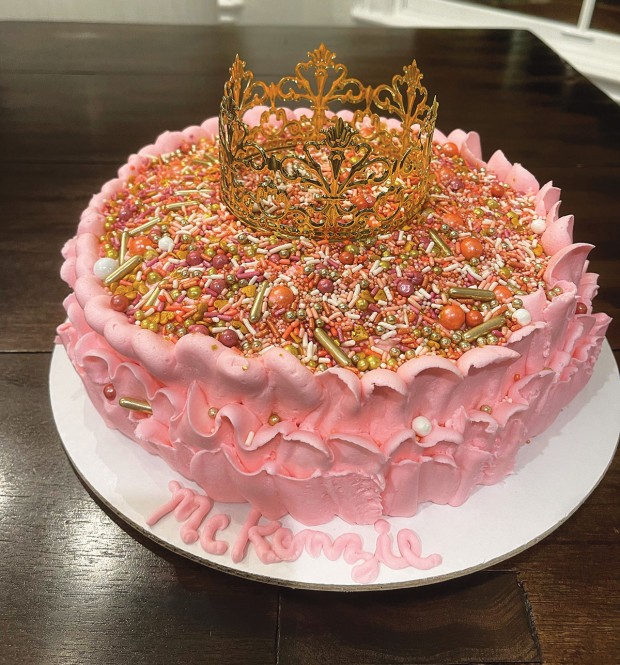 Michelle says memories of her own childhood birthdays help inspire her to keep baking for others. "Every year, my parents always made a huge deal about my birthday," says Michelle. "My mom always baked a cake for me."
And so did Erin Koren's mom. "I grew up middle class in suburbia Ohio," says Erin, who applied her Birthday Bundles group to be a cake recipient nonprofit as soon as she learned of Michelle's Houston chapter. "On my birthday, my mom made sure I was queen for the day. I would get a balloon on my chair and a Betty Crocker cake. It was all so delicious, and I want to give these children the same feelings and traditions and memories that I had growing up."
Michelle says it is bakers like Cristina and partner volunteers like Erin who help make the kids' birthday wishes come true.
"We do not require people to be professional bakers," she says. "We just want the birthday cakes made with love."
For more information about For Goodness Cakes, see forgoodnesscakes.org or follow the organization on Instagram at @forgoodnesscakesHQ.
Want more buzz like this? Sign up for our Morning Buzz emails.
To leave a comment, please log in or create an account with The Buzz Magazines, Disqus, Facebook, Twitter or Google+. Or you may post as a guest.