From Houston to Chicago: Field Hockey Champs
Click the Buzz Me button to receive email notifications when this writer publishes a new article or a new article in this column is published.
It's no secret that Texans are big on sports. But field hockey is one sport that hasn't taken off in Texas as much as in other parts of the country. However, two native Houstonians – Sophie Thomas (Episcopal High School, '19) and Annabel Skubisz (Kinkaid '20) – are making big impressions on the collegiate level. Both play for Northwestern University, and helped the team win the 2021 Field Hockey National Championship for the first time in school history. After all, it's not their first rodeo. 
When Sophie Thomas didn't make the cut for the sixth-grade volleyball team at River Oaks Baptist, she was encouraged to try out field hockey. "God knew what He was doing there," she reflected. 
Similarly, Annabel Skubisz discovered the sport when she started at St. Francis Episcopal for middle school. 
"One day, they gave us plastic ice hockey sticks and yarn balls and told us it was field hockey. I had been a competitive gymnast but then grew to 5'11 and realized gymnastics was not my future," said Annabel. "My mom signed me up for a clinic at Episcopal High School, and I have been playing ever since."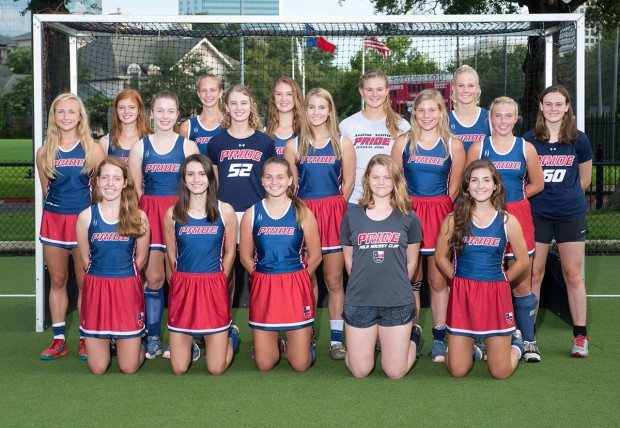 The two met while playing for the Texas Pride Field Hockey Club. In addition to playing for Texas Pride, Sophie became a standout midfielder for the Episcopal Knights led by Coach Shelly Edmonds and Annabel played goalie for the Kinkaid Falcons. 
These days, both native Houstonians play for Northwestern University, and helped the team win the 2021 Field Hockey National Championship for the first time in school history. 
Their club team Texas Pride Field Hockey was coached by Tina Edmonds, a Collegiate All-American University of Maryland 2005 and 2006 National Championship. Both Sophie and Annabel said that Tina's encouragement to set goals and work hard to accomplish their goals was instrumental to their success on the field. 
"Sophie is a quick and skillful player who has an incredible work ethic that has contributed to her success throughout her career," Tina said. "Annabel is an incredibly accomplished field hockey player, and more so, a great person. She has impacted so many people in the Houston field hockey community." 
Sophie and Annabel both played for their high school teams as well.
Episcopal Coach Shelly Edmonds said, "Sophie is a kind, determined, stellar player and strong, confident leader who never asked her teammates to do something she wasn't willing to do. She truly embodied what it meant to be a team player."
Sophie said that Shelly's support and encouragement inspired her to focus on playing in college.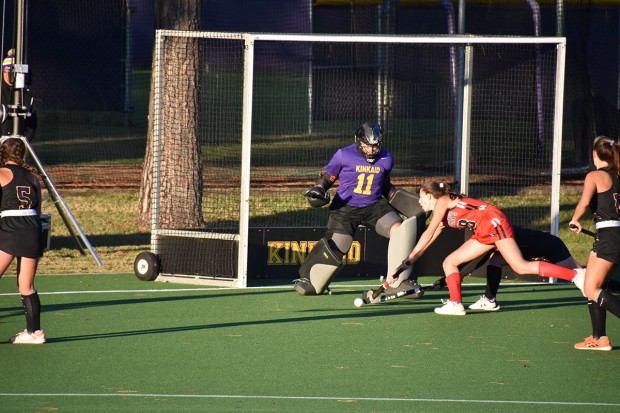 Sophie and Annabel often faced each other's schools. Sophie shared, "It was always weird going against my club teammates who I would see the next day at practice. Annabel was the best goalie in the conference and the hardest to score on so playing Kinkaid was one of Episcopal's least favorites [to play against]! 
"Sophie was always our prime focus to shut down when we played Episcopal," Annabel recalled. "In addition to her skills, Sophie also helped create an important team culture." 
Annabel said she loved playing at Kinkaid. "Coach Ciconte made the experience so much fun. I was honored to be one of the leaders and still talk to so many of the girls from that team."
Kinkaid program director Jackie Ciconte said, "As a sophomore, Annabel saved 4 out of 5 strokes in an overtime battle leading our team to victory in the 2017 Southwest Preparatory Conference Championship. I couldn't be prouder of the player she is on the field and more importantly, the person she is off of it." 
Annabel, who was a grade below Sophie, watched her work her way from a new player to a D1 athlete. While her teammates all inspired her to put in extra time, "Sophie was definitely front of the pack," she said. 
Sophie's hard work paid off and she was thrilled to commit to Northwestern University in Chicago. The following year, Annabel also signed to Northwestern. 
Annabel remarked, "I searched for a college team that mirrored Kinkaid's team culture and Northwest was the best fit." Sophie remembered she cried tears of happiness when she found out her Pride Club teammate would be her Wildcat teammate.
"Sophie's excitement was contagious and made me even more confident in my decision," Annabel said.
At the beginning of the 2021 season, Northwestern was not predicted to win the National Championship. Then in the first round of the NCAA Championship tournament, NWU beat the University of North Carolina, national reigning champs for the last three years.
 
"That win fueled us," Sophie revealed. "We looked at each other like 'Wait! We could actually go all the way,' and it was all up from there!" 
Northwestern went on to beat Iowa, then Harvard in double overtime. They beat Liberty University in the Title Match to earn the 2021 NCAA Field Hockey Championship trophy, the first time in school history.
Sophie beamed. "The last 20 seconds of the game, everyone on the bench was jumping up and down as our coach held us back from running on the field too early. We all dogpiled on top of each other, and there were lots of tears."
"Winning the National Championship was one of the most amazing moments," Annabel shared. "I had dreamed about winning an NCAA title and doing it with my teammates/friends made it worth even more. The whole experience reminded me why I love the sport so much."
Some of the most excited fans were Sophie's parents, Jeff and Dolly Thomas, and Annabel's parents, Joe and Kate Skubisz.
The police escorted the team bus to a crowd of cheering Wildcats and NWU band playing the fight song. The champions grabbed their trophy and went to celebrate with their fans.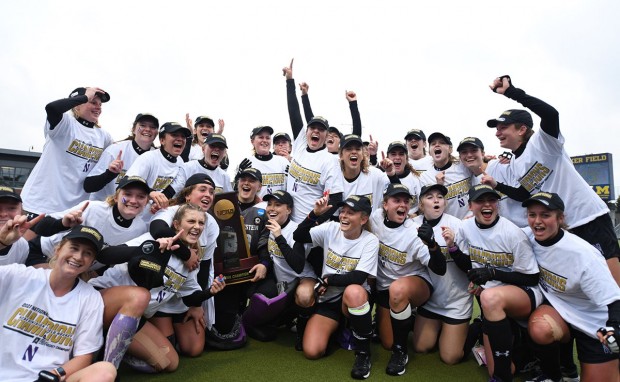 The team was honored at Northwestern Men's and Women's basketball games and the Kansas/Miami Elite 8 March Madness game. 
Sophie smiled. "Designing our championship rings was pretty exciting as well!" 
For all those high school aged or younger student athletes dreaming of playing sports in college, these champs share their wisdom. 
Annabel said, "I know it's cheesy, but you can get yourself where you want to be. You will rarely be the best player in the room, but that doesn't mean you can't get there. Being coachable and putting in the work can take you very far."
Sophie said, "Focus on what you can control more than worrying about what you can't. Focus most on becoming the best player possible and trust God with the rest."
She said the best part of being a student athlete has been getting to know her teammates. "A National Championship doesn't compare to the lifelong friendships you make with your teammates. There's nothing like playing the sport you love with your best friends." 
A Texas-sized congratulations to the Northwestern 2021 Field Hockey Champions. What a ride, y'all!
Want more buzz like this? Sign up for our Morning Buzz emails.
To leave a comment, please log in or create an account with The Buzz Magazines, Disqus, Facebook, Twitter or Google+. Or you may post as a guest.