The King of Cool: When Dean Martin Showed Houston Love
Click the Buzz Me button to receive email notifications when this writer publishes a new article or a new article in this column is published.
Our friends, Patricia and Henry Everitt, recently moved to Houston from Huntsville, Ala. They shared that during their last move from North Carolina to Alabama, they kept hearing the song "Sweet Home Alabama"' and took it as a good sign. When relocating to Houston, the couple did not hear any special songs, but still came and are now happily settled. Wanting Patricia and Henry to feel some Houston love, I decided to assist fate (and share a smile) by emailing them an audio clip for Dean Martin's 1965 hit, "Houston," with its catchy refrain, "Going back to Houston, Houston, Houston…"
Even though Martin's song "Houston" was a Billboard chart hit, many Houstonians are not familiar with it. Perhaps listening to it and seeing it (whether for the first time or millionth time) will stir your Houston pride and appreciation for Dean Martin.
Dean Martin (1917-1995), originally named Dino Crocetti, was born in Ohio and was the son of Italian immigrants. His first language was Italian, and he didn't speak English until he was five years old, so he may not seem like the most probable person to record a song about Houston - but he pulls it off.  
Born on June 7, 1917, this year marks the 105th anniversary of Dean Martin's birth. In his honor, here's a buzzy tribute to the legendary "King of Cool."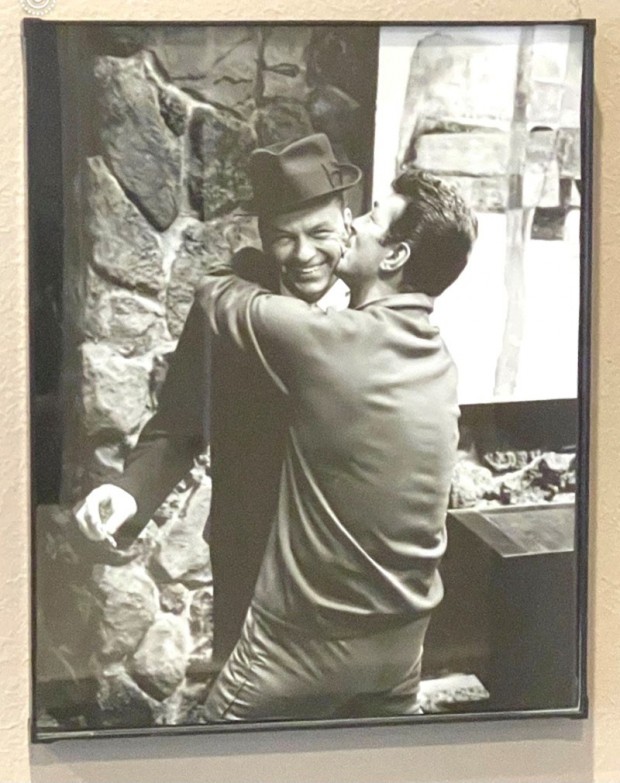 Hilary Sullivan was familiar with Dean Martin's "Houston" song. "I've known that song my whole life, I think it must have been from my dad singing. Remembering it is just like breathing. Thank you." 
Dean Martin's comedies and sense of humor drew Kay Amendola in. "His dazzling smile and big brown eyes got me hooked. But when I heard him sing, I fell in love with his music!" 
Kay shared, "I've always loved all things Italian, so I listened to his songs quite a bit beginning in early high school and throughout my life. When I married into an Italian family, it was only fitting that Chris and I had 'That's Amore' as our first dance!"
On the sad day that Dean Martin passed away on Dec. 25, 1995, Kay honored him by playing every song on the jukebox at Cafe Vittoria on Hanover Street in Boston's North End. She recalled, "I sat in a cozy front window nook sipping on my cappuccino and sambuca, watching the snowfall and singing along! Others joined in the singing. It's one of my favorite memories of my time in Boston."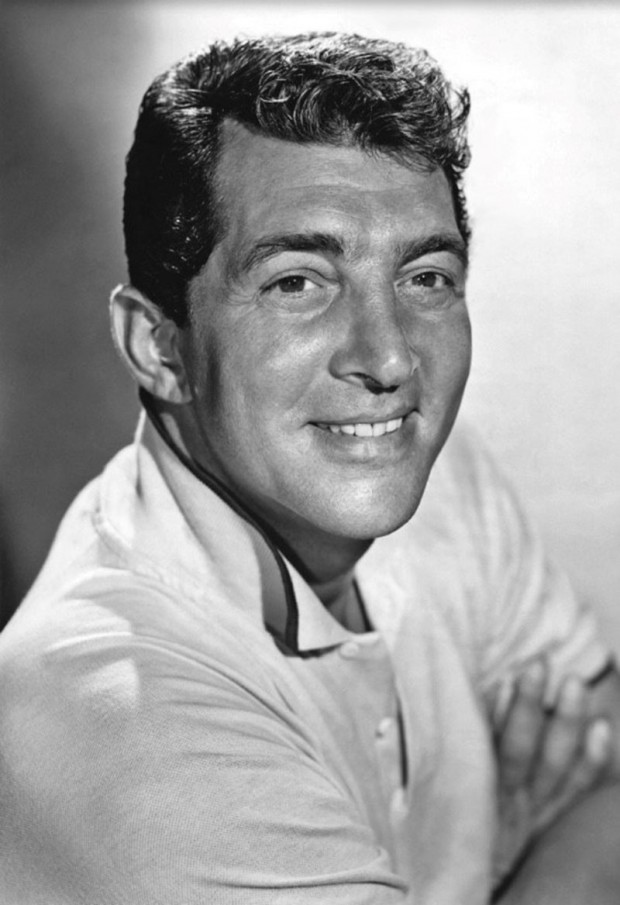 "Dino is still my favorite of the Rat Pack! His roasts were unparalleled!" Kay said, smiling. "To this day, when I'm cooking, I frequently listen to a Dean Martin playlist and happily sing along!"
In my family, our dad, Vic Vine, had a special love of Dean Martin because he actually resembled him a bit.
Our mom, Cleary, recalled. "One time when we were staying at the Beverly Hills Hotel in Los Angeles, a fan came up to Vic and asked for an autograph, thinking he was actually Dean Martin."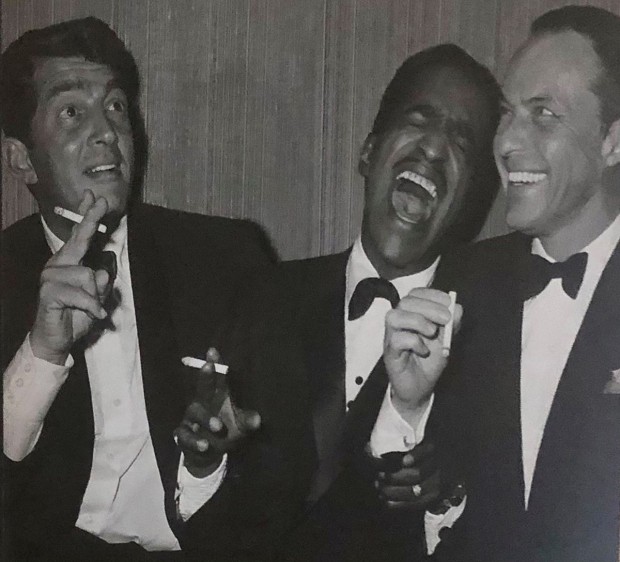 Flattered, Dad let the fan know he wasn't Dino. "I'm not Dean Martin . . . I'm his younger brother."
One year, our sister in Virginia found the perfect Christmas gift for Dad - an animated Dean Martin doll that turned his head, swung his microphone, and moved his mouth with the words to 'That's Amore' and 'Everybody Loves Somebody Sometime." 
When Dad passed away, I inherited the Dean doll, which at some point "retired" to our upstairs closet. 
A few years later, Kristi Coffey, owner of Bellaire's '401 Table and Tap, excitedly posted a photo and video of the adorable Singing and Dancing Dean Martin doll she had bought at CCSC's Sunshine Resale Shop. She planned to put Dean Martin on the bar at the restaurant.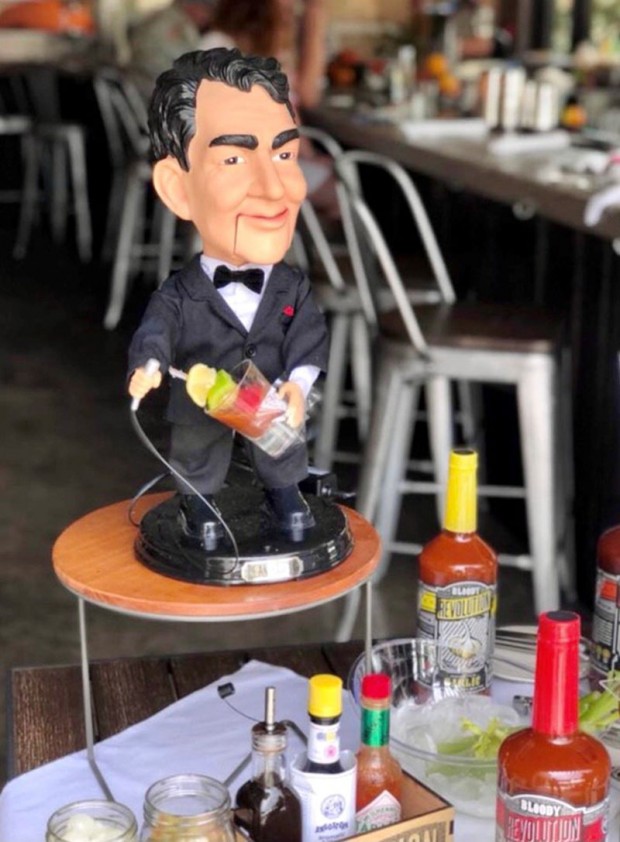 I couldn't believe it! What were the odds that Kristi would end up with our Dean Martin? My husband likes to donate my "closet treasure" so I assumed he must have donated Dean to the Sunshine Shop and Kristi bought it!
I went to visit Dean and was happy he had at least found a good home. At brunch the next week, we saw him hanging out at the Bloody Mary bar. (Side note: When I told my sister about the irony of our friend buying Dean, she told me that the last time she was in town, she had actually taken him back with her to Virginia. So, the good news is that my husband was off the hook!) 
The Dean Martin birthday celebration will continue in his hometown of Steubenville, Ohio. And there will be a special toast to the birthday boy on a radio show playing his music hosted by his daughter, Deana Martin. The annual Dean Martin celebration in Steubenville includes a Rat Pack's worth of Dean Martin performers, karaoke, film screenings, and a meatball-eating contest. This year, the festival takes place June 17-18. Other hometown tributes include Dean Martin-themed murals, a Dean Martin Boulevard, and funds are currently being raised for a Dean Martin statue. 
A Houston-sized thanks and Buon Compleanno (Happy Birthday), Dino. 
Want more buzz like this? Sign up for our Morning Buzz emails.
To leave a comment, please log in or create an account with The Buzz Magazines, Disqus, Facebook, Twitter or Google+. Or you may post as a guest.