Gen Z and Podcast Perspectives
Click the Buzz Me button to receive email notifications when this writer publishes a new article or a new article in this column is published.
Like many, listening to podcasts has become part of my daily routine. I enjoy tuning in when I'm working out, cooking, doing chores, or completing homework. It's easy to stream podcasts while fulfilling everyday activities. However, I noticed that most of the teen-related content I was looking for was created by adults for teens and that just didn't seem as relatable. I realized that there aren't podcasts created for teens, by other teens. 
So, last summer, I decided to start my own: the Growing & Glowing Podcast. The name of the podcast - "Growing & Glowing" - relates to what I think being a teen is all about: we often make mistakes, but nonetheless we strive to "grow" and eventually "glow" as developing individuals. 
Not only am I the host, but I also manage everything from developing concepts, conducting interviews, editing, and promoting the podcast on social media. It hasn't been the easiest process, but I have learned a lot this past year, and I am grateful for the amazing opportunities I've had.
I've met some incredible teens who have been able to accomplish remarkable things. From two best friends, Anasofia Aragon and Lily Collora, who started their own thrifted and upcycled clothing business, LANA Thrift Flips, to a teen in Califronia who's an advocate for mental health. I have been able to learn and understand what motivates others to do good and ultimately spread their message on my podcast to inspire other teens in the community. In addition, I strive to find important assets that can help teens attain the resources they need when going into high school and even college. For example, I interviewed Sandra Newton from the College Resource Center, who provided insightful information on the college admissions process and what sets up any student for success.
My latest project is a new segment called "Teens Behind the Scenes," which will incorporate some of my closest friends as we have honest conversations regarding topics viewers request on the podcast's Instagram: @growing.glowing.podcast, like what it's like being a teen going into senior year. The first episode released July 5. 
New episodes are released every first Monday of the month.
If you are interested in listening to other podcasts run by teens or those popular amongst young adults, here are a few favorites. 

Podcasts created for teens, by other teens:
Teenage Therapy
Debuted in September 2018, five teens from California, Gael Aitor, Isaac Hurtado, Thomas Pham, Mark Hugo, and Kayla Suarez, get together and have relatable conversations about the everyday struggles that come with being a high school teen. From talks about feelings of being misunderstood, to conversations about transitioning into adulthood, this coming of age podcasts is relatable when describing the teenage experince. 
Episodes release every Friday. 
The Girly Girl Podcast 
If you are looking for teen girl advice or anything teen-related, join recent high school graduate, Carmen Applegate, as she breaks down various topics including: self confidence, making money in high school, and dealing with procrastination. 
Episodes released every Monday. 
This Teenage Life
Founded and run by a varying group of aspirational teens and educator Molly Josephs, as they discuss ideas, stories, and unique perspectives relevant to everyday teens, intended to educate young adults on certain societal topics. The podcast itself is meant to model for how to have these authentic and empathetic conversations, allowing group discussion to provide support in order to help listeners engage in similar dialogues. 
Popular amongst teens:
All the Books!
Brought to you by the editors of BookRiot.com, this weekly show covers what's new and popular in the world of books and top book relases.
Episodes release every Tuesday and Friday.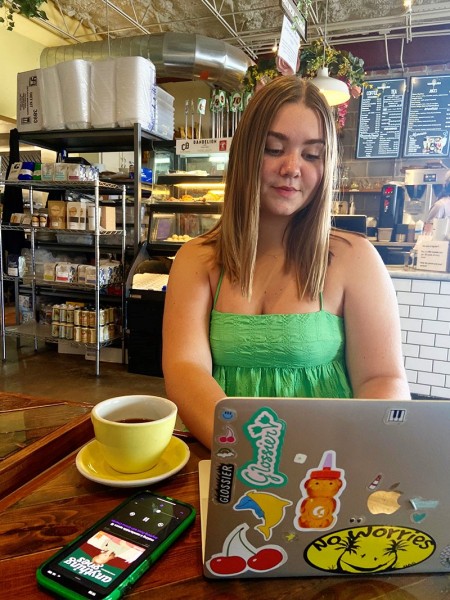 Anything Goes with Emma Chamberlain 
American internet personality, Emma Chamberlain, 21, especially known for her start on YouTube, talks at length about whatever is on her mind. This ramble podcast is an all time teen favorite, as she discusses modern-day culture topics like what she's been wearing recently and body image and self acceptance. 
Episodes are released every Thursday.
First Take 
American sports television personality, host Stephen A. Smith and Molly Qerim engage in heated discussions about today's top sports stories. They are regularly joined by veteran sports analysts and top guests in the sports and entertainment industry. 
New episodes are released every weekday. 
Serial 
The Serial podcast, hosted by Sarah Koenig, unfolds a true crime story over the course of a season. 
Each week follows a new chapter that will ultimately unveil the mystery behind each story. 
New episodes are released Thursday mornings. 
Ted Talks Daily 
From Artificial Intelligence to Zoology, join host and journalist Elise Hu for the latest thought-provoking ideas on every subject imaginable. With Ted Talks Daily, you might find yourself changing your perspectives, igniting new curiosities, and most importantly learning something new. 
Episodes release every weekday. 
The Daily 
Run by the New York Times, The Daily unfolds national and worldwide news happening today. Hosted by Michael Barbaro and Sabrina Tavernise, its weekday episodes are based on the New York Times reporting of the day, and includes journalists from the newspaper. 
Episodes are released every weekday. 
What's Good Games 
If you're into video games, this podcast is a must-listen. Friends with nearly 30 years of gaming experience, Andrea Rene, Brittney Brombacher, and Kristine Steimer, analyze the week's video game news, give first-hand impressions of upcoming titles, and provide all sorts of gamer commentary. 
New episodes are released every Friday. 
Want more buzz like this? Sign up for our Morning Buzz emails.
To leave a comment, please log in or create an account with The Buzz Magazines, Disqus, Facebook, Twitter or Google+. Or you may post as a guest.