School Lunches
Parents share lunchmaking ideas
Click the Buzz Me button to receive email notifications when this writer publishes a new article or a new article in this column is published.
As we head into a new school year, it is time to pull out those lunch boxes and get the grocery lists together. A few Buzz parents recently shared their tips and tricks for easy (and fun) lunchmaking.
"I don't get fancy with it," said mom-of-two and interior designer Evan Allen, on making school lunches. Evan has two daughters, Emerson, 7, and Laine, 3. Emerson will start second grade this month at Frostwood Elementary School and Laine will attend Pre-K at Chapelwood School for Young Children.
"I just try to find the things that my kids like, that are easy for me, and healthy for them," said Evan. This is solid advice to take into consideration this fall.
Evan, a self-proclaimed "non-morning" person, takes a unique approach to preparing lunches for her girls. "Making lunches in the morning is just not an option," she said.
In fact, Evan and her husband Blake divide and conquer to make lunches in batches. Evan pulls out all the supplies to make lunches on Sunday (one for each child, for the first half of the week). She or Blake makes the second batch on Tuesday or Wednesday for the rest of the week. Emerson buys lunch on Friday, so that takes one off the list.
They store lunches in the refrigerator in a stainless-steel Bentgo Box, a leakproof, compartment-style lunch container (you can pick one up at Target for around $28). She has multiple Bentgo boxes for the batch lunches.
The process helps make their mornings smoother, and Evan saves time on making lunches. "If you already have the sandwich stuff out, you might as well make multiple at one time," said Evan. "It really takes a lot of the stress out of lunch making."
In the mornings, Evan simply puts the Bentgo Box container inside an insulated lunch box with a freezer cold pack and tucks it into their backpacks. "I just send them on their way," she said.
Evan's neighbor, Ellen Cairns, has three children, Lilly, 7, Natalie, 4, and Bennett, 2. Ellen's go-to lunch ideas for her girls are turkey and cheese sandwiches, fruit such as strawberries, blueberries, or mango (the girls' favorite), chips, carrots, or cucumbers. She adds a sweet treat to their lunches as well.
To pack their lunches, Ellen likes to use the Austin Baby Collection Bento Box (which can also be purchased online at Target.com for around $25). "They are awesome and all silicone," said Ellen. She lets her kids help sometimes in using some of the fun lunchmaking tools such as cookie cutters for their sandwiches (in shapes she can rotate for holidays, such as bunnies for Easter) and mini cookie cutters for their cucumbers.
Ellen has implemented an idea for snack time that helps give her children a sense of control in their decision-making. "They have to pack a snack every day for school, so I let them pick out five different snacks on Sunday," said Ellen. She puts all five snacks into their snack bag, and at school, they decide which snack they want that day.
These routines help school days run smoothly, even if the lunch box content remains the same day after day. "It is important to remember that kids like routine and it is okay to give them the same thing," said Ellen. "Sometimes we try hard, and it ends up not working. It is okay," she said.
Ellen lets Lilly buy lunch at school on Fridays. "You cannot say no to pizza Friday at the school cafeteria," said Ellen. Another treat for the Cairns and Allen kids is when their moms let them pack their lunches to earn a school playdate. The girls will arrive home from school, asking to play, but they must help make their lunch for the following day before a play date can commence.
Mom-of-three Sarah Jeffery says she tries to make lunches at night as well. She makes her 7-year-old daughter Zoe's sandwich on sandwich thins – thin bread that does not have crust and is more kid-friendly.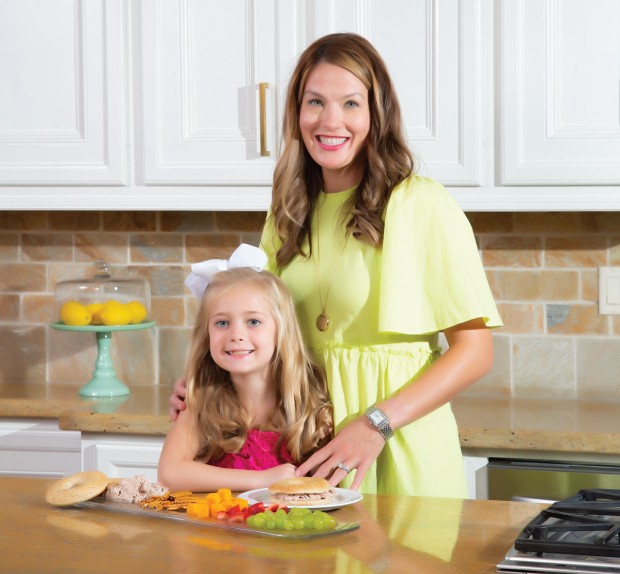 Sarah and Zoe have created a healthy and easy-to-eat lunch option – pretzel kabobs. "We poke holes through cheese and strawberries and put it on a pretzel," said Sarah. "Zoe likes putting on the pretzels. It makes her feel part of making her own lunch and she takes ownership of it," said Sarah.
All three moms say they put one final touch on their kids' lunches – a special note from mom or dad inside the lunch box. Ellen orders lunch box notes from a company called Scribbled Designs.
"I want to remind her to have a good day," said Sarah.
Opening their lunch boxes in a busy, loud cafeteria, helps to remember all the love that went into packing their lunch that day.
What's for lunch?
Easy lunch or snack ideas include:
• Sandwiches: Turkey and cheese; nut butter (if peanut butter is not allowed at school, try sun butter); chicken salad. For something different and fun to eat, try a turkey roll-up using a tortilla.
• Vegetables: Carrots, cucumbers, or celery sticks with hummus; or add a side or ranch for dipping.
• Dairy/cheese: String cheese; thick shredded cheese, ask the deli department to "cube cheese" if ordering it from the deli, Go-Gurt yogurt, or Greek yogurt.
• Fruit: Cut-up berries, mango, bananas, apple slices.
• Other ideas: pretzel sticks, Goldfish, Baked Lay's chips, Sun Chips.
• Extras: Write out a short note to put in their mailbox. Kids enjoy opening up their lunch boxes to a surprise; order their favorite character napkins from Amazon.
• Tip to make it easy: Try to stick with one brand of snack container so all the lids and parts fit together. A favorite brand for containers is Sistema.
• Snack ideas include individually packaged items such as chips and Skinny Pop popcorn, cut-up fruit or vegetables, or a fruit salad.
• Something sweet: Easy ideas for a sweet treat include a few marshmallows, Annie's Organic Bunny Fruit Snacks, Good & Gather fruit strips or Kellogg's Rice Krispies Treats Original Bar. 
Want more buzz like this? Sign up for our Morning Buzz emails.
To leave a comment, please log in or create an account with The Buzz Magazines, Disqus, Facebook, Twitter or Google+. Or you may post as a guest.