Special Delivery: When Fabulous Drivers Bring Treasures to Our Doors
Click the Buzz Me button to receive email notifications when this writer publishes a new article or a new article in this column is published.
They bring our letters, packages, work documents, party invitations, flowers, groceries, warm cookies, random things we forgot we bought online, pizza, birthday presents, furniture, lost ATM cards, college acceptance letters, and even bottles of wine. Like magic fairies, they leave goodies at our doors.
Enjoy the following stories of some delivery people that have not only brought boxes but, perhaps most importantly, smiles. 
When Bridget Luby and her five sisters were growing up, they would often make a glass of Kool-Aid to leave on the front porch for the mailman. "After he picked it up at our house, he would take the glass with him on his walk and sip on it as he delivered the rest of his mail. He would walk up one side of the street and back down the other. Then he would stop at our house on the way back and leave the glass." Bridget and her sisters still remember it fondly.
"I had a mailman once ask me to a jazz concert." Nancy Williams grinned. "I was a young thing – 23. Around that same time, I was working as a pharmaceutical rep and had a great UPS guy. Wish I could remember his name. He always delivered to me and knew I was single. One day when I didn't answer the door and he saw my car, he called to sincerely make sure I was okay. I think I was taking a nap (aka playing hooky!). He was really sweet and very genuinely caring." 
A neighbor ordered snacks and treats to be delivered to the hospital where her friend was receiving treatment. The gift was ordered anonymously, intended to be a thank-you gift from the patient and his family and left in the breakroom to thank the nurses and doctors. She texted the delivery person to ask them to please try to include some sort of note saying, "Thank you from the patient and his family." It was a bit confusing to explain. When the delivery driver texted to confirm everything was complete, she also reported that she had bought a thank you card so she was able to leave the message with the gift and said she was happy to contribute by buying the card. 
Andrea Kawaja's household has an online shopping habit, which includes ordering pet food and litter. Andrea shared, "The boxes can get heavy. One day I saw the delivery driver approaching and opened the door for him. He struggled lifting the box over the doorstep and in a rather pleading voice mumbled, 'Please stop shopping online.'"
A Houston mom of a college student at a far-away university was feeling sad that her son was not coming home for Easter. She decided to surprise the son and his roommates by having Easter goodies delivered to their house. The delivery person, Micah, texted that he was headed to the house.
The mom said it was fine to just leave the items on the front porch and mentioned that if anyone came out to say it was from the Easter Bunny.
A little while later, Micah sent another text with a photo of the goodies on the front porch including the three Easter baskets lined up and the bags of treats nicely displayed around them for the boys to see when they walked out onto the front porch. The message read: "The Easter Bunny has landed!"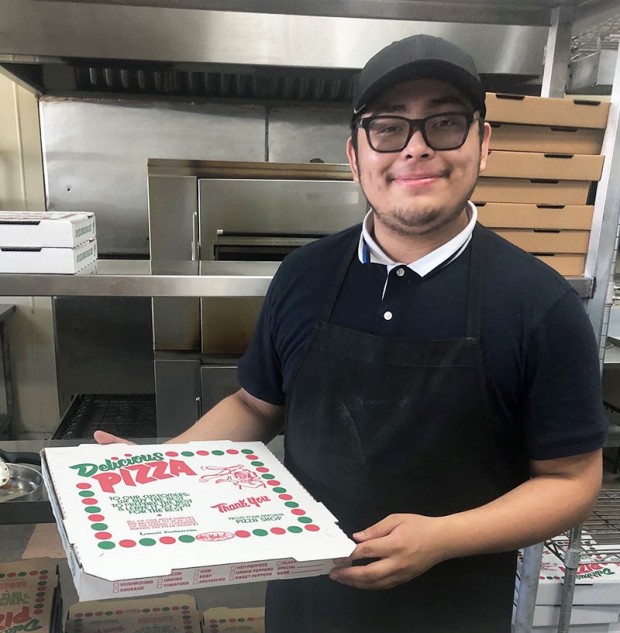 A food delivery driver shared one of his more notable nights of work. "I had a pickup at a pizza place. The staff must have messed up a bunch of orders or something because they were hours behind schedule. It was also a random coincidence that my former middle school basketball coach was getting pizza at the same time, so we got to stand around together waiting for pizza for about an hour and a half. It was also Covid protocol so the 10 or so people waiting had to all stand outside because only four people could be in the shop at once." Not long after, he got a job as a valet driver.
This Buzz neighbor had a Chinese food restaurant and delivery guy she really liked. "The service was good, and he always went back if there was a mistake to make it right. He was very friendly and delivered several times, so I got to know him. He knew that I had broken my ankle and was very kind." 
One Buzz-area dog liked to stand guard by the front door on a bench that had a good view of the mailbox. For years, when the mailman appeared, she jumped up and down on the bench and barked loudly to scare him away. One day, she got extra excited and poked her head through one of the window panes. Later, the concerned mailman knocked on the door to make sure his archenemy was okay. He said she was just as surprised as him when her head poked through the glass. He was relieved to see that she was not hurt and hole was too small for her to escape.
A Bellaire family had a cookie delivery sent to their house rather late at night. The wife texted the person who sent the cookies to say thanks. She said they did not answer the door right away, as they were upstairs and none of them had heard it. Then her husband woke up and said he would go down to check. The wife told the friend that she hoped her husband had not scared the delivery person to which the friend replied, "If I had known they would have seen him in his boxers, I didn't need to tip them, as seeing that was tip enough!" 
An Amazon driver said one of her best days of work was one December when the person to whom she was delivering said, "Merry Christmas!" and handed her a bottle of Crown Royal Whiskey.

Ways to show your appreciation to delivery drivers:
Many people leave drinks, snacks, and sweet notes for their delivery people during the holiday season, but it is appreciated all year long, especially during these hot months in Houston. Just put some items in a bowl/basket by your front door with a sign so they know it is for them and that they know they are appreciated. (You might have some dancing delivery people on your porch, too, if you set up a snack bowl like this!)
Editor's note: For more, read Special Delivery for a Special West U Mailman, also by Karen Vine Fuller.
Want more buzz like this? Sign up for our Morning Buzz emails.
To leave a comment, please log in or create an account with The Buzz Magazines, Disqus, Facebook, or Twitter. Or you may post as a guest.