Chef's Corner: Alfredo Mojica
Amore – a labor of love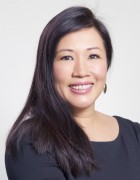 Click the Buzz Me button to receive email notifications when this writer publishes a new article or a new article in this column is published.
After four decades of cooking for some of the city's most notable Italian establishments, Alfredo Mojica sold his home and signed the lease to open Amore Italian Restaurant (3310 S. Shepherd Dr.). The self-taught chef realized it was a gamble. Nine out of 10 restaurants fail, but the former Da Marco chef was confident he had the right formula and was ready to showcase his version of Italian.
However, the best-laid plans often go awry, and trouble usually comes in a double-whammy, the 54-year-old learned. Alfredo's elation at signing the lease for his new restaurant in January 2020 transformed into apprehension two months later when the City of Houston imposed Covid lockdowns. On top of that, street construction would soon begin on South Shepherd – the kiss of death for many eateries. Thus, it would be an obstacle course for a year or more for those trying to get to the restaurant.
"We found out after we signed the lease. It was demoralizing. I thought, 'I'm going to lose everything,'" says Alfredo, who credited his wife's unwavering support for getting him through the tough times. The word amore (Italian for love) in the restaurant's name pays tribute to his wife, Christina, their children, and food.
Disheartened, Alfredo felt immobilized and halted the buildout of the 2,500-square-foot space at the corner of West Main and South Shepherd. Then the bills started to trickle in. The six-month, rent-free deal bought him some time, but he had to act quickly because he soon would need to pay $3,000 for rent, insurance, and other costs. He wanted to keep this a family business without investors. So, he wound up borrowing money from family members and rolled up his sleeves to remodel the interiors of what was once the lobster-roll joint Maine-ly Sandwiches.
Alfredo and a few buddies did the demolition and remodeling of the kitchen, dining rooms, and bathrooms themselves. He planned to transform this lackluster space into an elegant 60-seat respite with white table linens and fresh flowers. He had to strip everything down to the bone to make this happen. It was a labor of love.
Today, the narrow dining area near the front door shines with serene, muted tones, an elegant marble-topped bar, and a gold-tiled wood-burning pizza oven that Alfredo helped build. This isn't the first time the chef has had to start from scratch.
Alfredo recalled his journey to the United States as an undocumented immigrant from a small village of fewer than 1,000 people in southern Mexico. The lessons he learned along the way are ones he plans to pass on to his daughter and son, plus one more on the way. "I want to teach them how to work, make money, and be useful," he says. "They teach you a lot of stuff at school, but in the end, when you need to survive, none of that will help you. These lessons don't come from textbooks."
Alfredo is the fifth child, an only brother to six sisters. In 1983, when he turned 16, he told his parents that he wanted to make something of himself in the United States. The journey would be grueling and dangerous. Some people are never heard from again. His parents were against the idea, but the teenager convinced them to let him try. They gave him about $500 to pay the smugglers, known as "coyotes," to help him cross the border.
A bus took him and three friends to the border near Laredo. It was a cold February morning, and the coyotes shuffled them into a small U-Haul truck. "It was a nightmare. There were about 50 people, and we were packed, standing up together like sardines. By noon, it got so hot that a few people fainted from lack of oxygen. A hole at the bottom of the truck's floor the size of a golf ball provided some air, but that was it. Can you imagine? I don't know how, but we made it. Everything else about that ride is a blur." (Alfredo gained US citizenship in 1998.)
When Alfredo arrived in Houston, where he had a few friends, he worked odd jobs in construction, but they didn't pay enough, so he started washing dishes at $3.25 per hour at a couple of downtown Houston restaurants. "My first paycheck for about two weeks of work was $180, but for me, it was a miracle," he says.
He washed dishes for about a year, and on days off, he would volunteer to prep and make salad dressings. Things escalated from there. He wanted to be on the line, cooking. "But back then, nobody left," he says. "It would be eight months before someone quit."
He watched and learned the basics of cooking, and in 1993, he started working at Grotto on Woodway, where legendary restaurateur Tony Vallone eventually made him an executive chef. Then, in 2000, Alfredo left Grotto to help Marco Wiles open Da Marco, where he would meet his future wife, Christina Sulien, who was a hostess there.
Back then, foodies and well-traveled diners flocked to the unassuming Montrose restaurant for elevated, uncomplicated Italian fare similar to what they would find in Italy. Houston was starting to understand that there was more to Italian food than heavy red and alfredo sauces. Diners were learning about the simplicity of authentic Italian, from handmade pasta and meticulous meat dishes to pristine seafood fare. For the next 20 years, Alfredo would keep Da Marco's lauded kitchen humming.
Now a seasoned chef, Alfredo was ready to start serving the Italian food he loved to eat. "After nearly 30 years cooking at Grotto and Da Marco, I have seen what people like to eat, and what they order again and again," he says. "It's a simple formula."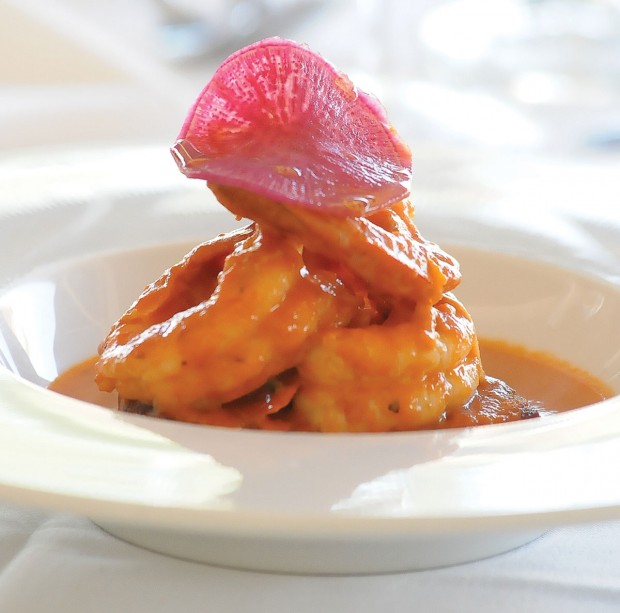 To start, Patagonian prawns, perfectly roasted and bathed in a briny shell-infused tomato-cream sauce reminiscent of Michelin-starred worthy French lobster bisque. The charred, grilled octopus is fork tender and flavorful, resting on a bed of arugula.
Alfredo executes classic Italian pasta with finesse, from linguine with Manila clams and ricotta-stuffed ravioli occhi to pappardelle with Texas wild boar sauce. A crowd favorite is the robust Spaghetti Harry's Bar with plump lobster and tendrils of linguini tossed in a brandy-kissed luscious tomato sauce anointed with mint.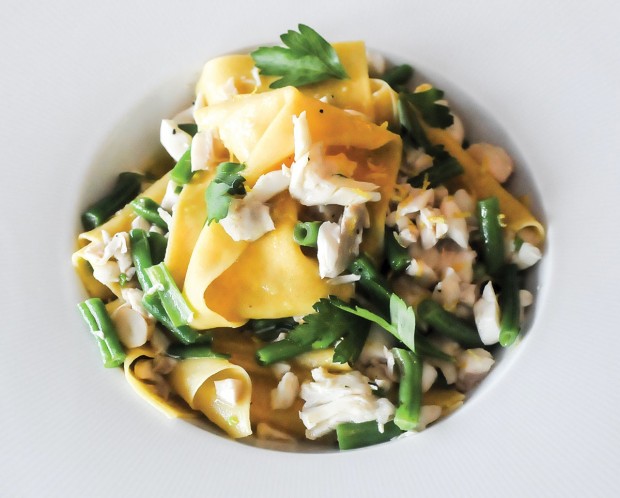 Lasagnette is ribbons of pasta with flaky branzino fish. Lemon, white wine, Romano green beans, and pine nuts combined for a brilliantly lilting mix of textures and flavors. Crudos, wood-charred pizzas, and a sizable grilled porterhouse (bistecca alla fiorentina) are meant to be shared. But it might be trickier to get your dinner date to share the egg souffle with Iberico ham or the Adriatic sea bass – two of seven black truffle dishes featured by fungi-loving chef Alfredo.
Amore Italian Restaurant opened last December without fanfare a few weeks before Hanukkah. "Ricky, how many tables did we serve that first day?" Alfredo asks his assistant.
"Two, chef. We served two tables, four people," says Ricardo Rodriguez, another Grotto alum.
"I was scared that first day," Alfredo recalls. "By then, I didn't have much money, but slowly, a few more, mostly from the neighborhood, started to come. They would come back with friends. By the end of Christmas, Amore was doing well. Now, we are doing great."
At the time, there was no sign out front. But word of mouth about the deftly executed Italian menu and well-trained waitstaff spread among the West U and River Oaks crowd. These days, advance reservations are necessary for Friday and Saturday dinners.
River Oaks residents Jesus and Rossana Fuentes dine at Amore three or four times a week. Rossana especially looks forward to the end of the meal and the sponge cake. It is harder for her husband to pick a favorite. He loves everything. "Beautiful food; wonderful service. This place has become our home," Jesus says.
Chef Alfredo Mojica shares this classic pasta made with spaghetti or linguine. At Amore, he throws in fried pancetta, but purists believe that pasta and clams require no additional ingredients like in the recipe below.
1 pound dried linguine
1/4 cup extra-virgin olive oil
6 garlic cloves, sliced
1 pound clams, such as manila, or cockles, scrubbed
1 teaspoon red chili flakes (optional)
1 cup dry white wine
1/2 bunch of Italian parsley, coarsely chopped
3 teaspoons kosher salt
Bring 6 quarts of water to a boil. Salt the water. Drop the linguine into the boiling water. While pasta cooks, make the sauce.
In a 12- to 14-inch sauté pan, heat the olive oil over medium-high heat. Add the sliced garlic. Cook the garlic until fragrant. Once the garlic is golden in color, add in the clams. Add the chili flakes and white wine. Cover the pan and cook until the clams steam open. While cooking, coarsely chop parsley, including stems.
Drain the linguine when it is one minute short of the cooking time on the package instructions and put it in the sauté pan with the clams. Toss the pasta in the pan to allow it to absorb the broth. Remove any unopened clams. Add parsley and toss together. Serve the pasta immediately while hot. Makes 4 servings.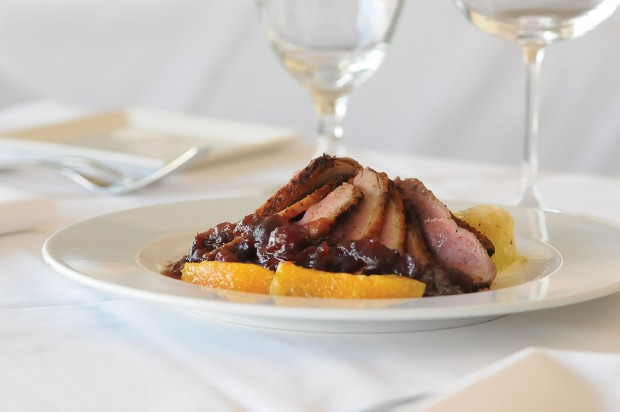 Pan-Seared Duck with Cranberry Sauce
Chef Alfredo came up with this addictive recipe for cranberry sauce a few years ago at Thanksgiving.  Part of its simplicity comes from using canned whole cranberries instead of too-tart fresh cranberries. He loves this sauce so much that he wanted to make it a year-round affair, so at Amore, he serves it with duck instead of turkey. At home, he also pairs the cranberry sauce with grilled pork chops or roasted chicken thighs.
2 oranges, juiced
1 (14 oz) can Ocean Spray whole berry cranberry sauce
4 tablespoons dried cranberries
1/4 cup of bourbon or brandy
1 small cinnamon stick
1 tablespoon butter
4 duck breasts, 4 to 5 ounces each
Kosher sauce
Freshly ground black pepper
In a saucepan over medium heat, add orange juice, whole cranberry sauce, dried cranberries, bourbon, and cinnamon stick. Bring it to a boil, then reduce to simmer for about 10 minutes. Incorporate the butter and remove the cranberry sauce from the heat. Allow to cool, then transfer the sauce into a container and refrigerate until you're ready to use. The sauce can be made a few hours in advance or the day before.
With a sharp knife, gently score duck breast skin in a crosshatch pattern. The deeper the score, the more fat will be rendered, but take care not to expose the flesh. If you prefer a little fat on the breasts after cooking, just lightly score the skin. Season duck breasts with salt and pepper, heavily on the skin side and lightly on the flesh side.
Place duck breasts skin side down into a large sauté pan. Place pan over low to medium-low heat. To keep the edges from curling up, press duck breasts down with the help of a large spatula or smaller sauté pan. After a few minutes, the fat should begin to render. Cook until skin is golden brown and crispy. Flip over and cook the meat side for about 3 minutes, or until the duck's internal temperature is 125°F on an instant-read thermometer. For medium-rare meat, cook until breast registers 130°F for medium-rare duck, 140°F (60°C) for medium, and 155°F (68°F) for well-done. Remove duck from the pan and set aside to rest. Duck breasts can be served whole or sliced with cranberry sauce. Make 4 servings.
Buttermilk Panna Cotta with Honey
Panna Cotta is a chef's favorite dessert, and here, Chef Alfredo makes it with buttermilk for added dimensional tang. This breezy dessert can be made in advance and is ideal for festive family dinners.
2 1/2 cups heavy cream, divided
1 cup whole milk
3/4 cup sugar
2 teaspoons vanilla paste
9 gelatin leaves, soaked in cold water for about 4 minutes
1 1/2 cup buttermilk
1/2 cup Texas honey (See note)
Fresh mint for garnish (optional)
Spray six ramekins with cooking spray, then use a paper towel to wipe out most of the oil, leaving only a light residue.
Place 1 cup of heavy cream, whole milk, and sugar in a saucepan and bring to a simmer. Remove from heat. Add the vanilla paste to the cream. Squeeze the gelatin leaves to remove any excess water, then add them to the saucepan, stirring constantly until the gelatin is completely dissolved. Do not let it boil.
Stir in the remaining heavy cream and buttermilk. Remove from heat and ladle the cream mixture into each ramekin. Refrigerate overnight, or until thoroughly chilled.
You can serve panna cotta straight from the ramekins, without unmolding. However, to remove it from the mold, dip the bottom of the ramekin into a pot of hot water to loosen the panna cotta. Slide a knife around the edge, then carefully turn it over onto a serving plate. Drizzle generously with the honey. Garnish with fresh mint and serve. Makes 6 servings.
Note: Instead of honey, try saba, a syrupy Italian condiment of reduced unfermented grape juice or strawberry coulis.
Editor's note: Buzz dining columnist Dai Huynh is a James Beard food-journalism award winner and longtime Houston-based restaurant writer.
Want more buzz like this? Sign up for our Morning Buzz emails.
To leave a comment, please log in or create an account with The Buzz Magazines, Disqus, Facebook, Twitter or Google+. Or you may post as a guest.