Exploring family heritage in Portugal
Click the Buzz Me button to receive email notifications when this writer publishes a new article or a new article in this column is published.
Nancy and Gene Silva have traveled to Portugal many times over the years – partly because Gene's grandparents emigrated from there to the United States, and partly just because they love it. So it was an obvious destination for their 50th wedding anniversary. What wasn't as obvious – and what made the journey truly epic – was when it grew into a group of 20.
It started as a plan for the immediate family to go in 2020. But as with so many other plans, this one was put on hold because of Covid-19. In 2021 the same thing happened.
So they decided that this would be the year. "I mentioned it to some of my family members across the country, and we ended up with 20 people from five states."
The intergenerational group hailed from California, Washington state, Washington, D.C., Virginia, and New Hampshire – and, of course, Texas. It included son Michael Silva and his wife Jessica, and their three children, as well as a host of nieces and nephews from across the country. In all there were 13 adults, three teens and four children.
"This was the trip of a lifetime for our close family living now all across the U.S., and an opportunity for the younger generation to connect with one another," said Nancy.
The original plan was to rent two cars but when the group grew to 20, Gene decided to rent a Mercedes minibus and hire a driver, and went into tour guide mode. Together he and Nancy planned an itinerary that included major cities (Lisbon and Porto), seaside villages (Ericeira and Nazaré), historic landmarks (Óbidos, Alcobaça, the Knights Templar Castle in Tomar, and the Battle Abbey, or Batalha Monastery) and concluded with several days visiting the hometown of Gene's family, Ílhavo. They visited the nearby coastal city of Aveiro, known for its lagoons and network of canals and the colorful boats (moliceiros) that navigate them.
They mapped out the entire route together, arming an illustrated itinerary for the family with information about each stop. With his years of travel and study, Gene is a storehouse of knowledge, is trilingual (Portuguese, Spanish, and English) and is practically a tour guide himself, Nancy says. But he cites one source in particular that has never led him astray: Julie Dawn Fox, a British travel professional who has lived in Portugal since 2007 and whose website he's followed for years.
Julie gave them excellent restaurant recommendations throughout the country, Nancy said, as well as the contact person for their Mercedes minibus at Vinic Tours. The decision to rent the bus turned out to be a good one. The driver, Luis, was "not just good, he was terrific," said Gene. And the bus was well appointed, with leather seating and excellent views.
Nancy and Gene honeymooned in Portugal and have traveled there many times since. During those early years, Gene still had a few living relatives, and the couple would spend time in their early visits getting to know them. They were elders, though, and the last one passed away a few years ago.
"I had a rather small family that survived – a number of my ancestors were seafarers and more than the usual number died at sea, so not too many made it." They do still have Portuguese friends, however, that they visit on each trip, as they did this time.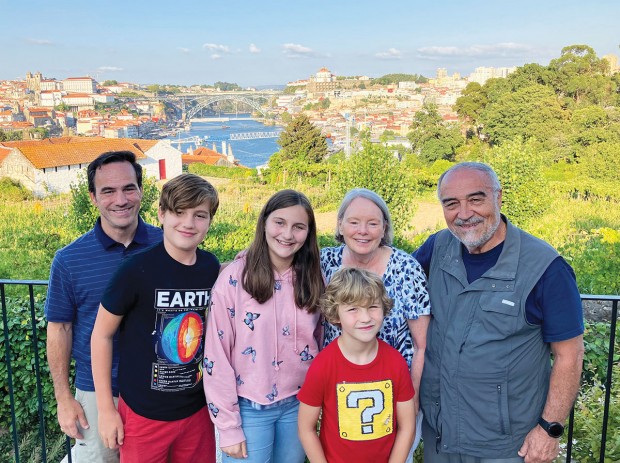 Medieval castles, Roman ruins, sunny beaches, mountain forests with waterfalls and, of course, Port wine were just a few of the items on the itinerary – something that would appeal to everyone in a group this diverse. A swimming pool at every hotel was a requirement.
"We never stayed on the road longer than 50 minutes at a time, yet we got to see six World Heritage Sites and some unique sites most people don't get to see," Gene said. On the personal side, the group spent time walking in their ancestors' footsteps in what for them was once a fishing village, now grown into the town of Ílhavo, where Gene's family came from, along with the nearby city of Aveiro. And they were able to visit the grand old Vila Santos, the same restaurant where Gene's parents celebrated their wedding dinner 90 years ago, and celebrate with the current owner.
That would be a long way down the road, however. The first big challenge was to get people from all over the US to arrive in Portugal at the same time so they could all start together. Instead of waiting for everyone to arrive in the capital city of Lisbon, Gene and Nancy headed for the coastal city of Ericeira, just half an hour away, and made that their rendezvous point. It ended up being the best thing they could have done; Portugal experienced a searing summer, with temperatures that reached 107 in Lisbon at one point. On the coast, at the Vila Galé hotel overlooking the beach, it was 15 degrees cooler.
"We got everyone there over a two-day period, and it was an absolutely glorious time – a wonderful way to be introduced to a foreign city," said Gene.
The first day after they collected everyone together, they drove about 30 minutes down the road to the town of Sintra to see three castles, including two World Heritage Sites: a 14th-century Royal Palace in the town center, an 8th-century abandoned Moorish castle halfway up the mountain, and a 19th-century royal residence at Sintra's summit, Pena Palace.
"Most people will go to Sintra because it's absolutely gorgeous, with lots of trees, and up on the side of the mountain there are some great vistas," said Gene. The complex was quite crowded that day, however. "We had to stand in long lines but we were able to see Pena Palace before circling back at the end of the day to relax one more evening in Ericeira," said Gene.
"All of us gathered for a late dinner (all dinners are late!) at a seaside restaurant walking distance from our hotel where we enjoyed a variety of grilled fish," wrote Nancy in an account of the trip. "Delicious food is a consistent component when traveling in Portugal and ranges from all types of seafood and shellfish near the coast to Black Pork (acorn fed pigs) and Suckling Pig found inland. A meal begins with a satisfying soup and usually finishes with the ubiquitous dessert delicacy, Pastéis de Nata."
The next day they began their travels north, stopping at the charming medieval towns of Óbidos and Alcobaça then continuing to Nazaré, where they would spend the night on the coast. The walled city of Óbidos is a well-preserved example of medieval architecture. The stone fortification with its picturesque parapets received its first charter early in the 12th century, as Gene wrote in his annotated itinerary. In 1210 King Afonso II gave the title of the village to his queen, originating the reference, Vila das Rainhas (Town of the Queens).
"The fortification is magnificent," said Gene. The narrow city streets are too small to enter with a vehicle, so the family was deposited on its doorstep. "We spent two hours walking around the embattlement, enjoying the town," said Gene.
Then it was on to Alcobaça, where they would visit a 12th-century church and monastery that was home to the star-crossed lovers whose story everyone in Portugal knows: Pedro and Inês. As the tragic Portuguese legend goes, the young man who was to become King Pedro I was married off to an heir of a neighboring kingdom. He fell in love with his wife's lady in waiting, the beautiful Inês de Castro, and they had a secret affair. When his wife died in childbirth, Pedro decided to make their relationship public, and they married and had several children. But his father, King Afonso II, opposed the relationship and eventually, succumbing to pressure, had Inês killed.
Pedro was distraught and wanted to declare war on his father but his mother, Queen Beatriz, talked him out of it, as the story goes. When Afonso died and Pedro became king, he had Inês' remains exhumed, and he dressed her in royal gear, according to the version that Gene heard as a boy. All his nobles were obligated to parade across the throne room and kiss her hand.
King Pedro crowned Inês queen, making her the only Portuguese queen to be crowned posthumously. He had the royal title carved into the Gothic stone tomb that would match his own, and he ordered them to be placed together for eternity.
Gene, like most Portuguese, loves the story, though he acknowledges it's "pretty gruesome." The exquisitely carved tombs, complete with lifelike sculptures of Pedro and Inês, now lie in state at the Mosteiro de Alcobaça, a UNESCO World Heritage Site, considered "a masterpiece of Cistercian Gothic art."
After touring the sites and paying their respects to Pedro and Inês, the Silva family headed to nearby Nazaré – another great tourist attraction, a magnet for surfers with some of the world's largest waves.
Next it was on to Battle Abbey, or Mosteiro de Batalha, which was built to commemorate victory of Portugal over Spain in the battle of Aljubarrota in 1385. The abbey's extravagant Gothic architecture makes it "the most beautiful building in Portugal, in my opinion," said Gene. It took 70 years to build, and commemorates an achievement that is equally impressive: The victory of King John and his young general, Nuno Álvares Pereira, with only 6,500 soldiers over an invading Spanish army with more than 30,000 Spanish soldiers.
The next stop was the city of Tomar, founded by the Grand Master of the mysterious Knights of Templar in 1160. The impressive Convent of Christ and its surrounding castle complex, built by the Templars over five centuries, combines a variety of styles and influences, including Jerusalem's Holy Sepulcher Rotunda. The Templars were a highly disciplined elite fighting force and semi-religious order founded in 1119 that gained influence and wealth around the world, eventually being violently suppressed amid accusations of heresy in the early 1300s. Their wealth was confiscated and their fortifications dismantled. The Tomar castle complex is considered the best preserved of the Templar castles.
The next day they traveled to Condeixa-a-Nova and took advantage of cooler morning temperatures to visit the day's destination, the nearby Roman ruins. In the heat of the day, they were relaxing at the pool of the Hotel do Paço, a former palace converted into a grand home and then a hotel.
The ancient Roman city, which Julie Fox considers the best Roman ruins she's ever visited, was home to a school for tiles and mosaics, and the 2,000-year-old mosaic tile floors are still vibrant in color and design. The interior gardens still function with the original piping that was installed two millennia ago.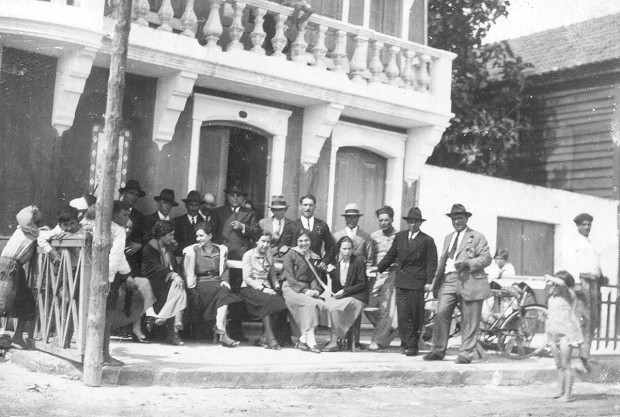 Finally, it was time to head for Ílhavo and nearby Aveiro to explore the family's roots. Along the way they stopped in the Buçaco Forest, known for its cypress groves and gardens, hiking trails, and the hunting palace of the last Portuguese king – now a grand old hotel with elegant stone lacework and garden mazes.
"It was almost like something out of Disneyland," said Gene. "It's remarkably well preserved for something that was built 150 years ago." The family opted to stay in Ílhavo but did a lot of walking on the forest's trails leading from the palace to duck ponds and waterfalls.
Ílhavo was already an established community when the Romans arrived. Some say the city was founded in 400 BC by Greek colonists, but others believe that it was founded by Phoenicians some 2,500 years ago. The town became known as a base for its seafaring culture and eventually a strong fishing industry. The family made their base the Hotel de Ílhavo Plaza & Spa in the historic center, making everything within walking distance.
They spent their last Saturday together enjoying neighboring Aveiro, which has been called the Venice of Portugal, exploring family sites there and joining in a ride on a colorful moliceiro through the city's network of canals. They also visited the charming nearby former fishing village of Costa Nova, now a beach resort town known for its fish markets, seafood restaurants, and brightly striped houses.
Sunday they spent in Ílhavo, attending Sunday Mass at the parish church where relatives had been baptized, confirmed, and married. They visited the graveyard where those relatives are buried. Gene led his troop down the narrow cobblestone streets of the town's historic center to see the homes where his parents were born (the grandparents and great-grandparents of most who accompanied him).
In Ílhavo the family tour ended; several said their goodbyes and went their separate ways. Nancy and Gene, together with their immediate family – Michael, Jessica, and their three children – went on a tour of their own.
First they spent several days touring the city of Porto, taking a boat tour along the Douro River, and having a guided Port wine tasting at Graham's Port Lodge. Graham's is known as one of the first companies to invest in the Douro Valley vineyards, the birthplace of the distinctive Port wine.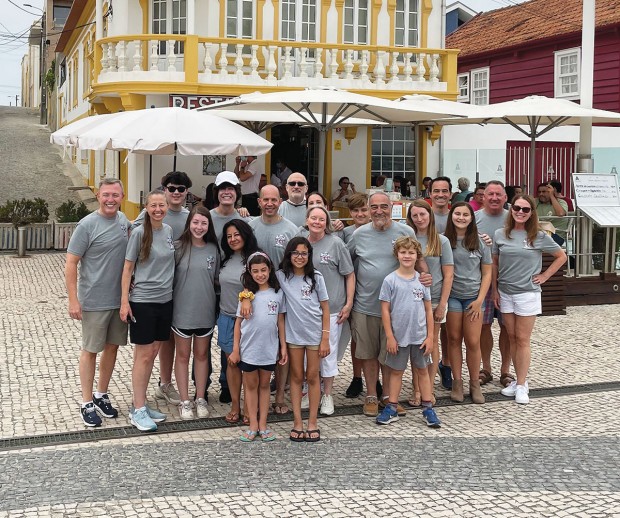 Their final adventure was planned especially for Michael's family. It was an excursion in Peneda-Gerês National Park. They booked a day-long small group tour through Oporto Adventure Tours (oportoadventuretours.com).
"Our guide, Miguel, led us on hikes into the lush forest landscape up and down trails to reach two remote crystal-clear lagoons fed by mountain waterfalls," Nancy wrote. "There we savored the fun of being drenched under those cold waterfalls and swimming in the privacy of our own lagoons. It was remarkable."
Lunch was in the hamlet of Fafião, where local villagers are proud of their ancient mountain heritage. The tours are designed to introduce travelers to their ecosystem and help support their way of life. The Silvas ended their day watering tree saplings that will replace the ones burned in the forest fires that have become common in recent years.
"At the end of the day, we made our way out of the mountains over the same winding, narrow dirt road we drove in," wrote Nancy. "By then, the kids had bonded with Miguel's mountain spirit and relished the dust-spinning hairpin turns in our 4X4. This was an incredible day into a part of Portugal we had never experienced before, and we can highly recommend it."
Looking back, the mere mention of the trip still brings a smile for both of them.
"From age eight to eighty, all came away with wonderful memories of our trip to Portugal," Nancy concluded. "The scenery, historical sites, comradery and food alone would have made a wonderful trip but, for our family members, staying in their ancestor's town and walking in their footsteps made this a profound personal experience. Their loving gratitude was expressed in many ways but it always came down to, 'This was a trip of a lifetime!'
Editor's note: Buzz travel columnist Tracy L. Barnett is a Lowell Thomas travel journalism award winner and longtime travel and environmental writer. Email her at [email protected] to share your own travel tales.
People in this article:
Nancy Silva
,
Gene Silva
,
Mike Silva
,
Jessica Silva
,
Julie Dawn Fox
,
Edward White
,
George Dewey White
,
Dewey White
,
Edward Silva
,
Zack Coffman
,
Debbie Silva
,
Michael Silva Jr.
,
Ed Phillips
,
Ruthie White
,
Margaret White
,
Irving Silva
,
Mary Rose Silva
,
Dewanne Phillips
,
Charlotte Silva
,
Lauren Silva
,
David Silva
Want more buzz like this? Sign up for our Morning Buzz emails.
To leave a comment, please log in or create an account with The Buzz Magazines, Disqus, Facebook, or Twitter. Or you may post as a guest.