Rumor Has It - October 2022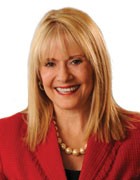 Click the Buzz Me button to receive email notifications when this writer publishes a new article or a new article in this column is published.
Joy! They didn't have to scratch the earth's surface too long for love. Travis Cole Swanson and Sarah Elizabeth Gubbels met after graduating from Texas A&M as petroleum engineers when their careers path merged. At the Houston Zoo Lights event, Travis proposed in front of the lit-up JOY sign during a photo opp. They tied the knot July 16 at St. Michael the Archangel Catholic Church with a reception at The Gallery, themed Whimsical Woods. Guests were in awe at the huge kissing ice swans centerpiece and were delighted when a smoke machine created special effects during the first dance. Donations to the couples' favorite charities, Smile Train and The Water Project, were requested in lieu of gifts. Parents of the couple Jeffery and Michelle Gubbels, Beth and James Slaughter, and Robert and Melissa Swanson took part in the sparkler exit that ended the night but was just the start of a bright future.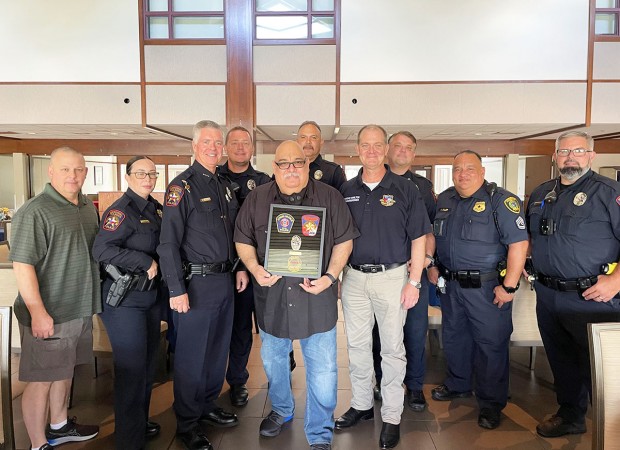 Retired but not tired. Chief Ray Schultz gave homage at the Memorial Drive Presbyterian Church to Officer Oscar "O.G." Miller for his 19 years at Memorial Villages Police Department and seven years at SBISD. O.G. was a friend and mentor to many and will begin a new chapter that includes a bar-b-que pit. He taught thousands of children the D.A.R.E. program and interacted with many youth groups. He was awarded two plaques and funny gifts and attendees enjoyed lunch and a giant cake. Offering words of praise were Senior Pastor Alf Halvorson, Carter Bliss, Commissioner Brooke Hamilton, Susan Schwartz, Officer Andy Miller, Gary Brye, and resident Tehmina Masud. The standing ovation included Nicolette Stewart, Laurie and Bert Rosenbaum, Carl Moerer, Jack Dillihunt, Valerie Cantu, Susan Grass, Kimberly Aguirre, and Jose Gomez.
Celebration of life. Former Bunker Hill residents, James Richard Hunt (94) and wife of 70 years, Shirley Mae Hunt (93) enjoyed their twilight years in Carbondale, Colo. They died six months apart, but they brought the family together. A celebration of life took place this summer with family members, Valerie Hunt Lankford, Ryan and Tarryn Lankford, Brendon and Ashleigh Lankford, Meredith and Daniel Mata, and Susan Hunt Atkinson. The crowd of 50 reminisced about the elder Hunts' lives with a church ceremony before several hiked up the mountain behind their house to spread their ashes.
Bike on. Lou Ann and Alex Chae cheered with their daughter Frances (Chae) Powless as Frances' husband, Neilson Powless, rode in the Tour de France as a professional for the EF Education–EasyPost team. He placed 13th overall and was the highest placing American in the race. The couple met in his hometown, Sacramento, Calif., where Frances danced for the Sacramento Ballet. Currently she takes choreography jobs worldwide. Lou Ann and Alex joined them in San Sebastian, Spain to watch Neilson race and then onto Nice, France where Neilson and Frances live. A very nice vacation indeed.
Sip, sip hooray. It was just a little last-minute celebration for Mickey Mills' 80th. His wife Cynthia had exquisite silver and white balloon art at the front door. Piano player Adam Stout played Mickey's fave tunes. Exotic delights were served with drinks and champagne at the afternoon soiree. The white designer cake was a showstopper as was the photo wall with a mylar background and bling. Cynthia toasted Mickey, surrounded by loved ones and three dogs, Baron, Minka, and Sloan and off they went to Tony's.
International adventures. After growing up in Memorial and living in the Heights, Catherine Henry bought a townhouse in the Galleria area. Barely settled in, she went to London, UK with friends Josh and Elisa Briggs and Reyna Hernandez and later to South Africa with the Texas A&M Professional MBA class of 2023 as an international business trip. High Tea at Fortnum & Mason in the Diamond Jubilee Tea Salon was a British highlight. In South Africa, despite the cultural shock drive through shanty town, she found the local BBQ (called braai) worthy to try and biltong jerky the best ever. She advises: "Stay hyperaware but savor the trip and the jerky."
Pretty in pink. "Chanel" your inner princess and wear a tiara and pink. The only one in blue was the gal of honor for her birthday. Cindi Rose's blue dress matched her blue tiara and banner that said Miss Elite Texas, although her shoes and purse were pink. A few friends that met at TRIBUTE at The Houstonian for lunch as a tribute to Cindi were Ms. Texas Universal Global Shehla Haseeb Rana, Kelly Anzilotti, Joan Lebow, and Erica Rose Sanders, all tricked out in pink of course.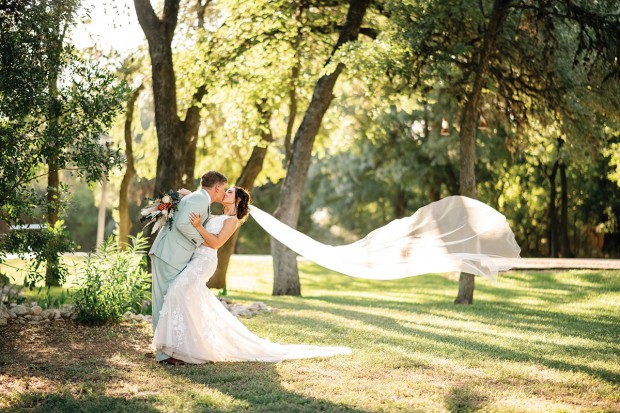 A boho vibe. On their 10th anniversary of dating, Grayson Williams and Brittany Ditta – who met on the Pearland High School Golf Team – took a trip to the middle of nowhere (Panther Creek Falls in Washington State). A phone was set up to video the waterfalls and Grayson snuck in a surprise i-proposal. The wedding, July 9, 2022, was in the gardens at Texas Old Town, a venue in Kyle, TX. Savory fajitas and margaritas were served indoors. Brittany's mom Amy Ditta and Dimitri Rakopoulos were some of the first to join the two-step as the couple swung around the room. The wedded couple left two days later for Costa Rica.
They started in Alaska. Rhonda and Bill Glick like adventure but Rhonda admits she's a wimp. When she had to walk on glaciers and ice in Iceland, she was terrified. Kayaking in the waters did not scare her as much; the seals and puffins were so close she was charmed. She describes Iceland like another planet with volcanic ash and bubbly waters. They used a guidebook to drive through very desolate parts in Iceland and were given a Wi-Fi hotspot for the car so their GPS and phones would work. The highest speed limit is 55 miles per hour.
Have some good news to share? Email us at [email protected].
People in this article:
Travis Swanson
,
Sarah Gubbels
,
Jeffery Gubbels
,
Michelle Gubbels
,
Beth Slaughter
,
James Slaughter
,
Robert Swanson
,
Melissa Swanson
,
Ray Schultz
,
O.G. Miller
,
Alf Halvorson
,
Carter Bliss
,
Brooke Hamilton
,
Susan Schwartz
,
Andy Miller
,
Gary Brye
,
Tehmina Masud
,
Nicolette Stewart
,
Laurie and Bert Rosenbaum
,
Carl Moerer
,
Jack Dillihunt
,
Valerie Cantu
,
Susan Grass
,
Kimberly Aguirre
,
Jose Gomez
,
James Richard Hunt
,
Shirley Mae Hunt
,
Valerie Hunt Lankford
,
Ryan Lankford
,
Tarryn Lankford
,
Brendon Lankford
,
Ashleigh Lankford
,
Meredith Mata
,
Daniel Mata
,
Susan Hunt Atkinson
,
Lou Ann Chae
,
Alex Chae
,
Frances Powless
,
Neilson Powless
,
Mickey Mills
,
Cynthia Mills
,
Adam Stout
,
Catherine Henry
,
Josh Briggs
,
Elisa Briggs
,
Reyna Hernandez
,
Cindi Rose
,
Shehla Haseeb Rana
,
Kelly Anzilotti
,
Joan Lebow
,
Erica Rose Sanders
,
Grayson Williams
,
Brittany Williams
,
Amy Ditta
,
Dimitri Rakopoulos
,
Rhonda Glick
,
Bill Glick
Want more buzz like this? Sign up for our Morning Buzz emails.
To leave a comment, please log in or create an account with The Buzz Magazines, Disqus, Facebook, Twitter or Google+. Or you may post as a guest.