'We Choose to Go to the Moon': 60 Years Later
Click the Buzz Me button to receive email notifications when this writer publishes a new article or a new article in this column is published.
"We choose to go to the Moon in this decade and do the other things, not because they are easy, but because they are hard."
On the warm and sunny day of September 12, 1962, a crowd of 35,000 welcomed President John F. Kennedy with thunderous applause at Rice University's football stadium. Kennedy delivered the famous "We Choose to Go to the Moon" speech powerfully declaring America's goal to send a man to the Moon before 1970 and the necessity for the United States to become an international leader in space exploration.
In commemoration of the 60th anniversary of the iconic speech, NASA and Rice University are presenting a variety of special events Sept. 10-12.
Frank Deis has a good idea of what it was like to sit in Rice Stadium to listen to the original speech, because he was actually there. "I was a 17-year-old, wet-behind-the-ears freshman," Frank shared. "I hadn't had a single class and had just moved into my dorm (Will Rice) before the speech. It was terribly hot, and when I saw parts of the speech years later when JFK said 'nearly as hot as it is today' I remembered. We were out there in full Texas sun, no shade. I had never seen a President so seeing JFK was very impressive." Frank went on to become part of the Biochemistry faculty at Rutgers University for 43 years.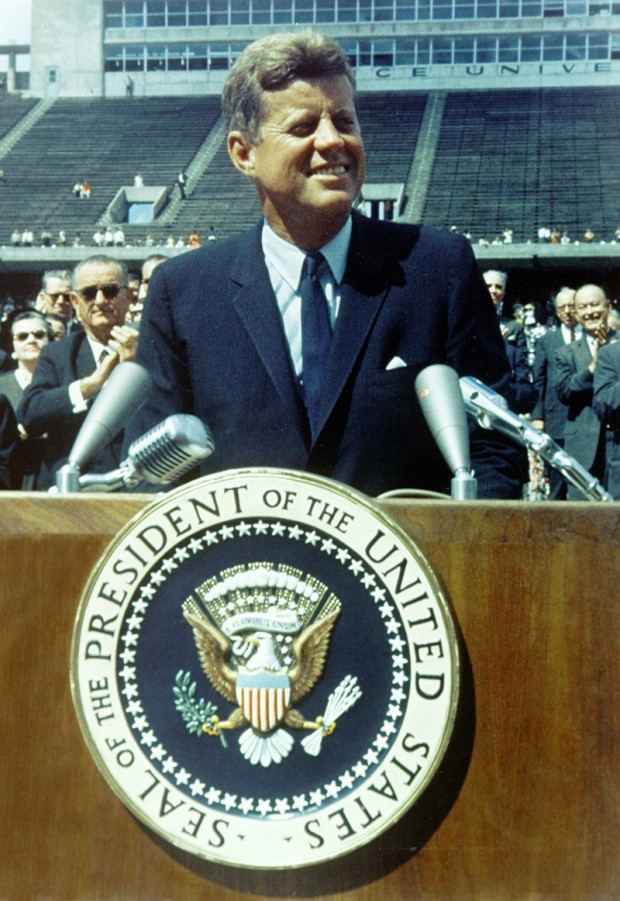 Current Rice freshman Max Rudin is excited for the upcoming 60th anniversary festivities. "For one thing, my mom is coming to join me at the events, and I'm excited to see her. I'm also very happy to go to a celebration centered around this inspiring speech, and the hard work, ingenuity, and the spirit of exploration it represents," Max said, "All of these human characteristics are encapsulated in Kennedy's speech and in the space program in general. Kennedy's speech has always inspired me, because it set a goal that many thought couldn't be done, yet it motivated NASA to get it done. NASA succeeded in going to the Moon by the end of the decade. Space missions often face massive setbacks and delays, so the fact that the Moon mission was accomplished in such a short time is incredibly inspiring to me."
Max continued, "So far, Rice has been an incredible place for me, as there are so many motivated people researching so many different scientific fields. When I first found out that the speech was given at Rice University, it made me want to come here even more." Max plans on majoring in Physics.
Henry Everitt, Rice University Adjunct Professor and Army's Chief Scientist for Optical Sciences, has always wondered what it would have been like to sit in the stands for the speech, so he is excitedly looking forward to being in Rice stadium next Monday for the re-creation of that momentous speech.
"That speech set the course of my life. I watched every Apollo launch, every moonwalk, and loved astronomy and physics from a very early age. No question; the mission to the moon is what inspired me to become a scientist. Indeed, I grew up thinking space travel would become like air travel in my lifetime, and I'd travel to space and maybe even work in space, not as an astronaut but as a business traveler. 
"Our kids today have no idea what it was like to watch mankind's greatest adventure play out in real time for all to see. The excitement was not just for what was accomplished, but also because of what it said was possible about our future. Those were heady days, and even the sky wasn't the limit then. Imagine how things would have been different if those first trips to the moon quickly turned into settlements, observatories, research outposts, perhaps even a tourist attraction! Maybe the excitement will return when space is finally opened for everyone, a dream I hope will come true for my grandkids if not for me."
A fun fact: amongst all the one-of-a-kind treasures in NASA's possession, one of their first and most prized is the podium from which Kennedy delivered his speech, which now resides at NASA thanks to the donation from Rice University.
If you have not listened to Kennedy's speech in a while, take a listen and be inspired. Celebrate 60 years since an American milestone delivered right here at Rice University.
Sept. 10, starting at 10 a.m.: Tailgate, "Spelfie," and Commemorative Football Game
NASA and industry exhibits will open for "Tailgate Owly," including a NASA pavilion and the International Space Station mobile exhibit experience open from 3:30-6 p.m. Have a selfie taken from space (a "spelfie"): Join on the form to help form a giant number "60," weather permitting. Find details and register to participate in the spelfie here. The Rice vs. McNeese State football game kicks off at 6:30 p.m. The game will recognize NASA. 
Sept. 11, 11 a.m.-4 p.m.: Community Day
NASA and industry exhibits will open to the public; exhibits will be at Robert L. Waltrip Training Center adjacent to Rice Stadium.
Sept. 12, starting at 10 a.m.: Flagship Event at Rice University
NASA and industry exhibits will open to the public, 10 a.m.-2 p.m. The JFK flagship event will take place 11 a.m.-12 p.m. Join or host a watch party for this historic event. Keynote speaker is NASA Administrator Bill Nelson. 
Editor's note: For more moon-landing nostalgia, read When We Went to the Moon by Pooja Salhotra. 
Want more buzz like this? Sign up for our Morning Buzz emails.
To leave a comment, please log in or create an account with The Buzz Magazines, Disqus, Facebook, Twitter or Google+. Or you may post as a guest.