The Thread Collectors: Q&A with Authors Shaunna Edwards & Alyson Richman
Click the Buzz Me button to receive email notifications when this writer publishes a new article or a new article in this column is published.
The Ann and Stephen Kaufman Jewish Book & Arts Festival here in Houston is celebrating 50 years this fall with the theme "Commemorate the Past and Celebrate the Future." Every year, the Evelyn Rubenstein JCC hosts a spectacular celebration of books with authors from all around the country. Because the JCC is under construction, events will be taking place around Houston, Oct. 22-Nov. 5.  
I was thrilled to have the opportunity to do a Q&A with Shaunna Edwards and Alyson Richman, authors of The Thread Collectors, who will be visiting authors for the Festival on Oct. 24. You can buy tickets for just this event, the entire series or buy a Pick 3 to attend 3 events. If you cannot attend the actual event, it will be recorded and available to those who purchase tickets. Find the full lineup and ticket options here.
The Thread Collectors came out in August of this year. The book tells the story of Stella and Lily. Stella is a Black woman in New Orleans who embroiders intricate maps on cloth to help enslaved men flee north to join the Union Army. Bound to a man who would kill her if he knew, she hides not only her efforts but her love for another. In New York City, Lily, a Jewish woman, rolls bandages and stiches while waiting for her husband's return from Louisiana, where he's stationed. When months go by without word from him, Lily heads South, and crosses paths with Stella.
Alyson and Shaunna answer some questions about The Thread Collectors: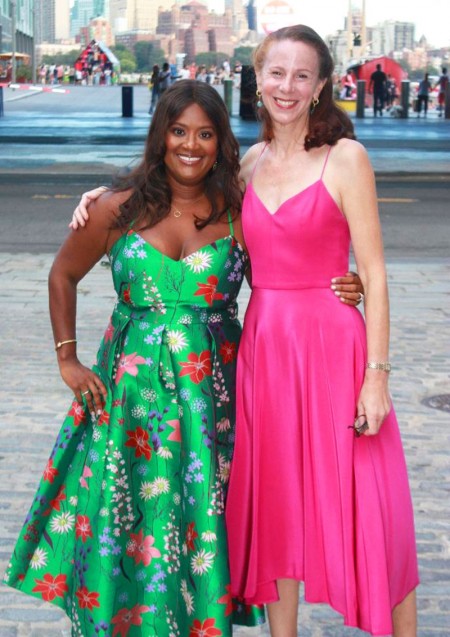 How did you two decide to write together and how did you settle on the subject matter of The Thread Collectors? 
We have been friends for over a decade and our friendship has always been cemented in our deep love of books. Although we had been discussing some of the seeds of inspiration for the book for several years, we didn't begin to write it until the throes of the pandemic.
We chose to have our heroes be musicians in the Union army because Alyson has a great-great-great uncle who enlisted as a Union Army musician during the Civil War. Shaunna's family has a rich history with textiles and African American quilts. Together we wanted to draw from our ancestral past to create our characters.
    
What was the process like for the two of you writing together? 
We decided from the very beginning that we wanted to create one seamless narrative voice between us and not divide it up by having Shaunna write the Black voice and Alyson the Jewish one. Every Sunday night we brainstormed the plot points of a new chapter. Alyson would take a first pass sketching out the scene in broad strokes and then Shaunna would start to embroider the scene further. We didn't move deeper into our story until we were completely satisfied with the chapter we were working on. We're both perfectionists, so we moved slowly and carefully until each scene felt right.
Can you share something with me about your book that is not in the blurb?
Because The Thread Collectors is loosely inspired by our family history, we were constantly asking our mothers questions that we wouldn't have asked had we not written this book together. Even now, after the novel has been published, our mothers are revealing things about our ancestors that are new to us.
A gold thimble that has sat in Alyson's family's breakfront now has a story behind it. She didn't know it belonged to her great-great-grandmother, the sister of the Union Army musician that inspired the character of our Jewish hero. And Shaunna learned that an antique cooking pot that is displayed in her mother's living room once belonged to her great-great-great Aunt Janie – the namesake for one of our characters. The discovery of these heirlooms and the stories behind them made us feel even more connected to our family histories.
What do you hope your readers take away from your book?
Before we wrote a single word, The Thread Collectors has always been a book about hope. We wanted to create a novel about building bridges, not seeking division. Our characters have very different personal histories and despite them not sharing the same race, religion, or cultural background they discover profound life-changing friendship and a deep sense of purpose against the backdrop of war.
For William and Jacob, it's their shared love of music that helps sustain them. For Stella and Lily, it's their resourceful sewing that fuels their sense purpose by contributing to the war effort. We wanted to show how even during one of America's darkest times in history, there is still light. And in shared purpose, there is commonality, camaraderie and sometimes even love.
What surprised you the most when writing The Thread Collectors?
In spite of how much Civil War history we had read in the past, neither of us knew about the tragedy of Port Hudson. Like many, we knew about the 54th Massachusetts Volunteer Regiment – a military unit of Black troops who fought valiantly in the Civil War, as it was famously played out in the movie Glory. We did not know about the earlier battle of Port Hudson, in which the Louisiana Native Guards valiantly fought and were massacred. This historical episode was something that we both felt was very important to illuminate in the book.
For more book recommendations and bookish thoughts, see Cindy's monthly Buzz Reads column, her Thoughts from a Page Podcast or follow @ThoughtsFromaPage on Instagram. Find upcoming Conversations from a Page events here.
Want more buzz like this? Sign up for our Morning Buzz emails.
To leave a comment, please log in or create an account with The Buzz Magazines, Disqus, Facebook, Twitter or Google+. Or you may post as a guest.