A Virgin Island Thanksgiving
Click the Buzz Me button to receive email notifications when this writer publishes a new article or a new article in this column is published.
Last year, as Becky and John Luman were casting about for what to do with their teenagers for Thanksgiving, they recalled their treasured memories of a trip to St. John in the U.S. Virgin Islands in 1997, before they had their children. The Covid-weary family was ready, like so many, to return to travel. "We wanted to do something unique with our kids again," said Becky. Ariana was in her last year of high school, and they wanted to make the most of her time with them. "We'd done the road trips, we'd done Mexico, we'd done Hawaii." So they asked their kids, "What about St. John? We loved that."
Indeed, the Luman family had done a lot of travel together. After traveling to overseas destinations like London and Paris, Becky decided to do with her own kids what her parents had done with her and her five elder sisters and brothers: Take them camping. Now 19 and 17, respectively, Ariana and Zane have been to 45 states and over 90 National Park System sites.
In 2013 they took their first big road trip – 27 days in three states, exploring national parks and historic sites throughout the region, and they were hooked. John, a trial attorney, was working long hours but joined Becky, Ariana, and Zane when he could. Dubbed "Luman Family Summer Tours," that 27-day trip led to a 47-day road trip in the summer of 2014, then trips of 25 to 36 days each summer through 2018, when work, sports, and life got in the way of the treasured summer tours.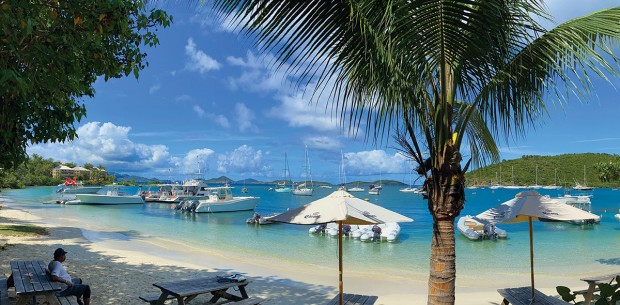 Through these years, the family explored historic sites where American colonies settled, Civil and Revolutionary War battles were fought, and Native Americans lived; walked across the headwaters of the Mississippi River; soaked in the beauty of National Seashores and the Great Lakes; and hiked the incredible canyons, gorges, and mountain ranges of the U.S. and Canada, with the kids earning Junior Ranger Badges along the way.
So as they planned their post-Covid getaway, it was logical that they would want to go a bit further afield – and also that they would choose a national park. So Virgin Islands National Park it was – and specifically St. John. Two-thirds of the island is national park, and its stunning white-sand beaches are legendary, making it an ideal destination for the whole family.
"I'm always the nature person and they're the beach people, so the vacation question is always, do we go to a beach or do we go hiking in nature? St. John lets us do both: enjoy amazing natural beauty, and the most amazing beaches," said Becky, an environmental consultant whose love affair with nature began before her birth – her family went camping at Big Bend National Park when her mother was four months pregnant with her (stay tuned for more of this story in an upcoming issue). "When I'm on these beaches, I'm more than OK; I'm in nature and love that my family is doing exactly what they want to be doing."
The entire island is sensitively developed and intimate – just 20 square miles, with a forested ridge ringed by small beaches. Each beach has limited parking, so they don't tend to be crowded. Forty percent of the national park is underwater, with mangrove shorelines, seagrass beds, fringing and patch reefs offering a plethora of snorkeling opportunities, among the most popular being the Trunk Bay Underwater Snorkel Trail.
"Some people are turned off by the lack of amenities. We love the lack of amenities because that means that we get to enjoy nature and smaller crowds," said Becky. "I've heard people talk about St. John, saying, 'That was a horrible trip. We got there and couldn't even go to the beach; there was no place to park.'"
"What a shame for them; when you appreciate and know how to do, what to do, when to do it, the island and its beaches are absolutely beautiful."
The largest town, Cruz Bay, is home to under 3,000 people, but it's still a lively cultural and commercial hub, with great gastronomy, interesting markets, and a vibrant nightlife – plenty of amenities for the Lumans.
Becky hesitated to share her Virgin Island experience, reluctant to attract more people to the island. "To think of St. John being overrun by tourists is actually a sad thought," she commented. "Yet by telling people about how amazing this spot is in its natural form and how St. John emphasizes sustainable tourism, hopefully people will want to protect other natural places in their natural forms and always travel lightly."
More than 20 hiking trails meander through archaeological sites, an old sugar mill, a viewing deck for the island's abundant birding opportunities, and spectacular views for those willing to do a little trekking.
At the heart of the island along the Reef Hill Trail is a petroglyph site that was sacred to the original Taino peoples who inhabited the island before the colonial years. The carvings leave clues about a mysterious people who left the island before the Spanish conquistadors arrived. Other artifacts reveal clues about the brutal history of slavery that began in the early 1600s, when millions of Africans were brought to the Caribbean to work in bondage in the sugar plantations.
"The island is steeped with history and with people who care about protecting the past and present communities, balancing environmental protection with sustainable development. And then there are people that don't seem to understand how detrimental, say, a massive marina would be to the ecology, history, and future of the community. Anyone knowing anything about watershed management, pollution, ecology, and the value of protecting something so special, would know that would not be good for the island community or their tourism's economy."
Hurricanes and environmental degradation have damaged much of the island's coral reefs. Making things worse, visiting boats used to drop anchor on top of the coral, smashing it to bits.
The National Park Service developed a solution: mooring lines. Now instead of dropping anchor, ships and boats are required to use the mooring lines. "If they hadn't done that, I can't imagine how destroyed St. John would be. It's a balance: We do need to invite people to see our nation's spectacular natural spaces, to see how beautiful things can be if we take care of them. But we also need to protect them."
The family flew first to the busy tourist hub of St. Thomas, the island where most people arrive. The flight was four hours, and then it was a half-hour by ferry to St. John. They rented a Jeep on St. Thomas and stocked up on groceries – food is available on St. John, but it's limited and expensive. They rented a house in their favorite area, Coral Bay – far from the more developed area around Cruz Bay, but still with quiet little local restaurants.
Later, John was telling a friend about their trip and his friend asked if it was an all-inclusive experience. John laughed. "It's not a place where you go to be entertained," said John said. "It's a place where you go to unplug."
The house they rented looked out over the bay and a view of the British Virgin Islands spreading out in front of them in all their tropical glory. It faced east, so they were able to see the sunrise and the moonrise over the Caribbean from their porch.
"There was a full moon and it was just phenomenal," said John. It was Thanksgiving, and they began to look for options to celebrate. Most places were closed for the holiday, so it wasn't easy. St. John is home to a large number of US expats, as John called them, for lack of a better term.
"And I thought, 'Man, there's got to be a place to get a turkey dinner.' We found a local restaurant in Coral Bay that offered a turkey dinner, with all the trimmings, and it was great. We had Thanksgiving dinner on Thanksgiving – your traditional turkey with an island flair."
Special memories for John include sitting in the local restaurants at the end of the day, after spending a day at the beach. "Relaxing at the beach and just watching the world go by with your kids and playing in the water. We snorkeled a bunch, and the snorkeling was incredible. I don't want to scare anybody, but there are nurse sharks – which look scary but aren't – and all kinds of fish. You name it, it's colorful and it's there."
One of the unforgettable highlights was swimming in the company of some giant sea turtles. "They were just kind of hanging out with us there, right next to us," said John. "At first you kind of freak out … man, that's big. They might come over and just kind of look at you, but they're not there to mess with you."
The Luman family kept a respectful distance and didn't touch them – touching the animals is prohibited – but they didn't seem at all perturbed by the human presence, so they enjoyed following the turtles as they swam. With their rented fins on, they were able to keep up with them – at the required distance.
"It was really neat, swimming with such a large animal," said John.
Ariana loved the island so much that when it came time for her choosing a location to celebrate completion of her senior year in high school, she chose to go back to St. John with her family, a mere six months after their Thanksgiving adventures.
"It just makes me happy!" she said, smiling at the memories.
The second time together, they rented a boat for a day, adding to their experience. On their first trip, John had noticed "people that were clearly not locals driving these 16-foot boats. So we decided to rent one ourselves."
Being able to meander up and down the coastline, exploring different bays and islands, they felt a whole other level of freedom. "It was kind of cool just to tool around. We would go in and out of bays and do some snorkeling."
John enjoyed exploring the island culture of Cruz Bay, as well, and especially loved visiting with the locals and learning the island's stories. On their first visit in '97, John and Becky learned of a longtime popular hangout place with a history: Skinny Legs Bar and Grill, which quickly became a favorite. In 2017 when Hurricane Irma hit, the island was devastated, and the bar with it. But when they came back for a visit last year, they found that the bar had been rebuilt, and they stopped for a meal, this time with their kids in tow. As usual, it was a great place to pick up on the local stories.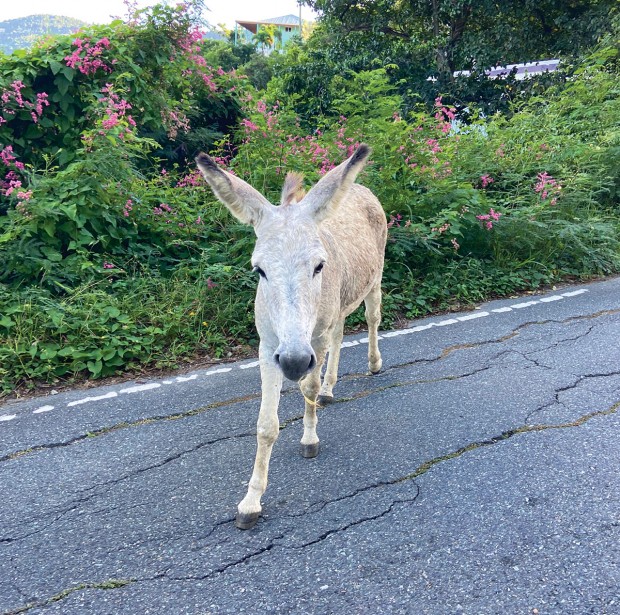 For example, they learned that soon after the storm hit, country music artist Kenny Chesney, a longtime island resident when he's not on tour, began sending supplies and helping people get off the island and to the mainland. He also started a foundation to support those in need on the island: Love for Love City. The singer said the popular local nickname was given to St. John because it's small and intimate, it's a popular honeymoon destination, and as Chesney says, there is a lot of love on the island.
John loved seeing the kids interact with the locals, unplug, and soak up the island culture. Zane and John enjoyed playing baseball and football on the beach and snorkeling the reefs. For the two of them, the island songs of Chesney and Jimmy Buffet came alive as they encountered so many places mentioned in their songs.
"The island life is something both Zane and Dad could really get used to!" said John.
There wasn't really any need to be online, so the family just spent time together.
"At night we'd sit on the balcony, looking out over the water with the moon coming up. We'd just read books or do puzzles. It was just really kind of a great 'life stands still' sort of time. You have the ocean lapping in, you've got the views, and all the stuff there is to take in – and we don't do it enough in our daily lives."
For more about the Virgin Islands National Park, check out the National Park Service page, and/or the US Virgin Islands Sustainable Tourism Guide by St John Magazine.
Editor's note: Buzz travel columnist Tracy L. Barnett is a Lowell Thomas travel journalism award winner and longtime travel and environmental writer. Email her at [email protected] to share your own travel tales.
Want more buzz like this? Sign up for our Morning Buzz emails.
To leave a comment, please log in or create an account with The Buzz Magazines, Disqus, Facebook, Twitter or Google+. Or you may post as a guest.