FIFA World Cup Fever
Click the Buzz Me button to receive email notifications when this writer publishes a new article or a new article in this column is published.
The 2022 World Cup in Qatar begins this Sunday, Nov. 20. Thirty-two countries will attempt to win it all in the final game on Dec. 18. Fans are looking forward to watching the 2022 World Cup and are excited for Houston to be a host city for the 2026 World Cup for the first time! Hear from some Buzz readers with FIFA World Cup fever.  
Third grader Asher Bingham's excitement to watch the World Cup is contagious. "I'm excited about the World Cup because it's the biggest sporting event of all time and it's been eight years since the USA played in the World Cup, so this is my first time seeing them play!"
Asher's dad, Michael Bingham, Fire Captain at HFD Station 48, coached the Houston Fire Department Soccer Team, as well as the St. Thomas More soccer team.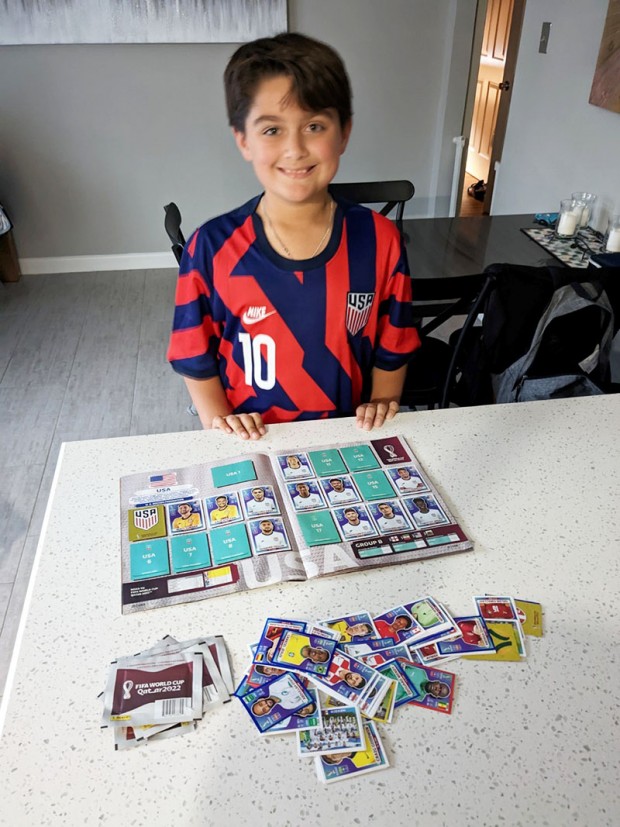 Asher's mom, Meghan Bingham, said, "My husband has always been a soccer fan (our wedding was planned around the inaugural Dynamo season) and hoped our son would follow suit. I think he got more than he bargained for with Asher, who is now a walking encyclopedia of all things soccer. He can recite every team that's won the World Cup since it started in 1930 as well as all the brackets for the upcoming World Cup. As a mother, I appreciate that he can identify flags from around the world based on soccer knowledge." 
The family has a giant wall poster to track the upcoming games. And Asher enjoys the World Cup sticker collecting book. "If you like soccer, you should start collecting the Fifi stickers so that you can learn about all the different team rosters."  
Asher likes wearing his USA Team Pulisic (Christian Pulisic) jersey in honor of his favorite player. "He plays for USA and is really good. He inspires me to be a better player!"
Asher collects jerseys from his favorite players, including Pelé, Pulisic, Ronaldo, and Messi (some are from his dad's collection – including jerseys his dad has played in). 
The Bingham family is looking forward to the 2026 games being in the US. "It'll be exciting to watch USA play in real life," said Asher. 
The 32 countries participating in the 2022 FIFA World Cup include: Argentina, Australia, Belgium, Brazil, Cameroon, Canada, Costa Rica, Croatia, Denmark, Ecuador, England, France, Germany, Ghana, Iran, Japan, Mexico, Morocco, Netherlands, Poland, Portugal, Qatar, Saudi Arabia, Serbia, Senegal, South Korea, Spain, Switzerland, Tunisia, United States, Uruguay, and Wales.
For the first time since the FIFA World Cup began in 1930, the 2022 World Cup is being played in the Middle East. Another first is that because of Qatar's intense summer heat and humidity, the games will take place in November and December versus the traditional months of May, June and July. Arash Noamouz of Bellaire's '401 Tap and Table is headed to Qatar to watch the 2022 World Cup along with his brothers and some friends.
Arash will be cheering for Iran. In the '90s, Arash played midfielder for the Iran national team and professionally with the Los Angeles Galaxy.
"I am so excited to see the World Cup in person for the first time ever. It will be amazing," he said. 
Daisy Durham is a fan of football (as it's called in the UK). She reflected, "I love that football has the ability to make the world smaller and more personal… if only for 90 minutes."  
When Daisy's brother, Rocky Durham, moved to London in 1998, he became a fan of the English football team, Tottenham Hotspur. "My brother is my best friend but choosing to follow the same English club as him would have been just a bit too facile. So I chose the rival North London side, Arsenal." 
"These days, Rocky and I are both active English football supporters. We may have opposing premier league clubs, but we come together to support the Lions!" she said. (The English national team is called the Three Lions.)
"International football is like the Olympics," Daisy continued. "It gives us opportunities to suspend geopolitics and racism and strife while we marvel at world class athleticism and sportsmanship. It makes the world feel smaller as you focus on, and root for, countries that might not otherwise be in your radar."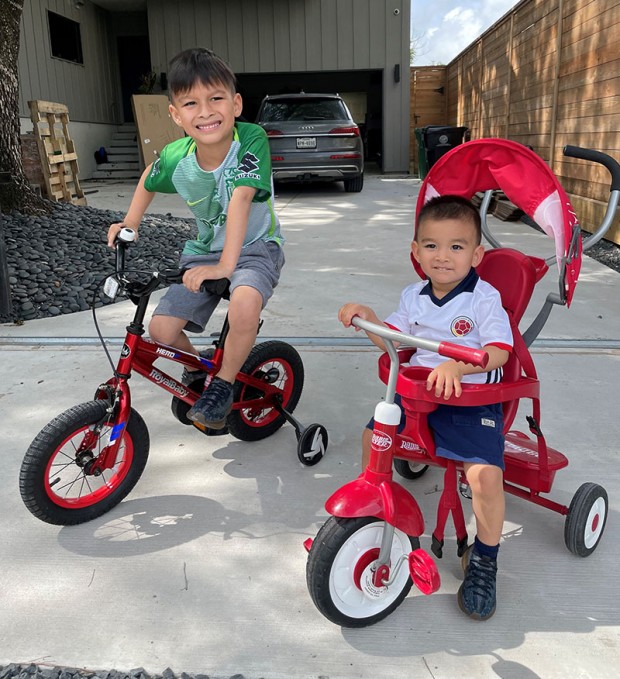 Soccer fan Jenny Vargas agrees. "I love the World Cup," she said. "Four years ago, we had my family over to cheer on Colombia. Unfortunately, Colombia didn't qualify this year, which is so sad because now I have to wait another four years. So instead, we will root for my husband's country, Korea." Jenny's husband, Simon Ha, and sons, Noah and Jonah, also look forward to the World Cup. 
West University Methodist Associate Pastor, Reverend Emmanuel Afful, will be doing lots of praying when he is cheering on his home country, Ghana, during the World Cup. 
"I remember my dad and I would walk a few miles to watch soccer tournaments with others in the community. I am a proud Ghanaian and desire the best for our national soccer team, the Black Stars!" he said.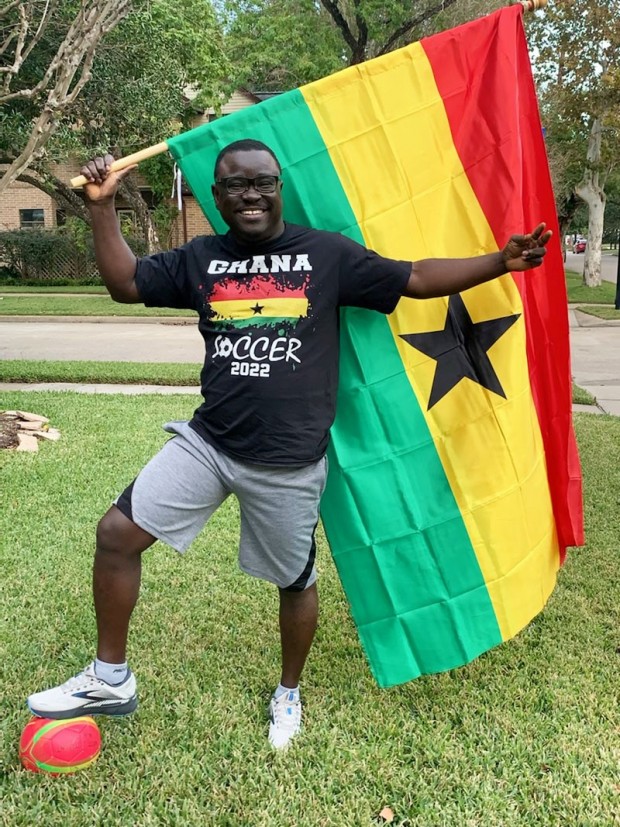 He recalls happy memories celebrating after winning a soccer game in the World Cup.  "Ghanaians will come out and parade through the main streets in town with brass band music and lots of energetic dancing. The celebration is always fantastic and intergenerational with kids, youth, and young adults, and seniors enjoying the festive parade from rooftops or by the roadside. 
"World Cup tournaments always have a healing and uniting effect, so I am looking forward to seeing the impact Ghana's participation will have on the nation. World Soccer tournaments are like the glue that holds the different factions together in my country." 
One Houstonian who will have one of the best views of the 2022 World Cup is Dynamo player, Hector Herrera, who will be playing on the Mexican National team.
Chris Canetti, Houston 2026 World Cup Host Committee President, shared, "The 2026 FIFA World Cup is going to be the biggest sporting event in world history, and we are fortunate to be one of the 16 cities in North America to be hosting matches. It will be an epic moment for our city and an event that leaves a positive, long-lasting legacy for decades to come." Houston will host 5-6 matches at NRG Stadium, and there will be a FIFA FanFest for fans to gather and view all of the matches during the 30-35-day tournament.
Enjoy watching the 2022 World Cup festivities and get ready for the celebration to come to Houston in four years! Here's how to watch World Cup 2022. 
People in this article:
Asher Bingham
,
Michael Bingham
,
Meghan Bingham
,
Christian Pulisic
,
Arash Noamouz
,
Daisy Durham
,
Rocky Durham
,
Jenny Vargas
,
Simon Ha
,
Noah Ha
,
Jonah Ha
,
Emmanuel Afful
,
Hector Herrera
,
Chris Canetti
,
Rafael Avila
,
Julio Avila
,
 Marta Parra
,
Jessica Avila
,
Guiomar Restrepo
,
Amanda Osorio
,
Bladimyr Guzman
,
Lina Maria Restrepo
,
Adriana Tovar
,
Santi Guzman
,
Gabi Guzman
Want more buzz like this? Sign up for our Morning Buzz emails.
To leave a comment, please log in or create an account with The Buzz Magazines, Disqus, Facebook, Twitter or Google+. Or you may post as a guest.