The Golden Touch: King Tuck and his Royal Astros Superfans
Click the Buzz Me button to receive email notifications when this writer publishes a new article or a new article in this column is published.
What's gold and shiny and sparkles a sea of bling in Minute Maid Park's rightfield stands? Just 500 fans wearing crowns in honor of right fielder Kyle Tucker, also known as King Tuck. It is all thanks to best friends, Stephanie Concialdi and Amber Stoltz, who have the magic Midas touch. 
Stephanie, Amber, and their families are all Astros fans, but this is their first year as season ticketholders. Stephanie shared, "Amber and her husband John Hill have two seats as do my husband Eddie and me. Opening Day 2022 was the first time we sat in our seats located in Section 153 in right field."
Before they started the "Tucker Crown Craze," Stephanie and Amber also made some cool bullseye signs, and he has thrown balls towards the sign several times. They also made some "big head" Tucker signs wearing a crown to add to their sign collection.
They decided to go even bigger for the Astros' playoffs.
Amber gave a shoutout to Kyle: "I think that Tucker is an unsung hero of the Houston Astros and has really been clutch this year. We wanted a way to give him a shoutout that, as superfans, we acknowledged all of his efforts and hard work, and this seemed like a really cool way to do that."
Stephanie shared their inspiration for the crowns. "About a month before the playoffs started, Amber and I were at an Astros game and talking about buying some crowns for our husbands and us to wear to show our support for King Tuck. Then we talked about how amazing it would be to buy crowns for everyone in section 153." 
The fired-up fans went to Burger King to see about getting a bunch of crowns donated but discovered that the fast-food chain doesn't distribute the classic gold crowns anymore. Sitting in the Burger King parking lot, Stephanie was able to find a supplier that sold gold crowns in bulk.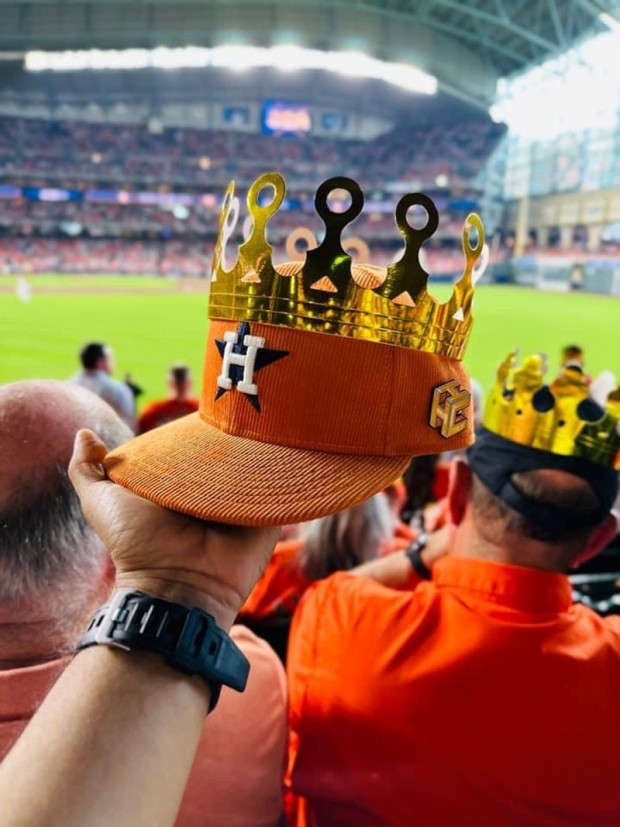 "We ordered 600 for the first playoff game and quickly ordered another 600," Stephanie revealed. "Then we bought the rest of their stock, which was 300 crowns and had to wait for a backorder of 2,000 crowns. We have ordered a total of 3,500 crowns and have handed out over 2,400 so far. That month-long wait was so long until that first playoff game." 
Amber shared the responses they get when they pass out the crowns at games. "People get so excited when they see us coming to hand them out. At the first game, some of the men were a little too macho to wear the crowns but now that it's caught on, the men are participating as much as the ladies & kiddos."
Amber continued, "Our security guard in our section wears a crown every time. He now hugs us when he sees us. We even got hugs as we were leaving the last home game (Game 2 of the World Series)."
Stephanie relayed one of their favorite crown stories. "A boy (maybe 9 or 10 years old) and his family came up to us at the street party at World Series Game 1. He was wearing a crown that was a little beat-up and he was so excited to see us again. We had given him his crown at the ALDS Game 1 and he had worn that crown for every game since then. We gave the entire family fresh crowns and they were ecstatic. Seeing the passion in their eyes makes everything we're doing so worth it."
West U resident Jim Van Horn said he couldn't be prouder of his daughter, Stephanie, and her best friend Amber. "It started with the theme of King Tuck to honor Kyle Tucker and morphed into the rightfield transformation of hundreds of fans wearing gold crowns. I have to say - I have never accused her of thinking small."
Stephanie and Amber's love seeing the sea of gold when everyone is wearing their crowns. "I told a few friends that we were planning to give out the gold crowns in Game 1 of the ALDS," Stephanie stated. "I received so many messages during the game about the crazy gold sparkles that were showing up on the broadcast.
"We didn't think about the crowns reflecting so well. I came home after the first game and watched the recording. I was amazed how much they sparkled." 
The creative and generous crown gifters are overjoyed at how happy everyone in their section is when they receive a crown. People are now coming from all over the park to come get one. In the beginning they started with 400 crowns but when they handed them out, they quickly realized that it wasn't enough. Lately they have been passing out 500 crowns and keep a few on reserve for friends to whom they promised crowns as well as late comers in seats around them.
Stephanie's son, Jacob Concialdi, and Amber's son, Foster Stoltz, both 2020 high school graduates, are not able to be at the games in person but like looking for their moms' crowns…especially when the sportscasters mention all the people in the King Tuck section.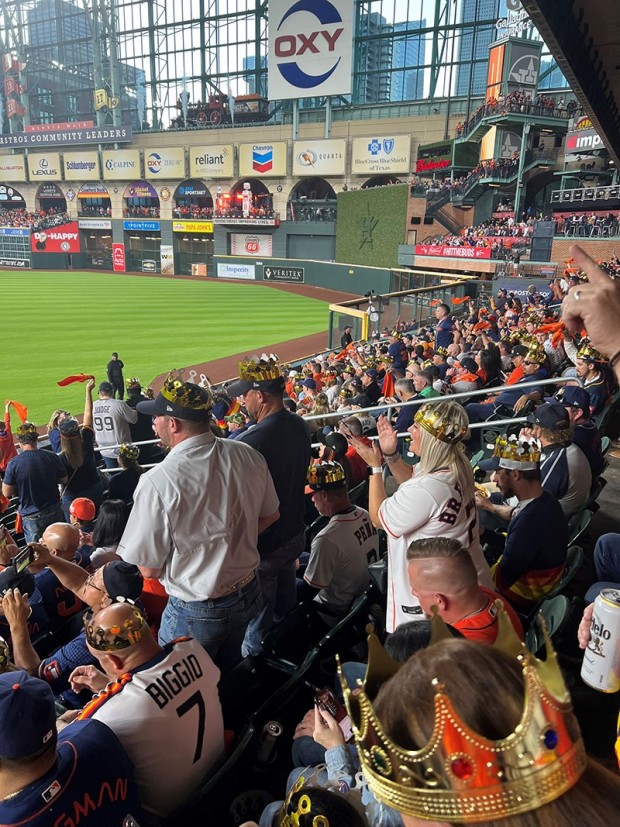 Amber said, "This is our first year in section 153. We briefly discussed maybe changing next year but then laughed and was like, no way, we love our section!
She shared, "We just like that we are able to provide a little extra something for the fans of the game. I think that it has helped promote the fan experience in a way that is not only fun but is a great way to honor our 'King Tuck.'"
Kyle Tucker is getting lots of golden love this month. In addition to his favorite gold crowns in right field, this week he was awarded the 2022 Major League Baseball American League Right Fielder Golden Glove Award. (See this video in which he talks about his Golden Glove Award - and mentions that he likes the gold crowns [2:15-2:25]).
Congratulations to Kyle Tucker. Keep up your "golden touch" in right field and at home plate!
Want more buzz like this? Sign up for our Morning Buzz emails.
To leave a comment, please log in or create an account with The Buzz Magazines, Disqus, Facebook, Twitter or Google+. Or you may post as a guest.