Hanukkah Joy
Collections that bring a smile
Click the Buzz Me button to receive email notifications when this writer publishes a new article or a new article in this column is published.
Joyce Schechter is about as close to a fairy godmother as you can get, having given countless hours to so many Houston organizations. As generous as Joyce is when it comes to nonprofits, she's just as generous with her home. She is always entertaining family and friends, setting the most beautiful and elaborate tables filled with pieces from her many collections: pumpkins of all colors and sizes, a rainbow of intricate porcelain fruits and vegetables, hearts, antique silver wine cups. And dreidels, the spinning tops used for the Hanukkah game of dreidel.
"If you've been in Joyce's apartment, you know she is a collector," says Roy Walter, Rabbi Emeritus at Congregation Emanu El. "She has an eye for beautiful things, and her apartment is filled with them because of that. Because being Jewish is such an important part of her life, that is an important part of what she collects."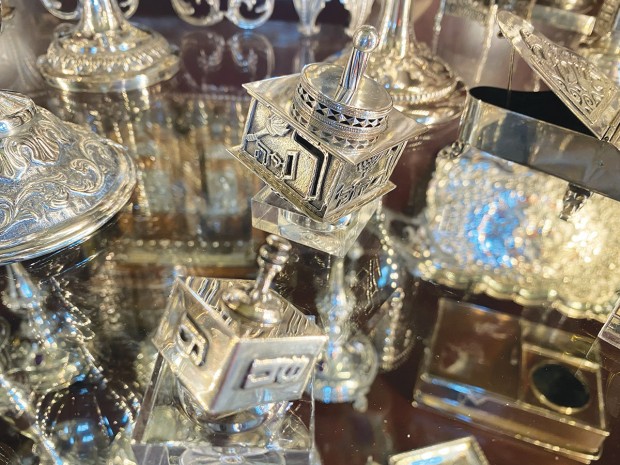 "I started collecting silver dreidels when I had grandchildren," Joyce says. "It felt important for me to have Judaica [Jewish art and historical pieces] for them."
With her husband Arthur, the former United States ambassador to the Bahamas, Joyce has five of her own grandchildren plus four more who are technically her sister's grandchildren, but who she considers to be her own. They range in age from 21 to 29.
"I wanted my family to have the traditions I had. So I started finding dreidels, thinking they would go into a collection that I could eventually give to my grandchildren." Through the years, Joyce has amassed a significant collection of silver (and some crystal) dreidels. "I bought them in antique shows, or from synagogues," she says. "Some of them were given to me as gifts, some I bought in Europe."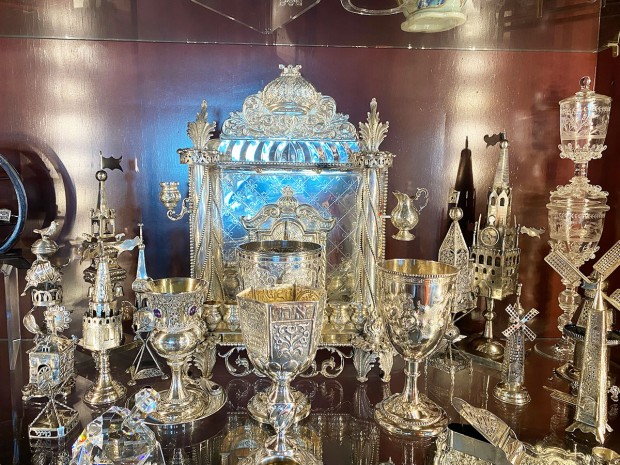 Her favorites are the antique dreidels. "There's just a certain romanticism about them," she says, eyes twinkling. "What family were they in? How did they get out of the hands of that family so that I could buy them? Some are engraved with initials. It makes you wonder whose initials they were and what caused them to lose the dreidel."
The silver dreidels are more than just interesting to ponder and pretty to look at. "In Judaism, there is a custom called hiddur mitzvah, which means any object we use for a holiday we embellish and make beautiful," Rabbi Walter says. "It is a symbolic object, not just an object. That's where the idea of collecting dreidels – or beautiful menorahs or Shabbat candlesticks – comes from."
Joyce holds up one of the more unique small dreidels. "This one opens, so maybe you would have put little prizes in there, or maybe it would have been spices inside to make it smell sweet, like a spice box." Joyce also has a beautiful collection of elaborately carved and filigreed sterling silver spice boxes in special shapes (there are several tall, thin windmills, some buildings), which are used in ceremonies marking the end of the Sabbath with the sweet smell of spices, usually whole cloves or cinnamon chips.
"The idea is, as you end the Sabbath, which has a sweetness of its own as a gift from God, we enter the new week hoping it will be sweet," explains Rabbi Walter.
As the owner of the now-closed Quaint Corner Antiques and Gifts, Joyce knows what to look for to distinguish an old silver piece from a new one. "Anything made after 1920 has to have a 'made in' mark," she explains. "If they were stamped just with the country, but not 'made in,' those were older. And if they had no markings except a silver mark, those were the oldest." When in doubt, Joyce has a little silver book she consults. "It's like a dictionary, and it has all the markings so you can exactly look up the year things were made."
Joyce's annual Hanukkah parties promise potato latkes (fried potato pancakes), gelt (gold chocolate coins), and games of dreidel. "Gammy and Saba [Joyce's and Arthur's grandparent names] always played with the kids, and we always had prizes for the winners," she says. "When they were little, it was little toys, games, books. Once they hit about 12, the prizes became money."
Joyce says she's thought about putting some of her many collections away, out of plain sight in her home brimming with remarkable objects, each piece and each collection with a story. She admits that's sometimes with a little urging from her husband. "But," she says, smiling, "they have brought me joy for so many years, so why would I put them away?"
Want more buzz like this? Sign up for our Morning Buzz emails.
To leave a comment, please log in or create an account with The Buzz Magazines, Disqus, Facebook, Twitter or Google+. Or you may post as a guest.