Touring Turin: A Culinary and Architectural Gem
Click the Buzz Me button to receive email notifications when this writer publishes a new article or a new article in this column is published.
Dr. Vikram Jayanty and his wife Terry have traveled widely, but two countries in particular have called them back time and again: India, where Vikram's family is from, and Italy, since Terry's grandparents are from Sicily. When their six children (including a set of triplets!) were small, they made it a point to take them traveling to learn about their heritage, once driving all the way from Milan in the north to Sicily, where they met Terry's great-aunt. And now that the kids are grown, they keep going back.
This September, it was their love of good wine, good friends, and fine cuisine – and their membership in a group called the Knights of the Vine – that returned them to a city they'd been years before with their children, but never really got their fill of it: Turin, or Torino, in Italian.
Having been "knighted" by the group after the initiation of passing a simple taste test, the couple joined this merry fraternity, which has roots going back to the 13th century. And so when they heard through the Knights of the Vine that there would be a tour of Turin and the nearby wine country, the Jayantys were in.
Turin was Italy's first capital, before it was moved to Rome, and the grandeur of its architecture shows it. The city has an ancient history, founded by Julius Caesar in 38 BC as Taurinorum. Its strategic location in the piedmont of the Alps has made it a desirable location for millennia, serving as the capital of the Duchy of Savoy and then Sardinia before finally becoming the capital of the new unified Kingdom of Italy under the leadership of Giuseppe Garibaldi in 1861.
All that history makes for a fascinating culture, not to mention some fabulous architecture, food, and drink. Vikram spent a year helping with the preparations, together with his friend and fellow physician, Dr. Pasquale Pingitore, to create an itinerary of the best the region had to offer. Pasquale, who formerly practiced family medicine in Houston, is also a Knight of the Vine, having risen to the ranks of international emissary and commander of San Francisco Bay, where he now lives.
So for nine days in late September and early October, Vikram and Terry, together with Pingitore and his wife Linda, and two more friends, Lise and Vincent Ciolino, set off for Turin. Terry grew up much more familiar with southern Italy because of her Sicilian roots, and is enchanted with the regional differences in the North: the food, the dialect, the styles. In particular, she likes Turin's special blend.
"It's a very low key, very provincial, very Italian, very sophisticated, very welcoming, easy city to travel around," said Terry. "There are a lot of beautiful palaces. There's amazing museums. The food is exceptional. It just has a great vibe."
Like other Northern Italians, Torinos are fast-paced, observed Terry.
"They always seem to be in a hurry, walking around wherever they need to go. But they take their time – from men to women, to young people to old people – to take pride in what they call the bella figura, which is to present yourself in a sophisticated manner when you leave your house. That's Milan. That's Rome. That's Torino."
Often referred to as the "Detroit of Italy," Turin is the home of Fiat and Lavazza, and has been an industrial and technological leader since its early days. But a big part of its charm is its location in the rural Piedmont, where The Alps rise in the distance. The fresh, high-quality produce inspires the region's rich and varied cuisine, as does its proximity to France and Switzerland. Among the Piedmont region's restaurants are at least 46 that have earned Michelin stars of excellence.
One of the region's most unique offerings is the white truffle, which grows in abundance around the town of Alba and is found almost nowhere else. So part of the group's time would be spent there. But first, they would enjoy the very best of Turin.
They stayed at the historic Turin Palace Hotel and enjoyed a guided walking tour of the city, with its grand piazzas, Baroque architecture, and nearly 10 miles of its legendary arcades. Two kilometers of the arcades were built by King Vittorio Emanuele I of Savoy from the royal palace to the Piazza Vittorio Veneto, so that the royalty could walk to the Po River without getting wet when it rained.
Also impressive are the city's imposing 16th-century Palazzo Real – the royal palace that has stood as a symbol of power for centuries – and the first Italian Parliament building, which now houses the Museum of the Risorgimento, the movement that led to the unification of Italy.
Vikram enjoyed the grandeur of Porta Nuova, the circa 1864 Turin Train Station, which he compared to New York's Grand Central Station. But perhaps the most impressive attraction for both was the Egyptian Museum – better curated and displayed than the one in Cairo, according to Vikram and Terry.
The museum houses one of the largest and oldest collections of Egyptian artifacts in the world. Dating back to the 1750s, it was founded by King Emmanuel III, who funded the expedition of Italian archaeologist Vitaliano Donati. Donati returned with 300 artifacts from Karnak, and since then, the collection has grown to more than 30,000 pieces, representing all periods of Egyptian civilization.
"There are an incredible number of sarcophagi – all the mummies, beautiful jewelry," said Vikram.
From the moment one enters the building, flanked by two imposing lion-headed Sekhmet goddesses, on up through the four floors of the museum, the exhibits just get better and better, he said. "You go on these escalators, and along the escalators on the wall, the Nile is painted. So you go from the upper cataract, which is the lower part of Egypt, to the middle and lower cataract, where it joins the Mediterranean Sea. So the design is absolutely beautiful."
Terry recommended leaving plenty of time to see it all. "We planned on going for an hour and ended up spending four," she said.
The tour included a lineup of wine pairings and tasting menus at some of the city's finest restaurants. Terry enjoyed the flavors of Northern Italy, so different from what she grew up with.
"It's not the food I'm familiar with ... I'm Sicilian, so we eat a lot of fish, we eat a lot of pasta, we eat a lot of fresh fruits and vegetables," she said. "But the northerners eat a lot of meat, arborio rice and risottos, and polenta with heavy boar meat – because they have a lot of wild boar in the region."
Turin also boasts of being the European capital of chocolate, since cacao arrived in 1585, and its expertise as a chocolatier city has grown ever since. The couple especially enjoyed a specialty drink called bicerin. The drink has three distinct layers: espresso, chocolate, and cream.
"They serve this with a little biscotti, and it's just like a meal in itself," said Terry. "You can skip breakfast and if you want to have a little something you just go and have a bicerin. You're not supposed to stir it with a spoon; you're supposed to just drink it so that you get all the flavors and the cold versus the hot coming down your throat. And it's wonderful."
Now it was time for something completely different: truffle hunting and exploring the small-town beauty of Alba, a UNESCO Heritage Site and the capital of the rolling hill country region of Langhe. Besides its unique Alba white truffles, it is famous for its wine production, so the Knights of the Vine had a dual purpose in heading for the hills.
Alba, too, has its own history with chocolate, being the home of Ferrero Rocher, Nutella and its predecessor, the hazelnut-chocolate blend known as gianduja.
Known as the city of a hundred medieval towers, the old town is beautifully preserved, and with just 30,000 residents, a culinary destination in itself, home to three Michelin-starred restaurants.
Alba lies in the Barolo region known for the famous wine of the same name, made from the thick-skinned Nebbiolo grape, rich in tannins that contribute to its robust flavor.
Highlights of the Alba area included a visit to Grinzane Cavour Castle, a UNESCO Site that dates to at least the 1300s; tastings and tours at wine cellars like the Cantina Contratto, with 150 years of history and one of the first Italian winemakers to produce a sparkling wine; Malvirá, a three-generation family business specializing in top-quality Roero wines; and Castello di Neive, a winery with a castle and a surrounding 150-acre estate.
But the real highlight of Alba was their nocturnal truffle-hunting foray. Alba is one of the few places in the world where the rare white truffle can be found. Unlike black truffles, which can be cultivated, these fungi can fetch up to $4,000 a pound, and Vikram heard of one that was auctioned off for $90,000. They are hunted with special, terrier-like dogs called Lagotto Romagnolo that are trained for years (pigs are used in some areas but tend to eat the truffles, so they've been banned in Italy).
"Truffle hunters are very secretive," said Vikram. "They usually go in the middle of the night and they try to find these truffles without anybody knowing. It's like a fishing hole; you don't want anybody to know your favorite fishing hole. So they took us there in the evening with the dogs and used flashlights, and these dogs would smell."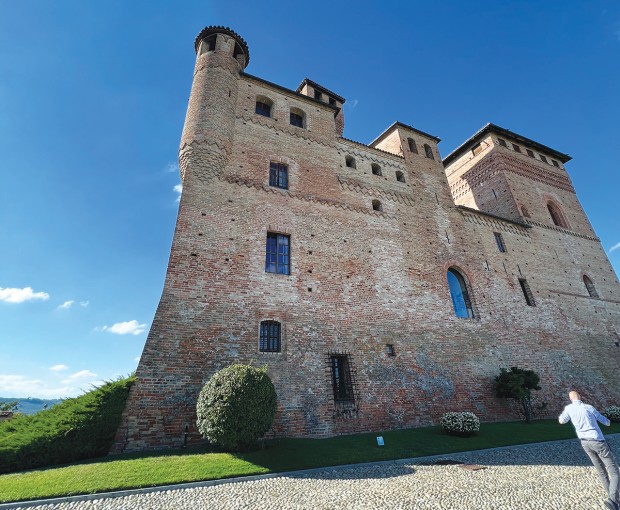 When a dog would hone in on something, the truffle hunter would use a small spade to pick up the soil, layer by layer, careful not to damage the truffle. The group found three white truffles and two black ones, and when they got home, they shaved a bit from one of the white ones, which are eaten raw, and served it on a very fine pasta like angel hair.
"They have an incredible flavor and aroma," said Vikram. "If you puncture a white truffle, the whole room fills with the truffle bouquet."
The whole experience of the Piedmont region was unforgettable, and they still carry the taste with them. Terry wishes they had had a little more time – a couple more days to explore Turin would have been perfect, she said – but the trip left them with an abundance of memories.
Terry offered a bit of advice on travel in the Piedmont and in Italy in general.
"Don't rush from one city to the next; take your time. Italy is a place of magic and you can immerse yourself. Take your time, savor it, and really look at what you see. Every time I go back, I take a step back and appreciate that I have time – in America, I don't get that."
Also, she reflected, "We've been very lucky that we've been able to travel through our life."
As administrator at Vikram's gastroenterology practice, she observed: "So many of our patients get sick or something happens tragically to so many of them. We see that they've worked so hard and now they're faced with cancer, they're faced with heart disease, and they can't make those trips that they thought they would do when they retire. We were so lucky we were able to do this throughout our life. So we just say thank you."
Editor's note: Buzz travel columnist Tracy L. Barnett is a Lowell Thomas travel journalism award winner and longtime travel and environmental writer. Email her at [email protected] to share your own travel tales.
Want more buzz like this? Sign up for our Morning Buzz emails.
To leave a comment, please log in or create an account with The Buzz Magazines, Disqus, Facebook, Twitter or Google+. Or you may post as a guest.