Inside Mexico: Mexico City, Oaxaca, and Puebla
Click the Buzz Me button to receive email notifications when this writer publishes a new article or a new article in this column is published.
For Liz and Warren Wilder, Mexico was a place that kept getting kicked down the bucket list. After the Covid-19 pandemic cleared away they were anxious to see something new, and Mexico City rose to the top. They finally decided to go for it this past spring, and they were pleasantly surprised at what they discovered.
"I was delighted at how lovely it was," said Liz. "We had no idea Mexico City was like going to Portugal or Barcelona with just a two-hour flight."
For Susan and Mickey Branisa, Mexico wasn't new; their penchant for adventure travel had taken them to border towns and tourist towns – Puerto Vallarta and Cozumel – and to Central America: to Guatemala, Costa Rica, and Belize. But a recent trip to Oaxaca was their first to the country's interior.
Olivia Thomas and husband Richard Schechter had been traveling to interior Mexico for years; this time it was Puebla, another culinary capital and the center for the traditional Talavera tiles and pottery that lured them southward. For all three couples, the richness of the experience left them wanting more.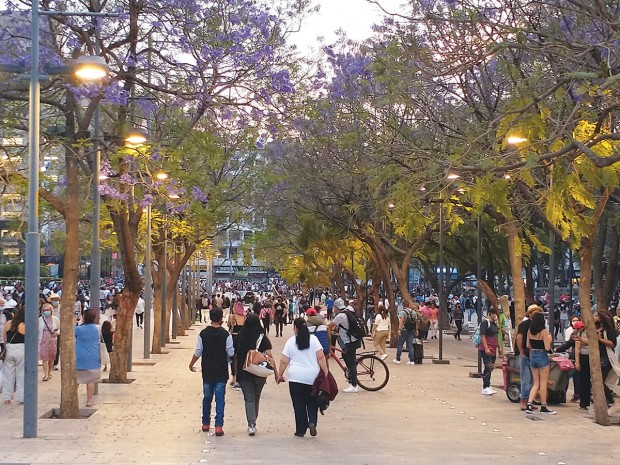 Europe South of the Border
The Wilders had traveled widely but more on the other side of the globe, having lived for a time in Saudi Arabia, where a quick getaway to Lebanon was more feasible than one to Mexico. Not long after returning to Houston, the Covid-19 pandemic broke out, and they were grounded until last spring, when they began looking around for interesting international destinations close to home.
They started by browsing the site of Small Luxury Hotels of the World (SLH) (slh.com), a collection of independent hotels that describes themselves as "anti-chain and anti-same." They'd enjoyed staying at SLH accommodations in other countries and this one was no exception. The immaculate Belle Epoque-era Brick Hotel in the trendy Roma Norte neighborhood was atmospheric, historical, and excellently situated.
Staying in the neighborhood of La Roma gave them a taste of urban Mexican life. "Roma Norte is a family neighborhood with sidewalks and dog walkers, wrought-iron balconies, and little boutiques. It felt a lot like West U but in Mexico."
It also has its share of Michelin-starred restaurants, a highlight for Warren. Often they were fully booked, but Warren had a strategy. "Our first day he simply walked in and explained that we'd be happy to eat lunch at 3 or dinner at 5, we promised not to linger for hours, call it whatever meal you like, and he got us reservations." Standouts were Rosetta, Maximo Bistrot, and Blanco Colima.
Most days they went for a long walk, exploring neighborhood parks, people-watching – dog-watching, too, as people do love their dogs in Mexico City – and absorbing the atmosphere. One day they walked a little over half an hour to the historic Bosque de Chapultepec, a nearly 1,700-acre park with museums, a lake, and a castle on a hill – formerly the home of Mexican presidents, and now a history museum.
Highlights of their visit included a Ballet Folklórico show at the spectacular Palacio de Bellas Artes, or Fine Arts Palace, in the historic center, and with a walk afterward in the adjacent Alameda Central, created in 1592 and recognized by historians as the oldest public park in the Americas. They visited the Soumaya Museum, with more than 66,000 art pieces spanning 30,000 years, in the curvy silver Plaza Carso building. They toured the massive and world-renowned National Anthropology Museum, with four square kilometers of exhibits in 23 exhibition halls. As they perused the exhibits, they were witness to a quintessential Mexico City experience. The ground began trembling beneath their feet, and they realized it was an earthquake.
"They just calmly told us to all assemble in the courtyard, and we waited for it to be over. And then we went back to see the rest of the exhibit. It couldn't have been more orderly," said Liz.
They hired a driver to take them to the archaeological site of Teotihuacán, one of the largest ancient cities in the Americas, located about 30 miles northeast of the city and home to the Pyramid of the Sun and the Pyramid of the Moon, among many others.
"We just enjoyed seeing the massive scale of the ancient city," said Liz. "We've seen the pyramids in Egypt, and these are so different, because in Egypt, the pyramids are surrounded by the city of Cairo. Teotihuacán stands apart as a whole complex of temples, pyramids, and ceremonial ball courts. There is so much more to see and interpret, and our guide explained everything," said Liz.
Finally, they went to Mass at the Metropolitan Cathedral, Mexico's largest, on the city's central plaza or Zócalo. As practicing Christians, they like to attend a religious service of some kind when they travel.
"We're not Catholic, but we sat quietly in the back. We've done this all over the world," she said. "I mean, a church is designed for worship. And so going in with a selfie stick and treating it like a museum is a different experience than sitting for an hour and listening to the music and experiencing it as a sacred space, as it was intended to be used – even if you don't speak the language."
A Taste of Oaxaca
Susan and Mickey Branisa's trip to Mexico last October was born of a desire to taste the flavors of deep Mexico, and Oaxaca had been on their radar screen for a while. The Oaxacan chef at Elote Café, a favorite restaurant in Sedona, Ariz., first whetted their appetite for his homeland's rich and ancestral cuisine. The fantastical art and traditional textiles of the region, as well as its natural beauty, were also a big draw.
And then Glassell School of Art, where Susan sometimes takes classes, planned a trip to Oaxaca. Mickey wanted to go, too, so the two of them decided to do what they'd done many times and make the trip on their own.
They flew into Oaxaca City, rented a car, and made their way to Pug Seal, their colorful, indigenous Zapotec-themed boutique hotel in a neighborhood slightly removed from the tourist area. Highlights of their four-day stay included a private cooking class with a Oaxacan chef, browsing the city's art galleries and museums, and walking the streets enjoying the city, decked out for Day of the Dead with bright orange marigolds, colorful alebrijes (fantastical animal sculptures), and fancily dressed skeletons.
Oaxaca City itself was a marvel, lively and filled with colorful art, architecture, and music. They witnessed a calenda – a traditional Oaxacan parade with towering papier-mâché puppets and a brass band, used to celebrate birthdays, baptisms, and in this case, a wedding. For Susan's birthday, they dined at the highly recommended Tr3s 3istro on a balcony overlooking the main plaza, one of a variety of restaurants they enjoyed featuring Oaxaca's flavorful cuisine.
They followed the recommendation of their host and booked a private class with a chef half a block from their hotel. She asked them what they wanted to make, offering a menu of choices; they chose a traditional Oaxacan vegetable soup with dumplings and a chicken mole, with mole sauce made from scratch. She had a special pan used to char various types of chiles, tomatoes, onions, and other ingredients.
"You can see how labor intensive it really is to make these sauces – I'm glad I did it, but I don't think I would do it again," Susan said with a laugh. They were glad they chose the chef they did – "we saw several cooking schools that looked more like tourist traps," she said. "This was something a little more personal."
Venturing further afield, they took a road trip to a natural marvel known as Hierve el Agua (translation: "The Water Boils"), a formation of calcified travertine waterfalls. They made stops along the way at the famous El Árbol del Tuleor Tule Tree, said to be the widest tree in the world; and at the Tlacolula Market, one of the region's largest and most authentic (Susan: "they groom the vegetables like you're in a florist shop").
One of the things Oaxaca taught them is that the best things don't have to cost a lot. One night, instead of dining in, they decided to sample the street food and chose tamales, moist and spicy, wrapped in banana leaves in the Oaxacan style. The price: $1.
"It's the best dollar you can spend," said Susan. "That was my favorite food, and it was just cheap street food."
Puebla, the tiled city
Olivia Thomas and Richard Schechter are great lovers of Mexican culture and have been to the country many times – before they married, and then together. So when they discovered in October 2021 that none of their grown children would be visiting for Thanksgiving, they started looking around and found a direct flight to a city that had long been on their list.
Olivia collects pottery and ceramics, so Puebla's heritage as the home of the famous Talavera had long called to her. And those who know Mexico are aware of the UNESCO-recognized city's role as a major gastronomical center – the birthplace of the famous mole poblano, chalupas, and chiles en nogada, among others.
"The food culture is really outstanding; they take a lot of pride in that," said Olivia. "Even though we didn't have a roast turkey [on Thanksgiving], we didn't miss it because we ate so well."
They sampled several kinds of moles, including a black mole with turkey. Mole, for the uninitiated, is "the opposite of fast food," according to Olivia, "a wonderful sauce that can have dozens of ingredients," from chocolate to sesame to peanuts and pumpkin seeds – and, very importantly, a variety of chiles, with every region having its own style. The mole from Puebla, or mole poblano, is the best-known.
The architecture is outstanding as well. With more churches per capita than any other Mexican city – about 70, according to one count – the city has been called the birthplace of Mexico's unique baroque style. Its highly ornate colonial architecture, much of it dating from the 1700s and early 1800s, is often decorated with the brightly colored azulejos or tiles that the region is famous for.
One tiled gem that particularly enchanted Olivia was the Biblioteca Palafoxiana, "an incredible library, like something out of Hogwarts." Recognized by UNESCO as the first public library in the Americas, the Palafoxiana is lined with towering hand-carved wooden bookshelves, holding more than 40,000 volumes, thousands dating to the 15th century. Also enchanting was the extremely ornate goldwork-lined Capilla del Rosario, a 17th-century chapel within the Santo Domingo Church. They stayed in the Azul Talavera Hotel, decorated with blue tiles and centrally located, so they walked almost everywhere.
They hired a driver for a trip to Cholula, an archaeological site and a colonial church on top of a hill – which covers an enormous pyramid, believed to be the world's largest, that had been nearly forgotten after being abandoned in the eighth century.
One of their most enjoyable forays was a Taste of Puebla guided street foods tour.
"People come early and bring all their ingredients and a propane stove, and the people stand there eating what they give you, which looks like a quesadilla wrapped in paper," she said.
Each stop was with a street chef known for a particular special dish, or at small establishments like a paletería, with locally made fresh-fruit popsicles called paletas, or the rich regional sweets.
The tour included fried queso treats, and fresh handmade tortillas filled with a wide variety of guisados, preparations made of meats, vegetables, and sauces with recipes going back generations.
It was a culinary treasure hunt, tucking into places they'd have normally walked right past. "We realized we never would have found these places without the guide – and wouldn't have known each place served something unique," said Olivia.
Their guide took them to places that featured a taste of the Middle East, with stacked slices of meat turning on a spit – the cuisine of the Lebanese community who began settling here more than a century ago.
They started their moveable feast at 11. "By 3 or 4 (the guide) was going to take us out for drinks, but we'd eaten as much as we could."
The couple spent four days soaking up the culture of the place and are already thinking of their next foray into Mexico's rich and varied interior: Chiapas, perhaps, or Guadalajara.
"The trip reminded us how much we enjoy Mexico and how much more there is to see than the coast," said Olivia.
Editor's note: Buzz travel columnist Tracy L. Barnett is a Lowell Thomas travel journalism award winner and longtime travel and environmental writer. Email her at [email protected] to share your own travel tales.
Want more buzz like this? Sign up for our Morning Buzz emails.
To leave a comment, please log in or create an account with The Buzz Magazines, Disqus, Facebook, Twitter or Google+. Or you may post as a guest.