Burger Buddies
For the love of hamburgers
Click the Buzz Me button to receive email notifications when this writer publishes a new article or a new article in this column is published.
Some guys meet regularly for golf or poker, to run, or jam and make music together. Just over a decade ago, a few friends and I began getting together for monthly "Burger Buddies" gatherings out of our common obsession with hamburgers. While there have been great ones, as well as some that were barely edible, our team of burger adventure seekers has stuck together through them all. We enjoy the camaraderie of our group, reminiscing about burgers from days gone by and planning our next quest.
While our conversations center around the burgers in front of us, they can also run the gamut from sports, politics, and family updates. Burger comparisons often take center stage, and the company is stellar.
Collectively, Richard Fish, Mark Newman, Scott Scheinthal, and I agree that when there is a lull in any conversation, just ask us about our favorite hamburger. Each has a preference or something to say about a burger we did or didn't enjoy. The banter will pick right up and can be a lengthy one.
During these discussions, we are frequently asked two burger-related questions: What are our favorites in Houston and what makes a good burger? Our favorites differ, but we tend to concur that a good hamburger is all about the meat.
Our journey as burger buddies takes its cue from the storied Texas history of the hamburger. For more than a quarter of a century, Athens, Texas, has been boasting that the world's first hamburgers were created in the late 1880s at a small cafe on the Henderson County courthouse square run by a man known as Uncle Fletcher Davis. According to legend, Uncle Fletch took his sandwich to the 1904 World's Fair in St. Louis. There it was dubbed "hamburger," a term apparently coined in mockery by St. Louis citizens of German heritage who viewed the culinary practice, native to Hamburg, Germany, of devouring large handfuls of ground beef, sometimes raw, as being barbaric.
Here in Houston, hamburgers have always played a role in our culinary history. Though there were fewer available, and the compositions were less creative, a good-tasting hamburger has always been available. With many fine restaurants now offering them at various price points on their menus, these delectable sandwiches are no longer exclusive to fast-food burger joints. Hamburgers have evolved into more than just a quick bite.
Growing up in Meyerland, my favorites were the flame-broiled versions in the neighborhood. I recall eating many delicious burgers at Burger King on South Post Oak Rd. near Willowbend Blvd. As I navigated the line inside, the smell from those flame-broiled patties greeted me as soon as I queued up. Ordering mine plain with ketchup only, my love affair with the hamburger grew with each visit.
Equally as enticing were the burgers at Luke's Hamburgers, also located on South Post Oak, that I enjoyed as a teenager. Known today as Annies Hamburgers (10821 S Post Oak Rd.), these flame-broiled favorites were a step up from fast food and were cooked to order. Their hamburgers provided the same smokiness as Burger King, but with less of the conveyor-belt approach. It was at Luke's that I branched out, dumping the ketchup, and adding bacon, cheese, lettuce, tomato, and onions to my burger. The gourmet burger was emerging.
Another classic local burger spot, Bubba's Texas Burger Shack (5230 Westpark Dr.) remains popular today. Family owned and operated for over 30 years, what was once called an icehouse off Westpark has now turned into the burger shack under the freeway. Bubba's proclaims to have been the first restaurant in Houston to sell Buffalo (American Bison) burgers back in the '80s, which is why they are known as the Home of the Buffalo Burger. No fries on the menu, but their Jalapeño Potato Salad is a tasty substitution. Lunch is their busy time and can get crowded, so pack some patience.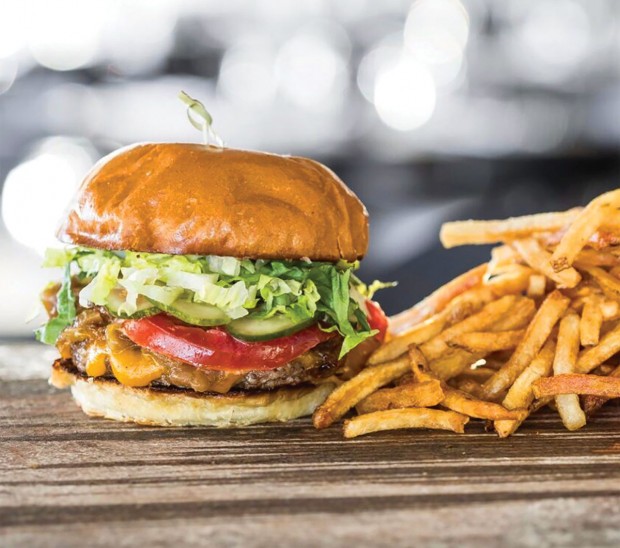 Carrying my love for burgers with me well into adulthood, I was fortunate to discover that some close friends shared the same passion, and we began to embark on our journey to seek out the best burgers in Houston and other travel destinations. I often include our adventures in my blog, Eat More Burgers (eat-more-burgers.com).
As self-proclaimed burger aficionados, each of us has figured out the best way to experience a hamburger by building our own creations. Selecting the right temperature, toppings, as well as add-ons (such as a fried egg or guacamole) and bread options, each is certain that we have fashioned the perfect hamburger.
Over time, I have become a fan of the smash burger, with two thin patties adorning the bun, rather than one thicker patty. The meat should have a subtle charred crust driving the juices to the center. Adding a slice of cheese that is evenly melted on top of the patty is another favorite ingredient. Enhancing a burger with toppings can offer a contrast in flavors that should complement each other.
In my opinion, if the meat is not of good quality or isn't prepared properly, the burger is not enjoyable. Also, beware of any "secret sauce" on a burger, as it is frequently there to hide the fact that the meat is not quality.
Bellaire resident Mark Newman, an IT professional, believes the best burgers have some type of theme. It could be a German pretzel bun and hearty mustard or one with a gourmet meat grind, such as a mixture of short rib and tenderloin beef and topped with caramelized onions.
When asked about his favorite Houston burger, Mark shared, "B&B Butchers (1814 Washington Ave.): Top-shelf ingredients and a simple presentation – this is an all-around winner that does everything right. Cooked to order. You won't be hungry when you're done."
Afton Oaks resident, physician Richard Fish shares my sentiment on the importance of the meat on a hamburger. He said, "I really like to be able to taste a great patty. I am happy with a medium to medium-rare patty, but a good smash burger is wonderful too." He recently shared with the group that mayonnaise is a non-starter for him when enjoying any hamburger.
Richard said, "One of my favorite burgers is the Kimchi Burger at burger-chan (5353 W Alabama St., Suite 110) near the Houston Galleria. In general, I am an umami addict – anything that ups the umami aspect, smashing the patty and getting a caramelized crust, sautéed mushrooms or onions, kimchi. Can't get enough of it!"
Bellaire resident and local attorney Scott Scheinthal agrees that it's first and foremost about the meat. "No amount of ketchup, mustard, or mayonnaise will ever make a bad burger taste good," he said. Scott also feels that there is no need to mask the flavor with cheese. "I prefer my burgers medium rare with a nice crust," he added.
Scott's favorite is the Classic Cheeseburger from Relish (2810 Westheimer Rd.) in the River Oaks area. House-ground beef is adorned with cheddar cheese, coriander onions, aioli, house-made pickles, lettuce, and tomato atop a sweet and toasted bakery bun. "Each ingredient complements the char-encrusted patty that was prepared the way it should be – medium-rare temperature with a delightful pink center. The juices oozing out added a nice punch," he shared.
Stanton City Bites (1420 Edwards St.) in First Ward remains at the top of my burger list. Theirs is a mixture of chuck and brisket that is ground fresh daily creating a hint of sweetness to balance out the salty flavors of the burger. My favorite on their menu is the Bacon Cheeseburger complete with a nicely charred-crusted patty adorned with a light amount of mayonnaise, lettuce, bacon, cheddar cheese, onions, jalapeños, and topped with a fried egg nestled on a homemade bun. The myriad of flavors delights with each bite.
We all have our favorites, but honorable mentions go to several amazing hamburgers found in unlikely settings. Il Bracco (1705 Post Oak Blvd.), newly opened in the Uptown area, offers a divine cheeseburger that is tender and flavorful. House-ground chuck, aged provolone, Calabrian chile peppers, arugula, fennel, and red onions blend for a delectable burger complemented by pungent aromas.
El Topo (6119 Edloe St.) is a New Western restaurant in West University that features savory tacos on house made, heirloom corn tortillas. Yet, their Smash-ee burger shines with a 44 Farms ground patty, shaved onion, and melted cheese on a potato bread bun. This tender creation literally melts in your mouth.
Lemongrass Café (5107 Bellaire Blvd.) boasts a delicious Kobe Beef Burger on their lunch menu. A full half-pound of Kobe beef is prepared well-done with melted gorgonzola cheese, caramelized onions, bacon, lettuce, and tomato on a butter bun, served with a side of grilled pesto vegetables. The contrast of ingredients makes this burger unique and flavorful. Plus, vegetables are a healthier side than fries.
The Toasted Coconut (1617 Richmond Ave.) serves tiki-inspired food and cocktails in Montrose. Their World-Famous Cheeseburger offers a unique Polynesian-style favor. Two patties, American cheese, chili aioli, pickles, onions resting on a moist and sweet Hawaiian bun. Creative cocktails and a good selection of shareables will complement your burger order. Parking is sparse, but parking on a side street is always an option.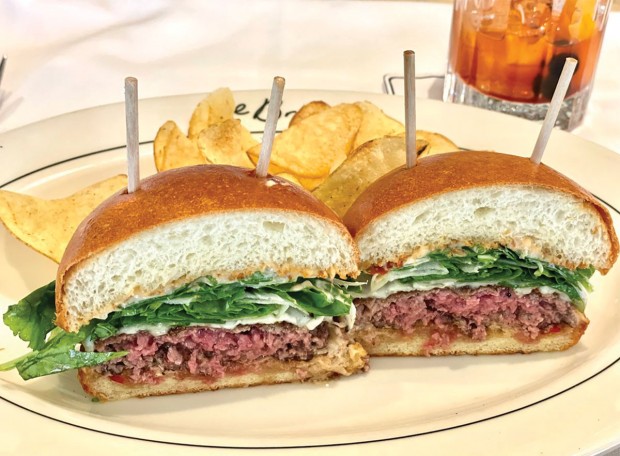 As our group's adventures continue, we are excited about legendary Houston rapper Bun B's Trill Burgers' upcoming brick and mortar location (3607 S Shepherd Dr.) joining the Houston burger scene soon. I had the pleasure of meeting Bun B in person and trying out their OG Trill Burger at last year's Southern Smoke Festival. Walking into the Friday night event at Hermann Park, I noticed Trill Burgers had the longest line among the other booths. Made with 44 Farms beef, Trill sauce, onions, and pickles, this burger was well worth the 20-minute wait. Apparently, the rest of America agrees, as Trill Burgers won Good Morning America's Best Burger Competition last summer.
Our group also looks forward to Lankford's Bellaire (5208 Bissonnet St.), which is slated to be up and running this month. First established as Lankford Grocery & Market in 1937, a mom-and-pop grocery store in Houston's Fourth Ward/Freedmen's Town area, Lankford's continues to be a family-owned business, proudly run by third-generation Lankford family members Paul and Jessica Prior. While Lankford Grocery & Market primarily focuses on lunch, Prior plans to be open for dinner at the Bellaire location.
As I mentioned, a conversation around hamburgers can go on and on. While I wind this down so my buddies and I can focus on burger quality testing, I hope that you will take part in some research of your own. Share your old and new favorites with us. Leave a comment below or email [email protected]. Cheers to many more burger adventures.
Want more buzz like this? Sign up for our Morning Buzz emails.
To leave a comment, please log in or create an account with The Buzz Magazines, Disqus, Facebook, Twitter or Google+. Or you may post as a guest.