Snowmass: Hitting the Slopes with Eva
Click the Buzz Me button to receive email notifications when this writer publishes a new article or a new article in this column is published.
Stephanie Tran learned to snowboard with husband Sam Johnson when they were in college. His parents had a cabin in Pagosa Springs, Colorado, and Sam's lifelong passion for the sport was contagious. But in 2016, after 10 years of winter snowboarding getaways with Sam, Stephanie had an accident on the slopes in Whitefish, Montana, tearing her ACL and sidelining her from the sport for years. Two pregnancies and raising a little girl and twin boys made it hard to even think about going back.
But in late January, thanks to a continuing education seminar in anesthesiology (Stephanie's profession) at a ski-in, ski-out resort in Snowmass, she and Sam, an attorney, decided to celebrate daughter Eva's fourth birthday with a special trip. They left the 22-month-old boys, Alex and Flynn, with Grandma and Grandpa "because it would have been insane" to bring them, said Stephanie.
"It was great – I honestly think this was the best family vacation we've ever had, and probably the best ski trip, too," said Stephanie, still exhilarated a day after her return to Houston.
She wasn't actually planning to snowboard; her idea was to attend the seminar, hang out with Eva and Sam or just relax in her down times, and enjoy the Winter Wonderland that is Snowmass in January. For Sam and Eva, it would be a rare chance to spend some one-on-one father-daughter time, and for Eva to take her first ski lessons.
The trip was not without its hiccups – what was supposed to be a 2½-hour direct flight to Aspen-Snowmass turned into a 7-hour marathon with a layover in Los Angeles when their flight was canceled due to the weather, and their return trip was delayed by three hours as well. But Eva took it all in stride; she was excited. And when they finally landed in enchanting Snowmass, Stephanie and Sam were pretty excited too.
"I've never been to Snowmass before, but it's really geared toward family," she said. Easy-access public transport, including a gondola, made getting around a pleasure instead of a chore. "We stayed at the Viceroy, which is in the base part of the village, and we could take a five-minute walk into town and catch the gondolas to the mall area – the entire city was very well planned out."
They arrived in time to rent their ski equipment and for Stephanie to attend the welcome reception. That's when she shared her doubts about snowboarding with a couple of Australian grandmothers, one of whom had suffered a similar injury in the past and had returned to skiing.
"She said, 'Oh, I have a really bad knee too. Sounds exactly like mine. But I'm skiing – you know, you're in the ground longer than you're alive. I figure, one day I'll need a knee replacement anyway.' And I was like, okay, if they can do it… I can do it."
Stephanie was also encouraged by the perfect conditions of Snowmass; her accident had happened in rough and icy terrain, but Snowmass was covered in the lightest, softest powder imaginable, and the many blue and green slopes were groomed to perfection each morning.  "So that's kind of why I pushed myself to get out there," she said.
The conference was organized by a group called "Holiday Seminars," and it's structured to take full advantage of the venue. It started with a morning lecture and breakfast from 7-9 a.m., before the ski lifts open, then resumes after the lifts close. Sam and Eva breakfasted on their own, then they all met up, grabbed their ski equipment, and headed for ski school for Eva's first lesson – literally on her fourth birthday.
"We dropped Eva off at the ski school at 9:30 a.m. sharp and didn't pick her up until 3," said Stephanie. The school was based in The Treehouse Kids' Adventure Center, a ski school for kids touted as one of the best in the country, with a "magic carpet" that takes them up a tiny hill and a mini ski lift called "Skittles."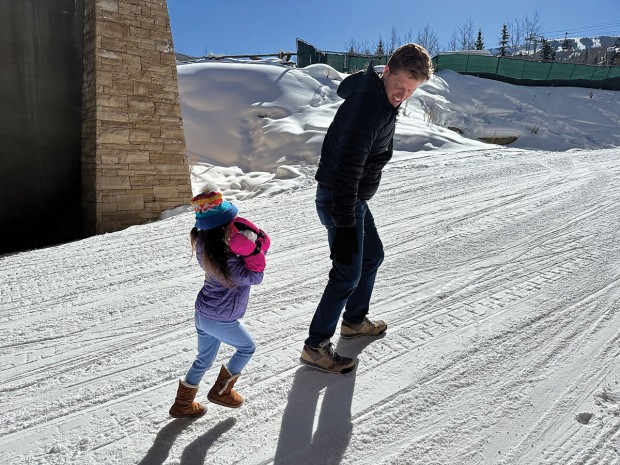 Luckily the school was located right alongside one of the best ski runs, so when they would do their runs they could peek in on her and see how she was doing. They weren't sure she would love it – but from what they could see, she was doing fine.
"I couldn't be more proud of her," said Sam, "how she handled being dropped off in a class with a bunch of kids, doing something she'd never done before. It's hard, you're cold, you're not comfortable, you've got these boots that hurt your feet and your legs – but she was a little trooper, and I think the experience really built character. It probably really scared her, but she made it through and was successful – it was a great learning experience for her."
For Stephanie, that morning was a real milestone as well. She was nervous, but the powder was fluffy and deep, and it was a much easier mountain than others she had snowboarded. "It's like getting back on the bike – it came back pretty quickly and easily," she said. "I just took it really easy, and Sam waited for me to come down. We took the greens and the blues – and I'm not the best, but I still got out there," she said.
It meant a lot to Sam, too, that she was able to do it. "That was a really special part of the trip, because that was a hobby I was worried that she had lost because of the injury," he said. "And for her to get back on the horse and ride – I think that was one of the most special parts of the vacation."
After Stephanie finished with her evening class, they met for a birthday dinner – Italian, at the elegant Il Poggio, where they ordered dessert to-go and had a party in their room.
Snowmass itself was magical – free family-oriented events and features abounded, like the food truck that served s'mores by the fire, free ice-skating, a game room for the kids, and the spectacular Snowmass Luminescence, a dazzling interactive art and light display.
One night, instead of taking the gondola from dinner at The Stew Pot in Snowmass Mall, they meandered their way back home to Base Village, wandering through the pulsating, sparkling series of LED-illuminated walkways and arches that was Luminescence. Eva loved the music so much she danced all the way – "She was having like a rave out there in the cold by herself, dancing up a storm," said Stephanie. "It was the cutest thing ever."
Another highlight, which Stephanie and Sam did solo while Eva was in ski school, was the Long Shot – said to be Colorado's longest ski run, it took two ski lifts and a strenuous hike to get to the top – but the views were amazing, and the ride down even more so.
"That was very cool for me, with Stephanie, for us to do that together, especially after the long hiatus from the sport," said Sam. "It was so scenic, you know, kind of backcountry, not a lot of people around. And it's kind of like exploring a winter wonderland, riding this board down the mountain. So it was a wonderful memory that I'm sure we'll cherish for a long time."
Tuesday after ski school they booked lunch and a dog sled tour through the backcountry with Krabloonik, an unforgettable adventure with a musher named Aidan and eight Alaskan husky sled dogs.
"I wasn't too sure about it – after a day on the slopes I thought we'd be so tired – but Stephanie was so right to book that thing," said Sam. "Eva was giggling, ecstatic the whole time – at one point she turned around and gave Mom and Dad a big kiss right in the middle of it."
Eva lobbied heavily to go swimming in the heated pool after that. "I was like, Eva, it's 13 degrees out!" said Stephanie. But Eva would not be dissuaded.
"I got in the pool once; the rest of the time I was in the hot tub. But her poor daddy had to go running back and forth from the hot tub to the pool," said Stephanie. "It's a pretty cool feeling when your hair is frozen and your body's hot."
For Wednesday's adventure, they skipped ski school and headed for the Breathtaker – an aptly named Alpine roller coaster, a raised track that winds its way through more than a mile of forest, at some points flying downhill at speeds up to 28 mph.
"She was a little afraid the first time," said Stephanie. "She said her face was cold so we put on her ski goggles and she was fine. And to make it fun for her, we sang her favorite Paw Patrol songs going down. So it was kind of a Paw Patrol adventure because they always use racecars and stuff. And, you know, she loved it." They went through the whole course three times – and Eva asked to go again, but the pass was for three rides.
She also loved the snow – it was the first time she'd ever been able to play in the snow, not counting an icy little dusting that happened once in Houston.
"Any time she saw the powder she wanted to make snowballs and snow angels," said Sam. "It was really magical to see it for the first time through her eyes."
For Sam, having the opportunity to spend one-on-one time with Eva while Mom was at her seminar was also magical – something that has been nearly impossible in their busy lives, especially in the last two years since the twins arrived.
"My wife and I try to actively spend one-on-one time with each of the kids, though it's hard to do that, especially with the poor twins, who got left behind — we end up kind of lumping them together."
But for three magical mornings, they got to hang out, just the two of them. They got a breakfast buffet package in the Viceroy's restaurant, Toro, and had the buffet together every morning.
"That was really special; we would make a plate together. They had pancakes one day and French toast the next. It was fun for her to pick out what she was going to eat, and it was nice for her to carry her plate and have some authority over what she was eating."
They would color on the kids' menus and they'd take them to the room and color on the coloring pads, and watch cartoons in the room. Then Mom would arrive, and it would be time for the day's adventures.
All too soon it was time to pack their bags and take one last outing to the Snowmass Mall, where they checked out the free ice skating at a place called The Collective, a public gathering space and hub for community events, with a game room and a "Selfie Den."
They're already planning their next trip – maybe one more with just Eva, said Sam, to train her up a bit more so she can help with the boys, when they're ready for ski school. Four years old, they've decided, is the perfect age to start.
One memory ended up coming home with them. As they were leaving Krabloonik on their first day, they passed through the souvenir store. They couldn't resist buying a keepsake for Eva – a stuffed husky she named "Snowy" that she cuddled with all the way home.
Want more buzz like this? Sign up for our Morning Buzz emails.
To leave a comment, please log in or create an account with The Buzz Magazines, Disqus, Facebook, Twitter or Google+. Or you may post as a guest.