Author Q&A: Houstonian Kristen Bird
Click the Buzz Me button to receive email notifications when this writer publishes a new article or a new article in this column is published.
Kristen Bird's sophomore novel, I Love It When You Lie, is out this week. Her clever new mystery stars the Williams sisters, who are preparing to bury their grandmother after her unexpected passing. In the midst of their planning, the women are struggling with their own complicated issues and the messy men in their lives, one of whom they end up putting with the grandmother in her coffin.
Lisa Gardner, New York Times bestselling author, calls it "A wicked blend of family secrets, sibling resentment and small town ways. Wondering how to get away with murder? The Williams sisters know." And Samantha Downing, author of My Lovely Wife, raves "I Love It When You Lie uncovers all the hidden secrets in a small southern town, where grudges and betrayals run deep. Irresistible and compulsive, this book is packed full of surprises."
I Love It When You Lie is an April Buzz Reads picks for my Buzz Reads column, and my podcast interview with Kristen went live this week.
Kristen has lived coast to coast, but with her extended family in north Alabama, her roots run southern deep. She teaches high school English and writes in local coffee shops near her home outside of Houston. In her free time, she likes to visit parks with her three daughters, watch quirky films with her husband, and attempt to keep pace with her rescue lab-mix.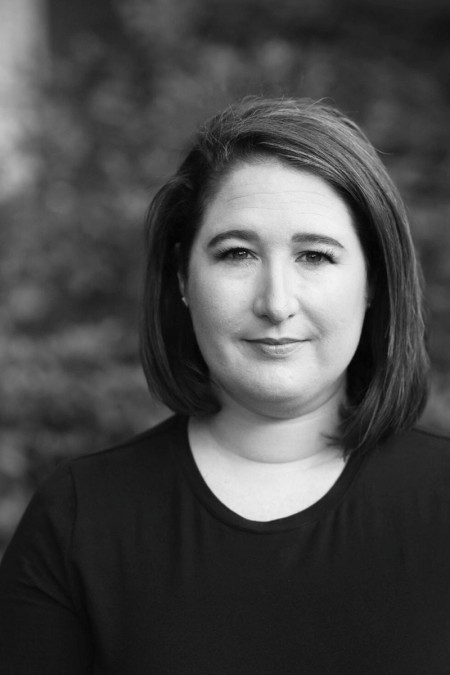 Kristen answers some questions about I Love It When You Lie:
What inspired you to start writing I Love It When You Lie?
For my second novel, I wanted to write about a familiar place, so I turned to the part of the country where my extended family lives in north Alabama. I Love It When You Lie has a distinctly Southern vibe and centers around a tradition specific to this part of the southern Appalachians: Decoration Sunday.
Throughout the month of May, my maternal grandmother – my Nana – would spend Sundays visiting various graveyards where our "kinfolk" are buried. She would clean the headstones, spread new gravel, and place flowers around the plots. Years ago, this annual tradition was common among church congregations, and it was accompanied by potluck picnics as well as hymn "sangins." Hearing my Nana talk about this tradition, even though I didn't participate in it myself, always carried a sense of nostalgia for this lost act of public remembrance. Setting a novel around this week of the year felt like the perfect placement for three sisters who are mourning the loss of their grandmother and deciding how to deal with problematic men in their lives.   
What kind of research did you have to do?
Most of the research was simply a matter of growing up in the Deep South and chatting with my grandmothers and aunts over the years, hearing stories about women who'd finally had enough and took matters into their own hands. As far as I know, none of my ancestresses ever killed a man in cold blood, but my Nana did meet my grandfather at the back door with a shotgun one night when he came home early from his night shift at the chicken feed plant. She was getting ready to pull the trigger when he shouted for her to stop. 
Do you have any say in what your book cover looks like?
My publisher is kind enough to give me advance mockups of the cover and to discuss any necessary changes. I requested one simple symbolic element from the book for I Love It When You Lie, and the dying rose fit perfectly with the decorated graves motif. My Nana told me about how her mother kept a flower garden just for the month of May, so she would have flowers for those important Sundays.
Are you working on anything at the present that you would like to share with me?
I'm working on another suspense novel, this time set in the Texas Hill Country, about the bonds of female friendship and the sweetness of revenge. The working title is Watch It Burn, and the novel should be out in Spring of 2024. 
What are you reading now and what have you read recently that you loved?
Even though I write suspense, I read across genres. As both an English teacher and a lover of historical fiction, I adored Hester by Laurie Lico Albanese, and as a thriller lover, I raced through Heather Chavez's Before She Finds Me (coming this summer!). I'm currently enjoying Houston author's Katherine Center's The Bodyguard, and I'm teaching The Vanishing Half by Brit Bennett to my seniors. All of these books are fabulous reads!
For more book recommendations and bookish thoughts, see Cindy's monthly Buzz Reads column, her Thoughts from a Page Podcast or follow @ThoughtsFromaPage on Instagram. Find upcoming Conversations from a Page events here.
Want more buzz like this? Sign up for our Morning Buzz emails.
To leave a comment, please log in or create an account with The Buzz Magazines, Disqus, Facebook, Twitter or Google+. Or you may post as a guest.