Chef's Corner: Sherman Yeung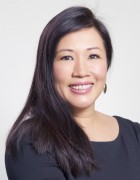 Click the Buzz Me button to receive email notifications when this writer publishes a new article or a new article in this column is published.
Sherman Yeung never wanted to turn his hobby into a career. He didn't want to spoil the fun of cooking.
Instead, the self-taught chef earned a public relations and marketing degree at the University of Houston. Next, he did the sensible thing. He went to work for Ikan, a professional film production equipment corporation founded by his industrious father, Yue Kan. But Sherman found his desk job in operations and accounting unfulfilling. He started working side gigs, cooking part-time at restaurants to ease the boredom.
"I was adamant about not entering the restaurant industry since I enjoyed cooking so much. I didn't want to risk burning out," says the 35-year-old Houston native. "It took me a while to finally decide to go for it."
By industry standards, he was a late bloomer, Sherman says. "I didn't get into the kitchen until I was almost 30."
By 2019, the chef-owner bought Tobiuo, a year-old high-end sushi restaurant in Katy, TX, and ventured into the darkest days of the restaurant industry in 2020. As the pandemic caused havoc, the native Houstonian remarkably turned Tobiuo around and even managed to repay the investor (his dad). Sherman has recently taken on a new challenge, launching a new concept inside the loop – one of the most challenging and crowded dining arenas. He knows that. Still, he couldn't resist the challenge. Money Cat joins Indian staple Kiran's and buzzy coffee shop Slowpokes in the Kirby Grove development (2925 Richmond Ave.).
The 4,100-square-foot Money Cat focuses on modern, Japanese-inspired fare, drawing from various influences. Here, Sherman shares his latest project, how he managed to work for a James Beard-winning chef with minimal experience, and his go-to place for Chinese dim sum and the Instagram darling: xiao long bao.
Sherman, you have lived many people's dreams of turning their hobby into a career. You didn't go to culinary school. You didn't spend a decade learning the trade. Instead, you showed up and asked for a job at some of the most respected eateries in town, and they gave you one. We're talking about Justin Yu's shuttered Oxheart, Izakaya Wa, Michelin-starred Yauatcha in the Galleria area, and Uchi. How did you do it?
Izakaya Wa was my most daring one because I had zero experience. But I just told them I didn't care about the pay or the hours. I'm here for the experience and to learn. But not every restaurant would be willing to take that risk. In 2016, I staged (stazhjer) or interned at Oxheart, which was a very eye-opening experience. Justin Yu, as you know, is a James Beard Award-winning chef, and it was a very precise restaurant. A year later, Dory Fung, a really good friend who was the pastry chef at Yauatcha, helped me get my foot in the door. Likewise, I said, 'I just want to learn. I speak Cantonese, and I speak English.' That was a plus.
What was the lesson you walked away from Yauatcha?
Mental toughness, but not in a bad way. You have to prepare the same thing over and over again. You have to wrap hundreds and hundreds of dim sum the same way every single morning and every single day. But that's the beauty of it. It is very structured. It has to be the same. The xiao long bao folds all have to be perfect.
Xiao long bao is the pork-and-broth-filled soup dumpling that is the rage on social media. So where do you go for yours?
I usually go to Los Angeles or New York for xiao long bao. But One Dim Sum (510 Gray Street, D) has good ones.
What about Cantonese or dim sum? Any favorites that you and your wife, Connie Choua, go to on your days off?
A staple is House of Bowls (6650 Corporate Drive). I get their stir-fried noodles and their runny egg shrimp noodles. It sounds gross, but the runny egg gives a very silky texture to the shrimp, and it is served over flat rice noodles. Hong Kong's Café (9108 Bellaire Blvd.) is another one.  I get their barbecue duck or baked pork chops over rice, a traditional café dish. Fung's Kitchen (7320 Southwest Freeway) reopened a few months ago. It is always great. The dim sum is really good. I also like Shanghai Restaurant (9888 Bellaire Blvd., No. 106), next to H Mart. They have all-day dim sum, and their barbecue steam buns are really good.
After working as a sushi chef at Uchi, you bought Tobiuo before Covid hit. But you survived. Tobiuo flourished.
This year will be four years.
Money Cat is a name inspired by your fondness for those adorable waving Japanese feline figurines displayed at your restaurant entrance to bring luck and fortune. So, when did you decide to open your second concept?
I signed the lease for Money Cat in 2021. Tobiuo, after a year, was self-sustaining. I didn't have to be there daily, and I've always wanted to open a restaurant in the city. Money Cat is the same size as Tobiuo but dinner only. I have a chef de cuisine, Jiolo Dingayan. He's the genius behind the menu, which I've coined "New Japanese," like New American. We use Japanese ingredients and techniques while drawing on our nostalgia and culture to create modern interpretations of Japanese hot and cold dishes. We offer sushi. Our fish is flown in daily from Tokyo's famed Toyosu Fish Market. But I don't want for us to be known as a sushi restaurant because we have so much to offer with our hot-and-cold Japanese-inspired dishes. We have this amazing chutoro toast with squid ink milk bread, 12-hour cured chutoro, and burnt honey cream cheese.
Perhaps the best representation of what we're trying to do is the chawanmushi, a traditional steamed custard. While chef Jiolo keeps it classic, he adds scallops and corn-and-chive taiyaki. Traditionally taiyaki is a sweet waffle shaped like a fish. But here, we made a savory version. Another item is the maitake karaage, which is the recipe I've shared with you. Traditionally, it is made with chicken. But here, we use a meaty mushroom coated in potato starch, then fried and tossed in sweet hot sauce and served with nori ranch.
Sherman, what drew you to cooking?
One of the reasons why I love food so much is that it is such a driving factor for culture. Ethnicity and culture are important to me. That is why I love this industry. It tells stories. It brings people together. For example, I had an aunt who passed away. She made really good dumplings. I remember watching her fold them a certain way. So, now and then, when I eat a dumpling or see someone making dumplings, I can't help but recall back to that time, to my aunt in Hong Kong. That moment, through food, is preserved in memory.
For Hot Honey:   
1 ½ cup Fresno pepper, chopped and seeded
1 tablespoon gochugaru Korean chili powder
5 tablespoons rice vinegar
½ teaspoon salt
3 tablespoons canola oil
1 cup honey
7 tablespoons butter, cubed and at room temperature
For Nori Ranch:
½ cup Japanese Kewpie mayonnaise
1 cup buttermilk
½ teaspoon salt
½ teaspoon garlic powder
½ teaspoon onion powder
2 tablespoons Aonori (dried powdered seaweed)
1 pound maitake mushrooms
½ cup potato starch
Canola oil for frying
2 teaspoons chives, minced
2 teaspoons dill, minced
To make Hot Honey, toast Fresno peppers and gochugaru in a frying pan over high heat until fragrant. In a blender, combine Fresno pepper, gochugaru, rice vinegar, salt, and canola oil until smooth. In a bowl, add honey and the blended Fresno mixture; whisk until smooth. Now, whisk in the butter, cube by cube, until combined and thickened to a smooth consistency.
To make the Nori Ranch, whisk Kewpie mayo, buttermilk, salt, garlic, onion powder, and Aonori in a bowl. Season to taste, adding more salt, garlic, or onion powder to your liking if necessary. Cover and refrigerate until ready to serve.
To prepare maitakes, remove the bottom of the fungi with a knife and pull the mushroom where it naturally wants to break. Pieces should be no bigger than 4 inches long and ½ an inch wide. Set aside.
Fill a frying pot with canola oil and place it on a stovetop over medium-high heat. While oil heat to 350 ˚F, prepare a separate sheet pan with a cooling rack or lined with paper towels. In a large bowl, toss maitake in potato starch to coat. Once the oil is up to temperature, use tongs to add a few dredged maitake pieces to the fryer. Fry mushrooms in batches until crispy golden brown, about 3 minutes. Don't overcrowd the pan or the temperature will drop. Transfer fried maitakes to a sheet tray or plate lined with paper towel.
When ready to serve, toss fried maitake karaage in the Hot Honey. Garnish the Nori Ranch with chives and dill, and serve immediately. Makes 2 servings.
Editor's note: Buzz dining columnist Dai Huynh is a James Beard food-journalism award winner and longtime Houston-based restaurant writer.
Want more buzz like this? Sign up for our Morning Buzz emails.
To leave a comment, please log in or create an account with The Buzz Magazines, Disqus, Facebook, Twitter or Google+. Or you may post as a guest.