Globetrotting with the Deys
Click the Buzz Me button to receive email notifications when this writer publishes a new article or a new article in this column is published.
For the Dey family, global travel is an integral part of life. Suchi and husband Jayant, or Jay, are from India, and every year they try to go back there and spend time with family. That connection alone has given them a global perspective, but they've lived in so many places, due in part to Jay's work in the oil and gas industry, that it seemed natural to incorporate their children into their travel, practically from Day 1. In 2012, they moved to Houston.
They were living in New York in 2009 when their son, Aarush, was born, and when he was just three months old, they had to move to Singapore for Jay's job. "We went to Bali when he was 4 1/2 months, and since then we've never really stopped," said Suchi with a laugh. Their daughter, Anoushka, was born two years later, and they took her to Tokyo at 2 1/2 months. "Having children has never really slowed us down," she said. "They've been everywhere."
Being grounded by Covid was a shock for them, but as soon as they were able, they were flying again. Recently, they shared highlights of their three most recent trips with Aarush, 13, and Anoushka, 11: Madeira, Croatia, and Kolkata (formerly known as Calcutta).
Madeira: Sun, Sea, and Painted Doors
The family's first international trip since the onset of the pandemic was in January 2022, and they chose the Portuguese island of Madeira; Forbes had highlighted the island as an ideal European destination for winter travel because of its warm southern location. The picturesque, mountainous island did not disappoint.
They flew from Lisbon to Madeira's capital city, Funchal, and there they rented a car and explored. The rugged island was difficult to develop, and it wasn't until the 1980s, after Portugal entered the European Union, that a network of roads and tunnels opened access to much of the island. The countryside is still pristine, with tropical forests and terraced plantations of sugarcane and sweet potato.
The food – mostly seafood – is amazing, said Suchi. "They catch the fish and they feed it to you right there." The sushi was excellent, and Anoushka was especially charmed by the dessert sushi, made of coconut sticky rice and fresh fruits – in this case, strawberries and cream – at Sushi Funchal Restaurant Japonès e Bar.
Anoushka has a sweet tooth, says her mother, and tries the desserts everywhere she goes: Italian gelato, chocolate mousse, and in Kolkata, the quintessential Rossogolla, a Bengali sweet, are her favorites. "Sometimes she walks for hours with us only on ice cream!" said Suchi.
Their drives were filled with breathtaking scenery, cliffs and seascapes, and magnificent waterfalls – including one that they could drive under, the spectacular Cascata Dos Anjos in Ponta do Sol.
One of the most memorable finds was the painted doors of Funchal's Old Town. Several years ago, the city council launched an initiative of the town council to revive the abandoned old town, inviting artists to develop a series of paintings on the doors of Rua de Santa Maria. Now there are nearly 200 painted doors, and the atmospheric street, filled with cafes, has become one of Madeira's biggest attractions.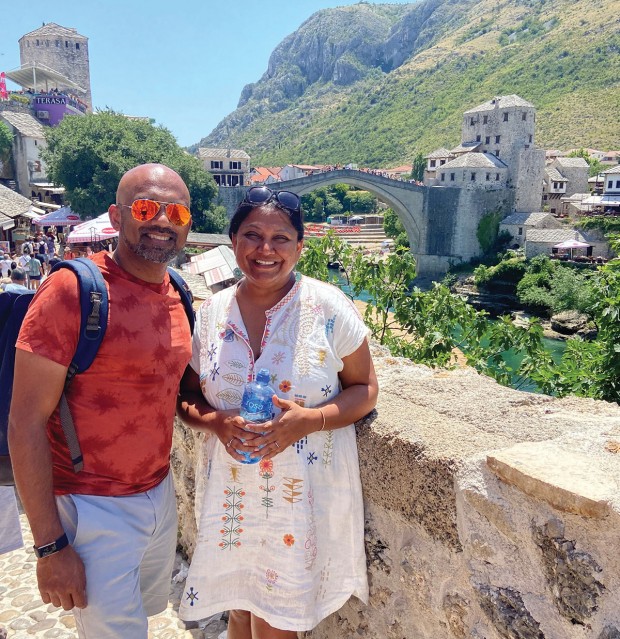 Exploring Croatia, Montenegro, and Bosnia
Last summer, the family vacationed in the former Yugoslavia, mainly in the Croatian seaside cities of Split and Dubrovnik, with day trips to Bosnia and Montenegro. Both World Heritage cities are gems, with their medieval Old Towns, baroque, Renaissance and gothic architecture and sparkling seascapes, situated on the Dalmatian Coast of the Adriatic Sea.
It was exciting to be on the Croatian coast, in the vivid landscapes where Game of Thrones was filmed, said Jay, and the day trips to Montenegro and Bosnia were enlightening.
"To me those trips were pretty special," said Jay. "We got to see three different countries with a lot of history… You experience a different cuisine, and a different part of history. It's pretty interesting to see the different viewpoints, what they thought about the war, seen from three different angles."
They landed in Split late in the evening and what first struck Suchi was that everyone was out until late at night – including families with children. People were out walking on the promenade, listening to live music, enjoying the sea breeze. "I travel with kids, so I don't do nightlife, but there the ice cream shops are open at 11 – so we do ice cream," she said.
They stayed near the charming Old Town of both cities, with their views looking out over the terracotta roofs and opening out to the beach and the sparkling blue sea beyond.
Memories of the 1990s civil war still loom large in both cities. "They say, 'Don't talk about the war,' but that's all the locals talk about," said Suchi. "It's very real, it's not like it's gone – there are walls where they show the bullet holes. It's like it just happened."
Another stark reminder of the war is outlined on the rooftops seen from above. The terracotta tiles are of two colors – the older, mossy green tiles, which survived the bombing, are far outnumbered by their lighter replacements.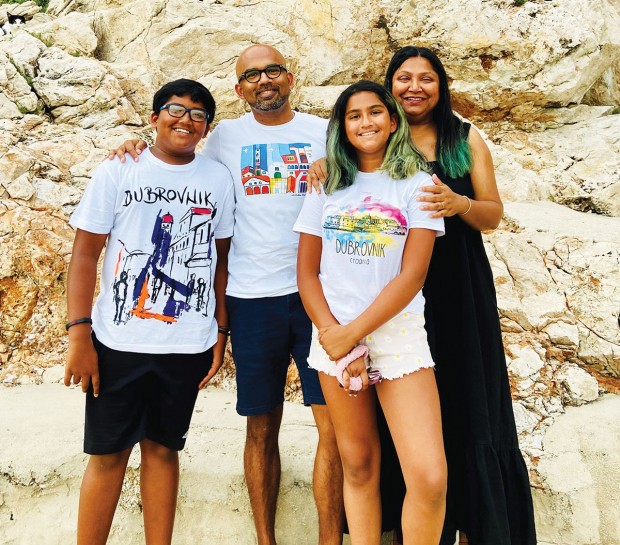 Highlights of their time in Split included leisurely walks along the city streets that usually ended on the city's spectacular coastline, where locals and tourists alike could often be found enjoying their local beaches; a meander along the coastline of Marjan Forest Park, where they explored hidden coves and pebble beaches (a tip from Suchi: bring water shoes); and a ferry ride to the UNESCO-listed island town of Trogir, with its Renaissance, Baroque, and Romanesque architecture – "Everything is Instagrammable there – the food, the stairs, the buildings," said Suchi.
Montenegro was spectacular as well, with its dramatic coastline along the sparkling blue Bay of Kotor; for Suchi, the highlight was Our Lady of the Lake, an island where, according to legend, two fishermen discovered an image of the Virgin Mary in the 1400s, and a chapel was built to honor her.
In Bosnia they took the day trip to the medieval city of Mostar, with its iconic Mostar Bridge. The original Ottoman bridge, commissioned by Suleiman the Magnificent in 1557, was bombed during the war, a devastating loss for a proud river city the bridge had united for centuries. The bridge was reconstructed in 2004, and now the town has become a major tourist attraction.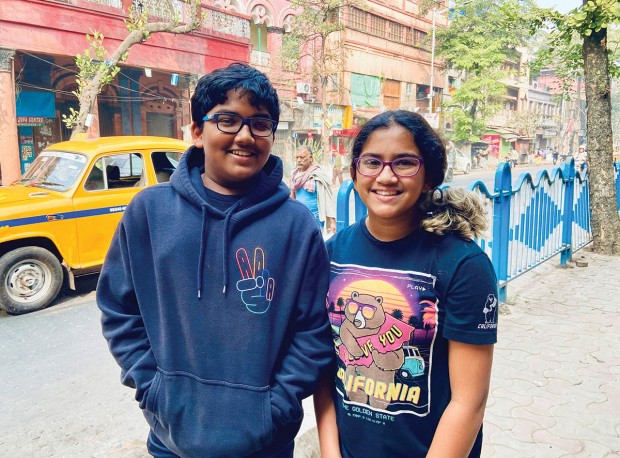 Kolkata: Seeing the "Real India"
Most recently, they spent two weeks over the holidays in Kolkata, where Jay grew up and where Suchi also has a strong family connection. Both sets of grandparents – Jay's and Suchi's parents – live in Kolkata. Most years they have spent time there, mostly focused on the family, and done their tourism in other parts of India.
"For me, it's just a time for going back to the roots, unwinding, letting people take care of you, revisiting places you grew up in – and having the kids take a look at that as well, obviously from a different lens," said Jay. "It definitely helps them have a different perspective."
This trip they had planned to divide their time between Kolkata and Rajasthan, but Anoushka fell ill and wasn't able to travel much, so the trip became a sort of "staycation" to explore Kolkata more deeply.
"Usually, we'd go to Kolkata and have a very sanitized version of the trip, staying at our parents' houses, eating in five-star restaurants, going to a sanitized mall and spending time with family. This time we did a lot more exploration of Kolkata, and I found out a lot about the city," said Suchi.
Kolkata was a major settlement for 2,000 years before becoming the first capital of British-ruled India. Warren Hastings, the first Governor-General of India, called it Calcutta and named it the capital of British India in 1772, and that remained the case until 1912, when the British transferred the capital to Delhi.
Those years as the nation's capital laid the foundation for what would become a cultural capital, with many universities and cultural institutions. Suchi, who went to college in Delhi, finds Kolkata to be vibrant and artistic, and at the same time more relaxed, less focused on career and money and image than Delhi.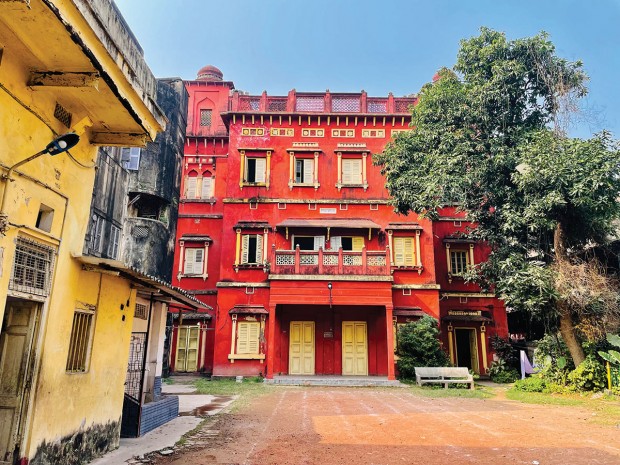 "There's a lot of sitting around with coffee and chai and visiting," she said. "It's slightly more liberal; the people are happier, more concerned about lifestyle ... They'd rather have good food rather than branded clothing, for example," she said.
She and Aarush spent a lot of time walking through the teeming city streets, visiting the street markets and randomly ducking into small cafés or stopping at corner food stalls for a bite to eat, finding delicious food wherever they went.
Of the two kids, Aarush is definitely the more adventurous, said Suchi. She encouraged him to take his phone, and he enjoyed taking photos of their walks.
"He totally absorbed the local energy, and liked the local foods a lot," she said. "He is very comfortable in different environments, maybe because of the way he's always moved around."
The streets were throbbing with life, rickshaws and bicycles and pedestrians and colorfully painted buses competing with cars. The colonial architecture of the old town was fascinating as well, a blend of European and Indian styles. Suchi was struck by the similarities with Portugal and recalled that the Portuguese were the first Europeans to arrive in the Bengal region, of which Kolkata is part, back in the 1500s.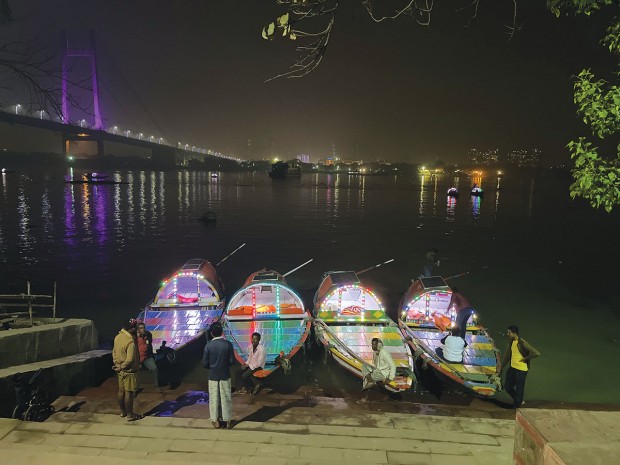 "There is a tinge of sadness to the whole thing, though, because it's not one of the richest states," said Suchi. She recalled the way that Lisbon and Barcelona invested in a revival of their colonial architecture in the late 1990s, but Kolkata doesn't have that kind of money.
"Many of the old buildings were taken over by people to whom they don't belong, and now there are big court battles going on over these super intricate buildings decorated with flowers and birds – people had put such thought into them, but now they are just dying.
"Still, you know, they say beauty is in the eye of the beholder, and there is a lot of beauty there," she said. "It's chaotic, but people are doing their work; it's the real India."
One place she had always wanted to visit was the Indian Coffee House, on College Street. Formerly called Albert Hall and built in 1876 across from what is now called Presidency College, the iconic coffee house has long been the hotbed of intellectualism in India, playing an important role in the British independence movement as well as other social movements over the years. The towering two-story building features waiters in vintage-style white uniforms and caps, and these days, it draws tourists from around the world.
The Deys were in Kolkata for the World Cup finals and were intrigued by the fervor for Argentina – "In India we don't get close to qualifying in soccer, but the kids play every day in the streets, and we are huge fans." When Argentina won there were fireworks everywhere, and the next morning, everyone was wearing Messi T-shirts, with Argentina's sky-blue and white colors flying everywhere. "On street after street, you'd have thought you were in Argentina instead of Kolkata," said Suchi.
Their 16-hour layover in Dubai created a startling juxtaposition. "It couldn't have been more contrasting – from a city 500 years old and dying, to a city with money coming out of everywhere and it's sparkling, super clean, and hardly any people compared to Kolkata," said Suchi. "It's not good or bad – but Kolkata was way better, in my mind."
To Suchi and Jay, these trips with their kids are important on many levels. "For us, mostly it's the exposure to other cultures and the beauty of the land – a lot of times it's not just natural beauty, it's how other parts of the world live," said Suchi. Seeing the way that other cultures live less wastefully – using cotton napkins and buying produce in local markets, for example – has been an important lesson. For Jay, "it's the appreciation that there are a lot of different cultures and different viewpoints and different ways of living life."
For their family, too, the journeys serve an important role, he said. "It does create a lot of good memories – a lot of things to talk about very fondly of the time spent together and the experiences we've had together. You need small but powerful instances to bind you with each other – and these memories do exactly that," he said. "They're a good glue to bind us together as a family. I think we'll find that it's been money well spent."
Want more buzz like this? Sign up for our Morning Buzz emails.
To leave a comment, please log in or create an account with The Buzz Magazines, Disqus, Facebook, Twitter or Google+. Or you may post as a guest.