From Brisket to Biscuits: Austin restaurants for your bucket list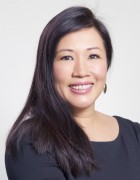 Click the Buzz Me button to receive email notifications when this writer publishes a new article or a new article in this column is published.
Once celebrated for its laid-back weirdness, Austin has transformed into a star-studded, well-heeled, turbo-charged metropolis. These days, skyscrapers tower over the University of Texas and the Texas State Capitol, and dining options have expanded to serve its growing population. Today, it's the 11th largest city in America and is the nation's fastest-growing major metro area, having been ranked 17th in 2000, then surging more than 30 percent in the past decade. 
"My father attended UT in the early '60s, and I went there in the '90s. Back then, there were no tall buildings. Everything was two stories – max. The city felt very relaxed," says Memorial-area resident Lizzie Holmes, whose sophomore daughter, Helen, attends UT.     
Lizzie drives up to Austin every month to visit her daughter, and like many Houstonians, I trek to the Bat City annually. However, these day trips hadn't allowed me to explore the restaurant scene. I had my go-to spots – including Fonda San Miguel (2330 W. N. Loop Blvd.), Uchi (801 S. Lamar Blvd.), Vespaio Restaurant (610 S. Congress Ave.), Jeffrey's (1204 W. Lynn St.), and Franklin Barbecue (900 E. 11th St.) – but the scene has exploded, with five James Beard Award-winning chefs and restaurants under its belt. It's only one medal shy of Houston. I was missing out.  
So, when my sister recently flew to Austin for a convention (there are lots these days, along with tour buses), I decided to spend two weekends exploring a few of the city's restaurants.  
Austin barely resembles the sleepy town I visited as a high schooler. In the late '80s, I fell for its traditions – weekend brunches, indie coffee shops, eclectic mom-and-pop joints, and the majestic Fonda San Miguel, who introduced interior Mexican cuisine to many Texans. Nowadays, you might spot Elon Musk sipping a frozen margarita at this nearly half-century-old restaurant – reportedly his favorite Austin eatery.   Although he might have another soon. Younger brother Kimbal Musk just announced plans to open the fourth location of his New American bistro, The Kitchen, in downtown Austin on West Sixth Street.
Meanwhile, I'm slurping a ginger-hibiscus green yaupon iced tea at Dai Due (2406 Manor Rd.) with his employee, Jackie Hoang, a former Houstonian who moved to Austin a year and a half ago to work in Tesla's legal department. She loves her job and the pretty city, with cypress-lined Lady Bird Lake dividing it between north and south. However, she hates the traffic, crazy home prices, and booked-up restaurants that are "crazier and busier than Houston," Jackie says. "You have to plan ahead on where you want to eat out. A week in advance may not be enough. Some places are booked two weeks in advance." A few city guides and restaurant insiders told me the same thing.  
They also suggested reading the fine print when making reservations because some places tack on a penalty for last-minute cancelations, as much as $20 per person, such as Dai Due, where Jackie was chowing down on a dry-aged Wagyu double cheeseburger with French fries crisped in beef fat, and twice-baked potatoes with crawfish.  
Jackie had been trying to get into Dai Due for a while – as had I after Bon Appetit magazine named it  one of the best new restaurants of 2015, along with the more obvious reason that we share the same first name. However, its moniker  actually comes from the Italian adage, "Dai due regni di natura, piglia il cibo con misura," which translates to "From the two kingdoms of nature, choose food with care." Its menu changes daily, but it's generally meat-anchored, including pork, Wagyu beef, Nilgai antelope, and wild boar. Chef Jesse Griffiths' passion for wild game garnered him a James Beard Award last year for his book The Hog Book: A Chef's Guide to Hunting, Butchering, and Cooking Wild Pigs. 
Jackie laments the lack of authentic Asian food in Austin, though Filipino-Vietnamese Fil N' Viet at Camp East (2903 E. 12th St.) is pretty good, while Wu Chow (500 W. 5th Street, No. 168) is currently the place for Chinese for the hip downtown crowd.  
I recall when the Driskill Hotel was the center of downtown Austin's universe – just a short sprint to 6th Street, with its colorful bars and music venues. However, that world has expanded exponentially to 2nd Street, Rainey Street, Red River, and the Warehouse District – hence the sea of electric scooters around town for lazy feet.  
Dining options abound, and a friend suggested Geraldine's in the Hotel Van Zandt (605 Davis St.), a luxury boutique accommodation that pays homage to Austin diplomat Isaac Van Zandt and his great-grandson, singer-songwriter Townes Van Zandt. Geraldine's occupies a swanky room on the fourth floor with excellent acoustics for live music to complement the imaginative shareable plates from chef Sergio Ledesma.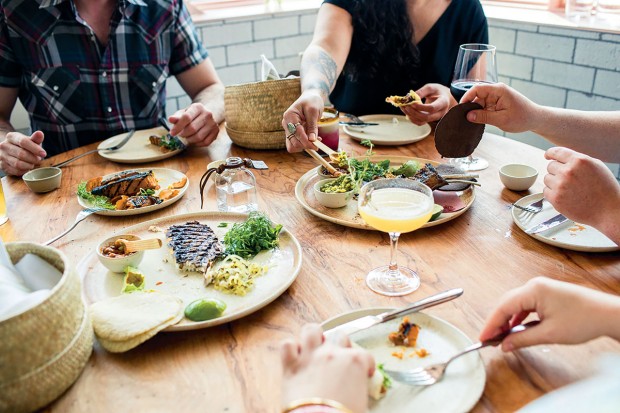 The Diner Bar (500 San Jacinto Blvd.) is a new downtown addition to the stylish Thompson Hotel. Like many upscale restaurants, it's a palate dance of multiple global inspirations, but the dominant players are chef Mashama Bailey's African-American and Southern influences. Last year, the New Yorker won the James Beard Award for Outstanding Chef for helming the renowned artisanal restaurant, The Grey, in Savannah – not to be confused with The Grey Market Austin (501 Brazos St.) next to the Diner Bar. Grey Market is a bodega with an unfussy breakfast-and-lunch counter. However, I wouldn't hesitate to rise early for the hash and eggs or grits with greens, then grab a crispy apricot thumbprint cookie on the way out.  
Old-timers cleave onto the city's unofficial motto: Keep Austin Weird. So, is it still weird? 
"It is. It's still there. You just need to know where to find it," says Natalie Pollan, director of retail and visitor services at the Austin Visitor Center. She pointed east. 
East Austin is a hotbed – a historically Black neighborhood with a bevy of new development. It's always had good restaurants, and more recently, charming boutiques. So, will it take up the hip, kitschy mantle now that Hermes, Lululemon, Nike, Frame, and Madewell have opened stores on the once-quirky South Congress?  
If you're wondering where the locals go, they appear to be here – removed from South Congress, 6th Street, and the downtown fray. Along East 11th Street lie brunch and breakfast spots Hillside Farmacy (1209 E. 11th St.), Paperboy (1203 E. 11th St.), and the 25-year-old institution Quickie Pickie (1208 E. 11th St.).  
Austin knows tacos, ideal for a quick morning start or a late-night indulgence. Along Navasota and 12th Street is Cuantos Tacos for Mexico City beef tacos. Nearby, Ensenada ATX serves fish and shrimp tacos with cabbage, pico de gallo, and mayo sauce. 
About a four-minute drive away, the crowds gather for Saturday brunch at Suerte (1800 E. 6th St.), which specializes in interior Mexican. Chef Fermín Núñez's signature dish is confit brisket tacos – but I will return for the bold, lime-kissed Tostada Huaxmole with pepita puree, chunky avocado, and roasted, sweet golden beets.  
The same goes for El Naranjo (2717 S. Lamar Blvd., Suite 1085), which started out as a food truck, then transformed into a brick-and-mortar restaurant featuring Oaxacan specialties. Over time, chef-owner Iliana de la Vega has expanded the menu to include dishes from other regions of Mexico. We started with delicious margaritas and cocktails emboldened by fresh ingredients and fruits. Here, cocktails and food have equal billing. We then tried almost every appetizer, including the huitlacoche-stuffed empanadas, daily ceviche, and tuna tostadas. All were stellar, and I was stuffed when it was time to order the entree. Even so, I opted for the mole negro with duck breast. 
In three decades, I haven't had a better mole negro in my extensive travels throughout Mexico and the United States. Iliana's version, which takes three days to make and boasts 30-plus ingredients, is a ballet. The flavors unfold subtly with nuances that make you want to return for more. The duck was seared perfectly as well. However, Iliana isn't one to sit on the sidelines, even though she won the James Beard Best Chef in Texas Award in 2022. Through an open window, diners can watch her work and note her intensity and focus.  
We waited nearly half an hour with dozens of UT students the following day for the made-to-order biscuit sandwiches at the original Bird Bird Biscuits location (2701 Manor Road). The squat building – with pops of blue – has a dedicated alfresco walk-up window for pickup. You can order online or in person at the touch-screen kiosk. Outdoor seating is available, but no indoor dining areas. Most people pick up their brown bags to go. I ate my biscuit with gravy in the car, plus the Queen Beak biscuit sandwich with spicy breaded chicken, cayenne-black pepper honey, and bacon-chipotle mayonnaise. The dismal setting didn't diminish the flaky, fluffy interiors and crisp exterior.  
After my final trip to Austin, I phoned Lizzie. With her monthly visits, I wanted to know her favorite haunts. Her go-to place for biscuits? Olamaie (1610 San Antonio). "It's a good one," she says. "They're famous for their biscuits and Southern comfort food. It's just cozy and small … in a little house. The food is yummy and very filling."  
She just got back from Austin last week. It was her daughter's birthday. "We went to Joann's for brunch. They have yummy fish tacos. Their guacamole is also excellent."  
Joann's Fine Food (1224 S. Congress Ave.), behind the Austin Motel? I must have passed it a dozen times over the years, but I never knew that it was a restaurant. I thought it was just for gourmet goods. It just goes to show that there's still much to explore in Austin.  
Editor's note: Buzz dining columnist Dai Huynh is a James Beard food-journalism award winner and longtime Houston-based restaurant writer.
Want more buzz like this? Sign up for our Morning Buzz emails.
To leave a comment, please log in or create an account with The Buzz Magazines, Disqus, Facebook, Twitter or Google+. Or you may post as a guest.