The Golden Boy
Meet Major the Therapy Dog
Click the Buzz Me button to receive email notifications when this writer publishes a new article or a new article in this column is published.
Major the Golden Retriever takes his job as a certified therapy dog seriously. He is a member of the Craft family – parents Emily and George and siblings Caroline, 13, and George, 10. He has a classic block-shaped forehead, a honey-colored coat, and soft brown eyes. 
He is a certified therapy dog with Faithful Paws Pet Therapy. He serves the community of Houston, and he serves well. He goes each week, with his main handler and grandfather (Emily's father), Stewart Kepper, on a standing visit to places such as Methodist Hospital West Campus to visit patients and their families and bring comfort during difficult times. He has climbed in bed with hospice patients and their families, posed for selfies, and has a wardrobe of costume accessories themed for nearly every holiday.
Faithful Paws has been providing animal therapy to facilities around Houston including hospitals for 25 years. Studies show a lot of supporting data that petting an animal reduces blood pressure and heart rate, and the visit gives the patient something to look forward to. The family felt called to get Major certified after a personal encounter with pet therapy.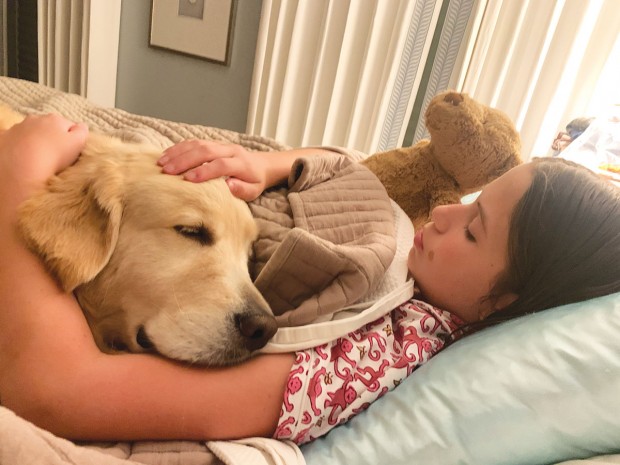 Emily's family grew up with Goldens, but Major is their first certified therapy dog. It all started after a scary personal experience in their own family, where pet therapy brought much comfort. In 2016, Emily's niece, Haley Devlin, was in the Children's Memorial Hermann hospital for two weeks the summer after she finished fifth grade. She was in a serious boating accident and endured many surgeries on her leg. 
Her family realized the only comfort she found while in the hospital was the weekly pet therapy visits from Faithful Paws Pet Therapy. She eventually went home to heal, but the memories of the pet therapy stuck with their family. 
The following year, the Craft family picked up Major as an 8-week-old puppy. They noticed right away he was special. He had a calm demeanor and the ability to quickly connect with people. "As he grew and matured, my mother, Candace Kepper, identified that Major's low-key and docile temperament would be perfect for a pet therapy dog," said Emily.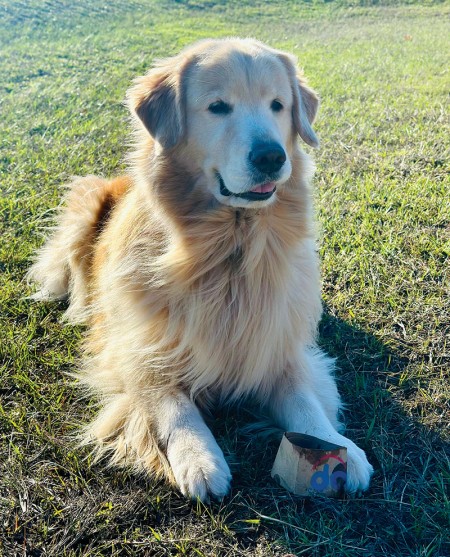 So, they took her suggestion and enrolled him in classes with Faithful Paws, the same therapy group that visited her niece in the hospital. Major received his Canine Good Citizenship certification at Bellaire United Methodist Church after just two classes. Each class was about an hour. 
To become certified, Major had to undergo temperament testing situations and demonstrate that he knew basic commands. "The handler and the dog meet weekly to work on these items," said Emily. "Dogs cannot be spooked easily by noise, other animals, abrupt movements, and show no food aggression," she said.
There isn't a set number of classes to take before a dog is considered certified; instead, the Faithful Paws trainer determines when the animal is ready. Pet therapy is not only for dogs. Major completed his certification alongside a micro mini pig and a bunny. He even served as the test dog to make sure the potential therapy bunny would not be spooked by him. 
On Thursdays, Emily's dad Stewart (who uses his time as a retiree from Shell to be his main handler, with Emily assisting) takes Major to their weekly Faithful Paws meetup at Methodist Hospital West. He visits hospitals, retirement homes, and schools. "The best aspect of handling Major is being part of the joy he brings to the people he visits," said Stewart. They were so touched by how meaningful the pet therapy visits were for their family that giving the gift of pet therapy to the community brings them joy in return.
Stewart recalled a time a nurse asked Major to visit a patient in a specific room. "That morning, the patient had just decided to begin hospice care, and the nurse thought a visit would be helpful. The patient was very thankful to have Major visit her, and we spent a long time petting him. It was a very moving time to bring some comfort to a person during a very difficult day," said Stewart. 
Major just completed his 100th therapy visit. His therapy visits range from 2-4 times per week. Faithful Paws has teams of animals that have weekly or monthly standing visits with different organizations. They also have what they call "one-time visits" where businesses, schools, or libraries request a team of dogs to come for a special occasion.  
For instance, Marathon Oil reached out to Faithful Paws requesting a team of dogs to come to their health fair. "I had the pleasure of tagging along to some visits this December to Strake Jesuit and Episcopal High School," said Emily. The schools requested a team of dogs to come to visit their students the week leading up to final exams as a stress reliever. The Kinkaid School had them come in January during their Interim Term for a class titled "Animal Heroes."
Emily says that while pet therapy benefits humans, it very much benefits Major, too. "Goldens are smart dogs, and he loves the brain work done during therapy visits. He gets super excited when he sees his therapy bag come out of the locker." she said.  
Major patiently awaits Stewart to come to their house and pick him up. "Patients request him by name and many of the hospital staff joke about taking him home with them," said Emily.
Major has developed a special bond with one resident at Buckner Parkway Place, a senior living facility he visits. "This man greatly looks forward to Major's visit every other week," said Emily. Major's official AKC name is Xcelerate Two Star General; a two-star general in the US army is a Major General, hence the name Major. Another Parkway resident, who's a former Texas Ranger, recently gifted Major a Texas Ranger pin, which he now proudly wears on his Faithful Paws pet therapy vest.   
The love for Major runs very deep for everyone who meets him. "These four-legged friends enter our lives for such a short period of time, but they touch our hearts forever," said Emily. Major gives not only his family members unconditional love but each person he encounters. 
At the end of the therapy visits, he gets to swim in the pool at his grandparents' house. After some swimming and rest, it is time to suit up and head out to the next patient in need.
Editor's note: For more information on how to get involved with Faithful Paws, see faithfulpawshouston.org.
Want more buzz like this? Sign up for our Morning Buzz emails.
To leave a comment, please log in or create an account with The Buzz Magazines, Disqus, Facebook, Twitter or Google+. Or you may post as a guest.