Benchawan Painter: An unapologetic, authentic Thai chef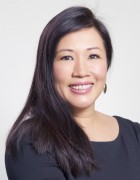 Click the Buzz Me button to receive email notifications when this writer publishes a new article or a new article in this column is published.
The Thai people have the most lyrical-sounding name for fish sauce. Many cooks claim nam pla is the most important flavoring ingredient in Thai cooking. Often, for fear of turning off the American palate, restaurants in this country will add too much water to dilute the intensely pungent taste and aroma of fish sauce for diners unable to surrender to its full funky charms. Well, you're not going to get that at Street to Kitchen. 
Street to Kitchen (6501 Harrisburg Blvd.) proclaims that it serves "unapologetically authentic Thai food." Perhaps this is one reason why the James Beard Foundation selected its chef-owner, Benchawan Painter, as one of five finalists for this year's Best Chef: Texas. Chef G, as referred to by her friends and patrons because her nickname "Kik" has the tonal sound of "G" in Thai, is determined to introduce Houstonians to the true, undiluted flavors of her homeland, which are sometimes a little jarring to the uninitiated. 
However, this full-throttle approach has garnered Street to Kitchen a loyal following. The restaurant is booked up frequently, and the dining room's teal-trimmed, pretty-in-pink walls ripple with anecdotes and laughs as Chef G's husband and co-owner, Graham Painter, serves stir-fried basil beef, garlic chive pancakes, and fried veggie spring rolls at nearby tables.
The balance of sweet, salty, sour, and hot often is praised in Thai cooking, along with its harmonious bold flavors, but at too many restaurants, the heat is subdued, and the sweetness intensified as concessions to American palates. The spices are muted, and the herbs are less fresh than they could be. "You're not going to find that here," 47-year-old Graham says. "My wife started this restaurant because she couldn't find food the way it was served in Thailand. So, we are not going to gringolize it here."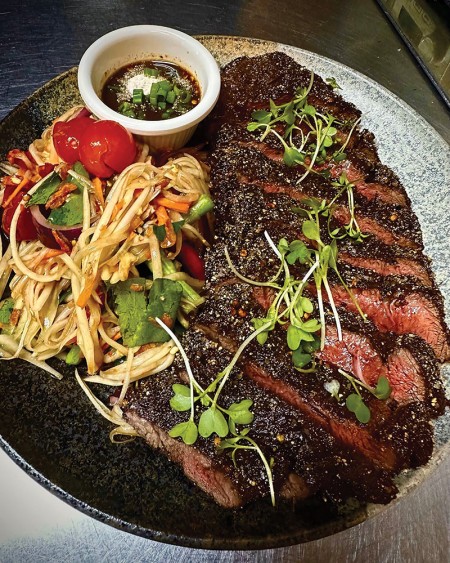 In the kitchen, the 30-year-old Chef G choreographs her moves like a ballerina. Everything is labeled and orderly so that she can move fluidly, effortlessly preparing one dish after the next without hesitation. She worked at several Thai restaurants before opening her own minutes from her East End home, but most aren't organized like this, she says. She learned this lesson while cooking at Theodore Rex, whose James Beard Award-winning chef-owner Justin Yu stresses teamwork and that you can never over-prep. 
You can barely squeeze three cooks into Chef G's little kitchen. Her refrigeration space is also limited, and she orders just enough ingredients for the week. She relies on what's in season and the farmers' market. "It's good," she says, adding that it isn't any different than back home in Central Thailand, where she fell in love with cooking at her grandmother's knees. Her yaai used to say that if "you use fresh ingredients, the flavors will be good. You won't need to add or do too much to the dish." 
The briny perfume of fish sauce fills the pocket-sized, 38-seat dining room attached to a Valero gas station – along with the heady scents of Thai basil, galangal, coconut, lemongrass, lime, garlic, and chilies. Diners – diving into a faultlessly crisped whole, head-on branzino, green papaya salads, and stir-fry pad see ew with flat noodles coated with caramelized soy sauce and seared pork – barely notice the blare of horns and the rumble of the light rail train zooming across the overpass right outside the restaurant. 
"This feels like Bangkok," says Graham, a Houston native who met his wife while working as a creative director in Thailand. "If we close our eyes at night, it almost feels like we're back home in Bangkok. Our image for this place is based on Thonglor, the Soho of Bangkok. Thonglor is this hip place full of designers, fashionistas, and hole-in-the-wall, chef-driven concepts like this. So, when we built Street to Kitchen, we told ourselves, 'We're not in Houston. We're not in the U.S. We're in Thonglor.'" 
With that theme, Chef G offers no modifications or substitutions. For example, her curries don't have the typical choices of chicken, beef, pork, or shrimp. In fact, you won't see beef as a curry option because it is rarely eaten in Thailand, she says. Also, certain curries pair better with specific proteins. Therefore, Chef G has taken the guesswork out by offering massaman curry with only chicken or veggies. Her green curry comes with chicken or veggies, while the red curry can be made with veggies, shrimp, or chicken. The rare occasion Street to Kitchen offers beef is an overnight braised curry. 
Diners also don't have the option of mild, medium, or spicy. "We don't adjust the spicy level," says Chef G, adding that she avoids store-bought curry pastes because they're salty and lack complexity. Instead, the spicy level is pre-determined by the kind of curry paste she makes. "Massaman shouldn't be spicy. It is the mildest of curries. Green curry should have a kick, but be followed by sweet and salty," she says. "Now, if you want spicy, go for the red curry. This is how it is, and I try to go back to how I eat in Thailand." 
When we asked for a recipe that even a novice home cook could prepare, the Street to Kitchen chef offered pad see ew without hesitation. It's quick, easy, and perfect for a weeknight family meal. It's also super kid-friendly because the chili powder is served on the side, giving each diner the option of adding it. 
16 ounces pork, thinly sliced
5 tablespoons oyster sauce, divided 
3 eggs, divided 
2 tablespoons sugar
2 teaspoons fresh cracked black pepper, divided
2 tablespoons canola oil or another vegetable oil, plus more for the egg
1 tablespoon minced garlic 
16 ounces fresh sen yai or other fresh wide rice noodles (see note)
2 tablespoons mushroom soy sauce
4-5 stalks of gai lan (Chinese broccoli) sliced into 2-inch-long, ¼-inch-thick pieces with stems attached
2 tablespoons sweet soy sauce
1 tablespoon chili powder (optional)
In a medium bowl, mix 2 tablespoons oyster sauce, 1 egg, sugar, and 1 teaspoon black pepper. Add pork and, using a large fork or chopsticks, gently rotate slices to coat the marinade onto all sides. Cover with Saran Wrap and place in the refrigerator for four hours. When ready to cook, line up the ingredients in the order they'll be added to the pan. Also, pad see ew is best served hot, so turn on the stove when the family has gathered to eat.
Heat 2 tablespoons oil in a 14-inch wok, heavy 12-inch skillet or a large Dutch oven over high heat until it smokes. Add the pork to the hot pan in a single layer. Let cook, undisturbed, until well-browned, about one minute, then stir-fry until just cooked through, about one minute more, pressing it against the pan to sear. 
Stir in the garlic with the pork, then add noodles, spreading them around in the pan, then toss and separate them with chopsticks or a wok turner, tongs, or both. When the noodles are sizzling, add mushroom soy sauce, oyster sauce, and black pepper. Toss noodles to coat and cook through. Keep cooking, leaving noodles undisturbed for about 20 seconds until they sear and caramelize.
When the sauce is half absorbed, add the gai lan and stir-fry just until bright and beginning to wilt, 30 to 45 seconds. Push the greens to one side of the pan, add enough oil to lightly coat the other side, and add the slightly beaten remaining eggs. Use the spatula to scramble the eggs, stirring and scraping until cooked, about one minute. Toss with the sweet soy sauce (add more to taste if you wish). When the noodles have absorbed all the liquid and the flavors are balanced, transfer the pad see ew onto a large serving dish and serve immediately with chili powder on the side. Each diner can sprinkle a little chili on top or not. Makes four servings.
Note: Fresh sen yai or other fresh wide rice noodles is sold at groceries, including 99 Ranch Market (1005 Blalock Road) and Hong Kong Food Market (11205 Bellaire Blvd.). To get a taste of Chef G's cooking, visit her Street to Kitchen stall at the Urban Harvest Farmers Market (2752 Buffalo Speedway). She sells her signature Thai Omelet for $12 every Saturday morning at the market. The omelets made with seasonal ingredients are only available at Urban Harvest, not at her restaurant. 
Editor's note: Buzz dining columnist Dai Huynh is a James Beard food-journalism award winner and longtime Houston-based restaurant writer.
Want more buzz like this? Sign up for our Morning Buzz emails.
To leave a comment, please log in or create an account with The Buzz Magazines, Disqus, Facebook, Twitter or Google+. Or you may post as a guest.