Back to School
A guide to this busy season
Click the Buzz Me button to receive email notifications when this writer publishes a new article or a new article in this column is published.
This month, we say hello to another school year. Recently, we heard from two Buzz families about their back-to-school traditions, go-to meals, shopping ideas, and more. 
Ashley Sloan, a senior wealth strategist at Northern Trust, and her husband Jonathan, managing director, energy investment banker at JPMorgan, keep a busy schedule year-round but especially in the month of August. They have four kids ranging in age from 4-10. 
Ashley has a hack for the morning transition – she sets out the kids' school clothes the night before downstairs in the living room. This helps cut down on the many trips running up and down the stairs. "That way, all they have to do is brush their hair and teeth," she said. 
The Sloans start their kids' first day of school by snapping some pictures, with each child holding up a First Day of School sign. Their kids are Caden, 10, a playful and energetic rising fifth grader, Sawyer, 8, a witty and silly rising third grader, Tenley, 6, a creative and social rising first grader, and Emeryn, 4, a strong-willed and adventurous rising pre-k student. The three older kids attend St. John's School and Emeryn attends a nearby pre-k.
The sign makes for great keepsake photos, as it includes details such as date, age, teacher, school, what they want to be when they grow up, favorite food, and more. It is a wonderful way to document those details that are ever-changing in a child's life. 
Another first-day-of-school tradition is a thoughtful gesture for their new teachers. They load up the kids with a little extra time to spare and make a stop at their local Whole Foods Market, to pick up fresh flowers for each of the kids to bring to their teachers on their first day. "I just think it establishes a bond with their teachers," said Ashley. 
Their mornings get sidetracked sometimes, especially when Emeryn tries to squeeze in play time during the morning routine. "She is the last to get ready because she likes to get out crayons and coloring books in the morning while she's eating," said Ashley. "She is in a phase where she is very particular about how her hair is done."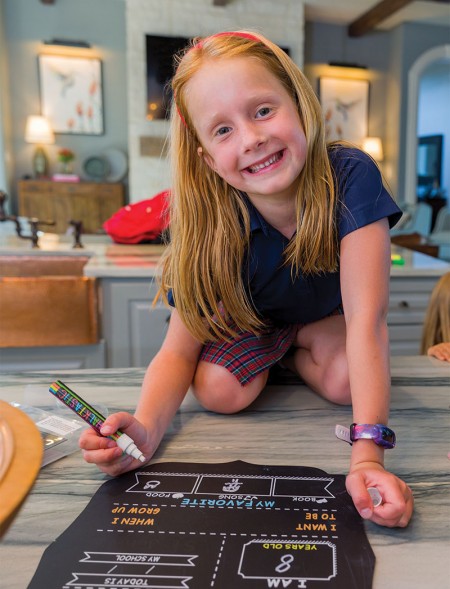 The Sloan family keeps a busy monthly schedule, so they stay organized with an old-school calendar, not a phone app but a paper-printed calendar. "Each month, I download a calendar template from wincalendar.com in the Word format and go day by day to fill out the kids' activities and what time they need to be there," said Ashley. She color-codes their activities so each child has a distinct color and prints several copies each month. 
She says, even though a paper calendar is her preference, a challenge to using paper is that the calendars are put together at the beginning of each month, and there are often changes throughout the month that need to be manually updated on all three copies. 
Their school provides their supplies, and she picks up their new backpacks and lunchboxes from Pottery Barn Kids. "It is best to shop during the summer months as the items get backordered in August," said Ashley. The family finishes their first week of school with the tradition of spaghetti and calamari at Carrabba's The Original. 
Another busy Buzz family is the Muellers, who also have four kids. While they are now past their elementary- and middle-school-age days, they look back with fond memories. They survived them with a one-day-at-a-time approach, teamwork, and some meal planning, too. 
Their mother, Elise Mueller, a ministry manager at City Church, and father, Jonathan Mueller, a portfolio manager at Invesco, juggled years of back-to-school nights, sports, activities, and work. Elise said she always used a large Franklin Planner 3-ring binder to stay organized but has moved to a small spiral notebook and sometimes the digital Google Calendar. 
Their daughter, Kate, is a rising senior at Houston Christian High School and is the last child at home. She is creative and balanced. Kate's older siblings, who all attended Strake Jesuit College Preparatory for high school, are James, 22, a diligent and dependable graduate of the University of Houston, and twin brothers Luke and Jacob, 20, both students at Texas A&M University – Luke the laid back, independent type, and Jacob, diligent and thoughtful. All four children attended Veritas Christian Academy from kindergarten through eighth grade.
Kate says she looks back fondly on the fun times when they were all together during the school years at Veritas, even when days were chaotic, like the time she showed up to school on her first day of middle school in the wrong uniform. Thankfully, upon arriving at school, they immediately realized it. "We lived close by so we could run home and change," said Elise, laughing. 
Elise recalled the biggest struggle when they were all in school together and rode each morning as a family, was compromising on what time to leave for school. "We had certain days where everyone had to go early," said Elise. But not every day. "There was some arguing sometimes, each of them getting on the other for their punctuality of how long they would take to get moving," said Elise.
They keep the fond memories close. "Some of my favorite memories were picking out fun school accessories at Target and getting ice cream after the first day of school with my mom and brothers," said Kate. 
As a helpful hack, Elise said when they were all in elementary and middle school, they would always prepare lunches the night before. "I would freeze their sandwiches and add a cooling pack in their lunches so they would thaw by lunch. We would also clean the kitchen at night, so we woke up to order," said Elise. 
Elise always kept a meal calendar and still does to this day. She would look at the activities for the week and plan accordingly. She has two weekly grocery store runs. She says their meals are now simpler, as opposed to the protein, starch, and veggie meals they used to plan for. "I call it a win to sit down together, regardless of what is served," said Elise. 
Their favorite school morning breakfasts were always pigs in a blanket, bagels and cream cheese, waffles with fruit, Ezekiel English Muffins toasted with peanut butter and sliced banana, eggs, bacon breakfast tacos if there is enough time, and cereal if they were in a hurry. 
Elise uses the cookbooks The Defined Dish and The Comfortable Kitchen. The Mueller family loves their dinners together; a few of their favorite dishes are lemon chicken, chopped chipotle chicken salad, one-pot Cajun chicken pasta, shrimp brochette skillet with poblano rice, and one-pan Mexica chicken with rice and Bolognese sauce. "We also have salmon with olive oil and simple seasoning, with roasted veggies and quinoa once a week," said Elise. "This meal takes little time, the only prep is cutting the veggies, everything else is just put in the oven and wait." 
The family has make-your-own taco night weekly. They prepare beef, chicken, and beans, and set out toppings so everyone can fix what they like. "This is also a great leftover dish for a busy night," said Elise.
Another way Elise implemented back-to-school organization was by teaching her kids to do their own laundry. "The boys were doing their own laundry when they were 11 and 14 so they could help keep the family home organized. I am just not sure if they sorted colors," said Elise.
Back to school is a busy time, but it can also be a sentimental time. "The start of school is a milestone every year," said Elise. "After months of summer, we were usually all a little excited for the school year to start and ready for the routine for our whole family." They also took a first-day photo, which Elise says is fun to look at to see how they have grown.
Implementing planning and organization for back-to-school can make this time of the year more manageable and enjoyable for your whole family. Remember, try to involve your children in the process, as their input and participation can foster a sense of excitement.
Good luck to all the parents and kids – you got this.
Want more buzz like this? Sign up for our Morning Buzz emails.
To leave a comment, please log in or create an account with The Buzz Magazines, Disqus, Facebook, or Twitter. Or you may post as a guest.