To Florence with Love: A Guide to Firenze from A Recent Abroad Student
Click the Buzz Me button to receive email notifications when this writer publishes a new article or a new article in this column is published.
The pitter-patter of feet down cobblestone streets. Eating gelato while wearing a winter coat. The lemon trees at my school without tarp covers for the first time after a long winter. Waking up from an afternoon nap to the sound of the 5 p.m. church bells tolling in the distance. 
These are the vignettes that fill my mind when I think of Florence. I lived in the Italian city for the first five months of 2023. It is a period in my life for which I will be forever grateful. I hope one day to go back, and I wonder whether Florence will feel smaller somehow, like when I revisited an old classroom at Condit and was struck by how tiny the chairs were. 
Now that I am back home in Houston, it sometimes feels as if my semester abroad was a fever dream. Italy feels so far away and the only things I have to tether myself to the experience are a few trinkets and my camera roll. Okay, perhaps I am being dramatic. I am Gen Z, and we both know I have upwards of 2,000 photos from the semester. But still, I miss it! I miss  my doppio espresso's and Italian professors and daily glimpses of the Duomo. So, in a selfish attempt to relive it, I'd like to share with you some of my favorite places and takeaways from Florence. Whether you're looking for your next trip, planning a vacation to Italy, or just want to learn more about the city, this is the article for you.
Sightseeing
Opera di Santa Maria del Fiore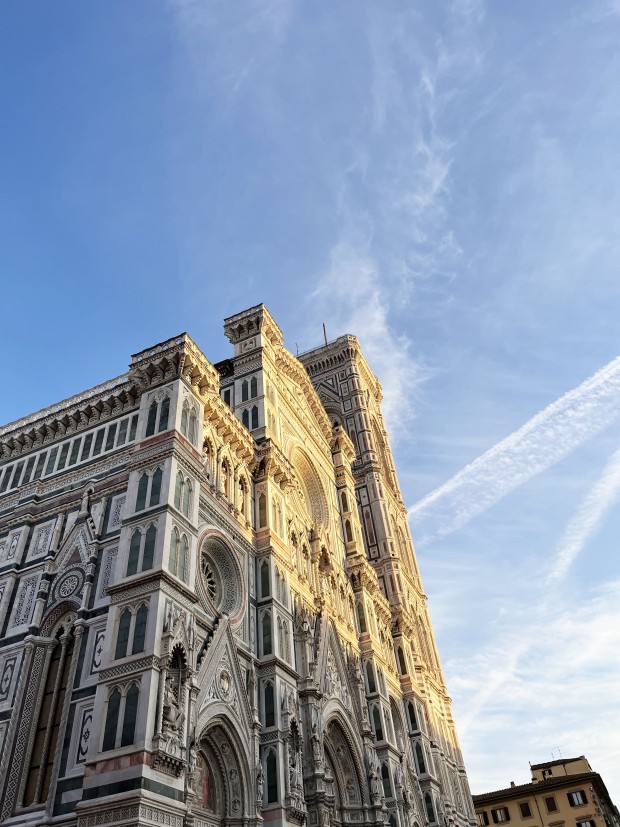 The aforementioned "Duomo." Completed in 1436 by Filippo Brunelleschi, the Duomo is Florence's most iconic landmark, and for good reason. The city was practically built around the Santa Maria del Fiore Church, which consists of the Cathedral, the Baptistery, the Bell Tower, and the Opera museum. The teal and white facade is mesmerizing and so ornate one could stare at it for hours. To experience it fully, I recommend purchasing the Brunelleschi Pass on the Opera's official site, as it gives you access to the museum and all the monuments, including climbing to the top of the Duomo. 
Piazzale Michelangelo
The famous piazza that overlooks Florence. The view is spectacular: you can see everything from the Duomo and the Ponte Vecchio to the nearby hillside town of Fiesole. It is quite the uphill trek, but if you aren't in the mood for an outdoor 12-3-30 walk (if you don't know what that is, your daughter will), you can always grab a taxi. Don't go in a rush; the piazza is meant to be enjoyed in a relaxed fashion. Plus, you won't want to leave. My favorite time to go is during golden hour. 
The Uffizi Gallery & the Accademia Gallery
While these are the first places on any traveler's list, I am obliged to mention the Uffizi and Accademia Galleries. Both are wonderful yet incredibly different. The Uffizi Gallery is huge. One could spend a whole day there admiring the works of Botticelli, Giotto, Michelangelo, and Caravaggio, and the building itself is a work of art. Uffizi means "office" in Italian, and the buildings used to serve as the offices of Florence's municipal government. 
The Accademia is more known for their sculptures, specifically Michelangelo's David. When I first saw it, I was awestruck by how massive it was. Truly, my jaw dropped. Then I learned why. The David was originally intended for the roof space of Opera del Duomo, but upon seeing the finished sculpture, Florence's council decided it must be admired at a closer range and placed it outside the Palazzo Vecchio, the town hall, in Piazza della Signoria. It is now housed indoors in the Accademia, where it commands amazement from over a million people each year. 
The Church of Santa Maria Novella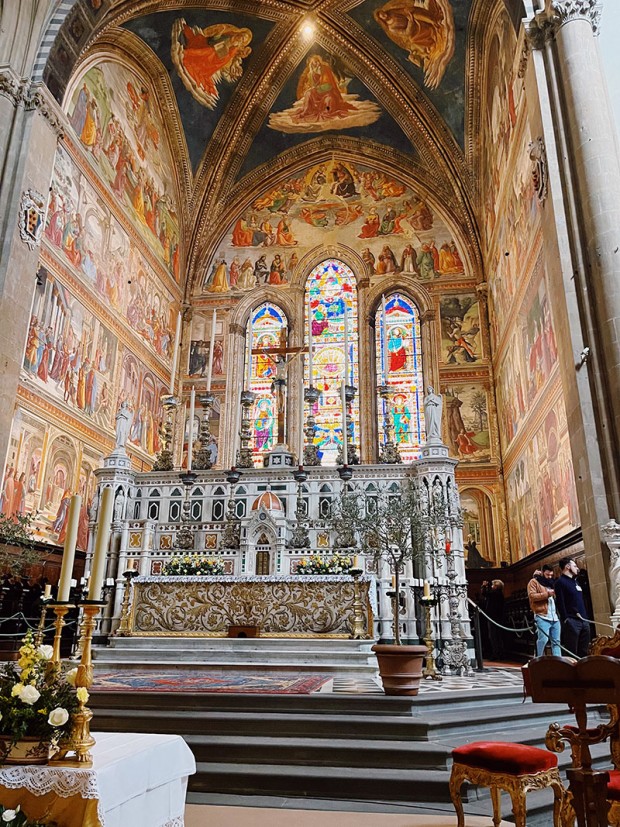 The most underrated historical landmark in Florence. On most travel guides, you probably won't see The Church of Santa Maria Novella (SMN) listed. I lived in the SMN neighborhood, and I didn't make it inside the Church and its surrounding complex till late April. I regretted this, as it was very much a place I would have liked to revisit. 
Santa Maria Novella is one of the most essential Gothic churches in Florence; the exterior was done by Fra Jacopo Talenti and Leon Battista Alberti, while the inside holds famous works of art such as Masaccio's Trinitá and Giotto's Crucifix.
The Cathedral is part of the larger Santa Maria Novella convent, which was built between 1279 and 1357. After you explore the Cathedral, you can stroll around the rest of the Convent, which consists of beautiful gardens, archways, the Small Grand Cloisters, and the Refectory. 
Officina Profumeria Farmaceutica di Santa Maria Novella
The Officina Profumeria Farmaceutica di Santa Maria Novella is technically a part of the SMN Complex but must be entered on Via della Scala and doesn't require a ticket because it is, after all, a business. The Profumeria tells the story of the monks who founded it. Founded in 1612, the perfumery is the oldest running pharmacy in the world. Four hundred and eleven years ago, the Dominican monks began creating balms, elixirs, and other medieval medicines from the herbs and flowers grown in the monastic garden.
The Officina Profumeria Farmaceutica is now famous worldwide for its soaps, perfumes, potpourri, and cosmetics. The Profumeria has expanded their operations throughout Italy while still using traditional, artisanal production methods and high-quality ingredients. I consider its interior to be the most beautiful out of all the buildings in Florence. Even if you don't plan on purchasing anything, I highly recommend you go as it's truly a singular experience. 
Casual Eats
La Cite 
A libreria cafe in the sleepy Santo Spirito neighborhood, La Cite served a range of purposes for me; it was my Italian Room of Requirement. There, I studied, grabbed coffee with friends, and spent hours reading in their comfy armchairs, sinking lower into the cushions with every chapter. When my parents visited, we went to La Cite and played gin rummy while sipping on wine. It's an enchanting spot and a place that reflects the arty ambience of Florence.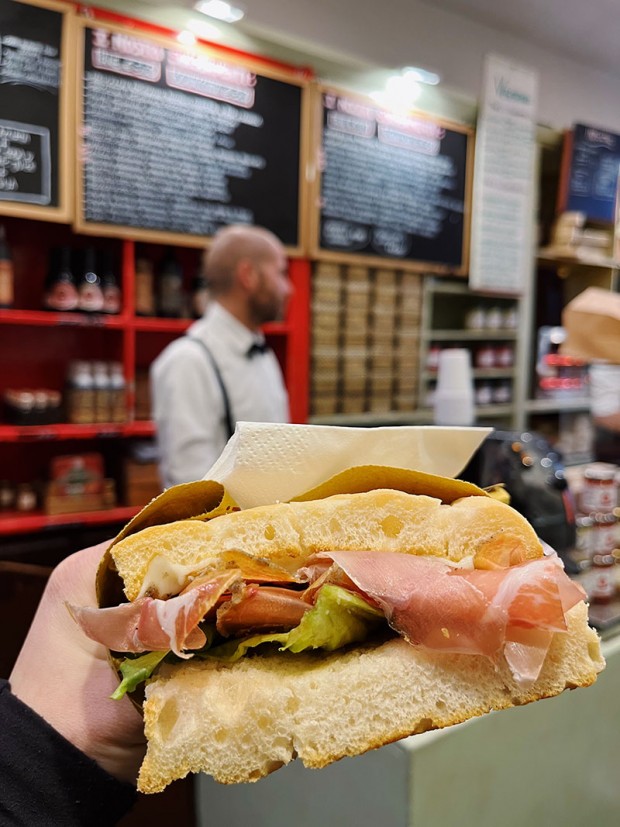 SandwiChic
It's non-negotiable that you get a panini in Florence. Pasta and pizza get all the hype, while the humble panini can fall by the wayside in many tourists' minds. Don't be that tourist! Go eat a panini! Most travel guides will direct you to All'antico Vinaio, a famous Florentine panini shop that now has locations in Rome, New York City, and Los Angeles. Vinaio is great, but it's gotten quite commercialized. My favorite spot is SandwiChic, an independent panini shop with the best focaccia and the kindest workers who will help you craft your perfect panini.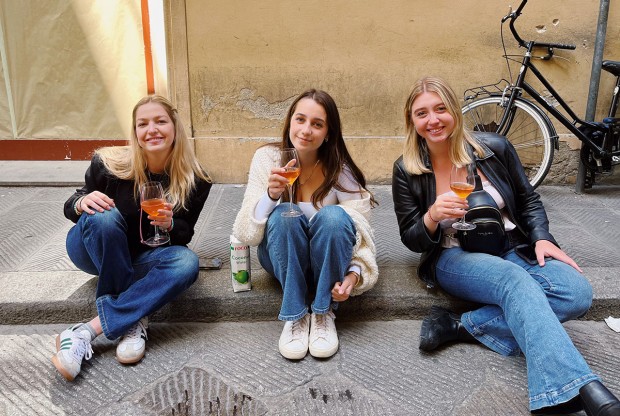 This restaurant has great food but is known for their wine window. Buchette del vino (wine windows) were once ubiquitous in Florence. In 1559, Cosimo de'Medici ruled that noble families could sell the wine from their vineyards straight from their palaces. Babae has brought this tradition back, and you can now enjoy a glass of wine or an Aperol Spritz while hanging out on the street. It is quite the vibe. 
Marketo Centrale 
Marketo Centrale is a gourmet Italian food market. It's where you should go when your group cannot agree on where to eat. The vendors are amazing and it's a great spot to try a bunch of different dishes. 
You can stop in for a snack, lunch, dinner, or drinks (there is a bar and it does get popping at night, especially when ACF Fiorentina is playing). I would usually go in the evenings after class; my friends and I would split up then reconvene at a designated table, one that was always in front of the big screens that played the Serie A matches. 
Restaurants 
Trattoria Zaza 
Trattoria Zaza is a restaurant I have heard about for years but never had a chance to go until this past spring. My older sister Lexi studied abroad in Perugia, a little university town not far from Florence, in 2017, and when my parents visited her they went to Trattoria Zaza twice in two days. They even purchased the trattoria's cookbook. I, along with my older sister Elena, were then subjected to constantly hearing about this amazing restaurant with food so unfathomably good. (Zaza has even become a verb in our family lexicon. To zaza something means to return to a place on a short trip.)
So, when I arrived in Florence, I knew I had to go, if not to satisfy my curiosity. I ended up going to Trattoria Zaza 14 or 15 times during the semester. The atmosphere and the food were so incredible one couldn't help but return. If you go, I advise making a reservation. 
Osteria il Basilico 
A quintessential Italian restaurant, Osteria Il Basilico was a five-minute walk from my flat in Florence. It quickly became a go-to of ours: it was close, tasty, and just one of those places that felt like home. My friends and I befriended the wait staff, so be sure to tell the manager Stigliano that you were sent by Demi, the Greek girl from Texas who likes Taylor Swift, and he'll most likely bring you free limoncello. 
Braciere Malatesta
You'll notice that in Florence there are many street advertisements for "bistecca alla fiorentina." Florentine steak is one of the city's specialties and has a history that goes all the way back to the Medicis. On August 10, Florence celebrates the Festa di San Lorenzo, the feast of Saint Lawrence. In medieval times, large bonfires were lit in Piazza Centrale and large quantities of veal were roasted and given to the common citizens by the Medicis, who sponsored the celebrations in honor of Lorenzo Medici, who was known as Lorenzo the Magnificent. 
The best Florentine steak I had was at this restaurant, Braciere Malatesta. It's a must-try when in Florence and a great thing to share, as Florentine steak is known for being bigger than your face. 
Gelato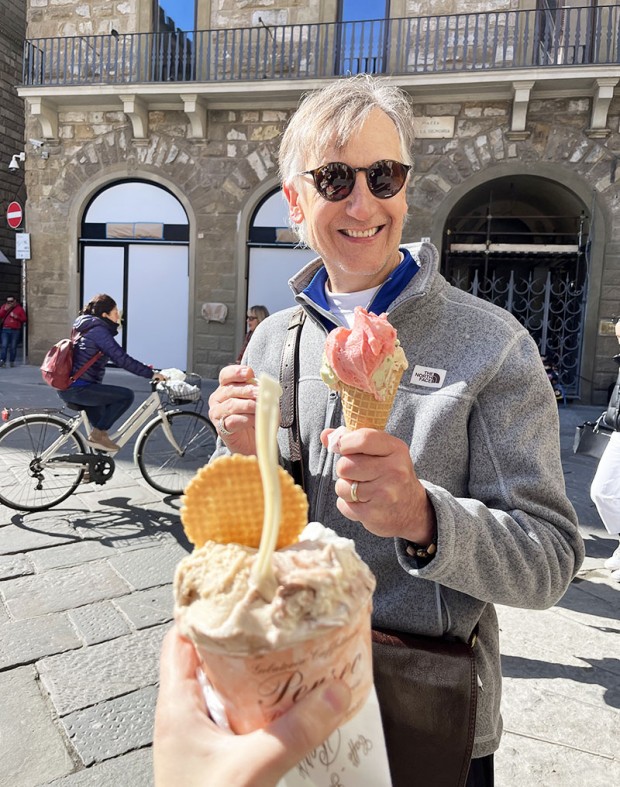 A gelato a day keeps the doctor away in Italy, but it's important you are enjoying authentic gelato! Some gelaterias do not sell authentic gelato, and the biggest giveaway is when the gelato is piled up super high. Gelato is churned at a much slower pace, leaving it flat. When it is piled high, that means there are a lot of added preservatives and other substances that mean it's not natural. I know I sound snobby saying this, but trust me: it's a real thing and any Italian will tell you this! A few of my go-to spots in Florence were La Strega Nocciola, Gelato de Medici, Vivoli, and Gelateria dei Neri. 
Movies about Florence
To know me is to know that I speak in pop culture references and that movies are my love language. Naturally, it is only fitting that I leave you with some pre-departure content to watch: Netflix's generation-spanning epic "Medici" and the Diane Lane classic "Under the Tuscan Sun." The former paints a stunning picture of how the Medici family navigated Italian politics and wielded their influence to make Florence into a magnificent city. The latter follows Diane Lane's Frances as she impulsively buys a villa in Tuscany after a stupefying divorce. The film is set fairly close to Florence, as Firenze is the capital of the Toscana region in Italy. It captures the enchanting nature of the area and is sure to leave a smile on your face (think "Eat Pray Love" but if Julia Roberts had stayed in Italy without venturing to India or Bali). 
Want more buzz like this? Sign up for our Morning Buzz emails.
To leave a comment, please log in or create an account with The Buzz Magazines, Disqus, Facebook, Twitter or Google+. Or you may post as a guest.