World Travel: The University of Life
Click the Buzz Me button to receive email notifications when this writer publishes a new article or a new article in this column is published.
High-flying Tracy Dieterich is almost a million-and-a-half miler on United, and a million-miler on American; he's been to all seven continents and 107 countries – he's keeping track on a spreadsheet – and wife Valerie has an impressive tally of her own. The couple's romance began on a ski lift in Beaver Creek, Colo., and their courtship spanned the globe, from Greece and Turkey to Bali and Singapore. 
But it wasn't always that way for Tracy, who grew up in a family that didn't have the means to travel. He didn't even get on a plane until college. But his big brother Kelly, through Big Brothers Big Sisters, traveled extensively and inspired Tracy to do the same. When he graduated from Texas A&M, Tracy went to work and began saving up to go scuba diving and skiing. He dreamed of seeing the world, but it wasn't until he was 32 that he took his first trip to Europe.
"It bit me like a bug, like nothing else before – and I have been back to Europe every year since," said Tracy. When he met Valerie at the age of 45, he'd already been around the world, but was just getting started. One of his first questions was whether she liked to travel. He was impressed to learn that she had not only traveled widely, she had actually studied abroad – in Cannes, France, home of the prestigious film festival – and had logged her own impressive travel trajectory from a young age. 
"I spent my college years starving at A&M, but she was fortunate enough to study abroad in Cannes as a part of her Baylor college years," he joked. After graduating, Tracy went into the commercial insurance industry and quickly worked his way to the top. Now, as senior vice-president, partner, and shareholder of his company, he's earned the flexibility to work on the road.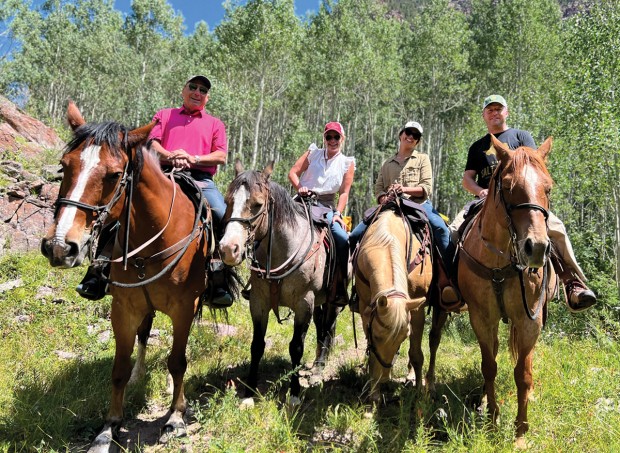 So it comes as no surprise that he and Valerie are raising daughters Madison, 6, and Reagan, 3, to follow in their footsteps; Madison had been to 13 countries by the age of 3, the first one being the Dominican Republic for her first Thanksgiving. The Dieterichs consider travel one of the most important aspects of their own education, and that of their children. 
"I feel like I graduated from the school of hard knocks, but I also graduated from the school of world travel," commented Tracy. "What better way to learn history than when you've been to Rome or to Christopher Colombus's tomb in Spain or to a cooking class in France?"
Valerie wanted to take her babies on the road practically from Day 1.
"Madison was on my back when I went to the Alhambra," recalled Valerie. Madison toured the souks of Marrakech and the bustling Jemaa el-Fnaa square from her stroller, and one of her first ski trips included views of the Matterhorn. 
Tracy and Valerie always include the girls in their travel plans, looking for kid-related activities everywhere they go. For example, last year, when they went to Paris, Valerie was determined to choose at least one activity that little Reagan, then only 2, would be likely to remember. And she succeeded – the nighttime riverboat tour on the River Seine, with the Eiffel Tower on the horizon, still brightens the child's eyes when her mother mentions Paris. "Sparkly!" Reagan exclaimed in a recent phone conversation.
Madison, for her part, loved the Paris Muse Clues, a Louvre Family Tour, where the family was given a list of 11 artifacts that they had to find, and a booklet with clues, scavenger-hunt style. The Mona Lisa, the original foundations of the Louvre, and The Winged Victory of Samothrace were among the sought-after items. She impressed her mother when on a tour of the Louvre they were taken to the museum's basement – the original structure was a fortress, built in the 12th century – and were told that it was built around 800 years ago. 
"Oh, it's the same age as Notre Dame," piped up the then 5-year-old, who had taken a kid-oriented architecture tour of the city the day before along with the rest of the family and learned the historical data of the classic gothic cathedral. 
The next day it was a cooking class, and Madison learned, along with her parents, the difference between a macaron and a macaroon – one is a light and crispy meringue sandwich cookie, the other a coconut-filled drop cookie – and learned how to make the former. 
More than a cultural and culinary experience, the class was also a lesson in the practical application of basic math, said Valerie. "You learn how to measure, how to pipe out the macaron shells, and you learn teamwork – there are four to five kids in each class, and each kid would choose a color, and have a different part of making the macarons."
Another day the family went to the top of the Eiffel Tower. They learned the history of the tower, and then were shown the Paris cityscape. "Madison thought that was really cool," said Valerie, and Madison agreed.
Asked her favorite thing about Paris, though, she exclaimed: "We got to eat chocolate croissants every morning!"
Valerie and Tracy always take the opportunity to teach their children a little geography when they can, showing them the routes of their journeys on the map.
"We bought Madison a globe so she can see where we are going," said Valerie. "Also we have a puzzle map of the US, and a puzzle map of the world; and that's something she's always really enjoyed doing in school, making maps of the world, with places she knows her mom and dad have been."
When Covid grounded the family for a little while, Madison was only 3, but already her favorite game was to play travel, Valerie says; "she'd pack up her little suitcase and go sit on an imaginary airplane."
But education by travel began for the couple long before Madison and Reagan came along. Besides her university studies in Cannes, Valerie studied French cuisine for a semester at Le Cordon Bleu, which is why, Tracy says, she's such a great chef. And Tracy has gained a greater appreciation for architecture, art, and the more relaxed, family-oriented pace of Europe.
"Don't get me wrong – I love America, and I think it's the greatest country on Earth," said Tracy. "But there's a whole different world out there outside America, and it's an educational world."
He was intrigued to learn, for example, that in Europe, people don't aspire to have big houses and cars; the roads are smaller, the towns and cities are smaller, and productivity isn't as prized as it is in the US. Instead, Europeans prize their free time, time to connect with family and friends and to travel.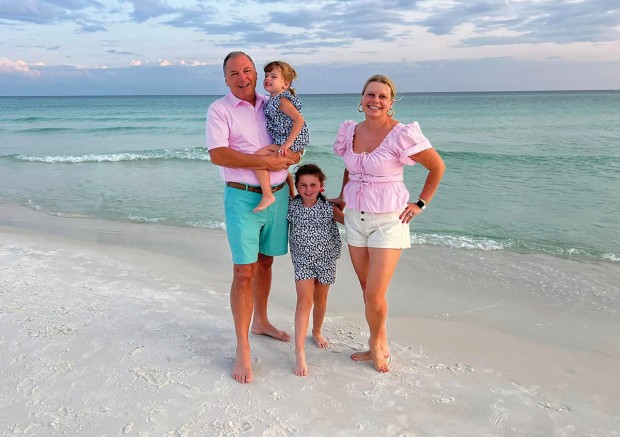 "It's easy to see how the French and the Italians enjoy relationships over meals," said Tracy. "They'll take a two-hour lunch with a bottle of wine, and they'll even take a siesta in the afternoons in Spain; a lot of stores close, and then they open later.
"I feel like where America missed is when you get out of school, get a job, and only get two weeks off." That compares to five or six weeks for most Europeans, who use that time to explore the world.
The Dieterichs are longtime Mexico travelers as well, making trips especially to Los Cabos every chance they get. And of course the family enjoys their stateside travels, as well. Favorite destinations include Watercolor, Fla.; Newport Beach, Calif.; and Aspen, Colo. This summer, for example, the family spent a week at Kanakuk family summer camp in Branson, Mo., before heading off to Aspen, where they spend several weeks every summer. 
In Aspen, the girls explore the wildlife of a forest ecosystem with bears, moose, elk, and other animals they would never see back in Texas. In her summer camp, Madison learned about the original inhabitants of Colorado, the Ute Indians, and about the native plants of the region.
Ski country is big for the Dieterichs, in the summer as well as in the winter. Skiing has been a central theme for them, and Tracy will never forget the winter he met Valerie on the ski lift. "I call it God's sense of humor," says Tracy. "We quickly learned we only lived five miles from each other back in Houston."
Tracy was with his buddy Brad; Valerie's father had just left, so she joined them. 
"Where the magic happened is when we finally skied down a double black diamond run and she smoked us," recalled Tracy. "And then I was like, she's pretty cool. And I just thought she was so interesting… and then she thought I was interesting."
One thing led to another and the next thing they knew, they were skiing together in the Dolomites of Italy. The UNESCO World Heritage Site is known for its stunning beauty, its Alpine cliffs, and its picturesque mountain resorts. Valerie had skied in Europe before, but it was the first time for Tracy, and he was captivated.
Since then, the couple has also skied in Zermatt, Switzerland, and in Chamonix, France. The experiences were dramatically different from their ski trips in the US, and left them eager for more.
As Tracy sees it, the skiing is technically better in Colorado or Utah, but in Europe it's not as much about the skiing as it is about the whole experience. "It's about the food and the wine and the people. It's also way more beautiful skiing in Italy or Switzerland than in Colorado or Utah; it's more majestic. The mountains are more striking, more jagged. Just picture skiing right down underneath the Matterhorn. It really doesn't compare to any of the mountains of Colorado; you're so close to it, and you see it all day long."
One of the most amazing experiences in their most recent ski trip in Zermatt was skiing over the border into Cervinia, Italy for lunch, and then taking the gondola back up to the Swiss side. 
"That's one of the coolest things I've ever done; you can ski from Zermatt to Cervinia, from the Swiss Alps to the Italian Alps. And it's the most beautiful tram I've ever been on; it's like the Rolls Royce of ski trams." 
They found the people to be delightful and easy to connect with, and the food amazing. "We sat down next to these two guys at a restaurant in Zermatt, and we started to order. This guy next to us was eating gnocchi." He greeted them and made a recommendation.  
"This gnocchi tastes just like your grandma made it this morning," he told them. Tracy followed their advice, and didn't regret it – but more importantly, he will always carry that memory of easy camaraderie.
"We want our kids to have that part of the cultural experience… When we're in Colorado we'll stop and have a nice meal in Aspen, but our culture is just so much busier. It's like, 'I've only got 45 minutes and then I've got to run.' But in Europe we're going to have lunch and a bottle of wine and talk for two plus hours. We had that pasta and it was life-changing; skiing in Colorado, it's a bowl of chili or a burger.
"I'm not knocking America, because I love America – but so many things are processed, you have to go to Central Market or Whole Foods to get really natural foods."
The culinary experience is part of the education they want to impart to their children; another cultural difference they have observed is the way people take time for each other. 
On one trip, they were in Puglia, a small town in the heel of Italy's southern boot, and Tracy asked a man he met at an ice cream shop about a good place to get his hair cut. "The guy comes with me, lets us follow him in his car, and takes us to someone with a shop in his house. We'd never have found it ourselves," he marveled. "I just wonder if someone in Houston (as friendly as it is) would do that? I don't think so… It's an educational experience, and I want our kids to know about that." 
Want more buzz like this? Sign up for our Morning Buzz emails.
To leave a comment, please log in or create an account with The Buzz Magazines, Disqus, Facebook, or Twitter. Or you may post as a guest.