Masaru Fukuda: Showcasing Japanese-Peruvian Flavors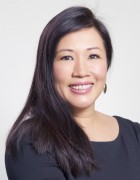 Click the Buzz Me button to receive email notifications when this writer publishes a new article or a new article in this column is published.
When Masaru Fukuda launched his restaurant, he knew the food and tradition he wanted to feature. When Pacha Nikkei (1001 Westheimer) opened last summer, the Peruvian-Japanese restaurant was unique in this diverse city with A-to-Z options. One can find diners sampling grilled octopus with olive sauce, chorizo powder, truffle oil, and beets chicharron crisp. In another corner, sushi chefs prepare hamachi tiradito, maki sushi rolls with Peruvian aji amarillo pepper and chirashi, brimming with kampachi, salmon, tuna, ikura, and choclo (giant Peruvian corn) behind the limited-seating ceviche bar.
"Nikkei means Peruvian-Japanese, and I wanted to share my culture – the Nikkei culture – because we don't have that in Houston," says the 41-year-old, who grew up in a fourth-generation Japanese household in the capital city of Lima, Peru. 
Many Japanese restaurants and a handful of Peruvian eateries can be found in this foodie metropolis, but none spotlight Nikkei cuisine, which has become a culinary force in Peru and beyond. Through the decades, elements of Nikkei cuisine have crept onto countless menus, notably that of Nobu (5115 Westheimer), whose founder, Nobuyuki Matsuhisa, left Japan for Peru in his 20s to explore the flavors of South America. However, the legendary chef refers to his "unique fusion of traditional Japanese cuisine with Peruvian ingredients" as "Nobu Style," whereas Pacha Nikkei does a deep dive into Nikkei cuisine. 
For Masaru, the casual 4,000-square-foot Pacha Nikkei is a stage where he can tell an origin story about culinary creativity. His presentation has garnered praise from critics, who described the former graphic artist's dishes as "edible works of art," from a menu that ranges from "exciting Pisco-based cocktails to first-rate South American desserts."
Below, the MAD and Kata Robata alum talks about the history of Nikkei cuisine and shares a classic recipe for ceviche, considered by many as the national dish of Peru. Traveling through this cradle of ancient civilization, you would never know that the seafood starter wasn't invented in the land of the Incas. Some food historians believe it originated somewhere along the northern Pacific coast of Peru more than 2,000 years ago.  
So, can we talk about ceviche, then go into some fundamentals of Nikkei cuisine? 
Everybody along the coast of Latin America has a ceviche. Ecuador and Mexico have ceviches. And Peru, of course. The difference is how they make it. Some may add ketchup to their ceviche, like in Mexico and Panama.  
What about Peru? Will you find ketchup in a Peruvian ceviche?
No – never. 
So how did ceviche begin? 
I'm not sure of the exact date, but long ago, people would preserve the fish in salt. They basically would dry it. When the Spanish arrived in Peru in the 1500s, they introduced onion and lime. They added both to the leche de tigre, or tiger's milk, a briny marinade made of fish puree, fish stock, chili peppers, and vegetables. They used the leche de tigre to marinate the ceviche for hours, sometimes even days. Can you imagine? Nowadays, we don't do that. We serve it right away. 
What changed?  
The Nikkei, or people of Japanese ancestry living outside of Japan. Thousands of Japanese emigrated to Peru to work on the railroads and mines in the late 19th century. My great-grandpa came to Peru with the second migration. I have a picture of him from the 1920s on one of the murals in my restaurant. Like everyone, he was looking for better opportunities. 
So, the Japanese immigrants taught Peruvians to drizzle lime juice on top of raw fish right before serving and to appreciate raw seafood? That makes sense, given the Japanese affinity for sushi and sashimi. Aside from ceviche, what is another Nikkei dish? 
Have you heard of tiradito? It is thin slices of fish with some kind of citrus sauce. It was also one of the very first Nikkei dishes. So, when the Japanese started making sashimi, the Peruvians noticed that the Japanese would put soy on their sashimi. The Japanese saw that the Peruvians would put lime juice on the ceviche. So, the Japanese started putting both lime and soy on the sashimi. That is how the first tiradito started.
Sometimes people refer to Nikkei cuisine as fusion. Your thoughts? 
Nikkei cuisine is a culture, one that is more than 100 years old. I'm Japanese, and I'm Peruvian. I speak fluent Spanish. This is the food that I grew up eating, so it is a branch of Peruvian cuisine.  
Making ceviche at home is easy, so don't be intimidated. Here are some Nikkei recipes from chef Masaru. 
Easy Fish Stock: 
4 cups water 
2 pounds of bones and heads of lean, white-flesh fish – such as halibut, snapper, bass, or flounder – with gills removed (avoid salmon, mackerel, trout, or other oily fish because of their strong flavor)
1 cup diced yellow onion 
1 medium leek, diced
1 celery stalk, diced
1 garlic clove, minced
For leche de tigre:
1 cup chopped yellow onion 
1 tablespoon chopped garlic 
1 1/4 tablespoons chopped celery 
1 teaspoon chopped ginger 
1 1/2 cups freshly squeezed lime juice 
1/4 cup chopped fresh fish 
1 1/2 cups fish stock 
2 tablespoons salt 
1/4 teaspoon white pepper 
For ceviche:
1 1/2 cups fresh fish cut into cubes (any mild fish you would like to use is fine – red snapper, flounder, mahi-mahi, etc.) 
Pinch of salt 
Pinch of white or black pepper 
Pinch of finely chopped cilantro 
Juice of 1/2 lime  
1/2 cup leche de tigre 
For garnish:
1 tablespoon finely chopped aji limo (or any spicy chili pepper) 
1 tablespoon choclo (Peruvian corn) 
1 tablespoon sweet potato, boiled, cubed, and served cold
1 tablespoon cancha (toasted corn nuts) 
1 tablespoon julienned red onions
To make fish stock, place fish bones and heads in a large bowl and cover with cold water, then rinse fish under cold running water, washing away any large areas of blood, such as near the spine. Set aside. 
In a large saucepan, add water, onion, leek, celery, garlic, the fish heads, and bones. The liquid should barely cover the fish heads and bones. Add more water if necessary. 
Bring liquid to a boil, then lower the heat and simmer for an hour. Using a spoon, skim off any scum on the surface. 
When ready, strain the fish stock through a fine-mesh strainer, then chill. Fish stock can be kept refrigerated, covered, for up to five days, or frozen for up to three months. This recipe makes about 3 cups.
To make leche de tigre, mix all ingredients in a blender until you get an even sauce. Pass it through a strainer and store in a covered container in the refrigerator until ready to use. 
Place the fish in a chilled bowl and add the aji limo, salt, pepper, cilantro, and red onions. Mix very well using a spoon. Squeeze half the lime and mix. Add the leche de tigre and mix. Serve in a chilled bowl or plate, and garnish with choclo, sweet potato, red onions, and cancha. It should be served right away after plating. Serves 2.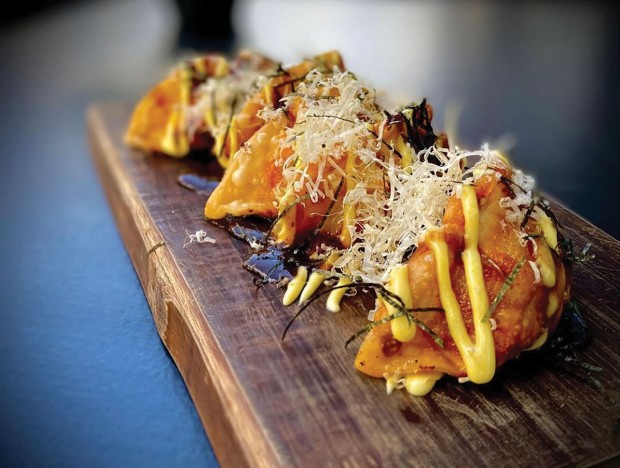 1 1/2 cups green cabbage, finely chopped 
1 teaspoon salt, divided
1 pound ground pork, minced (the fattier the better) 
1 cup green onion, finely chopped 
1 garlic clove, crushed 
1 teaspoon ginger, grated 
1 teaspoon sesame oil 
1 tablespoon cornstarch   
2 teaspoons soy sauce 
40–45 round wonton (gyoza) wrappers 
Canola oil for frying 
Combine cabbage and 1/2 teaspoon of salt in a small bowl, then wash and set aside for 20 minutes to allow the cabbage to wilt slightly. Place the remaining filling ingredients in a separate bowl. Squeeze out any excess water from the cabbage and add to the bowl. Use your hands to mix the filling. 
Sprinkle a teaspoon of cornstarch on a baking tray. Place one gyoza wrapper in your palm. Dip your finger in water and run it around the edge of half the gyoza wrapper to seal. Place one tablespoon of the filling on the wrapper. Fold the wrapper over. Using your right hand, create four pleats, assisted by your left hand and thumb. Press to seal and place on the tray. Repeat with the remaining wrappers until you use up all the filling. 
Heat the oil in a large wok or Dutch oven to 350°F (175°C) as registered on an instant-read thermometer. Add six or so dumplings and cook, agitating occasionally with a wire mesh spider, until golden brown and crisp, about three to four minutes. Drain on paper towels and repeat. Serve the fried gyoza with Japanese mayonnaise and tonkatsu sauce. At Pacha Nikkei, the dish is garnished with nori and bonito flakes. Makes 4 to 6 servings. 
Editor's note: Buzz dining columnist Dai Huynh is a James Beard food-journalism award winner and longtime Houston-based restaurant writer.
Want more buzz like this? Sign up for our Morning Buzz emails.
To leave a comment, please log in or create an account with The Buzz Magazines, Disqus, Facebook, Twitter or Google+. Or you may post as a guest.