Celebrating Grandma and Grandpa: National Grandparents' Day
Click the Buzz Me button to receive email notifications when this writer publishes a new article or a new article in this column is published.
Hooray for Grandmas, Grandpas, Memaws, Pa-Pas, Omas, Opas, Nanas, Bubbes, Abuelitas, Yia Yias, Gam-Gams, Granddaddies, and all grandparents, regardless of what they're called. 
National Grandparents' Day celebrates and honors grandparents and senior adults that are like grandparents. An official Grandparents' Day proclamation signed by President Jimmy Carter in 1978 states the day's purpose: "to honor grandparents, to give grandparents an opportunity to show love for their children's children, and to help children become aware of the strength, information, and guidance older people can offer." 
National Grandparents' Day is celebrated the first Sunday after Labor Day, which this year is September 10, 2023. The following Buzz families share their love, joy, and examples of why being a grandparent is never dull!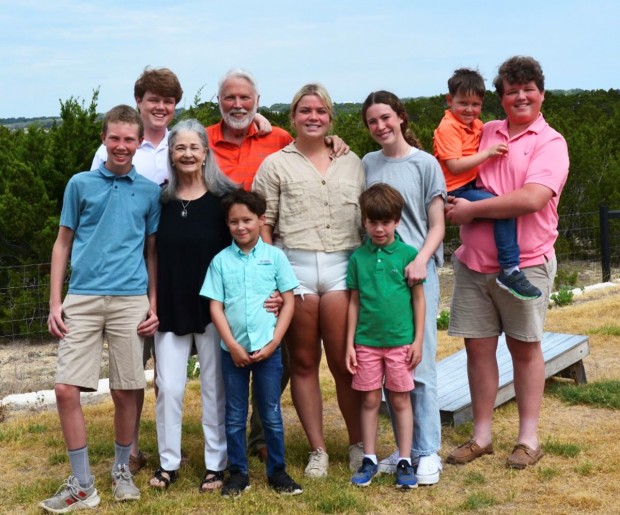 Ed and Tata (tap-tap without the p's) Young started dating in high school. Ed played on the St. Thomas High School 1963 state champion basketball team and Tata was in the first high school graduating class of Duchesne Academy in 1964. Over five decades later, their family of four children and their spouses, Jennifer Beck (Chuck), Debbie Shirley (Kent), Eddy Young (Tammy), and Helen Sparks (Tom) includes eight grandchildren ranging from ages 5 1/2 to 21: Caroline Beck; Dylan and Ryan Shirley; Ari, Boone, and Knox Young; and Thomas and Liam Sparks. 
The couple goes by Grandpa and Tata (her childhood nickname works as a grandma name too). The proud grandma lovingly remarked, "Being a grandparent is the piece de resistance, the icing on the cake. They are amazing little human beings and bring so much joy. Our own kids made us happy too, but we had to work so hard! With grandchildren, it's a lot easier!" 
Their three daughters live near the Youngs' Memorial home, so Grandpa and Tata enjoy attending the local grandkids' events, which included joining Thomas and Liam at this year's Grandparents' Celebration at St. Cecilia Catholic School.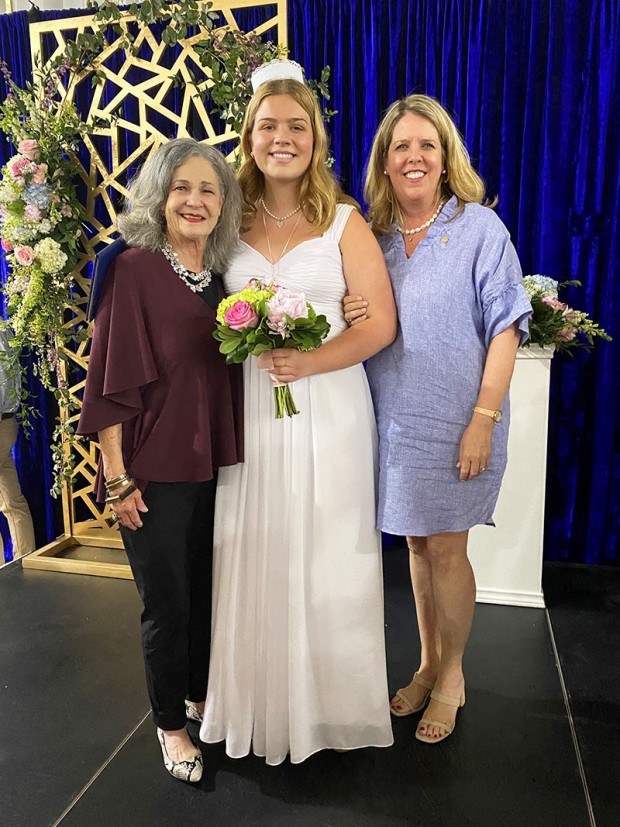 Three of the grandchildren are in Austin, so Ed and Tata visit for birthdays, Ari's equestrian jumping, and Boone and Knox's baseball games. When the kids come to Houston, highlights include Astros games and cousin bonding adventures. 
A special nostalgic treat was Houston grandchildren Dylan, Ryan, and Caroline graduating from Ed and Tata's high school alma maters, St. Thomas and Duchesne.
Grandpa Young reflected, "It is a joy to watch the grandkids work through challenges and figure it out on their own. We are proud of them and very blessed."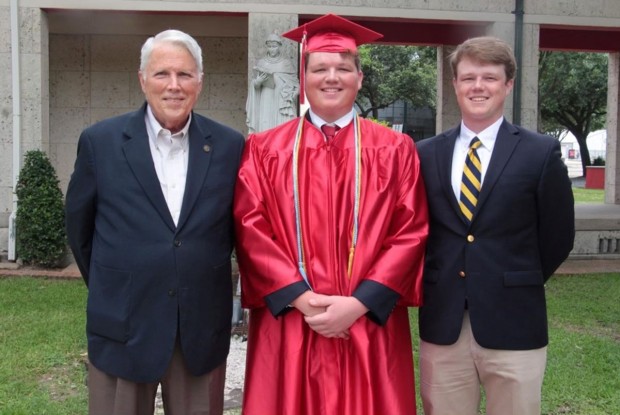 The Youngs' oldest grandson, Dylan, who is in college said, "I'm very lucky to have such great role models in my life. My grandparents have both taught me, along with my parents, the importance of God and family to have a happy and healthy life. If my life turns out anything like theirs, I would be more than happy."
Dick and Laura Elwood love being Popi and Gaga (Gah-Gah, a name which was inspired by first words from their oldest grandchild, Eleanor!) to their six grandchildren: Eleanor, Henry, and Grant (daughter Josie Brown and husband, Taylor's kids) and Luke, Jesse, and Grace (son Richard Elwood and wife, Katie's children). The kids range from 10-17 years old. 
Josie's family lives nearby in Bellaire and Richard's crew lives outside of Denver. Weekly FaceTime and phone calls help Popi and Gaga stay connected to the out-of-town grandkids.
"Being a grandparent is the best job I've ever had," Laura smiled. "So many great things. Favorites include sprinkles on pancakes, making bunny cakes, playing games, and watching movies."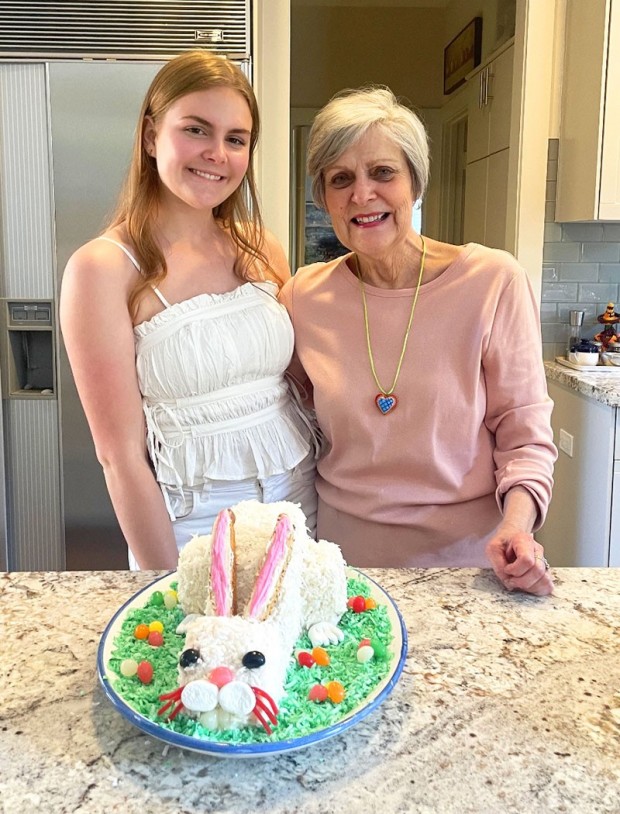 Grandkids Eleanor and Henry shared that one of their favorite things to do with Popi and Gaga are Sunday dinners.
Popi said, "We try to get together with all three families every summer for about a week. We usually do some outdoor activities like biking, paddle boarding, rock climbing, and miniature golf but we mainly have fun just hanging out together. The last few years we met in Salida, Colorado for the 4th of July where a highlight is watching fireworks over the mountains."  
Grandparents' Day celebrations at the Brown kids' schools, including Annunciation Orthodox School and Episcopal High School, have brought lots of smiles. 
The 2017 AOS Grandparents' Day is a special memory. Grant asked for information on his great-grandfather, Grant Elwood, for whom he is named. Popi shared, "He created a display on my dad's life and his service in WWII as a combat medic in Northern Africa, Sicily, and the liberation of Italy. Grant was proud to be the great-grandson of such a brave soldier." 
"When our children were growing up, we were the rule enforcers," Laura laughed. "Who else was going to teach them right from wrong?! But when it comes to our grandchildren, we are the rule relaxers. At Gaga and Popi's, the main rule is to have fun. They keep us young!"
Last year, Rick and Jane Dudek began their new chapter as Gram and Grandpa when their daughter, Jean, and her husband, Matt Best, welcomed Jayna into the world. Another person who got a new title that day was Jean's twin brother, Max Dudek, who is now Fun Uncle Max!
 
"This last year has been amazing," Jane beamed. "Jayna brings so much happiness, reminding us of when Jean and Max were little – but now we get to experience only the fun parts, not the parenting trials." 
The Best family lives in the area so Rick and Jane get their "Jayna joy" often. New mom Jean noted, "Being a parent is both challenging and rewarding. I'm so grateful that my parents are close by for impromptu services and enjoy seeing them playfully enrich her day."
Proud Grandpa Rick smiled, "I am surprised at how engaging and mesmerizing this little girl can be!"
Jane added, "Jayna is a curious, inquisitive child always ready to do more, and spending time with her is a unique adventure. To watch her grow and change and develop into a little big person has been remarkable. Can't wait for more!" 
Jayna is also a favorite special guest at the family's adult Sunday School class at West University Methodist Church, bringing joy to lots of adopted grandparents.
The milestone of Jayna's first trip around the sun last month included a party with many friends and family. Jayna had a smash birthday cake made and decorated by her mom. It was her first cake and she knew exactly what to do! 
Grandparents are an awesome blessing to their children and grandchildren, a great source of fun quality time together, and a privilege to celebrate on Grandparents' Day and the other 364 days of the year. 
People in this article:
Ed Young
,
Tata Young
,
Jennifer Beck
,
Chuck Beck
,
Debbie Shirley
,
Kent Shirley
,
Eddy Young
,
Tammy Young
,
Helen Sparks
,
Tom Sparks
,
Caroline Beck
,
Dylan Shirley
,
Ryan Shirley
,
Ari Young
,
Boone Young
,
Knox Young
,
Thomas Sparks
,
Liam Sparks
,
Dick Elwood
,
Laura Elwood
,
Eleanor Brown
,
Henry Brown
,
Grant Brown
,
Josie Brown
,
Taylor Brown
,
Luke Elwood
,
Jesse Elwood
,
Grace Elwood
,
Richard Elwood
,
Katie Elwood
,
Rick Dudek
,
Jane Dudek
,
Jean Best
,
Matt Best
,
Jayna Best
,
Max Dudek
Want more buzz like this? Sign up for our Morning Buzz emails.
To leave a comment, please log in or create an account with The Buzz Magazines, Disqus, Facebook, or Twitter. Or you may post as a guest.