Compelling Nonfiction Reads
Click the Buzz Me button to receive email notifications when this writer publishes a new article or a new article in this column is published.
I enjoy taking a break from fiction and picking up some narrative nonfiction so today I am highlighting some of the more memorable nonfiction titles I have read. Here, I include books about Pan Am stewardesses, the iconic Barbizon hotel, Lady Bird Johnson, gene editing, and fossil hunting on a quest for the origins of humankind.
The Barbizon: The Hotel That Set Women Free by Paulina Bren – After World War I, women flocked to New York City to follow their dreams and sought safe, female-only places to live. While residential hotels for men existed, no such thing was available for women at the time. The Barbizon Hotel for Women was built to fill this void, housing such well-knowns as Grace Kelly, Liza Minnelli, Ali McGraw, Sylvia Plath, Joan Didion, Phylicia Rashad and many more, and was so successful that it remains the most famous of the women-only residences erected in the first half of the 20th century. In The Barbizon, Paulina Bren captures not only the story of the legendary hotel but also important moments in women's history from that time period.
The Code Breaker: Jennifer Doudna, Gene Editing, and the Future of the Human Race by Walter Isaacson – 2020 Nobel Prize winner Jennifer Doudna's contributions to the world will not be fully known for years and possibly decades, but her development with collaborator Emmanuelle Charpentier of CRISPR, an easy-to-use gene-editing technology, is revolutionizing modern science and medicine. Following this life-changing creation dubbed "the most important biological advance since … the discovery of the structure of DNA", Doudna, a biochemist and genescientist, has worked to tackle the moral issues associated with the invention, balancing the ability to better fight off new viruses such as the coronavirus and help prevent depression with allowing parents to choose a child's gender, intelligence, or eye color. In this exhaustively researched book, Isaacson chronicles the advent of an amazing new technology and what it will mean for science and the world at large.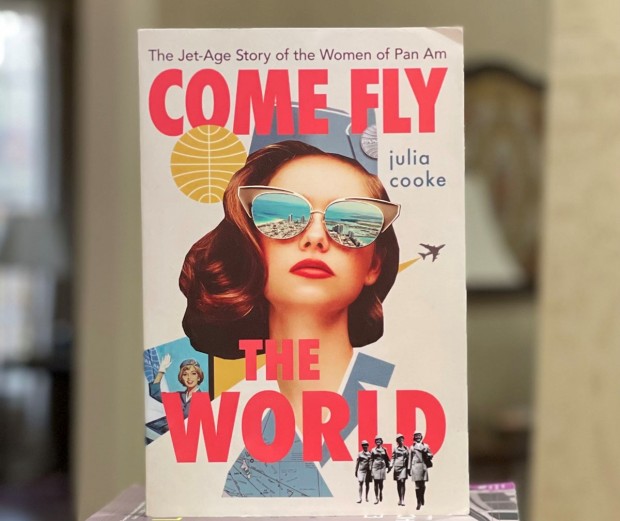 Come Fly the World: The Jet-Age Story of the Women of Pan Am by Julia Cooke – Julia Cooke chronicles the women who worked as stewardesses (she uses this term since that was in use then) for Pan Am Airlines and their contributions to the Vietnam War effort and women's rights. Come Fly the World will reframe the way people view stewardesses from this era of transcontinental flight and show instead how progressive and forward-thinking many of these women were and how they paved the world for future generations of women to easily negotiate traveling around the world. Cooke interviewed scores of women who served as stewardesses for Pan Am and chose to tell several of their stories in-depth. She relays their stories while also weaving in historical details such as the way in which the role of flight attendant changed over the years and the women's help in staffing American soldiers' R & R trips between Saigon and Hong Kong. It is a truly awe-inspiring and captivating read.
Fossil Men: The Quest for the Oldest Skeleton and the Origins of Humankind by Kermit Pattison – A group led by the renowned fossil-hunter Tim White discovered a skeleton in the Afar region of Ethiopia in the mid-1990's that significantly altered scientists' understanding of human origins, but simultaneously triggered a seismic rift in the scientific community over the true origins of humanity. Based on the radiometric dating of nearby rocks, the group determined that the bones were 4.4 million years old, making Ardi (as they nicknamed the bones) a full million years older than "Lucy", the previous oldest-known skeleton. In riveting detail, Pattison brings to life the discovery and the resulting drama in the scientific community and demonstrates the importance of science in helping human's understand their origins.
Lady Bird Johnson: Hiding in Plain Sight by Julia Sweig – Lady Bird Johnson: Hiding in Plain Sight seeks to correct the misconception that Claudia Alta "Lady Bird" Johnson's role as First Lady was uneventful by documenting her many contributions while in office. From the incredible strategy memo she created for Lyndon Johnson when he was debating whether to run for president in his own right to managing the White House during one of the country's most tumultuous decades, Lady Bird served as one of her husband's most respected and valued political consultants. She was also the first First Lady to treat the East Wing as a professional office, creating her own initiatives including pursuing comprehensive environmental protections and encouraging women to pursue their own careers. In Lady Bird Johnson: Hiding in Plain Sight, Julia Sweig provides a new understanding of Lady Bird's legacy including her important progress on environmental, racial, and women's issues. 
Talking to GOATs: The Moments You Remember and the Stories You Never Heard by Jim Gray – Award-winning sportscaster and interviewer Jim Gray reflects back on his career and specifically on his interviews and relationships with a number of the legends he has encountered during his tenure. He includes the famous moments that made history, but he also writes about lesser-known events such as how his infamous interview with Kobe Bryant concerning Shaq and the Lakers came about, his years-long pursuit to tell the story of George W. Bush's decision to throw the first pitch at the Yankees World Series opener following September 11, 2011, and his chance encounter with Lucille Ball. Gray's frank and informal style lends itself well to his recounting of the standout moments in his career which are often also the monumental moments in his subject's careers as well. Talking to GOATs is a quick and entertaining read and a fascinating glimpse into the lives of the icons we all know and mostly revere.
For more book recommendations and bookish thoughts, see Cindy's monthly Buzz Reads column, her Thoughts from a Page Podcast or follow @ThoughtsFromaPage on Instagram. Find upcoming Conversations from a Page events here.
Want more buzz like this? Sign up for our Morning Buzz emails.
To leave a comment, please log in or create an account with The Buzz Magazines, Disqus, Facebook, or Twitter. Or you may post as a guest.