Thanksgiving Specials
Traditions on the table
Click the Buzz Me button to receive email notifications when this writer publishes a new article or a new article in this column is published.
Thanksgiving specialties – those once-a-year sides, desserts, turkeys, and more – are not just recipes rarely referenced. They are memories, traditions we've adopted that have become our personal symbols of the season. How many of us remember that one time when someone tried substituting the cornbread dressing with a fancy sourdough and sausage stuffing?
Here, a few Buzz families share their most traditional and most beloved Thanksgiving favorites, along with recipes and the reasons why they are so adored. 
The Garde and Little Families
Sarah Little is a young mom to six-month-old Clyde, who, someday soon, is sure to love his grandmother Jill Garde's homemade Thanksgiving rolls. 
"Thanksgiving has always been my mom cooking at [her] house," Sarah says. "My mom is like a drill sergeant ordering everyone around." In fact, her mom, a full-time product manager at a chemical company, has a Thanksgiving spreadsheet: "I can tell you exactly when the turkey goes in, when the potatoes need peeling, and at the end of the spreadsheet is dinner," Jill says.
Other than the turkey, which Jill begins brining three days earlier, everything is made on Thanksgiving. Jill, Sarah, and sister Lauren Garde cook while Tim Garde peels potatoes. "That's his contribution," Sarah says of her dad. "But we always get mad at him because he thinks it's his job to fix the car or fix the fence or do something around the house on Thanksgiving. We're like, 'No, your only job is peeling potatoes!'"
On the menu: turkey and gravy, mashed potatoes, several casseroles, and stuffing. "It's 'stuffing,' not 'dressing,' because my parents are from the north, and that's what it is there, stuffed inside the bird." Then there are those homemade rolls. 
"I'm always messing around with recipes, and these rolls are no different," Jill says. "People are afraid of dough. But this recipe I tweaked especially for The Buzz. It's the easiest way I know to make rolls that are soft and delicious."
Two keys to success: timing and the temperature of the wet ingredients (to activate, but not kill, the yeast).
Sarah and Lauren arrive at their parents' house around 8 a.m. and start prepping for the 2 p.m. lunch. "The special thing about Thanksgiving is not really the eating, it's the fun of having my family there, making things together," Jill says.
With the addition of Baby Clyde, this Thanksgiving might look a little different. "I'm sure my mom will just want me to hand the baby over so she can play with him and still order me around the kitchen."
Jill Garde's Thanksgiving Rolls
1 cup beer (you can use milk, but Jill says beer imparts extra flavor)
¼ cup honey
1 stick butter, cut into 5 to 6 pieces
1 egg
1 egg yolk (save the white for brushing the tops of the rolls) 
2 2/3 cups flour
½ cup whole wheat flour
1 tablespoon instant yeast (or 2 envelopes)
1 teaspoon salt
Mix the dough 2 hours before your turkey will come out of the oven.
In a 2-cup, microwave-safe measuring cup, combine the beer, honey, and butter. Heat in the microwave for 30 seconds at a time, stirring each time. After 3 to 4 cycles, the liquid should reach the temperature of 130 to 140 degrees. Use an instant thermometer to be sure not to overheat. Set aside and allow the mixture to cool to 120 to 130 degrees.
In a small bowl, whisk together the egg and egg yolk. Set aside.
In a stand mixture, combine the flour, whole wheat flour, yeast, and salt. On low speed using the dough hook, mix the dry ingredients. Check the temperature of the beer-honey-butter mixture, ensuring it is between 120 and 130 degrees. With the motor running, add the warm beer-honey-butter mixture. Add the whisked eggs. Scrape down the sides and bottom of the bowl, and knead by hand or using the dough hook for 10 minutes. Form a ball of dough, place back in the bowl, and cover with a damp kitchen towel and place in a warm location to rise for 1 hour.
Butter an 8 inch-by-8-inch baking dish. Generously sprinkle the countertop with flour. Remove the dough from the bowl and knead it gently 4 to 5 times, using floured hands. Portion the dough into either 9 or 16 pieces, depending on the size and quantity of rolls you wish to make. (Jill weighs each roll: for 9, each weighs 100 grams; for 16, each weighs 55 grams.) Place the rolls in the prepared baking dish. Cover with a damp kitchen towel and allow to rise for 20 to 30 minutes more.
Preheat the oven to 350 degrees. Whisk the reserved egg white with 1 teaspoon water. Brush the tops of the rolls lightly with the egg wash. When the turkey comes out of the oven, the rolls go in. Bake for 25 to 30 minutes while your turkey rests. Remove from the oven and allow the rolls to cool in the pan until you are ready to serve. Use a fork to separate the rolls. These are best served warm.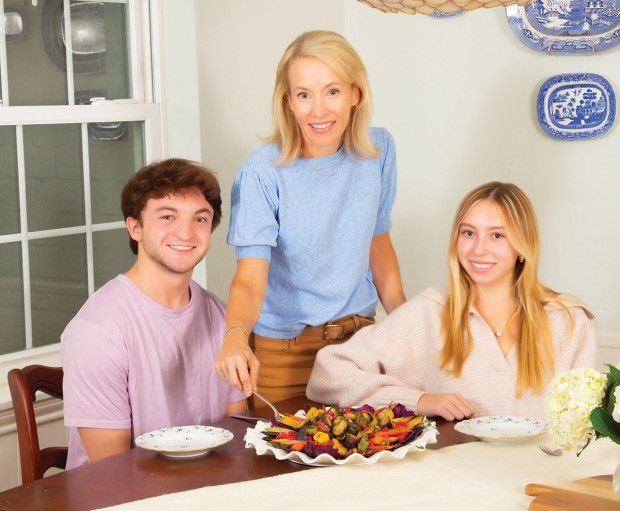 The Martin Family
Former attorney-turned-charcuterie creator Allison Martin comes from a large Greek family. "It's a lot," she says. "We have at least 25 to 30 people at every gathering. It's very loud."
Thanksgiving home base rotates for her big family. "It's often at my parents' [Anne and Dan Pappas], or we'll be here at our house, or I have three sisters and we'll go to one of their houses. The cousins range from 2 to 20 – there are 12 of them – and it's really fun to all be together."
Allison's Thanksgiving favorite is a Roasted Vegetable Salad with Cider Vinaigrette, adapted years ago from a Southern Living recipe. "My daughter has a dairy allergy," Allison explains. "Everything at Thanksgiving is pretty heavy and creamy or casserole-based, so I was looking for something for her. This was my way of making sure she has something to eat."
Generally, Allison's family table includes an oven-roasted turkey, traditional stuffing, and sweet potatoes. "We'll have half with marshmallows, half without, because that's a thing." They'll also have Allison's mom's homemade rolls. "They are amazing, and I have not taken on that task," she says. "It's a labor of love, and I want my mom to do it forever."
An option from all the heaviness of the casseroles, Allison's roasted veggies also provide a colorful counter to the usuals. "Food should always be aesthetically pleasing to the eye," Allison says. "So I like to use rainbow carrots, anything with color. I feel like Thanksgiving is kind of a beige meal, and this puts some pretty colors in there."
One big bonus: "You can eat this and still have room for pie at the end of the meal," Allison says.
Allison Martin's Roasted Vegetable Salad with Cider Vinaigrette
adapted from Southern Living
1 pound parsnips, peeled and cut lengthwise 
1 pound carrots, peeled and cut lengthwise (Allison uses a mix of regular carrots and rainbow carrots)
5 to 8 mini peppers, split lengthwise, seeds removed
1 pound butternut squash, peeled and cubed (can use frozen/thawed) or 2 sweet potatoes, cubed in 2-inch pieces
1 cup frozen pearl onions, thawed
1 pound small brussels sprouts, trimmed and halved
2 to 3 small purple or new potatoes, quartered
3 fresh thyme sprigs
5 tablespoons olive or avocado oil
Kosher salt and freshly ground black pepper
1 head radicchio, separated into leaves
4 tablespoons fresh pomegranate seeds
Apple Cider Vinaigrette (recipe follows)
Preheat the oven to 425 degrees. Divide the vegetables between two parchment paper-lined sheet pans. Drizzle with the olive or avocado oil, salt, and pepper and toss to coat. Spread the vegetables in a single layer, don't overcrowd. Roast the vegetables for 20 minutes, stir, and roast for another 20 to 25 minutes. Cool completely and store the vegetables in the refrigerator at least 2 hours and up to 2 days.
To serve, allow the vegetables to come to room temperature or heat in a 200-degree oven for 20 minutes. Pour ¼ cup of the vinaigrette over and toss to coat. Arrange the radicchio leaves on a serving platter, then spoon the vegetables on top of the leaves. Season with salt and pepper and serve the remaining vinaigrette on the side.
Apple Cider Vinaigrette
¾ cup extra virgin olive oil
¼ cup fresh orange juice
¼ cup apple cider vinegar
2 tablespoons finely chopped shallot
1 tablespoon Dijon mustard
1 tablespoon honey
1 ½ teaspoons kosher salt
1 teaspoon fresh thyme leaves
½ teaspoon freshly ground pepper
Put all the ingredients in a mason jar or shaker and shake to combine. After refrigerated, let it stand 10 minutes at room temperature before using.
The Pyne Family
A quintessential entertainer, cook, and gardener, Tina Pyne has a lot of favorite recipes. But for Thanksgiving, her Spinach Pie is tops.
"I've doctored this recipe by adding a few things like pine nuts and feta, which give it another dimension," Tina says of her Spinach Pie recipe, which originated with Ina Garten and Barefoot Contessa. "Instead of using phyllo dough, it's puff pastry, because phyllo and the Barefoot Contessa's is layers and layers and layers. This tastes as good but is easier to bake."
Which is part of the reason Tina chose this particular recipe to share. "Sometimes when people look at a recipe, they go Oooooh this is too difficult. But this is just so freakin' simple. I've made it so many times I could make it in my sleep."
Tina likes to take the pie to dinner parties as a hostess gift. "It's not something you get all the time," she says. "Everybody wants it, and it's more of a novelty than a bottle of wine. And it's not your dreaded cheese tray!"
One of eight children growing up in New Iberia, LA, Tina says her house was where all the kids gathered. "My mother cooked and fed everybody," she says. "During Covid when we were spending time in Maine, I'd cook for the neighbors and bring it over and say, 'You haven't met me, but I'm bored s---less.' When my daughter [Cameron] went to law school in New Orleans, she didn't know anybody. I said, 'Look, you cook, invite someone over, and tell them to bring friends.' Food is an act of love. If you wanna meet people, feed 'em."
1 tablespoon olive oil
1 yellow onion, chopped
1 clove garlic, minced
2 teaspoons kosher salt
1 ½ teaspoons freshly ground black pepper
1 pound frozen chopped spinach, thawed
1 cup cottage cheese
¼ cup grated parmesan
½ cup feta, crumbled
¼ cup pine nuts
1/8 teaspoon nutmeg
3 large eggs, divided
1 sheet puff pastry, thawed
Preheat the oven to 375 degrees.
In a medium sauté pan over medium heat, sauté the onions and garlic with the olive oil until translucent and slightly browned, 10 to 15 minutes. Add the salt and pepper and allow to cool slightly.
Squeeze out and discard as much of the liquid from the spinach as possible. Put the spinach into a bowl and then gently mix in the onions and garlic, cottage cheese, parmesan, feta, pine nuts, nutmeg, and 2 of the eggs. Lightly dust a work surface with flour, and roll the thawed puff pastry out until it's just slightly larger, 10 x 10. Drape the rolled pastry dough over a pie plate. Pour the spinach mixture into the middle of the pastry dough, and neatly fold the corners up and over the top. The pastry will not fully cover the top. Lightly whisk the remaining egg and brush it over the dough. Bake for 45 minutes or until the top has puffed and turned golden. Serve at room temperature.
Want more buzz like this? Sign up for our Morning Buzz emails.
To leave a comment, please log in or create an account with The Buzz Magazines, Disqus, Facebook, or Twitter. Or you may post as a guest.