Pickin' and Grinnin' on Cedar Street
A new year's resolution
Click the Buzz Me button to receive email notifications when this writer publishes a new article or a new article in this column is published.
If there is one holiday I hate, it's New Year's Eve. The very idea of watching Dick Clark on television and getting excited about the slow ticking of a clock, well – that's a party not even champagne can save.
Maybe the real source of my annual crankiness has been that whole New Year's Resolution thing. Out of my 43 years here on Planet Earth, I've made resolutions at least 25 times. Crossed my heart and pledged to make myself a better person in one very specific way or another. And I have failed to uphold it every time.
Except once.
Somehow, somewhere along the line I actually made one resolution stick. I almost don't believe it, even now. But it happened. And here's how.
Most years, my list of resolutions included getting into shape, learning a foreign language and learning to play the guitar. Sort of a sad little starter kit for becoming a Renaissance Man.
The following year I might have jogged a half-dozen miles, maybe even attended a few Spanish classes. But by the time January 1st rolled around again, I'd gained more weight, remained undeniably uni-lingual and was limited to plinking out the same feeble chords on my guitar.
It was humiliating, but not even the grandeur and hype of the millennium could save me. By 2002, I was desperate. I pared down to a single resolution, and it had the smell of fear all over it. "Learn a musical instrument. ANY INSTRUMENT."
I actually considered the accordion, a terrific thing capable of breathing fire into Zydeco and a tipsy kind of joy into Tejano tunes. But that idea never went anywhere, and my guitar gathered dust in the corner.
Then I saw a newspaper article about a Houstonian trying to keep the banjo alive. It seemed to be a sign from the heavens. Here was an instrument that no one I knew could play. Sure it gets almost as little respect as the accordion, but that's part of the attraction.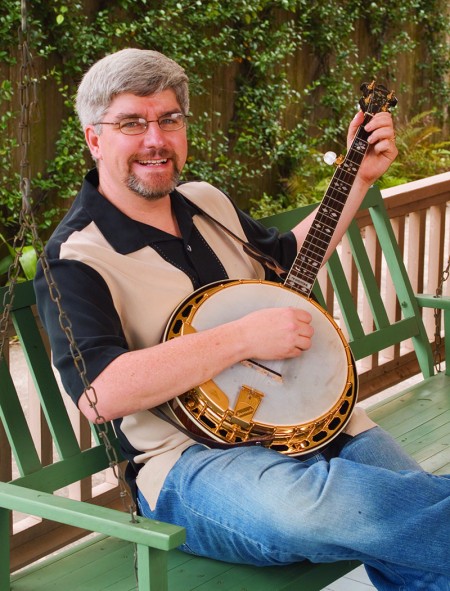 As a teenager in Nashville, my favorite nightclub in those years of Disco Hell didn't have a mirror ball hanging from the ceiling. It had an old banjo player named Hubert Davis, whose band kept a musical tradition alive in the age of double-knit polyester.
I called the guy from the newspaper article, and it turns out he teaches a jazzy style of music. But he knew someone named Tony Ullrich, a man who would be willing to teach me the Foggy Mountain Breakdown.
I called that man and signed up on the spot.
It is at this point that God decided to place one final, horrible test before me. In order to attend these lessons, I had to drive from downtown to Memorial Music, a shop near the intersection of I-10 and Beltway 8. The only time available was 6:15 p.m., meaning I would leave work during the witching hour on what is a nightmare trek at almost any time of day.
But something told me this was my last chance to lose the Busted Resolution Blues. So I went. And I learned. And it was fun. It quickly became a highlight of my week.
Without much difficulty, I became a better banjo player than guitarist. Within a year, I could play somewhat complicated versions of songs I've loved for decades. I've played on stage with a local band; somehow managing to calm my nerves long enough to play in front of a crowd kind enough to pretend that it was not a horrible experience.
The best moment - one that will be hard to beat no matter how long I play – happened during a family reunion last summer. Uncle Vernon rosined up the fiddle he bought in Europe during World War II. Cousin Patrick, who usually is very quiet at these reunions, played the daylights out of his acoustic guitar. Cousin Flynn sang with a beautiful voice, and I hadn't known he could carry a tune. My Big Brother, who has taught me so much in life, was happy to sit in the back and strum along with songs I'd call out. His son held an electric bass and tried his best to provide a reliable beat.
Music became a conversation among people who'd known each other their entire lives, but had never expressed themselves quite like this. We played and sang Will the Circle Be Unbroken, a song of hope that wonders if a family's bonds are strong enough to outlast time and mortality.
In that happy moment, we shared a song that posed a question and provided its own unspoken answer.
Now there's one more question left to ponder. Is New Year's Eve ready for a Bluegrass version of Auld Lang Syne?
Want more buzz like this? Sign up for our Morning Buzz emails.
To leave a comment, please log in or create an account with The Buzz Magazines, Disqus, Facebook, Twitter or Google+. Or you may post as a guest.