The DeAyala Bowl
3 brothers, 3 cousins, 1 championship
Click the Buzz Me button to receive email notifications when this writer publishes a new article or a new article in this column is published.
Winning a football championship is a rewarding experience for any child. Winning a football championship as a family is priceless. Just ask the DeAyala family of Memorial; they'll be talking about their memories of winning The Tully Bowl Championship for a lifetime.
As coaches for the Spring Branch Memorial Sports Association's JV Mustang's, the DeAyala brothers—Kiki, Mano, and Carlos—along with their sons Christian, 10, Marcus, 10, and Chris, 11, helped their team take The Tully Bowl Championship last fall.
Whoever said that practice makes perfect knew what they were talking about. All season they focused on beating the undefeated Chargers, practicing three times a week and watching game films. The DeAyala's dedication definitely paid off—the Mustang's ended their season 10-0!
For these fourth and fifth-graders, The Tully High School football stadium was a fantasy field. As far as the boys were concerned, the entire season had been a waking dream. The reality was that these Mustangs knew they had plenty of talent and were a team to be reckoned with.
Everyone in the DeAyala family pitched in to help the team along with the other supportive parents. Constructing giant football yard markers for each player out of Hurricane Rita plywood, wrapping houses, and pitching in for boastful team shirts for school days kept the team pumped for success.
But camaraderie and team spirit is nothing knew for the DeAyala family, having built up a closeness throughout the years and having a family name that was often connected with football in the Memorial area.
All of the DeAyala brothers played football at Memorial schools when they settled in Houston 30 years ago. After graduation from Memorial High School, Carlos went on to play as a defensive linebacker at the University of Texas at El Paso on a football scholarship. Kiki played for the University of Texas at Austin as a defensive end, winning recognition as an All American player. Choosing a pro football career allowed Kiki to play football over the next four years with the Houston Gamblers and then for the Cincinnati Bengals.
Drawing upon their father's football histories, the natural progression was for Christian, Marcus and Chris to take up youth football, and have the DeAyala brothers lend their support as JV coaches.  This was easier said than done, however, as the family lived in different cities. Eventually the stars aligned, bringing everyone to live in Memorial and attending the same schools. Watching it all come together, the family decided to take a unified approach to football.
Their results were incredible according to Mano, who lives in Whispering Oaks with his wife, Melissa, and sons, Marcus, Mitchell, and Matthew.
"We weren't expected to win the Tully Bowl," Mano, who only had three years of football coaching experience, explained. "We loved being part of this team. To have parents come together and become a family was really special. It was a Cinderella season."
Marcus, a fourth-grader at Frostwood Elementary, agreed.  "It was a family effort. I couldn't have made it this far without my family. We played with a lot more heart at the Tully Bowl. I had my head in the game."
Carlos, who lives in Spring Valley with his wife, Joni and their three sons, Carlos, Paul, and Chris, was thrilled to be part of the coaching team for the Mustangs.  He credits the teams' success with their ability to push themselves past their limits.
"There was a lot of sweat and tears," Carlos, who has coached numerous sports, said.  "It was exciting on so many levels because the boys worked so hard. I was happy because of the experience I had with my brothers, my son, my nephews, and all the parents that helped. It was a bonding experience."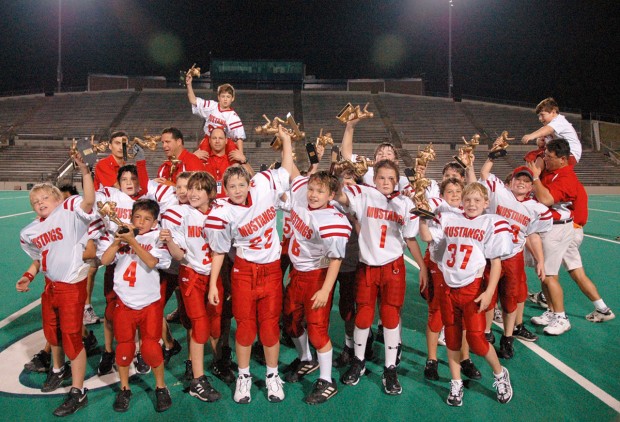 For Chris, a fifth-grader at St. Cecilia, playing youth football for the first time will be an experience he'll take onto junior high football. "We scored back and forth in the Tully Bowl first half. At halftime, we started scoring again to win. "One neat thing was we all got to wear our dad's football numbers throughout the entire season. I was #77, Christian was #31, and Marcus was #67," he said.
Kiki lives in Sandalwood with his children, Michael, 16, Natalie, 19, and Christian, also a fourth-grader at Frostwood Elementary. Having retired from professional football and having coached several times, Kiki naturally stepped up as the Mustangs head coach. He gets excited when their extended family comes together on a mission like winning a football championship.
"This was a real unique opportunity for me to coach with my brothers and cousins on the same team," Kiki said.  "We said, 'Let's do this!' We expected a lot from the kids on this team. I feel football is a sport that shows you all the lessons of life. You're going to need to push kids out of their comfort zones. Once a kid goes beyond what they expect, they see other kids can do it too. It's a real joy to see them go way beyond and come together as a team."
Christian, who has been to the playoffs before, felt this was a special time in football as well.  "It was really fun because I got to be with my family. I have a huge gold trophy in the living room, but my dad has one that's twice as big as mine. My favorite thing was looking up in the stands and seeing my grandparents cheering us. They only missed one game," he said.
Luckily, Grandpoppy and Grandmommy DeAyala, as they are affectionately called, live in the Memorial area to be close to their family.
After winning the championship, the Mustangs celebrated at Guadalajara's off I-10, whose marquee announced, "Congratulations Mustangs, Tully Bowl Champs." With talk of a team reunion after the big team party, the neighborhood can't stop talking about how much fun their boys had last year.
Memories of Chris helping Marcus walk to get his game trophy after hurting his knee and ankle are sentimental, while bigger mementos like the Waterford crystal award that a parent gave to Kiki when they won the Tully Bowl are still fresh in their minds.
"This is a memory and bond they will never forget," Kiki said. "They had their backs up to the wall and I watched them step up to a different level and band together.  They were going to score and not be stopped. All kinds of kids made big plays. It was great. All of them were really unique and had something to give."
Mano's 6-year-old son, Matthew, a kindergartner at Frostwood, was the official team kid for the Mustangs. Smiling bashfully, Matthew feels he helped the team win too. "I liked helping out my brothers and uncles because I love them."
DeAyala wives, Melissa and Joni, also felt blessed to be part of this special time in their children's lives.
"We had a really good group of parents, and everyone chipped in. People are still talking about it," Melissa said.
Joni added, "It was a great experience.  They're still sending emails about a reunion."
The DeAyala cousins won't be able to play football as a team again until they attend Memorial High School together. It should be worth the wait.
Want more buzz like this? Sign up for our Morning Buzz emails.
To leave a comment, please log in or create an account with The Buzz Magazines, Disqus, Facebook, or Twitter. Or you may post as a guest.