The Constant Gardeners
Click the Buzz Me button to receive email notifications when this writer publishes a new article or a new article in this column is published.
Fifty-five years ago, many called their vision to transform a plain prairie into an oasis of beauty, farfetched. But today, walk through Tanglewood and you'll find in the quiet elegance of its flora, a half-century lesson in perseverance cultivated by a handful of determined ladies.
Lillian Illig, Ava Lea Moody Gray, and Mary Kent Stewart still recall that day in 1951 when they and a few other young housewives launched their effort.
"I remember we were visiting. I got up to say something to the ladies and they said, 'Why don't you be the president?' and they voted on me and that is how it all started," says Lillian.
Lillian became the first president of the Tanglewood Garden Club. She fondly reminisces that when she took office her children were only as tall as the trees being planted in the neighborhood.
Longtime friend and charter member, Ava, confirms.
"When I first moved out here, I remember looking from my house to the north, south, east and west and there was nothing. It was as flat as it could be," recalls Ava.
At 91, Mary isn't gardening much though she is sentimental about the beauty she helped create.
"We would have such fun exchanging plants—that is what we did originally. Even now, if I have too many plumerias in my garden, I will take some to our meeting and put them on the table and sure enough they'll be gone," says Mary.
The garden club has gifted the neighborhood and area parks with hundreds of trees over the years. Mary and Lillian were one of the first members to plant a tree on Tanglewood Boulevard—water oaks that now stretch up some 30 feet and provide a pleasant shelter for walkers.
It seems that others consider it a worthy mission—today the garden club is 430 members strong. Current president Gigi Shapiro has a 40-member board to help build a social calendar that is stacked with meetings, luncheons, teas, and trips. As in the beginning, current members consider Tanglewood's oak trees their most important work. Many of them are in decline because of drought or disease, and the club works closely with the Tanglewood Home Association in planting two trees per year.
"When the garden club first decided to put trees on the boulevard, they were 15-foot trees which cost $15 each. We pay about $1,200 for that today," says Gigi.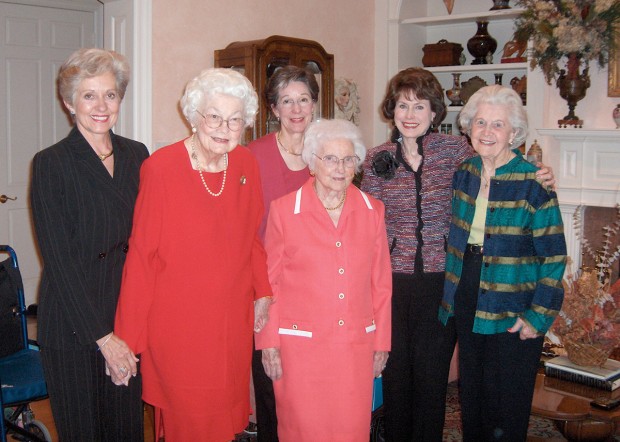 The club helps preserve what Gigi sees as a precious circle of life: friendships nurtured, enriched, and sustained in her garden.
"One of the things my mother always did was share her plants. So I have a lot of shared plants in my yard, and I think of that person every time they bloom. I have yellow and purple iris from Lillian, flowers from Georgia, and from all parts of Texas," says Gigi.
At the age of 96, Ms. Lillian is still at it. Club members admire that something is blooming in her garden every day of the year. She has a knack for growing her own tomatoes and her green thumb wisdom has been the subject of eight articles in the Texas Gardener.
But make no mistake about it. Plant-growing prowess is not mandatory. In fact, you don't have to have a horticulture clue to join the club.
"When new women move into the neighborhood, I worry that they think they have to be real gardeners to join, but to me we're the neighborhood women's club. These ladies become some of your lifelong best friends," says member Annette Duggan.
"It's one of the most nurturing groups imaginable, everybody is always there to help, to understand, to care, and to bring flowers," says Gigi.
A younger generation of ladies has taken over setting the social agenda while carefully honoring the tradition.
Kim Martin, mother of three small children, is committed to being an active member out of respect for the legacy left behind, and to keep moving forward.
"It really makes our neighborhood seem like a neighborhood. It's easy to take it for granted. People need to know these are the ladies who are committed to keeping Tanglewood a beautiful place," says Kim.
Ava jokes that she hardly knew anyone at the last meeting she attended, but noticed the same enthusiasm and desire to do what had been built up.
"It's a tradition," says Ava.
A tradition cultivating relationships as sturdy and lasting as Tanglewood's beloved oaks.
Want more buzz like this? Sign up for our Morning Buzz emails.
To leave a comment, please log in or create an account with The Buzz Magazines, Disqus, Facebook, Twitter or Google+. Or you may post as a guest.