A Perfect Ten
Click the Buzz Me button to receive email notifications when this writer publishes a new article or a new article in this column is published.
When local couple Cathy and Joe Garcia-Prats brought home newborn Timmy 16 years ago, their brood of nine boys became an even 10.
The large family of boys attracted the notice of The Houston Post, which ran a story shortly after Timmy's birth. An article soon followed in The Ladies' Home Journal.Friends impressed with Cathy's parenting and coping skills prodded her to speak to groups. Daunted at first, she became encouraged by the support of friends and strangers. Today, she speaks to groups on parenting, marriage and living a balanced life.
Fans had urged Cathy to write a book, and at first she joked she'd title it My Spare Time.  Eventually, she and Joe completed Good Families Don't Just Happen and, recently, the sequel, Good Sons Don't Just Happen, coupled with a calendar filled with national speaking engagements.
The family was invited on The Oprah Winfrey Show in 1998, followed by an appearance on The Gayle King Show, where they were surprised by the gift of a new refrigerator that could hold, among other things, the five gallons of milk her family went through daily when the boys all lived at home.
At the time, friends expressed amazement at the lack of chaos in the Garcia-Prats household and marveled at how well the older children took care of the younger ones at their neighborhood pool without apparent prodding from their parents. They no doubt wondered how Cathy and Joe found time to read aloud nightly to their younger children and cheer on the older ones at swim meets and soccer games.
Think about it. When baby Timmy arrived, Cathy and Joe had to juggle helping their oldest son, Tony, 18, with college preparations, while Jamie, a toddler, demanded as much attention as would any 2-year-old. Danny was about to enter kindergarten at age 5. Big brothers Tommy, a second-grader, and Mark, in fourth grade, pitched in to give mom and dad a half-minute's break, as did Matthew, 11, Joe Pat, 13, Christopher, 14, and David, 17.  "Once they were in middle school and high school, they were responsible for their own laundry," Cathy said.
That's one clue to their functioning household: get the older children to do their own laundry. But I wanted more insight from this veteran mom of 10.
As a mom of two, I was curious how the family had managed when the children were young and also how they were getting along today, out of the spotlight, with most of the children grown to adulthood.
A short time spent with Cathy in her Meyerland home satisfied many of my curiosities. When I visited her home, I was greeted by an aura of calm as well as a delicious smell. "I am making taco meat," Cathy explained. Three of her children were home for dinner that night, and Cathy had just returned from a speaking tour.
Many hands make light work
A big part of Cathy and Joe Garcia-Prats's parenting philosophy is rooted in shared responsibilities. Here is a sampling of what they considered age-appropriate chores for their boys.
Ages 2-3: Put shoes away. Learn to dress. Help carry dirty clothes to washer.
Ages 4-5: Feed pets. Empty small trash cans. Have clothes ready for the morning. Make bed. Keep room straight.
Ages 6-8: Dry dishes and put away. Rake/sweep. Make sure schoolwork is signed.
Ages 9-11: Wash dishes and load dishwasher. Vacuum. Take out garbage.
Ages 12-14: Wash, dry and fold clothes. Mow and edge yard. Babysit younger siblings. Wash car.
High school: Assist with carpools. Prepare a meal. Get up for school on time on own.
She said her priorities included putting all 10 children through private Catholic schools. Eight boys have graduated from Strake Jesuit, while two still attend. (In addition, Cathy and Joe have paid college tuition for eight children so far.)
Cathy, weighing not much more than 100 pounds and just over 5 feet tall, shows no obvious signs of having born 10 children. Her blue eyes sparkled when she talked about her family.
"Joe and I have raised the kids the same way we were raised. Kids today are the same as kids were years ago. What is different is the way people parent," she said.
She said many parents today try to buffer their children from any discomfort or burden. "If my kids didn't get to their laundry, they wore dirty clothes. If they left their lunch at home, they went hungry at school. Parents should delegate age-appropriate chores to kids from an early age, giving kids a sense of responsibility and commitment to the family," she said.
"Kids need parents to be parents, not friends. A mother once complained to me that her son played too many video games.  I suggested she take his controllers away and give them to him when she felt he should play. She was surprised, like I'd suggested something extraordinary."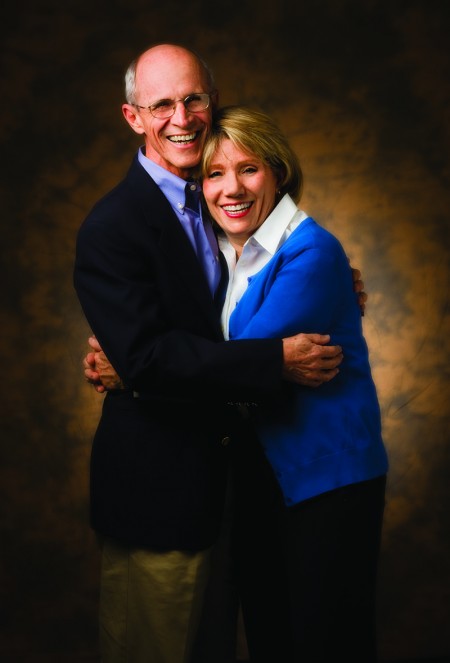 When one of their own sons tried to go to a PG-13 movie he was not allowed to see, Cathy and Joe gave him hard chores the rest of the weekend. "He raked a lot of leaves and cleaned the gutters," Cathy said.  "My kids were not always perfectly behaved, but we followed through with our consequences."
Cathy and Joe didn't set out with the intention of becoming parenting gurus. Cathy stayed home with the children instead of returning to teaching first grade. She said Joe, a neonatologist at Baylor College of Medicine, helped with housework and child rearing when he was home.
Their kids were not allowed to watch television after dinner, but instead could be found working on homework, reading or playing board games before the family gathered for nightly prayers at the kitchen table. During the day, they played outside. Someone once questioned Cathy about a fungus she apparently had on her front lawn, and she replied that the "fungus" was actually the result of boys running, sliding and playing on the grass.
An obvious question is whether parents with that many children can devote enough attention to meet their needs.
Where are they now?
Tony: Age 34. Married to Heather. Adopted twin girls, Mosa and Palesa, now 21 months, and expecting a baby in March. Medical director at Baylor College of Medicine Children's Clinical Center of Excellence in Tanzania, Africa.
David: Age 33. Married to Rita. Dean of students at Cristo Rey Jesuit College Preparatory in Houston. Children are Gabriela, 3, and Matias, 22 months.
Chris: Age 30. Married to Stephanie. Head soccer coach at Luther College in Decorah, Iowa. Expecting any day.
Joe Pat: Age 29. Married to Megan. Works in Chicago in cell-phone industry. Children are Logan, 4, Lucus, 3, and Olivia, 10 months.
Matthew: Age 27. Married to Mary. Dean of students at Our Lady of Guadalupe Catholic School, Houston. Expecting first baby in June.
Mark: Age 24. Lives and works as a writer in Houston.
Tommy: Age 23. Recent graduate of Providence College. Lives in Houston.
Danny: Age 21. Engineering student at Santa Clara University in Silicon Valley, Calif.
Jamie: Age 18. Senior at Strake Jesuit College Preparatory.
Timmy: Age 16. Sophomore at Strake Jesuit College Preparatory.
"I never felt like Mom and Dad didn't have time for me. They always found ways to spend time with us, even if it was just sitting down together as a family for dinner. If we weren't spending time with Mom and Dad, we were spending time with each other," said Danny, the eighth child, now 21 and a college student who has just returned from studying in Australia.
Chris, the third son, a 30-year-old  college soccer coach, said, "Living with nine brothers gave me an opportunity to always have a partner or teammate to play with outside or inside."
Due to the size of the family, yearly or elaborate vacations were not possible, making the ones taken even more memorable. "I remember when we took two Suburbans to Disney World," said Cathy. "It was before cell phones, so we communicated with walkie-talkies if someone needed the bathroom and we needed to pull over."
People ask her whether she and Joe kept trying for a girl. Cathy said no.  "I felt so blessed to hear the words, 'It's a boy!' in the delivery room for the tenth time. I would've had two more if I could have."
Members of St. Francis de Sales Catholic Church, Cathy and Joe are devout Catholics and philosophically against birth control, but Cathy said her 10 pregnancies were planned. "I am from a family of five girls," said Cathy. "I always wanted a large family. I say God has a sense of humor when he gave me 10 boys."
Editor's Note: Good Families Don't Just Happen and Good Sons Don't Just Happen (both published by Bosco Publishing) are available at Amazon.com and in Houston bookstores. Book signings are scheduled for Jan. 13, 7 p.m., at  Barnes & Noble, 3003 W. Holcombe, and Jan. 23, 1p.m., at Blue Willow Bookshop, 14532 Memorial Drive.
People in this article:
Cathy Garcia-Prats
,
Joe Garcia-Prats
,
Timmy Garcia-Prats
,
Tony Garcia-Prats
,
Jamie Garcia-Prats
,
Danny Garcia-Prats
,
Tommy Garcia-Prats
,
Mark Garcia-Prats
,
Matthew Garcia-Prats
,
Joe Pat Garcia-Prats
,
Christopher Garcia-Prats
,
David Garcia-Prats
,
Heather Garcia-Prats
,
Mosa Garcia-Prats
,
Palesa Garcia-Prats
,
Rita Garcia-Prats
,
Gabriela Garcia-Prats
,
Matias Garcia-Prats
,
Stephanie Garcia-Prats
,
Megan Garcia-Prats
,
Logan Garcia-Prats
,
Lucus Garcia-Prats
,
Olivia Garcia-Prats
,
Mary Garcia-Prats
Want more buzz like this? Sign up for our Morning Buzz emails.
To leave a comment, please log in or create an account with The Buzz Magazines, Disqus, Facebook, or Twitter. Or you may post as a guest.