They're Back
Adult Kids Return to the Nest
Click the Buzz Me button to receive email notifications when this writer publishes a new article or a new article in this column is published.
No sooner did I adapt to being a true empty nester than the unthinkable happened.
He's back.
Yes, I'm talking about my adult son, along with the dreaded words, "What's for dinner tonight, Mom." (True story. First words out of his mouth.)
Brett recently finished law school, but, due to a severe injury and subsequent surgery teaching him a lesson in the cost of health care, he decided to refill my nest by returning home for a while.
He has a good job with a law firm, but, having lived off credit cards and after fending off bills from various medical entities, he needed a really cheap place to live temporarily.
Cheap as in free, that is, with some no-cost meals thrown in for good measure.
I admit I was worried. For starters, I retired from cooking major meals when I became an empty nester, and I did not want to begin again. I asked around, to see how other parents of returnees were handling things.
Kevin, an entrepreneur, also had his adult son move home. He says the situation is a throwback to a time where it was typical for multiple generations of the same family to live under the same roof.
"It's very common in other countries," Kevin, a world traveler, said, "and I think it will be more and more prevalent in our country because so many of our kids find it impossible to maintain a comfortable lifestyle on starting salaries."
Yet, he said, his son feels there is some stigma to returning to his parents' house, which is why Kevin requested anonymity.
More adult children are returning home, in part due to the economy, said Dr. Kara Kahan, a Bellaire psychiatrist specializing in child and adolescent psychiatry.
Dr. Kahan advises parents to give adult children a defined timeline to build up a nest egg if they have a job, or a time frame to find a job if they don't have one. But, she said, in this temporary situation, forget about imposing lots of rules, other than requiring them to pitch in on chores and keep their spaces neat.
"Parents have to adjust expectations and look at their adult child differently," Dr. Kahan said. "You can't do things like curfews or do the hovering or over-parenting because they are coming back as adults and can decide these things for themselves."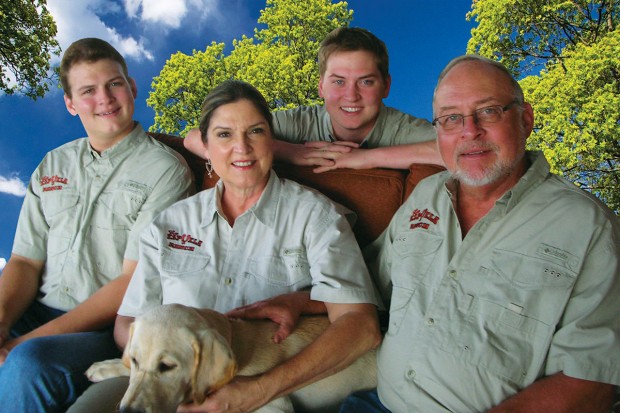 Leslie Bormaster, who had several adult children return home before moving to their own places, said she felt no need for rules. First daughter Alli came home, then son Brian, but they left again. Both will be getting married this year, with Brian's wedding on Jan. 22 and Alli's nuptials planned for May. Most recently, Kelly returned and joined twin sister Kim. Leslie and husband Scott had downsized to a townhome and had to buy a larger home again to accommodate their brood.
"I loved the kids coming home, and they knew I loved it because I really spoiled them with cooking and doing their laundry," Leslie said. "I give them their space if they want it. I am enjoying every minute of them being around."
Kelly Bormaster admitted to liking the spoiling and said being home is comfortable for now.
"It is great coming home to family when you have been away for six years," Kelly said. "I love having someone cook for me, yet I can come and go as I please because they treat me like I'm an adult."
Kay Kelley and husband Phil have sons who, while forging entirely different paths, both found themselves back at home after college.
First Jordan returned home from college and decided he wanted to attend technical school. Then Conner came home for a bit too.
"Jordan went to technical school, but with Conner, we said he was welcome to stay home, but we made sure he went right to work," Kay said. "That was the only rule we imposed, but it did him a world of good. After some time working in retail, he returned to school and is so much better off for it."
Now Conner is back at college, and Jordan is working and back at home after some time on his own. Kay is happy to have him back because he is so helpful.
"Jordan can do anything with his hands, and it is handy to have him around because everything gets fixed," Kay said, laughing.
My son, Brett, and I are enjoying the temporary arrangement as well, and I will miss him terribly when he moves out in the spring. And since he works late most nights, I don't have to do that cooking I dreaded.
Want more buzz like this? Sign up for our Morning Buzz emails.
To leave a comment, please log in or create an account with The Buzz Magazines, Disqus, Facebook, Twitter or Google+. Or you may post as a guest.