Remembering Robin and Joshua Berry
Click the Buzz Me button to receive email notifications when this writer publishes a new article or a new article in this column is published.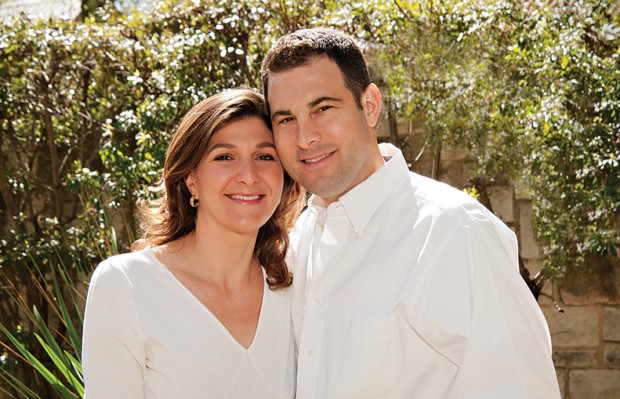 Last month, Robin Berry was the first to respond when I asked for ideas on enjoying nature with children. She and her family spent hours outside their Briargrove home playing games, hosting friends and even hunting slugs and worms. I laughed out loud at Robin's colorful retellings (as I did when she e-mailed me about her favorite summer drink – "There is nothing better than a good old ice-cold beer with lime on a hot summer day!") So she and her children Peter, 9, Aaron, 8, and Willa, 6, were included in the nature story, all three smiling in a picture taken in their yard. But Robin and her husband Josh never saw the story published.
Robin and Josh were killed in West Texas in an unthinkable car accident on the way home from vacationing in Colorado late on Saturday, July 2. Peter, Aaron and Willa sustained serious injuries and continue recovering.
Any way you look at it, this is a tragedy. But because it happened to the Berrys, it feels that much bigger.
It seems everyone was connected to Robin and Josh. They had a tight circle of close friends, but they also became integral to every part of the community they encountered. They touched people.
They were the kind of grounded, committed, real people whom everyone loves to be around – the kind who made everyone comfortable. Their huge smiles mixed with just a little irreverence filled a room. Robin and Josh were famous for the parties they hosted in their home. No matter that the house wasn't huge; it was happy – and fun.
They had a zest for life, for sure, and they were also deeply and outspokenly committed to their community, fighting for what they thought was right, regardless of popularity. They worked together for the rodeo, their children's school and sports teams, their synagogue – the list goes on.
I first met Robin in New Orleans during Tulane rush. From then on (deciding I wanted her as a sorority "little sister"), taken with her big smile, raspy voice, and generally cool manner, I was a Robin Perlo fan. I wasn't alone. Robin drew people to her and kept them close. She had friends from every stage of life, and, invariably, they loved her.
Josh, who owned a medical staffing company, was her perfect complement. Dry, with an affinity for knowing something about everything, and just a little wacky, he adored Robin. Not too long ago, he posted a picture on Facebook of a weeknight dinner that Robin, a party planner, had made for him and the children. "Another awesome home cooked meal with the family," he wrote. "My wife is the real deal!"
Together, they couldn't have been prouder of their children and the family they were building. This past spring, Josh was thrilled with Peter's winning run for his baseball team. But Josh's pride was in something bigger than the run. Peter's ability to motivate and inspire his team was what made that run a moment Josh would remember forever. That familial pride and dedication were Robin and Josh's trademark.
As soon as word of the accident traveled home, family and four close friends – "fairy godmothers" – jumped on planes to be with the children in the hospital in Lubbock. That was just the beginning of a community coming together, a community that Josh and Robin helped, in no small part, to build.
From the memorial service that brought almost 2,000 people, to children hosting lemonade stands and bake sales raising over $15,000 to help their friends, people from all parts of Houston and beyond pulled together to remember Robin and Josh and support their children. One of Robin's closest friends always joked that Robin and Josh knew everyone. Judging from what's transpired since the night of July 2, she must have been right.
Robin wasn't one of my closest friends. But I can, without a doubt, say that she and Josh were two of my favorite people. I realize now there are a lot of people thinking that very thing.
As time passes and we move forward, we can be inspired by Robin and Josh. Inspired to live life to its fullest potential. To cherish our families. To give our energy freely to what we believe in. The tremendous outpouring of love and support for their children – the mobilization of a community – truly exemplifies that, in life and after, we do reap what we sow.
If you would like to contribute to the Joshua & Robin Berry Children's Trust, please go to www.theberrychildren.org.
Want more buzz like this? Sign up for our Morning Buzz emails.
To leave a comment, please log in or create an account with The Buzz Magazines, Disqus, Facebook, Twitter or Google+. Or you may post as a guest.